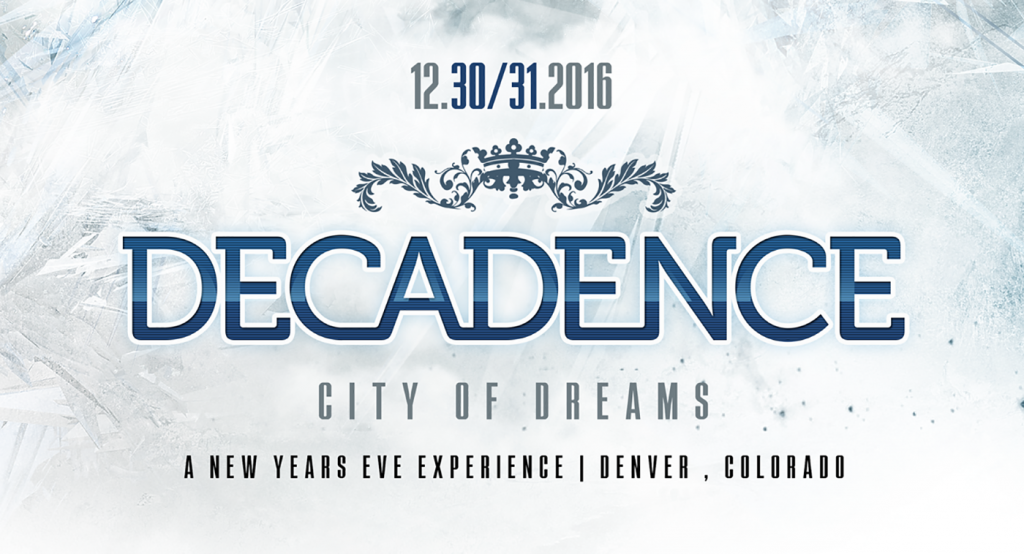 One of the most anticipated nights of the year, Decadence NYE pull out all the stops to make the stroke of midnight one you will never forget. With huge names and an incredible variety of genres, don't miss out on one of the best nights of music 2016 has to offer. Below I'll be highlighting some of the artists that will help ring in the new year this weekend at the Denver Convention center.
Before I forget, here is the link to get tickets for Decadence, but you better hurry as they are likely to sell out!
The Chainsmokers
Fresh off a HUGE year for the duo, The Chainsmokers bring their high energy set and raucous party atmosphere to the convention center to help ring in the new year. You may have heard tracks such as "Closer", "Roses", and "Don't Let Me Down" playing all over the radio over the past 12 months and now is your chance to hear them in person. I've only heard good things about The Chainsmokers' sets, so make sure you get a good spot!

Eric Prydz
A legend of the house/trance scene, Eric Prydz is finally making his way back to Denver. After wrapping up the EPIC 4.0 tour, and announcing the highly anticipated EPIC 5.0, it's hard to gauge just what he'll bring to this New Year's Eve event, one thing is for certain, whatever it is, Eric Prydz will absolutely nail it. Don't forget about that amazing album "Opus" that met our ears early in 2016 and expect to hear a few wondrous tracks from it on the 31st!

Flume
2016 was one hell of a year for the Australian producer as his critically acclaimed album "Skin" saw huge success, along with a solo tour that sold out many of its dates across the United States. Colorado had a small glimpse into the world of Flume when he hit Red Rocks for the sold out "Skin" tour date, and much to everyone's happy surprise, Flume will be returning to the Mile High city for a very special round 2. Don't miss out on this set, it is sure to be one of the best of the night.

Big Wild
One of the newest faces on the list of artists performing at Decadence, Big Wild has come a long way over the past year; turning some promising Soundcloud interest from Odesza into a full-fledged tour with the group and a run of festivals this past summer. Not only is the music a breath of fresh air, but the live aspect of his show helps bring the crowd and the sets to new heights. A plethora of live instrumentation definitely sets Big Wild apart, and in a city that is big on names like Odesza, Griz, and Gramatik, you know that good music is on its way. Check out Big Wild at NYE, his set is one you will NOT want to miss.

Leave a Reply