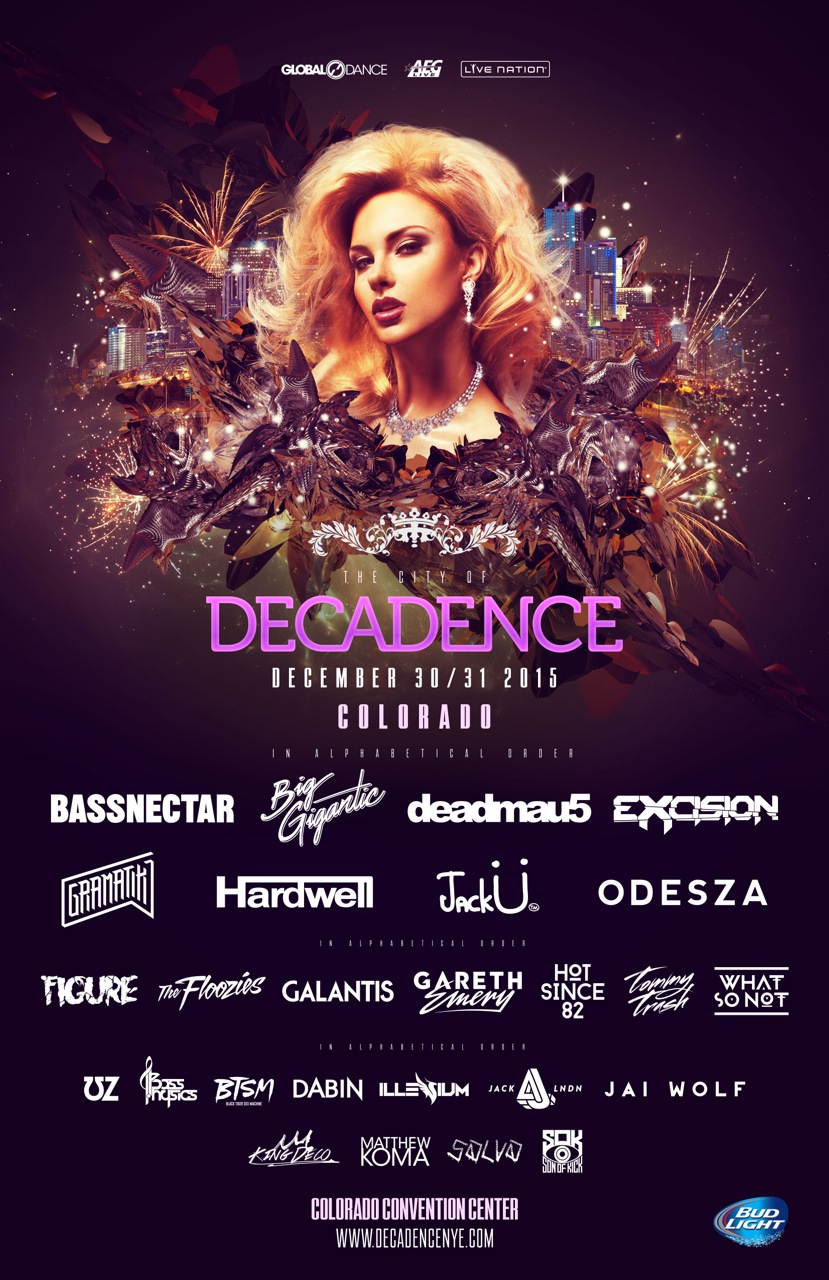 If you are still trying to decide what to do for NYE this year, might I suggest the wonderful city of Denver and the gorgeous Decadence to fulfill your NYE dreams? I've been the past two years and the lineups just keep getting bigger and better.
The first thing I'd like to point out is that Bassnectar has graced the stage of Decadence for three years straight, now that might be because Denver is the bass capital of the US, but that's just my thoughts. There are other bass artists on this lineup like Excision with his brand new stage, and Figure, who has had some of the hottest music this year. If bass music isn't your thing, fear not. There are trap artists, electro house, progressive house, some trance, a little techno, and everything in between. With two massive stages separated by a silent disco, the city of Decadence has something for everyone.
Personally, I am most excited for Deadmau5 and Jack Ü. The last time Deadmau5 came to Colorado was in 2011 with Excision at Red Rocks and I made the mistake of missing the concert to go to class. That mistake will not happen again as Deadmau5 is sure to bring something incredible for his legendary return to the Mile High City. Jack Ü has probably the hottest DJs on the planet right now with the duo of Skrillex and Diplo, as everything they release is just madness.
Now this is only part of the massive lineup. You have Denver favorite, Excision, along with a few hometown acts with Illenium, Big Gigantic, and Bass Physics. Make sure you hit up at least one of those sets, if not all three. I can absolutely guarantee all will be worth your time!
We have another unnamed artist coming to town, UZ, who has kept his identity a secret and made everything about the music. Naturally there is speculation about who is behind the mask, much like with Marshmello and Zhu. Rather than worry about who is behind the decks, take to the dance floor and shake your ass to some of the best trap music this year.
In case you're in a little more of a lighthearted mood or something in a higher register, I can suggest the wondrous sounds of both Odesza and Galantis. While different styles, both are more on the uptempo and upbeat side of things, with many songs you'll recognize from festival sets this year.
Whatever you fancy, you'll find it at Decadence with an incredible array of music to satisfy all of your musical desires. Make sure you grab a ticket now before the last remaining ones are sold! We'll be seeing you at Decadence this year, let's ring in the New Year in the best possible way!
Leave a Reply