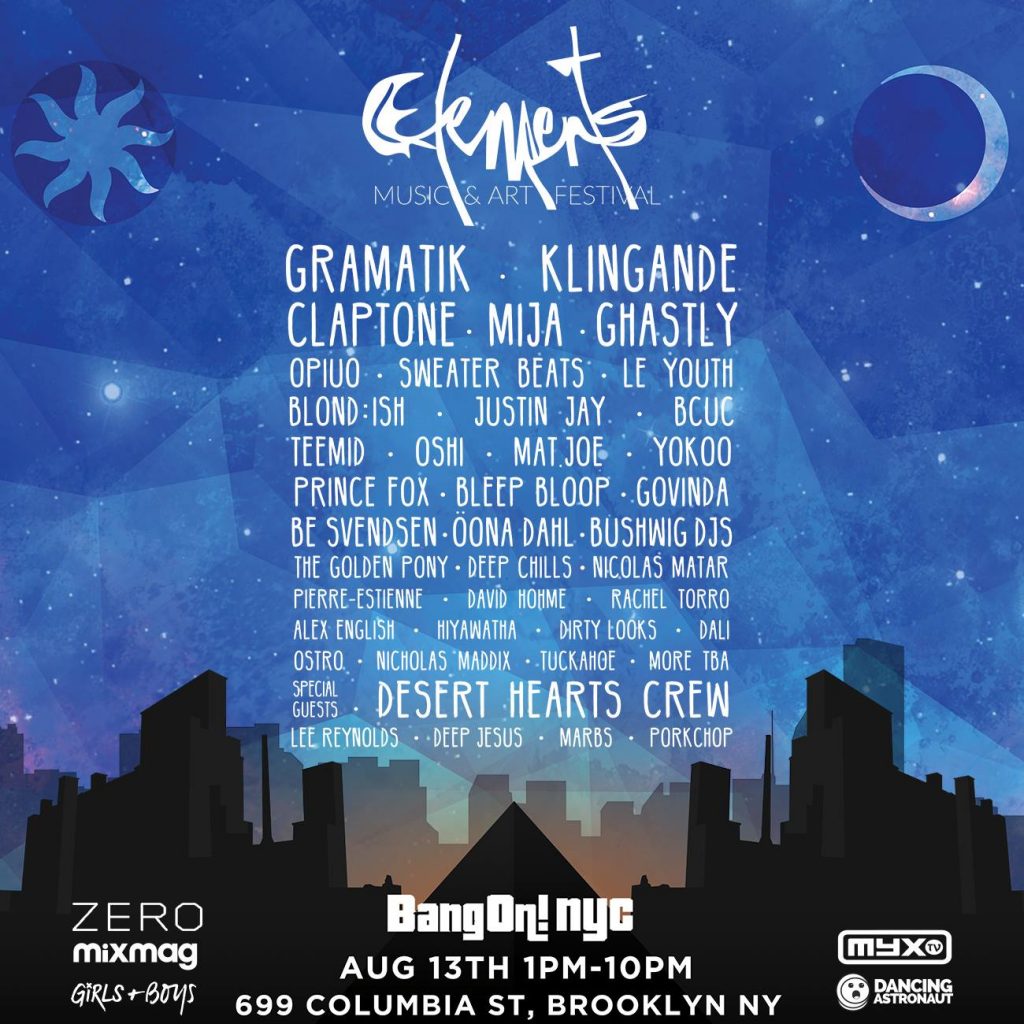 Last year, one of my favorite events came out of nowhere. It was ELEMENTS Music & Art Festival. Going into the event, I didn't really understand what to expect besides some of what I thought was the oddest things to see at a music and art festival. What it turned out to be was one of the coolest events ever. Check out my review from last year. This year, ELEMENTS Music & Arts Festival returns to Brooklyn on August 13th and they are going bigger as well as better.
ELEMENTS Music & Art Festival prides itself on being different. They call it an "affair between Berlin, Burning Man, and Bushwick – a secret city within the heart of Brooklyn." That's a fantastic way to describe it, but being I am not familiar with any of it, I just claim it to be an urban industrial paradise. Similar to last year, they're doing their Earth, Air, Water, and Fire stages which are sure to compliment the music coming from the stages.
What makes this festival so amazing is that it isn't just about the music, yet the music is top quality. ELEMENTS Music & Art Festival brings artists that are rising in the electronic dance music world as well as some that aren't as quote-unquote as mainstream. Their headliners are still fantastic. They announced Ghastly, Prince Fox, Mija, Gramatik, as well as many more which will be listed below. A
lthough, while they're performing, there is much more going on. As stated by the festival, there will be "large-scale themed art installations, 3D projection mapping, death-defying aerial performances, magnificent art cars, rides, extreme wakeboarding activation, slides, circus performances, fire performers, aerialists, local food vendors and a tribal village art market." Let me tell you, seeing this wakeboarding is going to be wild. Red Bull athlete Steel Lafferty is going to amaze the hell out of you. The aerialists are beyond neat. I couldn't stop watching.
The best part of the festival outside of the music, in my opinion, is the food options. There are so many delicious choices and they're not trying the price gouge you! It is incredible! Some of the choices include Bamboo Bites, Bareburger, Cafe Cochera, Pizza Moto, Mazzat Restaurant, Jamaica Choice Caribbean Cuisine, and a BangOn BBQ.
This is a festival you don't want to miss! Buy your tickets now! Check out the preview video below as well as the full lineup!
Gramatik
Klingande
Claptone
Mija
Ghastly
Opiuo
Sweater Beats
Le Youth
Blond:ish
Justin Jay
BCUC
Teemid
OSHI
Mat Joe
Yokoo
Prince Fox
Bleep Bloop
Govinda
Be SVENDSEN
Oona Dahl
The Golden Pony
Deep Chills
Nicolas Matar
Pierre-Estienne
Davied Hohme
Rachel Torro
Alex English
Hiyawatha
Dirty Looks
Dali
Ostro
Nicolas Maddix
Tuchahoe
Desert Hearts Crew
Lee Reynolds
Deep Jesus
Marbs
Porkchop
Leave a Reply