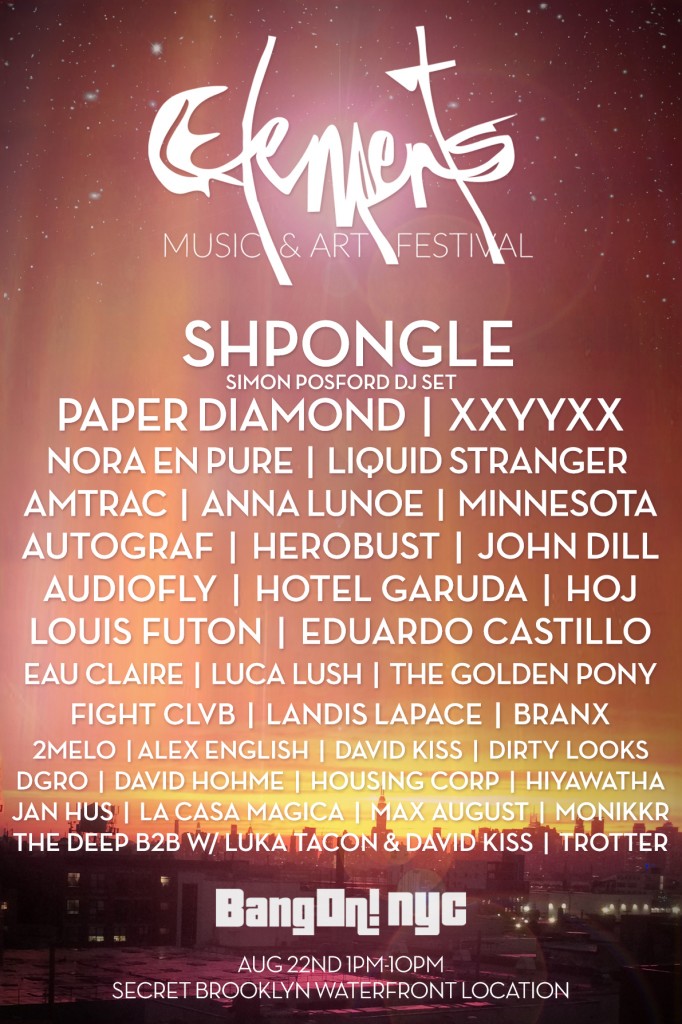 So this weekend, I was told to go to this amazing festival in New York. The moment I saw this lineup, I knew I had to go. Elements Music & Arts Festival is the move this weekend. Originally touted to be at a secret Brooklyn Waterfront location, the festival is taking place at 691 Colombia St Brooklyn NY 11231 on August 22nd from 1PM to 10Pm. Their idea of the festival is supposed to be one with the earth as it is a combination of Berlin, Burning Man, and Bushwick.
Elements features four incredible stages: Earth, Wind, Water, and Fire. All they're missing is heart and they'd form Captain Planet. Along with these stages, they have so much more. This is also an art festival, so there will be installations, aerial performances, food trucks, awesome vendors, amusements, and much more. Such art performances include the following:
Earth Stage Design and Video Mapping by Rhizome
Custom element Nymphs by Team Kitty Koalition
Fire performances from Hoopsie Daisies
Blazing performances by Future
Interactive Celestial bodies by Christopher Miles
Lotus temple by Eric Coolidge
Led Geo Space Dome by Hannah Mac
Entity Sam instals:
25ft Moving Slinky Spaceship
LED Marionette Puppet Shows
40ft "Run Under" Rainbow ╬ Interactive Inflatable/Balloons -Parachute Game
There are so many artists I want to see. I don't know how I am going to handle it all. Just from the top of my head, I want to see  Anna Lunoe, Fight Clvb, Hotel Garuda, HeRobust, and Nora En Pure as well as Louis Futon, Autograf, Luca Lush, Paper Diamond, Minnesota, and Liquid Stranger. The whole lineup is completely stacked and not like a typical lineup. It is much more special. Here is the full lineup.
Shpongle
Paper Diamond
Liquid Stranger
Minnesota
HeroBust
Louis Futon
Branx
Fight Clvb
Anna Lunoe
Amtrac
Nora En Pure
XXYYXX
Autograf
Hotel Garuda
Luca Lush
Eau Claire
Alex English
Hiyawatha
Eduardo Castillo
Audiofly
Hoj
John Dill
Lauren Ritter
Wael
The Golden Pony
Landis Lapace
Dirty Looks
Chromed
Housing Corp
The Deep
La Casa Magica
Dan Wender
Blacky II
2melo
David Kiss
DRGO
David Hohme
Jan Hus
Max August
Monikkr
Luka Takon
Trotter
Leave a Reply