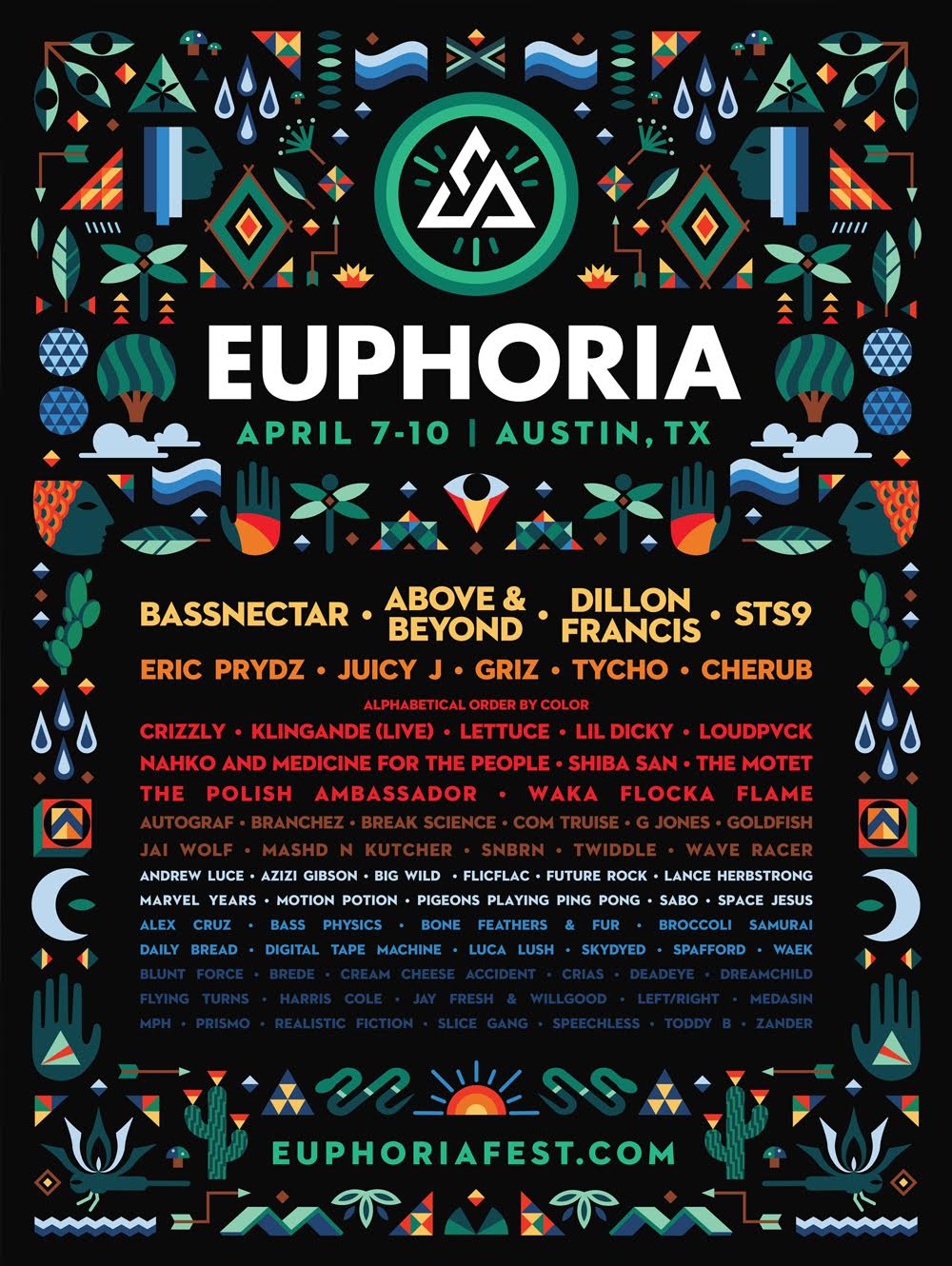 Euphoria, and 18+ event produced by Vivid Sound Entertainment, will be held minutes from downtown Austin, TX for its 5th anniversary at Carson Creek Ranch. Beginning Thursday, April 7th just for camping and then music as well the following 3 days of the festival, Euphoria has given us quite the experience to celebrate the 5th anniversary. The first night will feature some special musical performances as campers get their gear set up and enjoy the festival grounds in a unique camping only treat. GA Camping sold out about a month ago, and then just last week, they were able to put out some more passes so that more people could experience the camping part of the festival. For campers, they are offering morning yoga classes, among other amenities including workshops throughout the weekend and an afternoon session of yoga for all festival goers. Unfortunately there is no car camping available, but lockers are available for rent inside the grounds for those that do not want to make the trip out to the parking lot and their cars. For patrons under 21, you may only come through the gates entering the festival grounds once per day.
Free water and charging stations will be provided in the festival grounds. Each attendee may carry up to two empty bottles, empty camelbaks are also allowed at the festival and will also be sold inside. Along with the main stages, they've included a silent disco this year, a new edition for Euphoria, among the two other stages that dot the Carson Creek Ranch landscape. Those two stages will host a bevy of original acts and some returning Euphoria names as festival attendees will get to experience the Elements and Dragonfly stage. From last year's pictures, we can only expect things to get bigger and better for the 5th anniversary.
Friday kicks off with STS9, Dillon Francis, SNBRN, G Jones, and Space Jesus. A great mix of genres that will have you learning to shuffle, headband, bounce, and more as the night wears on into early Saturday morning. Here are a few tracks you might hear from Friday night.
Saturday we'll be treated to the soul tickling styles of Bassnectar, Griz, & Break Science amongst others. The funk sounds amazing at Carson Creek Ranch as we heard the beautiful sax sounds from Big Gigantic last year, and are treated to Griz this year. Bassnectar brings his heavy bass music and huge following to the Ranch as things are sure to be incredible with his visuals and always unique sound. Make sure you get a good spot early as there should be plenty of people making their way to see nectar. The likes of Eric Prydz and Shiba San grace the Elements stage Saturday night for some deep house, trance, and plenty of lasers. Here are a few tracks you will not want to miss.
Sunday marks the beginning of the end with Above & Beyond, the incredible emotional power of one lucky fan pushing the button, and perhaps an acoustic styling from their upcoming tour. Keep up your last bit of strength because you're going to need it when LOUDPVCK, Crizzly. & PRISMO bring it all home for the incredible last night of Euphoria. The sounds of Cherub and unique mix of Lil Dicky and Waka Flocka will give fans something to talk about all next week when they trudge back to work. All in all this festival has a little bit for everyone. You'll definitely be able to #FindYourEuphoria.
Leave a Reply