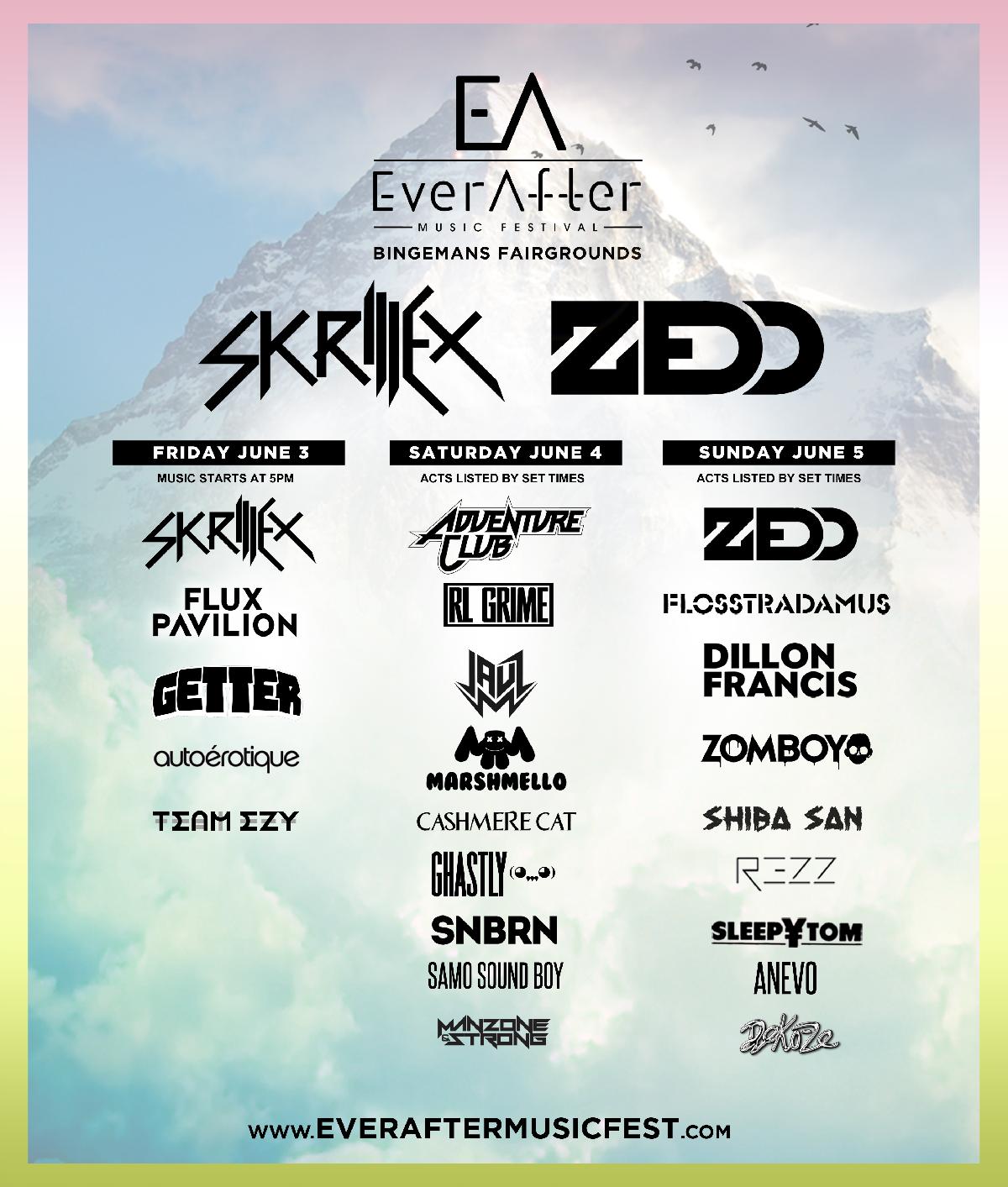 It is finally time; Ever After Music Festival is here and we at EDM Assassin are preparing to take on our first international festival! As we are finishing up packing and gathering our last minute items it has become real that we are FINALLY about to take this 12-hour journey to visit arguable one of the best festivals of the summer. If traveling to another country isn't exciting enough, add all of your favorite DJ's/Producer's, a water park, a carnival and camping all to the list. There is so much to look forward to this weekend.
Ever After kicks off the weekend tonight at Beta Night Club in Waterloo, Ontario with a pre party. At this pre party they are giving 20 people the opportunity to play Frisbee with Canada natives Adventure Club, 2 GA passes to the festival and a grand prize including meet and greats with both Jauz and Marshmello as well as merch and other goodies. Unfortunately, we won't be making it in time to attend the pre party, but if you are in the area you do not want to miss out on this opportunity.
Friday afternoon the campgrounds open up at 2pm and close at 7pm, be sure to get there early to ensure a good camping spot and applicable amount of time to set up before the festival grounds open up at 5pm! Kicking off the festival Friday is Team Ezy, Autoerotique, Skrillex, Getter and Flux Pavilion. Personally I am most excited to check out Autoerotique for the first time as well as catch the Skrillex sunset set. If you have not checked out Ever After's Instagram for a sneak peak of this year's production you are surely in for a treat! With fairytale like vibes the castle like stage is the icing on top of the cake.
Saturday, easily my most anticipated day of the weekend, features Ever After's newest additions Aiollo, Khaos and Manzone Strong as well as Samo Sound Boy, SNBRN, Ghastly, Cashmere Cat, Marshmello, Jauz, RL Grime and Adventure Club. It is hard to say who we are most excited to see this day, because the lineup is so stacked but I would have to say Jauz, Marshmello and RL Grime. Jauz represents No Genres which we love because you never know what you're going to get with his set. Marshmello is no secret anymore, having seen him a few months back in Detroit with Big G left me wanting more. Last but not least, RL Grime. We are long overdue for an RL Grime set; last time we have seen him was last May at Counterpoint Music Festival. Since then he has released Aurora, a different sound than popular songs Core, Mercy, Halloween Mix etc. We are excited to see how his performance and sound has evolved since the last set we've seen.
Only because we never want this weekend to end, our least anticipated day of the weekend Sunday features Sleepy Tom, Rezz, Shiba San, Zomboy, Dillon Francis, Flosstradamus and Zedd. Sunday provides us with the perfect variety of house, dubstep, Moomba and trap. We are most looking forward to see up and coming Rezz, Zomboy, Dillon Francis and Zedd. Being one of the few females in the game, Rezz has proven that she isn't going anywhere any time soon. With OWSLA mentors Skrillex and Mija, Rezz is determined to make a name for herself. Zomboy having just released his new album Neon Grave as well as completing his Neon Grave tour we are excited to see him once again. Dillon Francis and Zedd hit a city near us with the True Colors tour, unfortunately we couldn't be in two places at once and had to miss it due to being at Freaky Deaky. Sunday is perfect for redemption; we look forward to finally see what we missed out on.
Though music ends daily at 11pm, the party doesn't stop there. You can head over to Beta Night Club Friday-Saturday for Ever After official after parties. The lineups have not been released, but believe me, you won't want to miss them. Ever After has not only provided us with the most perfect lineup, but a water park and unlimited carnival rides with each wristband as well.
Another perk, you can sign up to test your luck in the Gauntlet for your chance to win a meet and greet with Marshmello and Jauz! Ever After has gone above and beyond to provide us with the most wonderful experience imaginable. We look forward to experiencing our first Ever After and will see you all tomorrow.
Leave a Reply