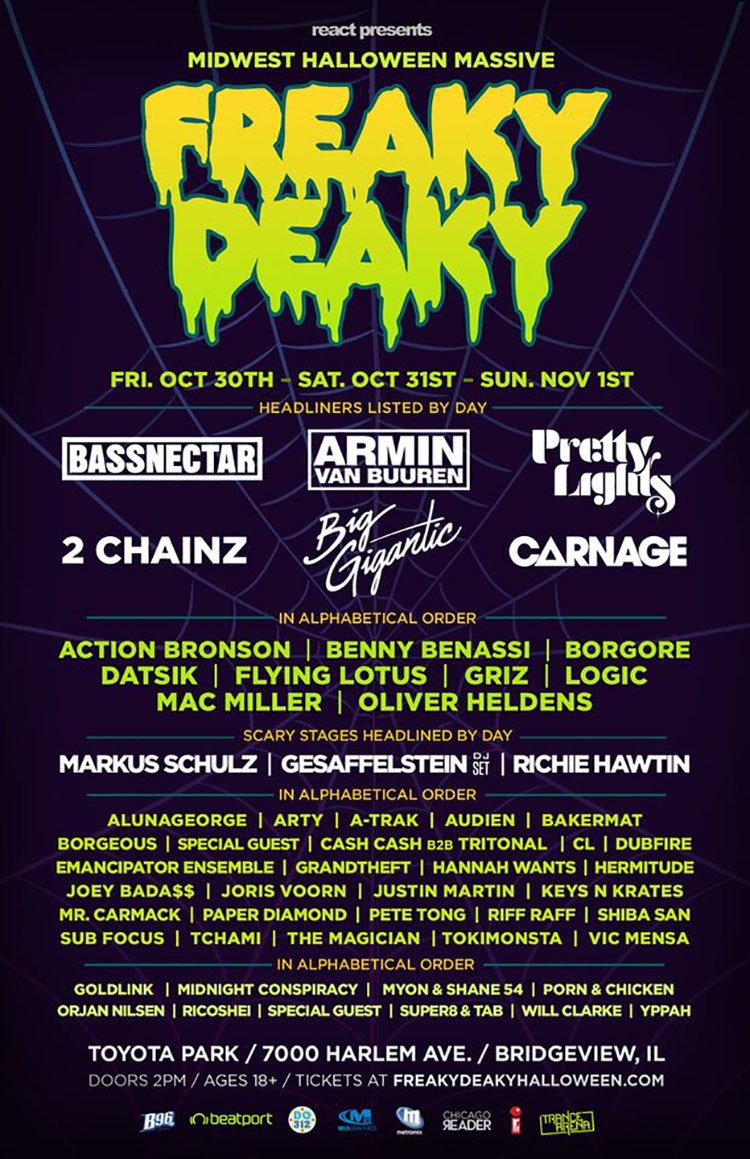 It's that time of year again and Halloween is upon us. The midwest hosts some of the largest Halloween parties around the country and the lineup for Freaky Deaky is surely going to be one hell of a party.
With a huge variety of artists like Bassnectar, Pretty Lights, Big Gigantic, Armin Van Buuren, Mac Miller, Borgore, Justin Martin, Shiba San, Vic Mensa, Hannah Wants, and plenty more, music lovers from every genre will have no trouble finding their place. With more than just music, your Halloween may consist of winning the costume contest (you can vote on this years winner right here), there are carnival rides and plenty of games where you can win spooky prizes.
Not to mention the afterparties. At the moment, GRiZ is throwing one of the biggest afterparties TONIGHT and it is a DJ set with guest Tokimonsta that you will not want to miss. Here are all of the details.
In addition to all of this other fun stuff to do this weekend, the real reason you are going to Freaky Deaky is because of the music. This year there is truly something for everyone, from trance to trap, to the most famous name in bass, you have it all. There is even plenty of music that doesn't really fit the electronic genre, for instance, Mac Miller and 2 Chainz.
Each day on the lineup has a variety that way attendees are more likely to come all three days instead of just one day where their favorite artist is playing. With 3 stages, and a dedicated Trance Arena, you should be able to wander around Toyota Park with ease, seeing and hearing plenty of artists to fill each night as well as getting some carnival rides and games into the mix.
I'm quite jealous of our writers heading to Freaky Deaky as the lineup looks insane and with the whole package of afterparties, games, rides, and of course the music, how could it not be one hell of a Halloween weekend?
Check out a variety of music from artists that will be playing at Freaky Deaky this weekend!
Armin Van Buuren

Tritonal (Cash Cash Guest Mix)

Big Gigantic

Vic Mensa

Shiba San

Justin Martin

Hannah Wants

Leave a Reply