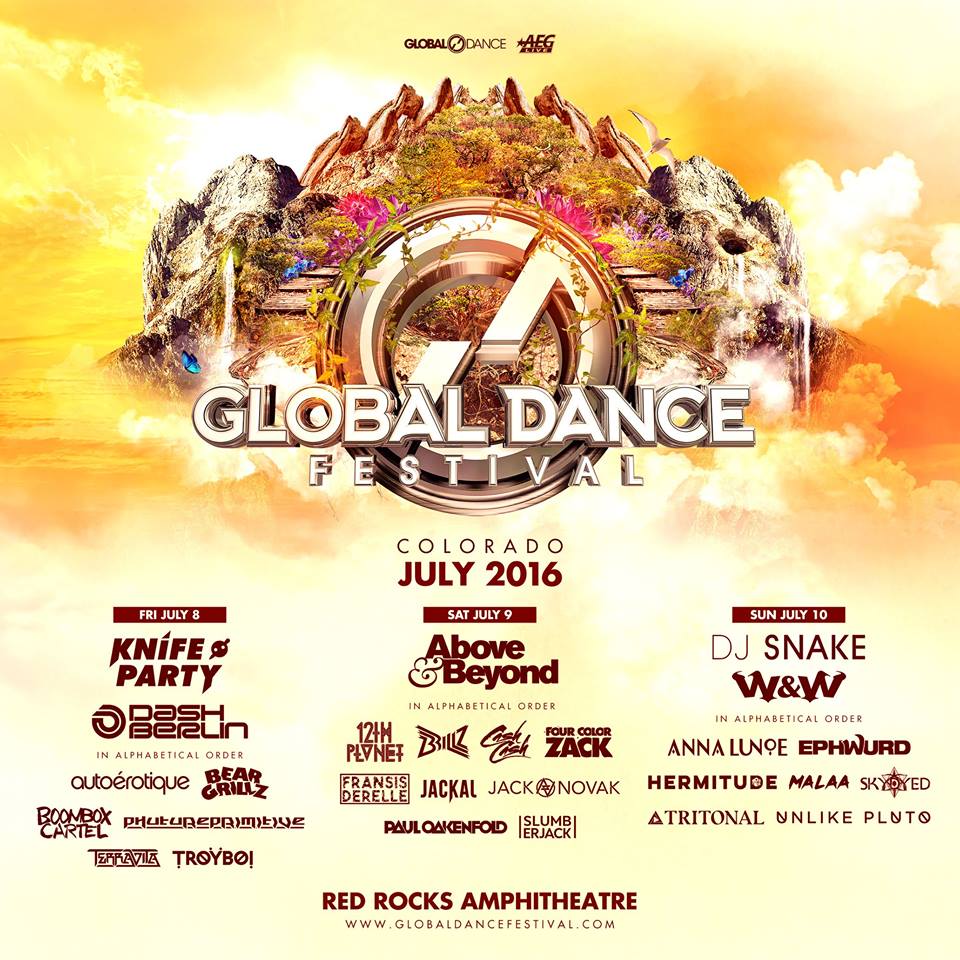 July is upon us and Global Dance Festival has arrived. We've waited months for all of the artist announcements to happen, and here we are with a little over one day to go before the magic of Red Rocks and dance music in the mile high city returns. The 2016 edition features plenty of new names and first timer's to Red Rocks such as Malaa, and a few other names we've seen at Global Dance before, Above & Beyond from 2015. Regardless, if you're heading to Red Rocks this weekend for one, two, or all three nights of Global, you are in for a real treat. Check out a few of the artists we are featuring below!
Malaa
If you haven't heard of the anonymous Malaa, I'm not entirely sure where you've been. Debuting on Tchami's label Confessions, Malaa has taken the world by storm with an enigmatic image and some killer G house tracks. Not to mention the release of his "Illicit" EP which you can find right below! Whether or not you're one of those who want to find out the man behind the mask, you cannot argue the production skill of Malaa as he has played with some of the biggest names of 2016, most notably going on tour with DJ Snake and Tchami in the "Pardon My French" Tour. If you haven't had the chance to see Malaa, don't miss out at GDF 2016 with Malaa playing Sunday July 10th!
Anna Lunoe
You might know her Hyperhouse mixes that just celebrated a year of existence, you might recognize her from her Hard Summer role last year with Skrillex, or better yet, you've heard her music and have seen her live. I haven't, so when it comes time for Anna Lunoe to take the decks on Sunday, you better believe I'll be watching from as close as I can possibly get. No genre is out of reach and her track choices are unreal, Anna Lunoe has taken her craft and worked diligently to become a respected name in the music industry. Check out her EDC set below and I'll see you on Sunday.
Above & Beyond
Of course I have to put A&B in this list, as one of my favorite trance acts, seeing Above & Beyond play Red Rocks last year was quite the experience. With a second year in a row, and another incredible "Push the Button" moment, Above & Beyond will not disappoint. Don't forget about the Acoustic II album that was released last month and the world tour of some of the most famous venues. Red Rocks is easily one of these, and while this isn't a planned acoustic performance, A&B are known for surprising even the most die-hard of fans. Check out their EDCLV set and get ready for some Group Therapy, Red Rocks style.
Knife Party
On Friday night one of the best duos to ever form are making an appearance at Global Dance. Rob Swire and Gareth McGrillen are known both for their role in Pendulum (comeback at Ultra 2016) as well as the drum and bass project Knife Party. In the 5 years since their formation, Knife Party has created some truly memorable tracks and given fans spectacular performances the world over. Friday night will be one for the books as Knife Party brings the recently released Trigger Warning EP and the album Resistance with some of my favorite tracks to date. If you're looking for somewhere to be Friday night, the main stage for Knife Party is an incredible choice and one you will not regret. Check out Trigger Warning below!
Overall, this has to be one of the most exciting Global Dance's to date. While there is plenty of bass music to satisfy Colorado's ever increasing craving for it, there is a little bit of everything else for you to check out. Keep an eye on social media for the set times tomorrow or early Friday and make sure to look for me wandering around the rocks with my camera and ear plugs in hand!
Leave a Reply