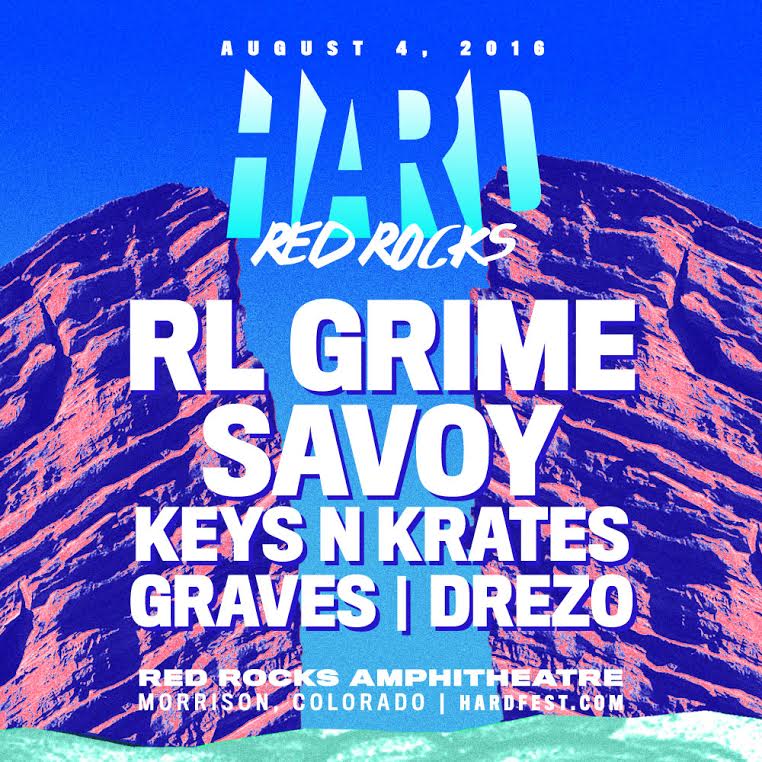 If you've been around the dance music community in the last few years, you've undoubtedly heard of HARD events. With some of the best artists on their lineups and easily the best videos around, HARD took things to the next level and brought a special event to our very own Red Rocks.
In the past few years the lineups have been astounding, and 2016 is no different. The master of the filthy trap beats, RL Grime, brings his last album "The Void" and plenty of remixes that wow fans of all genres alike. Having seen the wonders of RL Grime at Rowdytown last year, I can certainly testify to his prowess behind the decks and the ease with which RL Grime transitions between genres, energizing the crowd.
While seeing just RL Grime would always be a treat, HARD has given fans an all-around lineup that makes Red Rocks proud. The hometown heroes return with Savoy bringing along an insane amount of lasers and the sounds of Electronic Rock Music. The band has never failed to impress at Red Rocks and with plenty of experience and a new album to show off, Savoy is absolutely a star on this lineup.
To round out this incredible lineup for HARD Red Rocks 2016, Keys N Krates, Drezo, and Graves are set to remind the patrons of Red Rocks just how loud dance music can be while the fans will make sure Denver knows what we think of their sound ordinances 😉
Snag your tickets now to HARD Red Rocks 2016 before it's too late!
RL Grime
[soundcloud url="https://api.soundcloud.com/tracks/259874952″ params="auto_play=false&hide_related=false&show_comments=true&show_user=true&show_reposts=false&visual=true" width="100%" height="150″ iframe="true" /]
Savoy
[soundcloud url="https://api.soundcloud.com/playlists/171388940″ params="auto_play=false&hide_related=false&show_comments=true&show_user=true&show_reposts=false&visual=true" width="100%" height="150″ iframe="true" /]
Keys N Krates
[soundcloud url="https://api.soundcloud.com/playlists/239094368″ params="auto_play=false&hide_related=false&show_comments=true&show_user=true&show_reposts=false&visual=true" width="100%" height="150″ iframe="true" /]
Leave a Reply