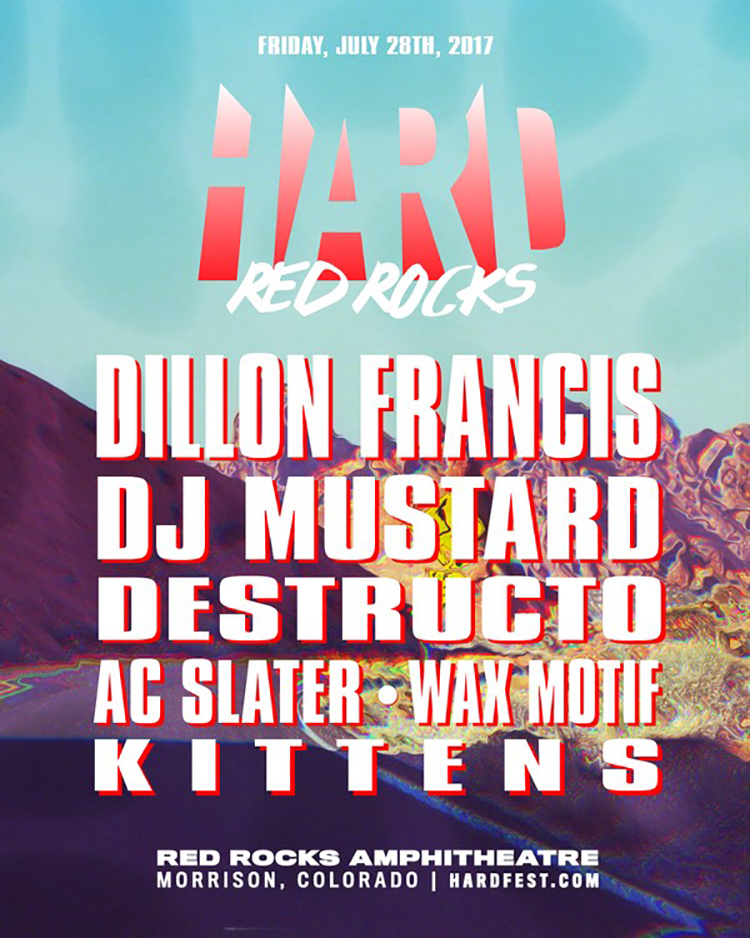 Back again for another year at Red Rocks, HARD brings some massive talent to a late summer show that has some high expectations from the Denver crowd. With huge names like Dillon Francis, Destructo, and DJ Mustard, fans of HARD know that they'll get one of the best shows of the summer right there on the rocks.
Dillon Francis has been on fire in 2017, releasing a bunch of new music over the last 6 months while touring and playing some of the biggest festivals around the world. He also has shown that Moombahton is still his forte and creates some of the most raucous and memorable shows. If you haven't seen a Dillon Francis set, I highly recommend it as you'll hear a little of everything: old, new, remixes, and some tracks that seem to have no place in a dance music set, but still works. It's quite the party from start to finish.
DJ Mustard brings the fresh beats of hip hop/r&b to the stage at HARD Red Rocks where Destructo shows off the versatility of his HARD brand. DJ Mustard has worked with some of the biggest names in the hip hop industry such as: YG, Ty Dolla $ign, Tyga, and more. Expect to see something a little different than you're used to at an electronic show, though branching out certainly isn't a bad thing!
Gary Richards aka Destructo aka the founder of HARD will be performing at the show this year with his characteristic style of G-House. If you've never seen one of his sets, you're in for quite a treat as you don't hear G-house that often and Destructo has been spinning it for years. Take a listen to the Renegade EP below and you'll have a better idea of what to expect, a hell of a good time.
There is plenty to see at HARD Red Rocks this summer with a variety of genres for everyone to enjoy. Check here for a link to the tickets with July 28th coming fast!
Leave a Reply