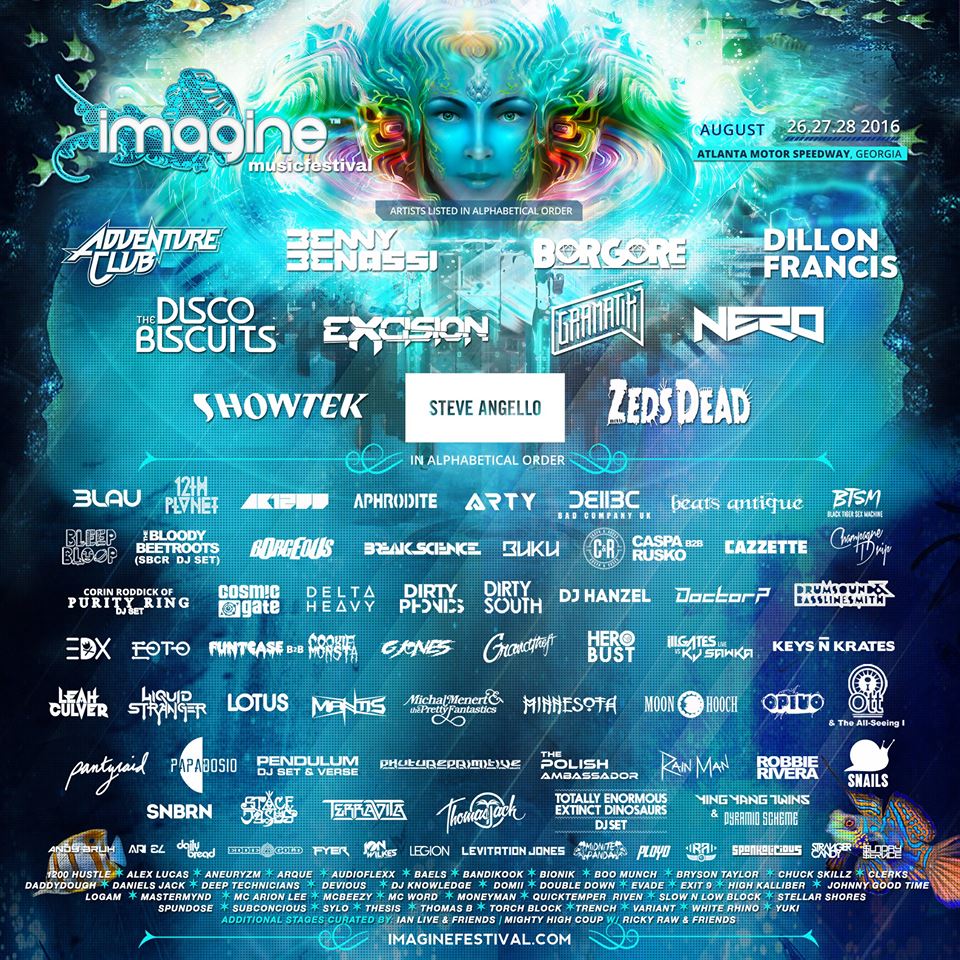 This year, Georgia's music festival scene has drastically decreased compared to past years. Many fans were disappointed when both Counterpoint and Tomorrowworld had announced that neither will be returning for 2016. Both of these festivals featured major headliners, camping, and unique experiences with both locations. Along a seemingly dark summer for the music industry in Georgia comes the game changer: Imagine Music Festival. Imagine is a three-day festival that will be taking place August 26, 27, and 28, 2016. To compete alongside other multiple day festivals, this year Imagine added the camping option to camp.
To up their amp even more, Imagine will also be held at the Atlanta Motor Speedway…. Which to say the least, is massive. Just check out the picture below! With this much room, fans are expecting amazing and intricate stage designs along with unique activities and events held within. The fest has already announced that within the speedway there will be an additional three stages (including a silent disco), amusement rides, circus performances, workshops, yoga, aquatic environments, and more. To go with the whole "underwater mermaid" theme, they will also have a water slide and a splash pool, along with some other fun activities! Don't forget to bring your floaty because things will most definitely get a little wet (haha). To top it off, the main stage will feature a 3D water hologram production, which will completely be unlike anything I have ever witnessed at any other festival.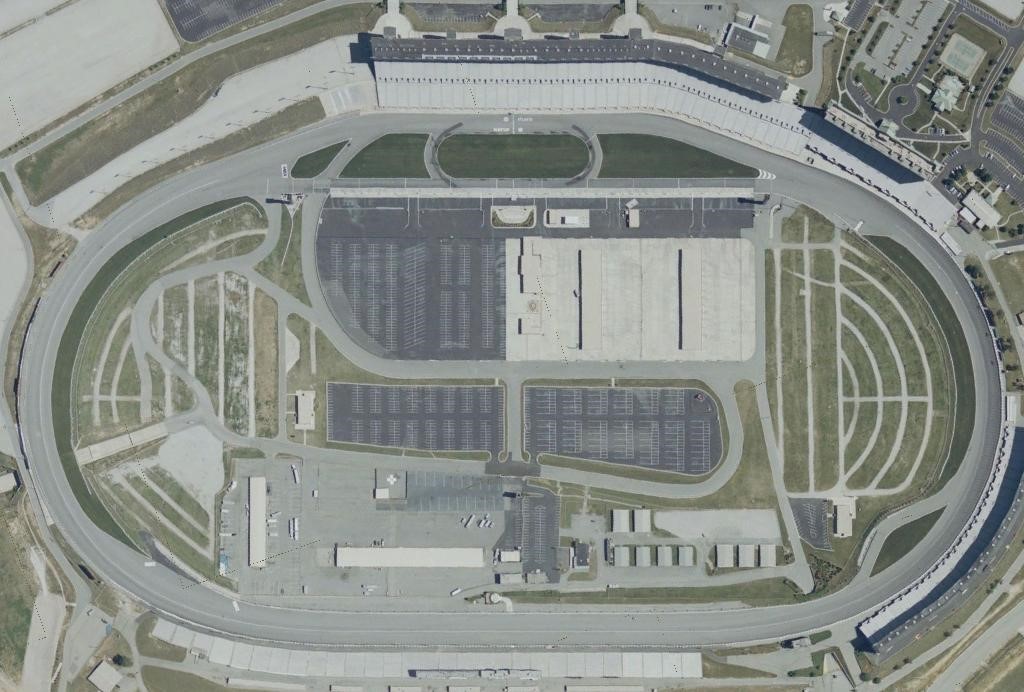 It is obvious that the masterminds behind Imagine wanted to make this fest one of the largest in the Southeast and have made it known. Thanks to these additions and changing the location from Atlanta's Old Fourth Ward Park to the Speedway, Imagine will be the festival to end your summer with. Altering the location to something so different provides the opportunity for the same feel as it did in 2014, just on a much larger scale.
The final festival lineup has been announced for the past month and a half, and fans have flocked to purchasing their tickets. So quickly, in fact, that in the past month alone they have sold out the last two tier prices before the final increase. 3 day GA tickets are still on sale for $259+taxes, not including camping. Due to the magnitude of the names that Imagine has in place, some of the non-headliners are just as large as the headliners! I feel that though this price is slightly steep, the stacked lineup is completely worth it. The lineup announcement generated a buzz in the musical world because everyone had seemingly low expectations. No one knew quite how spectacular it would be. The only thing that is slightly different to me from past festivals is the one hour set times for all, including major headliners. I guess with such a large and diverse lineup, trying to fit everyone in a 3 day period with long sets is impossible. They also only have 2 stages playing on Friday – not sure what the method behind this is, but I am sure everything will come together as fans arrive Friday morning.
This year, headliners include Benny Benassi, Borgore, Dillon Francis, Excision, Gramatik, Nero, Showtek, and Zeds Dead. Other artists include 3LAU, 12th Planet, Beats Antique, Black Tiger Sex Machine, Break Science, Keys & Krates, G Jones, Space Jesus, Jai Wolf, Lotus, Pendulum, the Polish Ambassador, and many more surprise sets (per Imagine Facebook page). There have been several rumors that I have heard about a certain TRIBE possibly attending and someone with a marshmallow on their head; however, attendees will be sure to have a good time regardless! I am definitely most excited for Sunday – most festivals tend to make that their lax day and have all the not so heavy artists play, not Imagine! If you have work/school Monday morning: I'm sorry. You might want to call out for this one. Sunday alone begins with Atlanta natives Midnite Panda and $unday $ervice, along with performances by some of my favorites: Buku, Space Jesus, Break Science, 12th Planet, Arty, 3Lau, Borgore, and Gramatik/Excision to end the weekend. Ending this fest on Gramatik on one stage and Excision on the other was one hell of a decision, and damn will I be conflicted.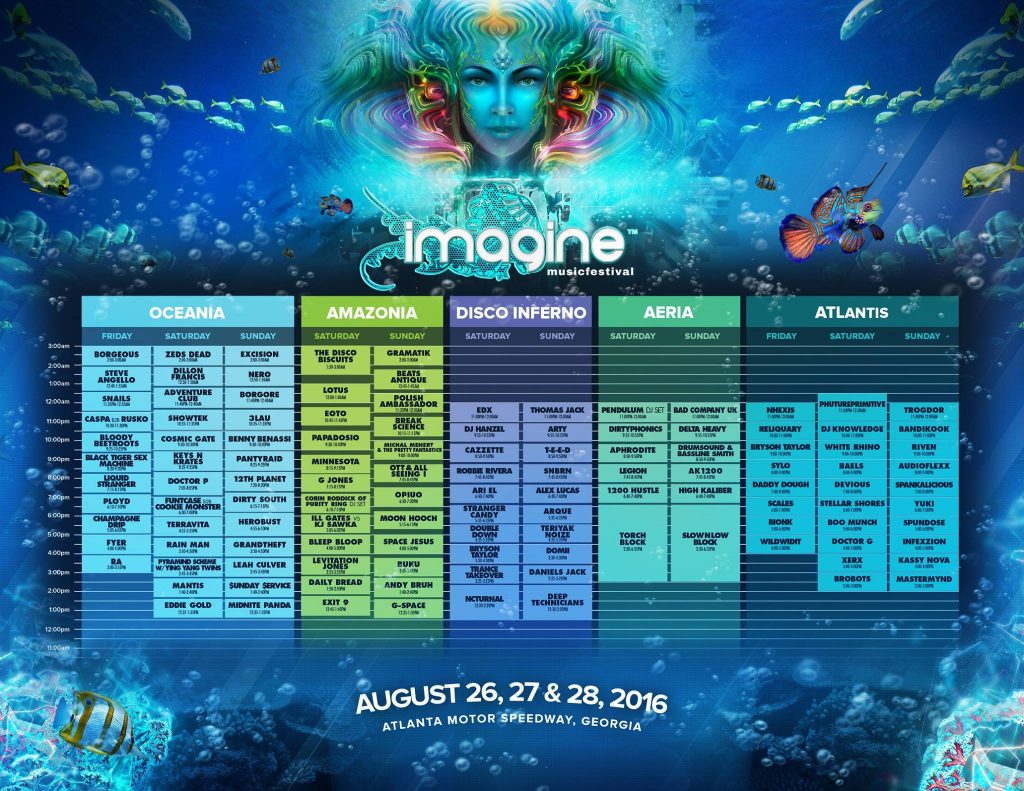 Imagine has everything in place to make this festival one fans will truly never forget. Imagine Music Festival will most certainly revive any sort of doubt about Georgia's music festival scene and if anything, will make it stronger so more events will want to be held down south.
This year we continue the fairytale. Our aquatic experiences from misting domes, splash pool, fountains and more allow guests to become fully immersed in their environment while keeping cool. With your hearts fulfilled by the music we want to serve your mind as well. This year you will find more transformational arts and workshops that complement the music and forge a personal journey to something deeper.

–Glenn and Madeleine Goodhand

https://soundcloud.com/electronicanything/sets/preview-playlist-imagine-music
Leave a Reply