Life in Color concerts are known for some of the best times in EDM. Life in Color is synonymous with a guaranteed good time filled with amazing lineups and plenty of paint! When going to a Life in Color event, you know one thing is for certain, you'll leave with a five-mile grin because you had one of the best experiences in your life. There is a reason for that. Life in Color always provides state of the art lighting, aerial acts, LED robots, contortionists, fire shows, and high power paint cannons delivering their famous "Paint Blast". This Saturday, December 28th, Life in Color is gracing Atlantic City for the second time. Last year, Life in Color came through Atlantic City on New Year's Eve. I partook last year when I watched Steve Aoki, Adventure Club, Tommy Trash, and David Solano kill it on stage. Now while, this year's event isn't on New Year's Eve, they decided stack up the lineup even crazier this year with the hottest acts in EDM currently.
TJR
TJR (real name TJ Rozdilsky) has built a formidable catalog of original tracks and remixes since exploding on the scene in 2008.In 2012 Chris Lake signed him exclusively to Rising Music. He has graced the top of the Beatport charts with his hits, 'Funky Vodka' in 2012 and 'What's Up Suckaz' in 2013. You also know TJR from his huge hit, 'Ode to Oi' and 'Don't Stop The Party' with Pitbull. TJR knows what it takes to make a huge anthem and loves making the dance floors go bonkers. surefire dance floor monsters.
Producing fulfills my creative side, but DJing is my release. I'm almost snapping cross faders off mixers because I'm so amped up; I just want to get up there and destroy everything. I want people to come away from my sets thinking that TJR brought something that we're not used to seeing anymore. – TJR
Dyro
Dutch breakout Dyro emerged in 2013 as one of the scene's hottest new stars. He debuted at #30 in the DJ Mag Top 100 poll and became the youngest 'Highest New Entry' artist to ever appear in the definitive DJ poll. Dyro is Hardwell's protégé and that is no joke. He is known for his hard bass lines, enchanting melodies and highly charged drops he has seamlessly made the transition from bedroom musician to renowned international DJ/Producer. Previously tipped by the likes of World #1 DJ Hardwell, Laidback Luke, and Dada Life as their 'Breakthrough Artist of 2012'. You can find the superstar has lived up to the praise bestowed upon him with his releases like his first Beatport # 1 record alongside Hardwell for 'Never Say Goodbye'. Expect him to only continuously get much bigger as type goes on.
Krewella
Krewella is notorious for their amazing stage presence which features crazy performances, live voccals, and non-stop action. They went big with their debut video 'Kilin It' back in 2012 and have since been en fuego! Everyone loves Krewella because they have such a wide variety of subgenres covered including moombahton, dubstep, progressive house, electro house, and house and seamlessly blend them beautifully together. Their hooks have caused people to get knocked off their socks and an extremely catchy vocals makes you swoon for them. They were featured on Good Morning America and their web series shows how crazy they are. Their hit tracks 'Alive' and 'Live For the Night' and numerous sold out shows around the world have been securing them as a force to be reckoned with and a spot in the top of the game.
Sebastian Ingrosso
Swedish House Mafia (SHM) ended their longstanding career this year with their outstanding performance at Ultra. Their tracks helped define EDM with 'Miami 2 Ibiza,' 'Don't You Worry Child,' and many many more. That said, just because Swedish House Mafia is no longer doesn't mean that Sebastian Ingrosso, former member of Swedish House Mafia, can't capture your hearts and attention like he did with SHM. Sebastian has proved to be a dominant force as a solo act that makes anyone have an absolutely amazing time as if they were seeing SMH. Don't think that just because he is solo means his tracks take a hit because if you haven't heard 'Reload' and 'Calling (Losing My Mind)' then you haven't heard phenomenal tracks. There is a reason why he owns a record label that manages Alesso and Otto Knows. He loves music. He knows music. He makes beautiful music. Sebastian Ingrosso will end 2013 properly by creating an unforgettable night.
Everybody loves a great kick drum and a killer bassline but people also want to hear piano stabs! Plus, vocals..but not cheesy vocals -­‐ they have to be real..Melodies and memories are made of this.
Let me tell you something that you need to understand. Life in Color in Atlantic City will be one of the best shows you will go to all year. When you combine all the visual, the all-star lineup and you get paint all over you. You know you are in for a great time. There is no doubt about that. So what are you waiting for? Buy your tickets right now if you haven't!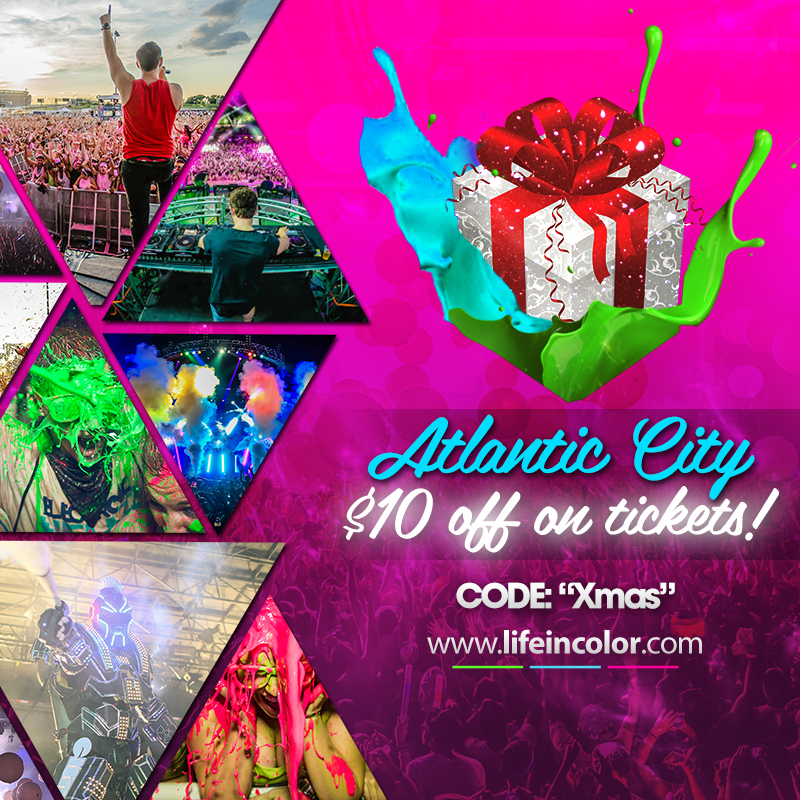 Check out the trailer if you haven't already: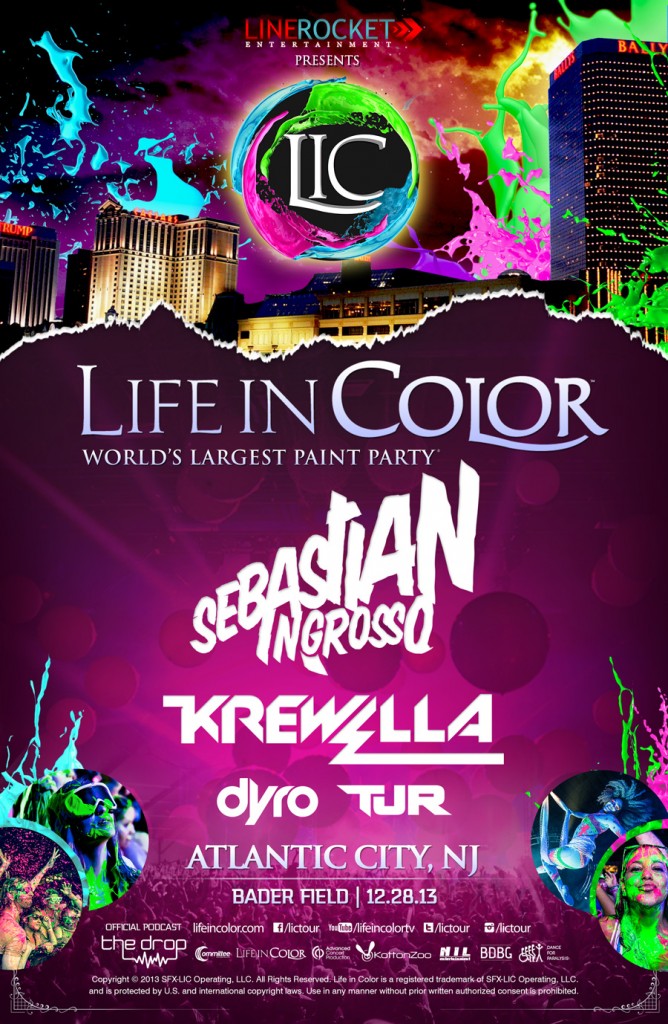 Leave a Reply