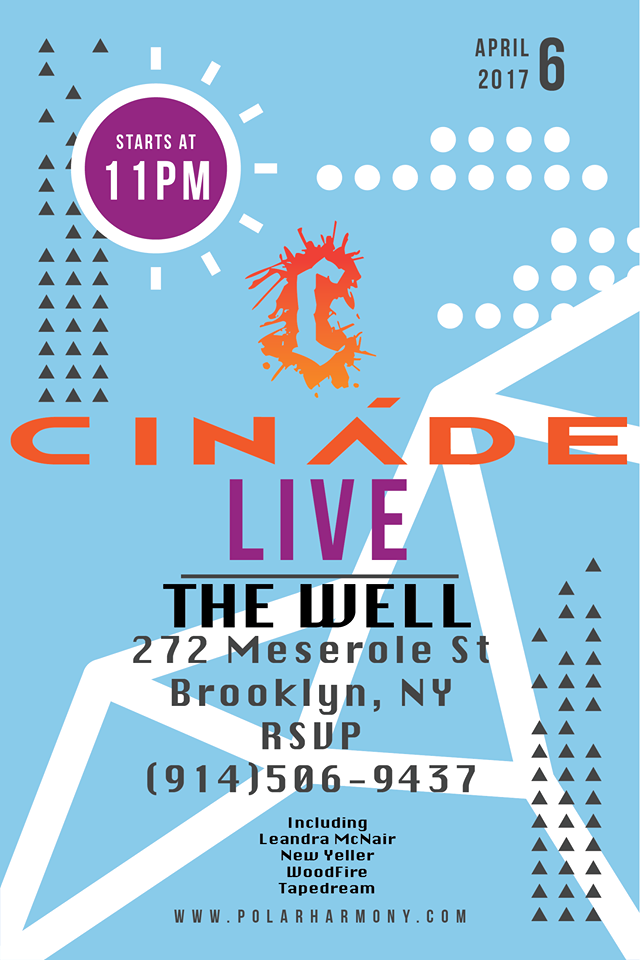 So, in about a week, several local artists from the five boroughs and Westchester will be heading to Brooklyn to showcase their live skills.  Taking place Thursday, April 6th, at The Well in Brooklyn, the show will be starting at 7pm.
The night will include artists:
Leandra McNair (set starts at 7pm)
New Yeller (set starts at 8pm)
Woodfire (set starts at 9pm)
Tapedream (set starts at 10pm)
CINÁDE (set starts at 11pm)
Headlined by CINÁDE, co-founder of Polar Harmony, this event is the opportunity for young artists to break out and show Brooklyn what they've got.  It is a chance for artists of all different genres to get a real chance to perform in front of live artists. R&B, indie, and electronic will be blended together throughout the night to give every music lover something to choose from.
All tickets are sold at the door, and only $10.  Those interested in attending can check out the Facebook event or go to BandsInTown to get further information on the event.  If you are curious to who is performing, check out samples of their work, below.
[soundcloud url="https://api.soundcloud.com/tracks/283953464″ params="color=ff5500&auto_play=false&hide_related=false&show_comments=true&show_user=true&show_reposts=false" width="100%" height="166″ iframe="true" /]
[soundcloud url="https://api.soundcloud.com/tracks/303164704″ params="color=ff5500&auto_play=false&hide_related=false&show_comments=true&show_user=true&show_reposts=false" width="100%" height="166″ iframe="true" /]
Leave a Reply