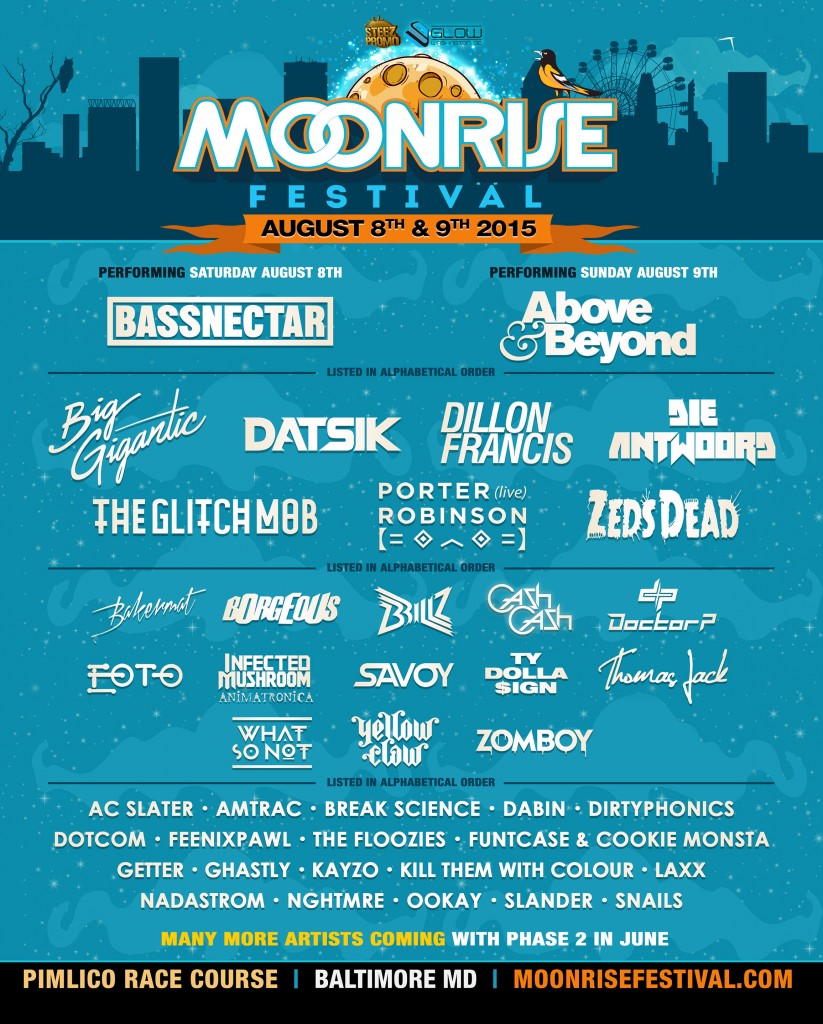 Moonrise Festival in Baltimore, Maryland has one of those lineups you can only dream of from a festival not named Ultra or EDC. With something for everyone, Moonrise is one of the hottest festivals from the second half of festival season and I am insanely jealous of all who are attending (that's you Grant). Instead of making my way to the airport in the morning to fly across country, I am sitting here salivating over one of the most diverse lineups of the year.
Above & Beyond, Bassnectar, TJR, Yellow Claw, Zeds Dead, Porter Robinson, Ghastly, Snails, Eoto, and many more. Trap, Trance, Dubstep, House, Bounce, and I couldn't possibly begin to classify Porter, but really, there is absolutely everything. There are many festivals that boast diverse lineups, but they tend to accommodate more of one genre than another, not to mention festivals that cater to one specifically.
Moonrise includes many popular names of dance music, though if you read down a ways, past Brillz and Infected Mushroom, all the way down to the smaller print (grab some glasses if you need), you'll find plenty of artists that have recently begun making a name for themselves.
Snails, Ghastly, Slander, Kayzo, Ookay, NGHTMRE, LOUDPVCK and more have taken over the rising scene and made it truly something special. The main stage will be worth seeing but this is one festival where I would urge you to spend much more time at the other stages checking out some incredible producers who have made their mark.
You can check out some of these up and coming artists below as well as a few classics you cannot possibly miss!
Enjoy Grant, I am super jealous waiting here to fly out in the morning (not to Moonrise)!
Porter Robinson
Snails
Zeds Dead
Ookay
Above & Beyond
Leave a Reply