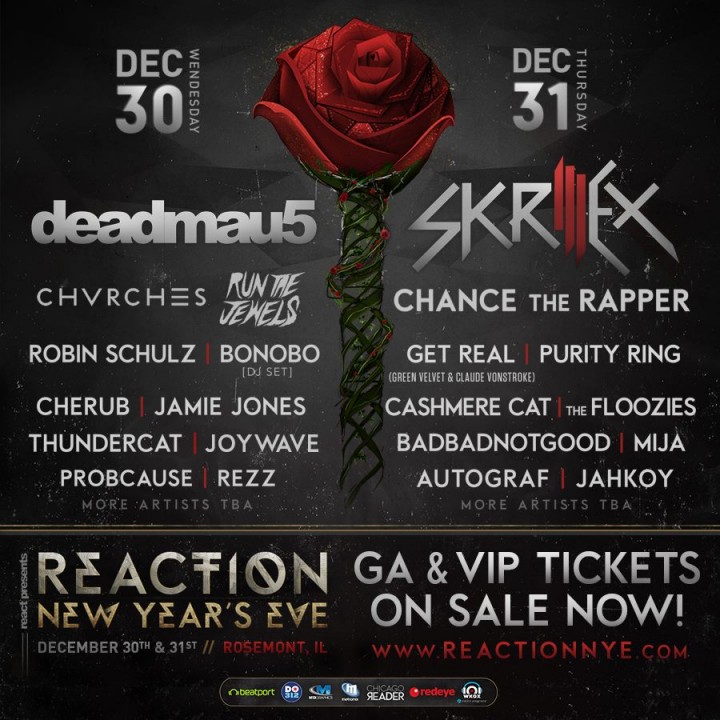 With 2015 coming to an end there is one last event that must happen before bringing in the New Year, for Chicago – Reaction New Year's Eve. React Presents is throwing its third brand new festival of the year in less than a week, and it is about to sell out! This two day festival will host headlining artists Deadmau5 and Skrillex along with supporting artists Purity Ring, Mija, Chance the Rapper and more. Reaction will not only have music but a skate demo and arcade as well!
We are most looking forward to see the OWSLA duo Skrillex and Mija this New Year's Eve. Skrillex being no rookie in the EDM industry has not only been busy working on his own stuff, on top of that there has been a new Jack U album in the works as well as producing music for other artists such as Justin Beiber. We look forward to him ending the festival off and bringing in the New Year with a bang. Mija, one of the leading females in the industry today, is sure to get you off your feet. This won't be her first go around; Mija has been on festival lineups such as Bonnaroo, TomorrowWorld, Dancefestopia, Shambhala and more. Just last year Skrillex and Mija did a back to back sunrise set at Bonnaroo, you never know what could happen when these two are together! (You can check out that set here (https://soundcloud.com/hi_mija/skrillex-b2b-mija-sunrise-bonnaroo-mix) to prepare yourself for this upcoming week!).
Other artists that we cannot wait to see this New Years Ever are the likes of Deadmau5 as he plays a few New Years festivals this year. There is more band like electronic music with The Floozies, and plenty of variety with the legendary duo Get Real on the lineup. If you're looking for something to do this New Years, React has put out one of the best lineups there is, not to mention reasonable tickets for the massive lineup.
You can find the schedule by time for each day as well as the map on the Reaction New Year's Eve app. Purchase your ticket today before they're gone for $140 and we will see you there!
Leave a Reply