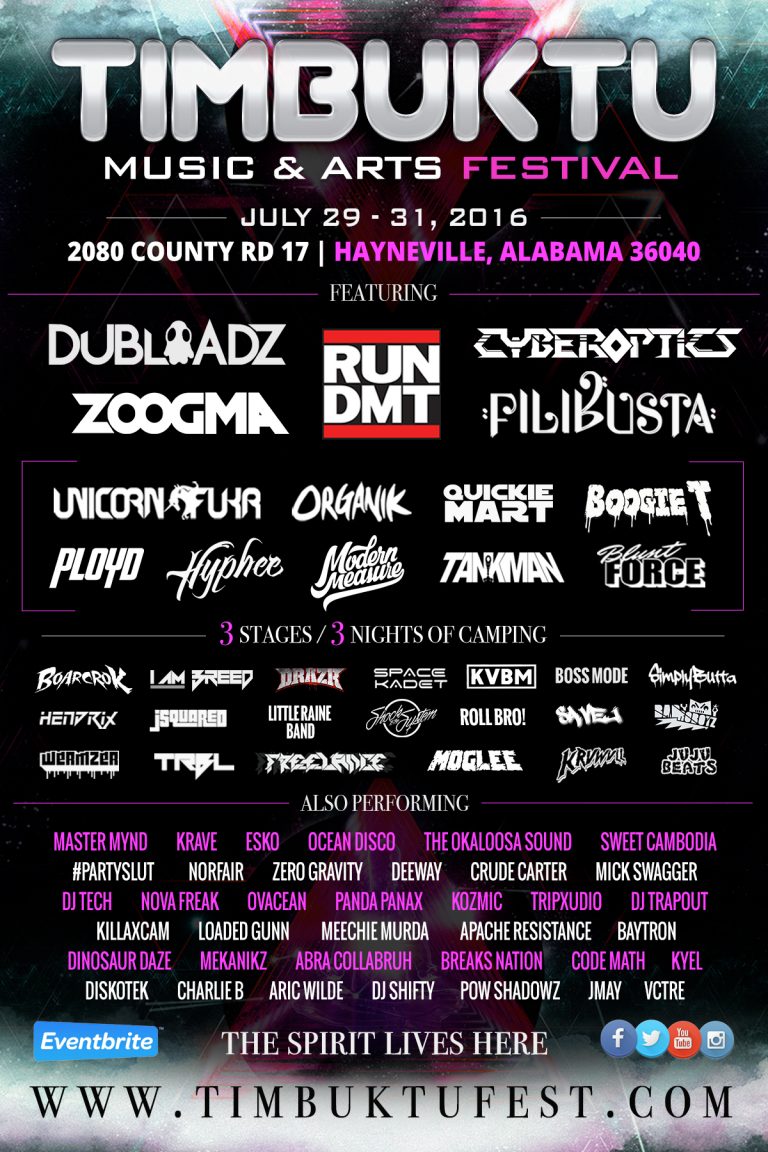 Tucked away in a hidden forest in the heart of Alabama, Timbuktu Music and Arts Festival offers an eclectic lineup of music, special surprises, and "limitless artistic expression" for all in attendance. Timbuktu, taking place July 29th through 31st, is a first year fest and is one of the most affordable festivals of the summer. With 3-day GA tickets only being $100 (including camping!), Timbuktu already has all of their ducks in order, despite the "newness" to the festival game. Immediately as a first time fest, they are already offering things that many festivals don't think to offer until the second or third year around such as meditation workshops, artistic performances, and one of a kind VIP perks.
Tickets include single day, 3 day general admission, all access VIP, premium all inclusive VIP, and couples all inclusive VIP. These different packages offer something for everyone whether you want to come just for one performer or splurge a little bit and receive the whole package. On top of that, all ticket options are completely affordable and all come with their own little perks. Single day general admission passes are currently on sale for only $75.00, 3 day general admission for $100.00 (includes wristband, car/non-car camping), all access VIP passes for $180.00 (includes wristband, Thursday night Barn Party, VIP car camping and bathrooms, backstage access, meet and greets, and much more), premium all inclusive VIP for $350.00 (everything as all access VIP and 3 meals a day, assembled tent, and much more), and lastly, the couples all inclusive VIP package for $500.00 (includes 2 wristbands and everything as premium all inclusive VIP). These prices are unbeatable and on top of that, the experiences made will be priceless.
The grounds, located in the middle of a forest in Hayneville, Alabama, include three stages spread amongst the grounds. Near all three stages and dispersed throughout the camping sites are plenty of areas to hang hammocks and enjoy what the venue has to offer. The only security you have to go through will be at the main entrance and after that, you are free to roam and enjoy the grounds without having to worry about emptying the water in your camel-back each time you re-enter the venue. As for camping, there is a good mix between shaded/forest and open field camping. Be prepared for some rugged areas, as with this being a first year fest at a brand new venue, the earth is still…well, earth. Below is a map of the spread out festival grounds!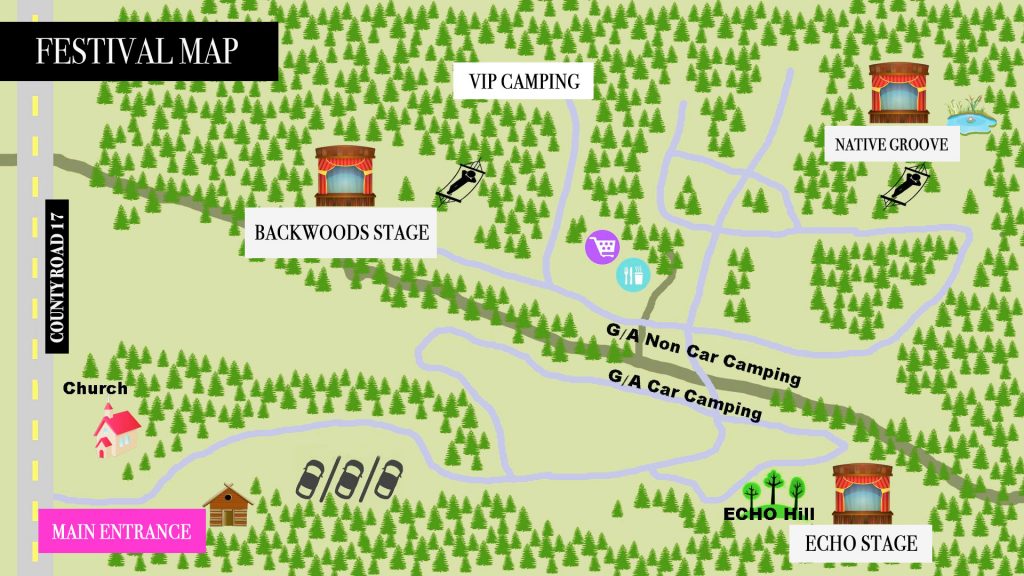 The diverse lineup includes everything from jam bands to DJ's; local and more known. Headliners include Dubloadz, Zoogma, RUN DMT, Filibusta, and Cyberoptics. While big names and headliners are awesome to see, some of the best performances with the most passion can be found from the names that you normally wouldn't check out. Wandering around a festival one time plopped me in front of Zoogma, and I am super excited to see these guys play again! Stopping by each stage and listening to a few new names each day will definitely be my goal for the festival and I am excited to see who I end up loving after the fest.
At Timbuktu, the spirit lives in this secret forest of Hayneville, Alabama. Uncovering that spirit and experiencing true bliss at this first year fest is something that everyone should strive to achieve!
I included some of my favorite tracks from people on the lineup to get excited and count the days until Timbuktu!
Zoogma
RUN DMT
Filibusta
Cyberoptics
Dubloadz
Blunt Force
Modern Measure
Leave a Reply