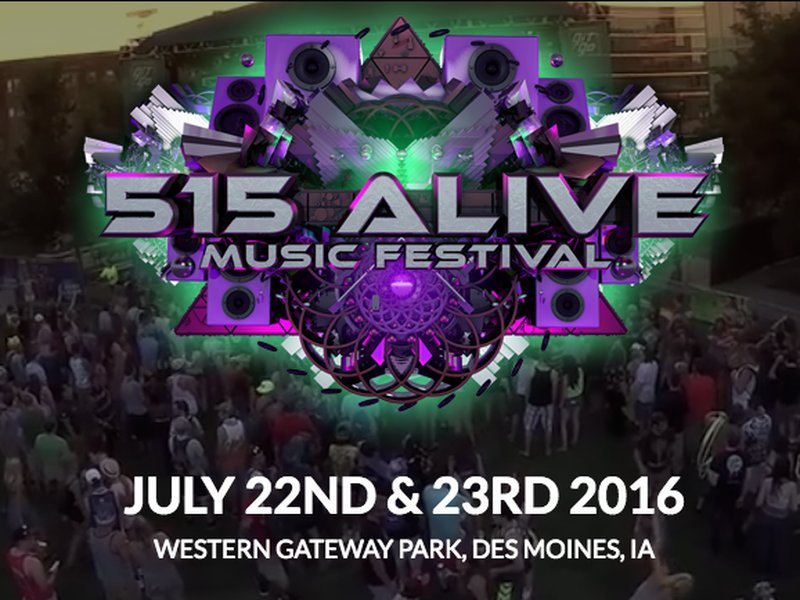 In its fifteenth year 515 Alive turned up the heat in Des Moines, Iowa this past weekend. From their killer lineup, to wonderful production and everything in between, they exceeded all expectations. In the midst of the city in close proximity to many hotels and parking ramps, this non camping festival was accessible to goers of all ages. As this festival continues to grow, 515 Alive keeps up with bigger, competing festivals to bring the best to the Midwest.
Between its four stages – Kosmos Bass Stage, Climax Stage, Dipset.net Stage, Bud Light Silent Disco and Main stage, food trucks and vendors 515 Alive helps local businesses bring just what you are looking for to this growing festival. Some of our favorites this weekend would be the Jamaican food truck, Tree Huggers Co-op, Grime Matters and 515 Official Merch stop. From apparel to accessories, stickers, pins and everything in-between you can find all of your festival needs. Another thing we look for in a festival are the necessities, water fill station and port-a-potty accessibility and we had no problem here. On each side of the main street there was a port-a-potty station that also came with a hand wash station, something you don't see at every fest! Near the entrance was a free water fill station that was easy to find and usually never had a line.
This festival catered to all festival goers but they definitely made VIP feel a little extra special. Selling out their VIP wristbands, these lucky attendees got to enjoy the festival from a shady pavement area off to the right of the main stage. Having a private bar, Smirnoff girls passing out goodies and taking pictures in front of the backdrop as well as table and chairs of plenty it was a great place to be. VIP ticket holders were given a keepsake cloth 515 Alive wristband which also allowed them to go to the official merchandise tent to claim their goodie bag. Inside the drawstring 515 Alive bag was a festival tee-shirt, a festival pin, full size poster and a collector's cup which allowed them to get a dollar off a drink each time they were to order one. We LOVE this idea; not only does it benefit the attendee but it eliminates the amount of trash on the grounds that seems to be a constant problem at festivals. So other festivals, take note!
Now that we covered the logistics of the fest, let's get to the lineup…
Kicking off our Friday evening was Terravita, with their EDM meets rap style this duo brings a unique performance that not many others bring. Next up, the brothers of Hippy Sabotage brought the chill vibes to Des Moines with one of those sets where it just felt right to lay back on the grass, relaxing as the music played. Closing with their top track Stay High featuring Tov Lo, there's no other setting where I would have rather seen Hippy Sabotage. Turning it up a notch or twelve, was Bear Grillz. Playing one of the heavier sets I've seen thus far this year, Bear Grillz played easily my favorite set of Friday. Following Bear Grillz was the funky live styling of Manic Science, then Destructo bringing the deep beats followed my Machine Gun Kelly closing out night one.
We kicked of Saturday a little later in the evening, due to being so drained from the heat of day one and wanting to survive through day two. Starting out our evening was G-Buck, though I personally had no idea who G-Buck was prior, I have not stopped hearing about this up and coming DJ and I am so glad we went early to check him out. With the perfect blend of both popular rap and EDM tracks, G-Buck was the perfect choice for the 515 crowd. If you haven't seen him already, I highly suggest checking out his Nest HQ MiniMix to get an idea of what you've been missing out on. Next, SNBRN serenaded us with feel goods such as his top track Rain Drops, which happened to be the calm before the storm. Boombox Cartel and Herobust turned up the heat with their sets leaving the crowd "busted". Making a complete 180, A$AP Ferg was up next with top hits New Level, Shabba and Trap Anthem. A$AP Ferg brought up special guest (???) to perform with him throughout his set. After A$AP Ferg performed a handful of the crowd moved out as the Zeds Dead fans moved in. Already knowing to expect to hear new music from the boys in light of their Northern Lights tour, Zeds Dead was the perfect closer for this festival. Playing some of their classics, With Me Dub, Collapse to dropping new songs we hope to hear on their new album along with recently released track Blame. The duo knows how to put you in the feels one second and make you question your sanity the next. It is safe to say that my body is hurting after this one.
Overall, 515 Alive gets 10/10. With a lineup that accommodated to a majority of the crowd, to logistics and staff it could not have gone any better. No matter where you were in the crowd, you felt like you had a major festival lineup with an intimate feel. If this festival continues to grow and succeed at the rate it is going, 515 Alive is on its way to being one of the best festivals in the Midwest. We cannot wait to see what the team has up their sleeves for next year, we will definitely be anxiously waiting our return. Thank you for the fun weekend, Des Moines.
Leave a Reply