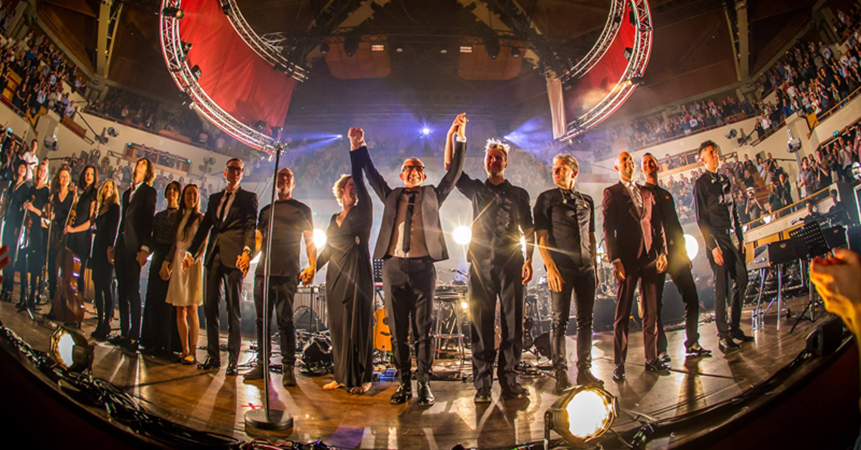 There is a phrase used sparingly these days which is 'generosity of spirit', so rare is its use we basically keep it for humanitarian acts of great sacrifice and rightly so, but if you were one of the 2300 people who witnessed the finale of Above and Beyond's acoustic tour at the Sydney Opera House then I think it's an appropriate term.
Against an iconic backdrop of the Sydney Harbor Bridge the wonders of Above & Beyond's musicality completely captivated the crowd in an unprecedented outpouring of love. The Sydney Opera House, lit with the light show of Vivid 2016 was the jewel outside that sparkled while inside one can only describe the event as magical.
Jono Grant, Tony McGuinness and Paavo proved that the Anjuna Family is exactly that, from the first strains of a violin to the last mouth-watering encore we all cheered, laughed and cried with them and they returned each and every emotion back into the crowd which lasted long after the last strains of their music had ended.
If you were not lucky enough to have witnessed the music deconstructed and reconstructed into acoustic with no edits or effects added, I can only say the feeling would be similar to the joy of people who have pushed the button to begin one of their electronic sets. From Satellite to We are All We Need, from Don't Forget About a Thing Called Love to the momentous and tumultuous applause of Sun and Moon, we were taken on a journey by the three of them and the ensemble they had brought together for this tour. Just when you thought it couldn't get better, it did and the ebb and flow of emotion sent out into the atmosphere was palpable.
To watch a crowd aged from sixteen to seventy sit enthralled not only by what they were hearing but the smiles from them when the apparent 'raver's' in the audience displayed the outstretched hands and singing of Above & Beyond's iconic anthems, it was evident their appeal was universal. A standing ovation, and one more song as Tony cheekily declared to an audience asking for ten more, the evening will remain in the hearts and minds of Australians for many years.
As it was the Finale to an amazing tour of iconic venues, those of us lucky enough to have scored VIP packages had the added pleasure of meeting and speaking with the members of the group and their entourage for a two hour wrap party. This took place in the North Foyer overlooking the magnificent Sydney Harbor and anticipation was at fever pitch for perhaps a second or two of each of their time.
I excitedly went to receive my signed commemorative print firstly then realized perhaps it was not the best thing at the start of the party but the Opera House staff were happy to mind it until I left, so armed with my free champagne I mingled with people from all walks of life who had come together and we all marveled at what we had just seen.
This had turned out to be quite a tour de force to get to with Sydney being battered for two days straight with a tropical super storm that saw 297mm of rain poured onto the city and surrounds accompanied by gale force winds and multiple floods. To put it in perspective, the city received three months worth of rain in 24 hours. It was unprecedented and listening to some people's journey from where they lived it was obvious the pull of this concert meant people went out of their way several hundred miles just to make it to Sydney.
When the ensemble began gathering in the foyer it was like bee's to a honeypot with each and every person wanting even a small moment of their time. Jono, Tony and Paavo along with James Grant were so gracious with each person that it was hard not to feel you were at a blood family gathering. I was lucky enough to be one of those to spend a few minutes chatting to Jono Grant receiving the most genuinely heartfelt hug from him I felt the tears I'd just wiped away from the concert return. The same was received from Tony with a reply of 'bless you love' as he continued in a circle to hug the ever growing throng.
While standing and listening to tour stories from James Grant I learned of how much of a logistical nightmare it was to give the fans this type of experience. He explained that to do iconic venues as they had would mean less people but no less cash to stage each event. They struggled with the unique nature of each and every place they eventually played with Australia being particularly difficult due to it's distance. James said they pondered it but basically it came down to this: If you think on every iconic venue around the world, how could we leave out the Opera House?
It meant a 30 person touring party, sets, soundsystems, venue availability and costs and of course living expenses not to mention the filming of the tour was being undertaken at their own expense. The more he spoke the more I witnessed a family who were determined to give themselves to their fans regardless and it's to be admired greatly.
Not only that but the genuine warmth that emanated from each and every one of them when met with a story from us of how and why the music touches us is simply a case of people who care about what they do and who they play to. James and I shared a moment about cancer and people in our lives it has touched and that conversation was emotional yet when I made motion to allow him to move on he enveloped me in another hug and the thing that brought me to tears in the arms of a stranger that their next Melbourne show would be mine at his invitation and with his pleasure.
By this stage I'd run out of tissues but not tears and as I thanked him with them rolling down my cheeks, another fan by the name of Jessie came to my rescue with tissues and a shoulder to sob on. The kindness of Above & Beyond and the Anjuna Family flowed freely and I feel humbled and honored to have been there to see that phrase echo off the walls.
"Generosity of Spirit" could easily be an Above and Beyond song because the Anjuna Family display all the traits that tell us to Never ever Forget about a thing called Love.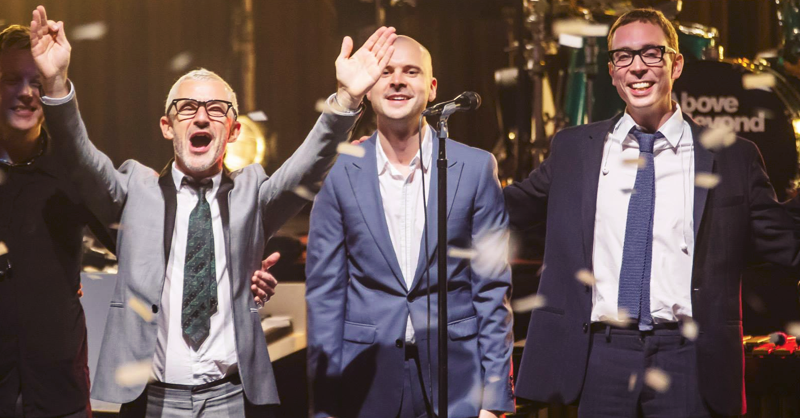 Photo credit and thanks to TranceProject
Leave a Reply