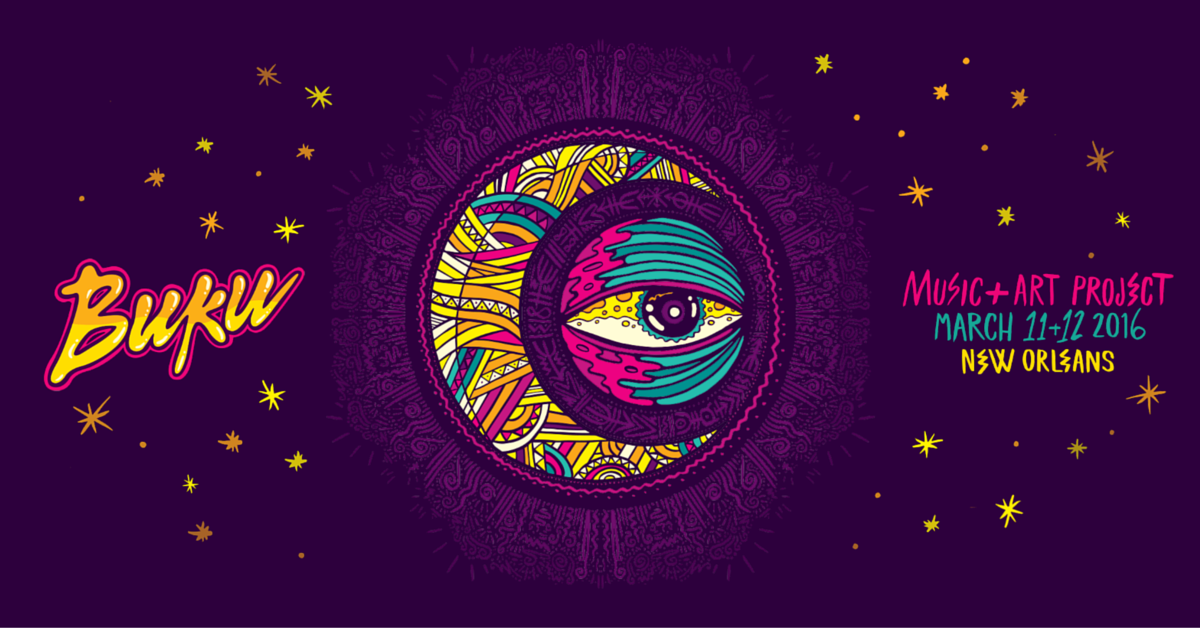 Buku Music and Art Project was completely sold out the day before it began, and it was definitely an experience. Despite hurricane conditions, we never saw a single drop of rain. After going through the main entrance and walking across the railroad tracks, we came across what looked to be a bunch of large shipping containers covered in beautiful Mardi Gras colored graffiti. We soon realized that this was Fort Buku and that we would definitely be back when we needed to regroup.
We came up on Post Malone getting groovy at the main stage, Power Plant. The next show on our list was Mija back to back with Anna Lunoe, which was epic. As we walked over to the float den, we stopped in awe of the live art gallery. Artists were all on scaffolding outside of the entrance to the float den painting away. It was one of the coolest art pieces I'd seen at a festival. Once inside, we saw the floats of the Float Den. On either side of the entrance were floats from previous Mardi Gras parades. When Mija and Anna Lunoe's set was over, we went back over to Power Plant where we encountered a beautiful sunset during CHVRCHES.
We heard some people talking about TOKiMONSTA and decided to go check her out before Above & Beyond came on. The Back Alley stage was literally at the back of the festival grounds, but was well worth the trip. Her style was like electronic R&B and extremely chill; it went great with the atmosphere close to the river. After Above & Beyond, we went back to the Float Den to catch the end of Fetty Wap, where we were pretty shocked at what we saw. While he was speaking in the indecipherable language in which all his tracks are recorded, people were raging like Baauer was up there already.
We stayed near the back until we felt it was easy to move towards the front. A lot of people cleared out and we found ourselves near the front 5 rows before Bauuer even came on. We left a little early to catch the 2nd half of Kid Cudi, where we came across the same conundrum as we did at Fetty Wap. It was very hard for me to process the aggressive dancing to the melodic tone of "Marijuana." We left that set earlier than planned and booked it over to the Ballroom where we could hear AlunaGeorge's sultry sound. The Ballroom was lit. There was a balcony area above where people in VIP were getting just as weird as we were below. We went back to the Float Den one last time to catch Griz, where we never are disappointed. We called it a night and headed back towards the hotel.
Saturday we got to the festival right as NGHTMRE was opening up the Float Den. I met up with a few old friends at Fort Buku and chatted it up until we all headed back to the Float Den where we stayed through the madness of Feed Me and Yellow Claw. We only got to see about 30 minutes of Pretty Lights live band before going back yet again to the Float Den for Datsik, We went to the Ballroom one last time to catch a real treat, Cashmere Cat back to back with Trippy Turtle.
We had planned on ending the night at a beautiful Nero set until, less than halfway through Promises, we catch wind that Pretty Lights was doing a surprise set just outside the venue underneath the highway and we needed to be there. We headed out to see what all the commotion was about and we were so glad that we did. It brought our night to an epic close and then we headed on out to hang out with some old friends, and a few new ones. Buku Music & Art Project was definitely one for the record book.
Leave a Reply