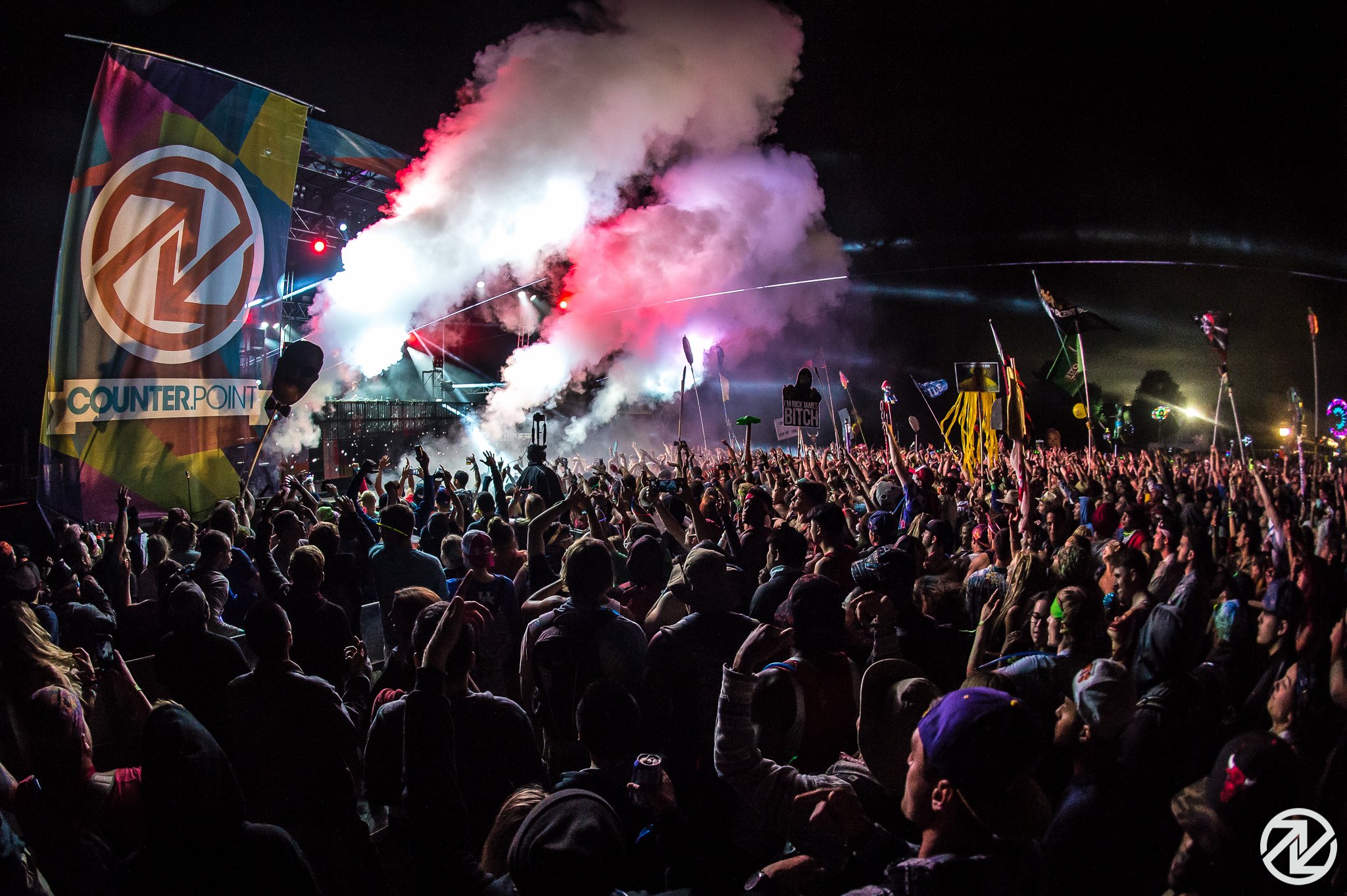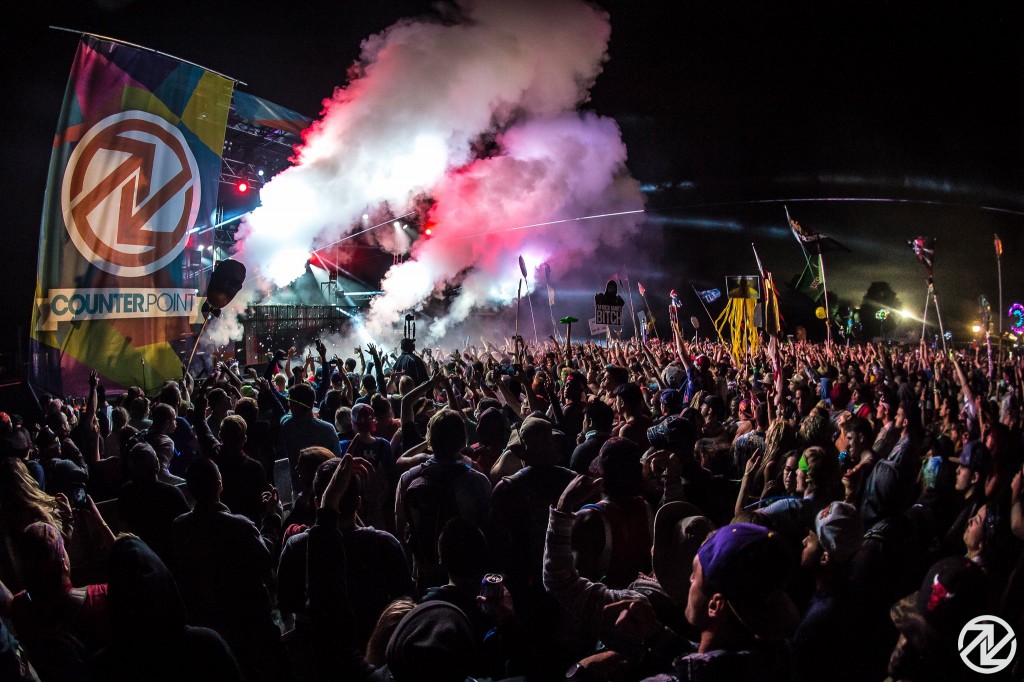 CounterPoint was the best way for me to spend my Memorial Day Weekend without a doubt. The music brought by the artist, along with the painting and drawing throughout the venue, and great vibes brought by the attendees and workers made for a perfect weekend getaway.
My Friday started off meeting my group and getting to the gates as early as possible, which turned out to be essential. We got there around 8:30 AM. The gates as well as the box offices opened at 10 and by the time we got there the line was already starting to get kind of long. They opened the box office early, about 9:30 or so which helped speed up the process of getting all the vehicles through security faster. I heard from many other friends and attendees that got here much later, it could take up to three hours to get into the campgrounds if you got there any time past noon. Security and the box offices could have prepared a little better to host the crowds in my opinion.
Once getting through security, the festival had many useful places you could use to regroup with your friends, which was very convenient because everyone was bound to get separated at security. Once we made it the campgrounds and started setting up camping, the feeling was already there. You could tell everyone was happy. Everyone was nice and lending a helping hand to those who needed it; the good vibes were felt instantly. The main venue didn't open until four so once we were done setting up we took the time to relax and explore the midway. The midway was full of vendors, a convenient store, art, the ferris wheel, and a nice spot to relax.
After the gates opened at four, my group and I made way to experience the insane bass of G Jones, even though the sun was still out, G Jones took this opportunity to show everyone what he's made of. He drop many tracks very familiar to G Jones fans that took a lot of people new to G Jones off guard. There was not one dull moment in his set. He, of course, ended with his remix of "Don't Hate The 808" originally by Bassnectar. He followed that remix up unexpectedly with a song I've never heard before but come to find out it was EPROM's "Center Of The Sun VIP." I believe it was the best way he could have ended his set, and it was an amazing set to start off the festival.
Following G Jones set, I decided to check out the other stages a bit, which wasn't to difficult because they were fairly close together, yet far enough apart where the stages sounds didn't clash. All of the stages had a different type of vibe to them, you could just sense it. Different crowds mostly stuck to one stage, maybe once or twice venturing to another one to check out a different artist. For the most part though, the EDM lovers stuck to the Steeple Stage. The lovers of Jam Bands and such stuck to mostly The Point while every now and then venturing to the Underground Stage. The Underground Stage was mostly for the ones who like that weird, vibe music.
I ended my Friday night with Zomboy, Excision, and Knife Party because Chet Faker was canceled. Zomboy and Excision put on the sets I was hoping for; heavy dubstep and the got the crowd moving like crazy. The dust in the air was ridiculous. Knife Party disappointed many. Everyone loves Knife Party for their lively dub/mooba/heavy house type mixing they normally bring that makes you just want to get your feet off the ground and move. This set however was very dry, very basic; they started out with some tracks of their new album, which I loved, but after that it was boring house track after boring house track. Much of the crowd began to move to different stage or go back to camp. Their last about fifteen minuets they gave us back what we all wanted, dropping songs like, Bonfire and Boss Mode.
Saturday morning started off slow. Everyone was very tired from the night before, but ready for the night coming none the less. We spent most the morning meeting new people and finding new art, such as pins, wire wraps, and prints. However, we did not waste anytime getting ready to go see Jauz. It was painfully hot, but once Jauz started his set, no one cared. The set was awesome as Jauz can mix his Deep Deep house with some original dubstep. His set had plenty of ups and downs, so you could dance like crazy, but also relax and just vibe. Jauz brought on a beautiful moment towards the end of his set when he played his "Feel The Volume, PtII Ft. Fatman Scoop (VIP Mix)," reminding everyone that music is the reason we are all together. That was Jauz's first set in Georgia and I have a good feeling it won't be his last.
After Jauz, due to the intense heat, and extreme dust, many of us decided it'd be a good time for a rest, we took advantage of the Eno set up under a large tree that many previous CounterPoint goers called 'The Tree Of Life'. Now CounterPoint did have water refill stations set up, but they could have used more. The lines were continuously long. It made it hassle to fill up a camelbak or a water bottle.
Once GRiZ was about to go on, we all met back up and prepared for the funky beats. It was all around amazing set. After GRiZ, we revisited camp to get water and change for the night. We headed back to catch What So Not, RL Grime, and Dillon Francis; all of whom put on unbelievable sets. Although, there was just something about What So Not's set that was different. Don't get me wrong, RL brought the filthy trap and Dillon does what Dillon does, but What So Not brought you up and down. He made you feel the music in the same set where he had you going crazy. What So Not's set was definitely one to remember.
Sunday morning was no better than Saturday morning. It was actually worse, but we had more time to just relax. Once entering the venue, we spent most the day at CounterPoints "Summer Vibes" stage, which was perfect. We brought chairs and blankets. It was the perfect opportunity to see the artist you wanted, but relax at same time. We stayed for the most part from beginning to end. The Summer Vibes stage ended with Tipper, who put on a good set. Towards the end of Tipper, we made our way of to The Point where Zedd was going to be playing. He started off kind of late, but it was worth the wait. This was my first time ever seeing Zedd and I now know why he is loved by so many. His set took your breathe away by playing many different genres and many original tracks. The way he brought it all together was amazing. He made you feel, dance, smile, love, shout, laugh, and even some cried. That was one of the best sets of the weekend. Leaving early to catch all of Zeds Dead was a struggle, but we did it. Zeds Dead started off on fire and ended on fire. Those two know how to work the crowd. This was the set no one wanted to end. You could feel the energy of everyone around you and with close 45,000 people at CounterPoint, that's a lot of energy.
All in all CounterPoint was an amazing festival. Majority of everything was well put together and everything was run on time. Other than one artist cancellation and a small sound issue on Saturday, there was really no issues. Thank You for having me CounterPoint! I will be seeing you again next year!
Leave a Reply