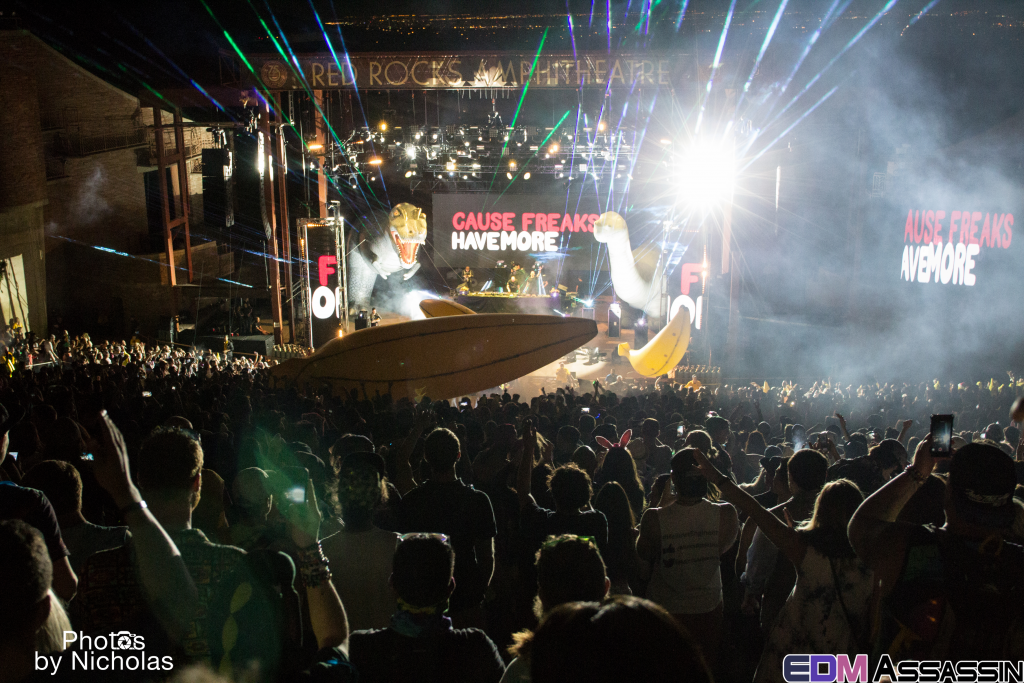 A raucous party happened at Red Rocks this past Saturday and we were lucky enough to be in attendance with a camera to catch it all.
Dada Land Before Time came to Red Rocks and the Swedish duo brought along music for everyone with them. Aryay the Lion Chicago native, Ilan Bluestone the trance prodigy from Anjunabeats, Paper Diamond returning to his second home of CO, the bass-house wonder kid Jauz, and of course, Dada Life themselves. Bringing out all the stops was a theme of the night as the stage was adorned with two HUMONGOUS inflatables that flanked the stage, a T-rex, and a Brontosaurus to be exact. First up was Aryay.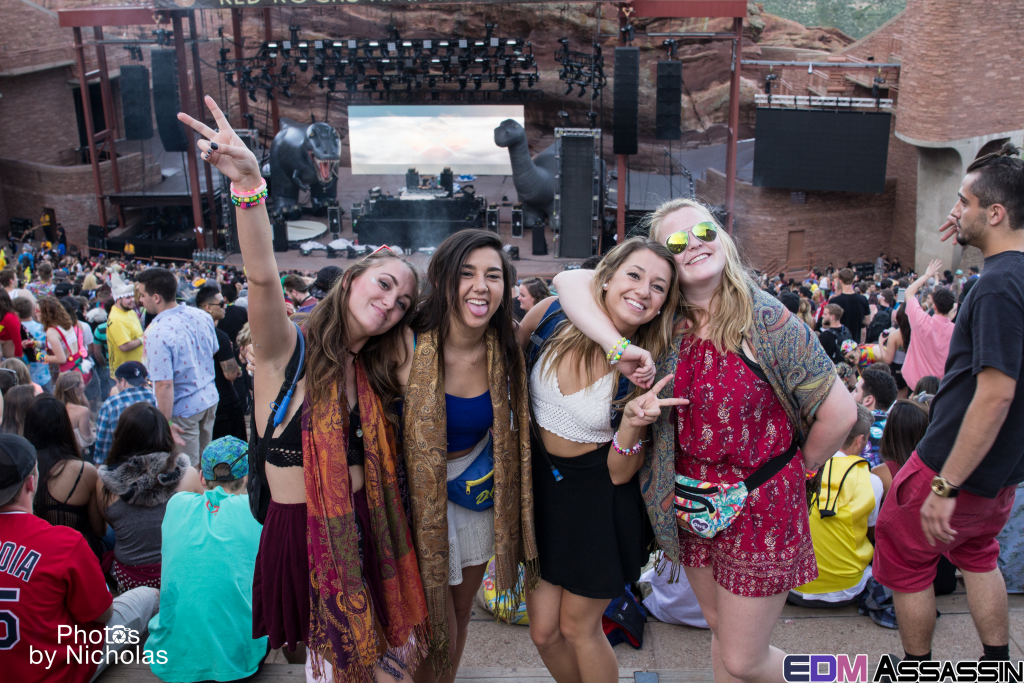 Aryay the Lion. We've featured him here before on EDM Assassin, an interview from Ashlyn in Chicago. Walking into Red Rocks from next to the stage, I could hear the bass music throbbing and the crowd that had made their way in were already turning up. Aryay was playing dubstep, trap, bass house, really anything you could think of, all transitioning well for the crowd to find a new groove and get down. We were even lucky enough to hear some of the newest music that he's been working on. For opening Dada Land Before Time, they really could not have found a better artist as Aryay brought the party with him as the crowd was absolutely fanatical right after doors opened.
Up next on the dino stage was the up and coming anjunabeats artist Ilan Bluestone. I was unsure about how trance would go down at Red Rocks in front of a crowd that would be seeing a lot of bass music with Aryay, Jauz, and Paper Diamond. While Dada isn't exactly dubstep…. their set featured plenty of bass to impress the crowd. I stood high up on the rocks as Ilan took to the stage and opened his set with his preferred genre, trance. I mostly watched the crowd, it was a nice day and Red Rocks was maybe at 1/3 capacity at this point. There were some people down in front who were having a great time and I saw plenty of people throughout the crowd truly vibing to his set. I certainly enjoyed the song selection as the Anjuna veteran kept the tracks coming, varying things up here and there. As the hour moved past the half-way mark, the crowd seemed to get into the set a bit more and with a few choice selections like Audien's remix of Pompeii, the crowd finally warmed to Ilan. After his set was over you could tell that the crowd was excited for Paper Diamond, but I had to give it to Ilan Bluestone for giving Red Rocks an incredible trance set in the midst of all that bass.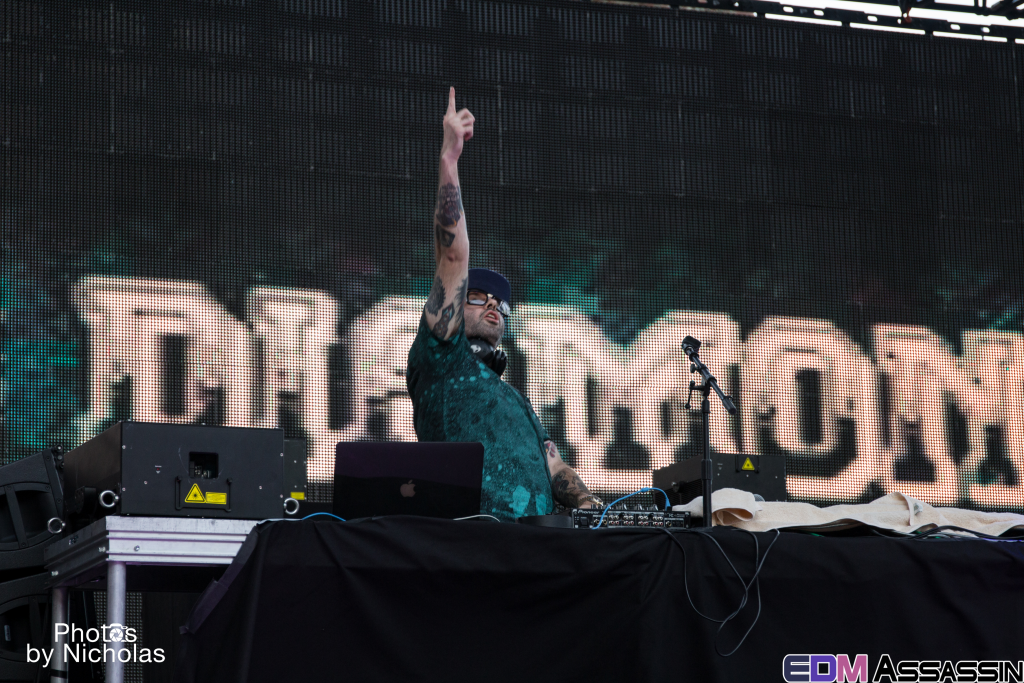 If you've ever been to a Red Rocks show in the summer, chances are you may have seen Paper Diamond. My first time seeing him was last year at Dead Rocks where the rain cut things short, but this year Paper Diamond came out guns blazing to an energetic crowd at Dada Land Before Time. Jumping straight into trap and a variety of bass music, Paper Diamond found the perfect ways to elevate the Red Rocks crowd that has come to be a second home for him. Honestly what I love most about seeing Paper Diamond live is how much he absolutely loves his craft and playing music to a crowd. He's dancing behind the decks as much as anyone in the crowd and with those characteristic sunglasses bouncing all over his face, it's easy to see that he was meant to DJ. That energy translates directly to the crowd, pumping them up and making every track even more special.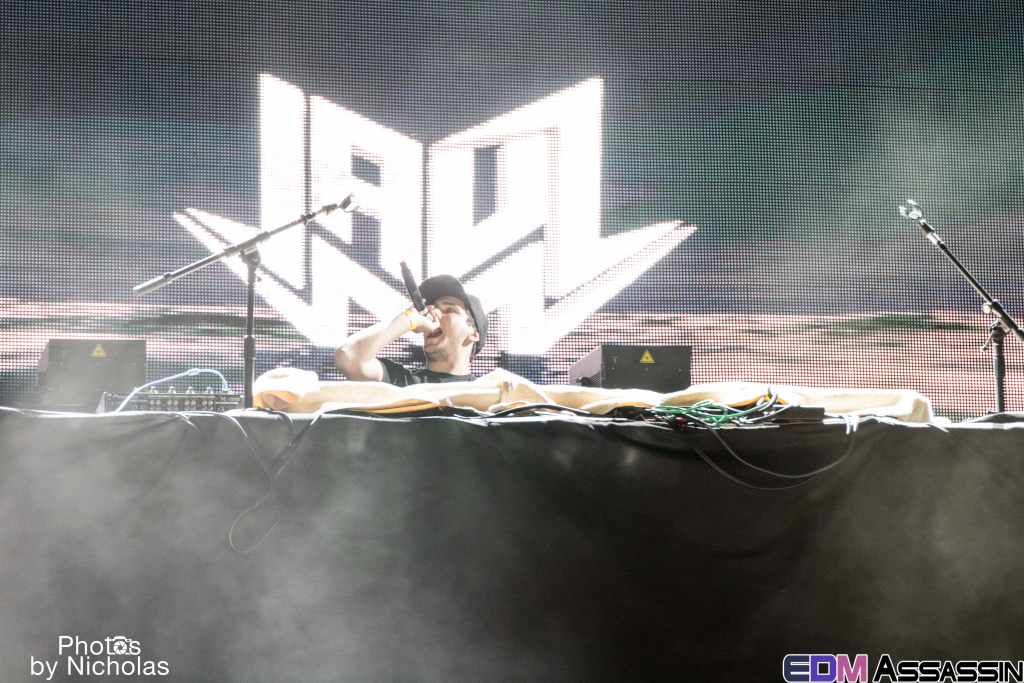 If you've been around electronic music for the last year or two, you've undoubtedly heard of Jauz. A young gun on the scene but continuing to show us that his production skills are out of this world, the shark squad was in full effect as Red Rocks went absolutely bananas (more on that later). Jauz visited Red Rocks last September for a night of Rowdytown and has been consistently rising in popularity since then. It was easy to see as the fans at Red Rocks could not contain themselves, everyone was energetic and with each new song, took their excitement to another level. Jauz obviously thrives on the energy of the crowd as he became more and more animated with each song in his set, playing some of his classics like "Feel The Volume" and plenty of new and unreleased music. It felt like Jauz was collaborating with every artist under the sun with every genre there is. Though that's clearly not the case, Jauz put on an impressive display that kept the crowd's attention and admiration.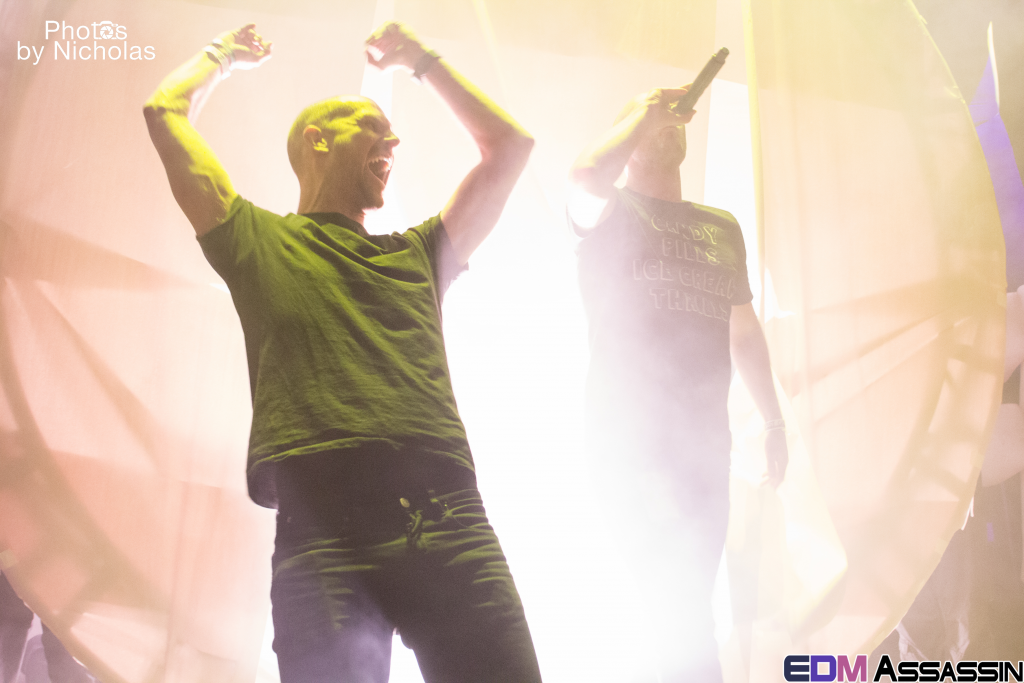 To round out the night, Dada Life decided that they would take us back in time. I wasn't exactly sure what this would entail, but the entire theme of the stage seemed to indicate prehistoric and I was in no way prepared for a T-rex stampede. As the duo jumped through a drum beat on by caveman and the massive amounts of CO2 began going off, it was clear that Red Rocks was going to be an enormous party curated by the boys of Dada Life. Having seen Dada Life a few times before, I sort of knew what to expect, tons of inflatables and characters both on stage and visuals behind them, lots of CO2 and plenty of music that gave the crowd the energy they would need to survive. This time all of this happened amidst the most beautiful venue in the world, and just up the road from Dinosaur Ridge, one of the most famous dino spots in Colorado. Their inflatables held a certain irony after I realized this, whether it was intentional or not, I'm not sure.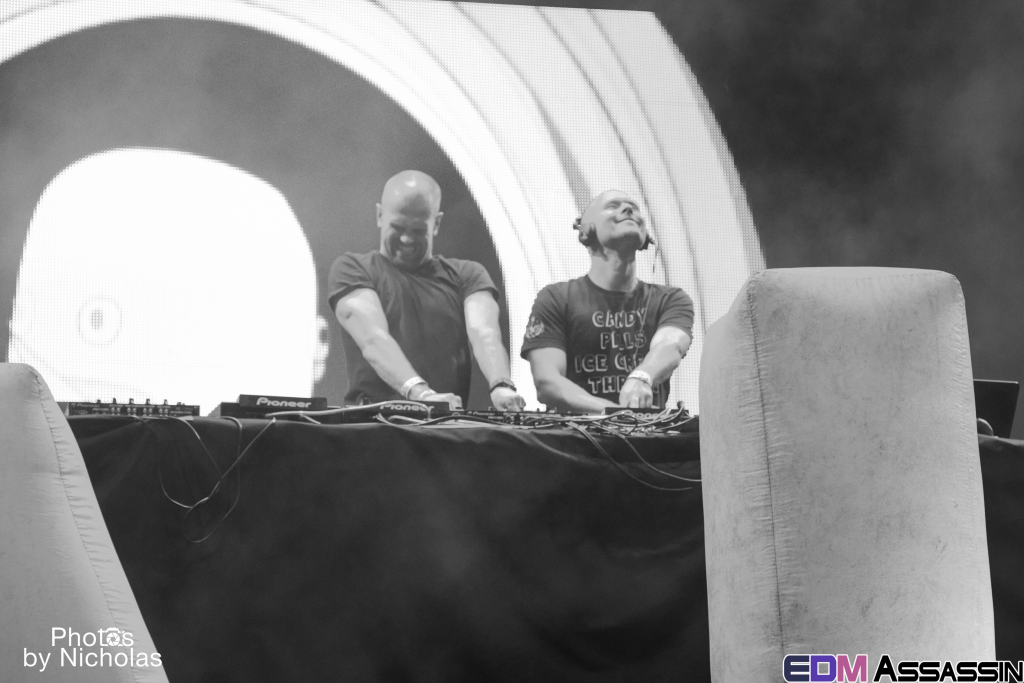 Regardless, the electro house melodies and bass that are characteristic of Dada Life began our journey through time. The set wasn't set up as a journey from early hits to the most recent releases, but there were plenty of old gems thrown into the mix with the hard hitting bass and infectious melodies that we've come to love over the years of Dada. With each set of theirs that I see, I'm continually impressed by the amount of energy and dedication that Dada Life show towards their fans. The entire experience from the first note to the last inflatable banana is centered around fans enjoying themselves, smiling, and genuinely having the time of their lives. It's not often you see artists come out each night trying to create the best possible environment for their fans and keep it up for as long as they have. Saturday at Red Rocks, Dada Life taking us back to Dada Land Before Time was an incredible treat. From all of the inflatable champagne bottles and small bananas, to the lasers and projection mapping on the rocks, to the GIGANTIC inflatable bananas that made their way around the crowd, Dada Life showed Red Rocks the absolute best of Dada Land.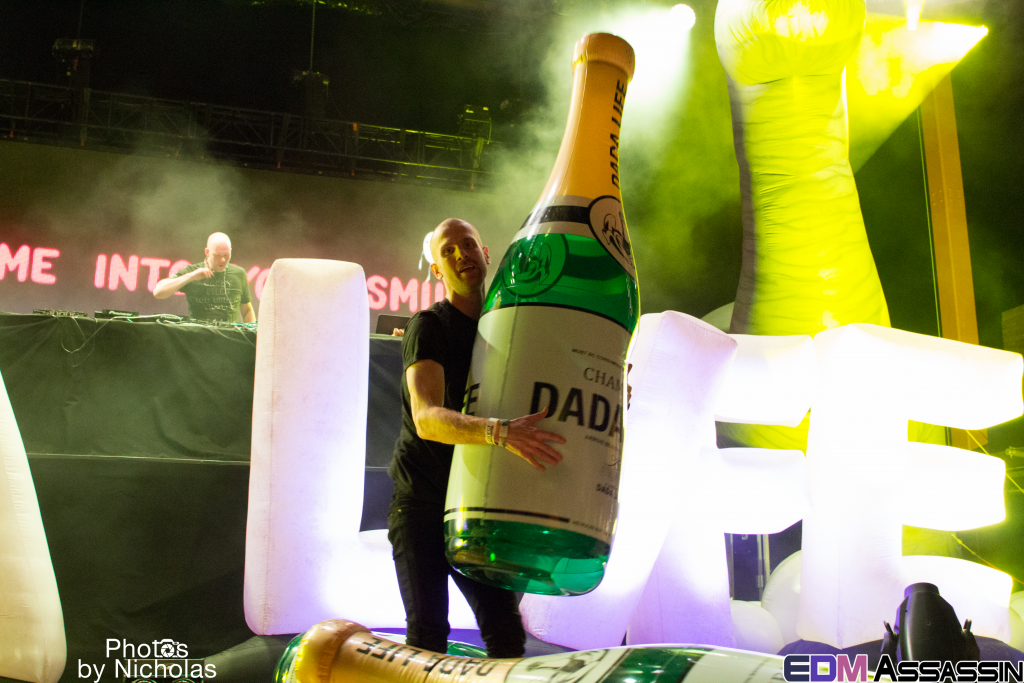 Leave a Reply