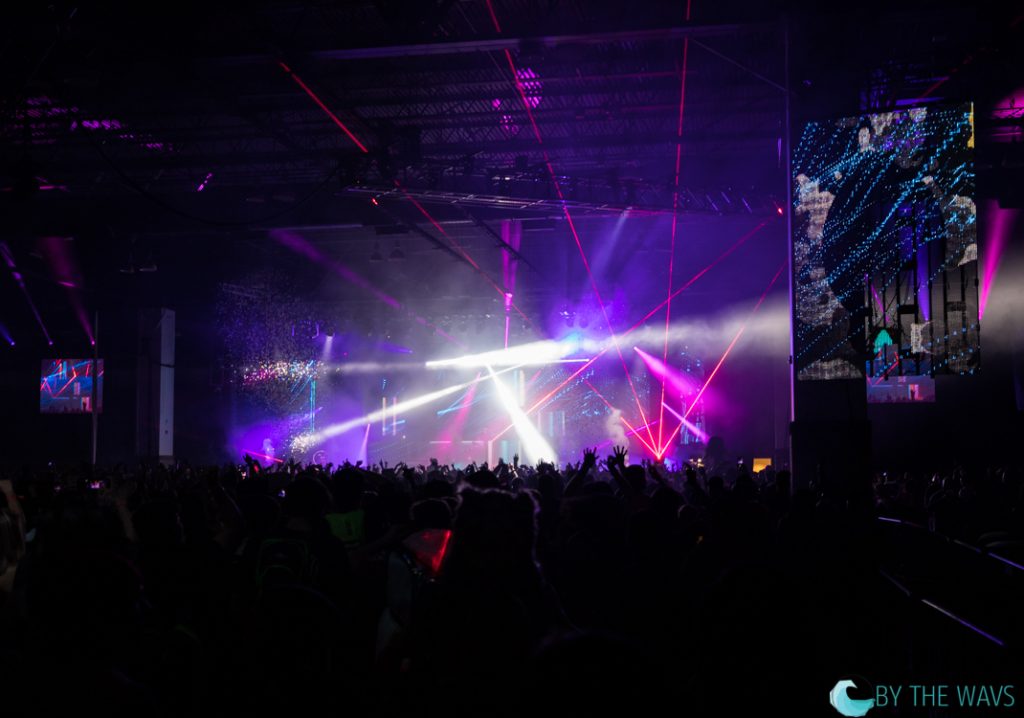 Night 1
Decadence 2016 was to be my 3rd year attending and boy was I excited. Not only were the names released some that I had wanted to see for a long time, the entire experience of Decadence had only gotten better from one year to another and I had no reason to think this year would be any different. Geared up and ready to go, we headed towards the convention center for an exciting first night of Decadence.
Our main priorities for the night were Griz, the master of funk, and Zeds Dead, the outstanding Canadian dubstep duo; aside from those, we figured we would wander through the sets until we settled on something that sounded good at the moment. Over the years it's been important for me to remember that seeing the artists you want is important, but giving some time to wandering around and listen to new things definitely has its benefits. You never know just what you'll fall in love with simply by passing through. Griz was up first and that golden sax of his came to life as the packed Daydream stage filled with those itching to hear that funky soul music Griz had come to play. A frequent visitor of Colorado, Griz eased into his set and made sure to let the crowd know how much it meant to him to be there. Strutting around with the sax around his neck and spinning some deep bass music for the bass capital, Griz managed to appeal to every single person in the crowded stage, from those waiting to hear Bassnectar next, to the Griz faithful jamming out, there was certainly something for everyone. While he played more bass music than I would have expected, and less of his most well-known songs, I absolutely enjoyed my first solo Griz set at Decadence. Here's to seeing him in the next year as well. Good Will Prevail!
A Colorado favorite and Decadence resident artist came to the stage next for some next-level anticipation. Yes, you know him as Bassnectar.
Though personally I'm not the biggest fan, I definitely like to see what he plans to bring to Colorado whenever I can, simply because he's here so often things have to be changed up. Standing in the photo pit for the beginning of this set is something I will never forget; earplugs in and perhaps 6 feet away from the speakers, the bass hit as the set opened and I have never experienced sound like that. These speakers must have been special for nectar because holy shit. My entire body vibrated from the bass, my eyes separate from my head, and everything else; it was surreal, and nauseating. As I ducked around taking pictures I could see people riding the rail without any ear protection, embracing the wobble in its full intensity. I enjoy bass music as much as any Coloradoan, but I definitely want to be able to hear it in a decade. Bassnectar himself has advocated for all of his fans wearing ear protection, and now I fully understand why. After this it was off to another stage for a little variety of music!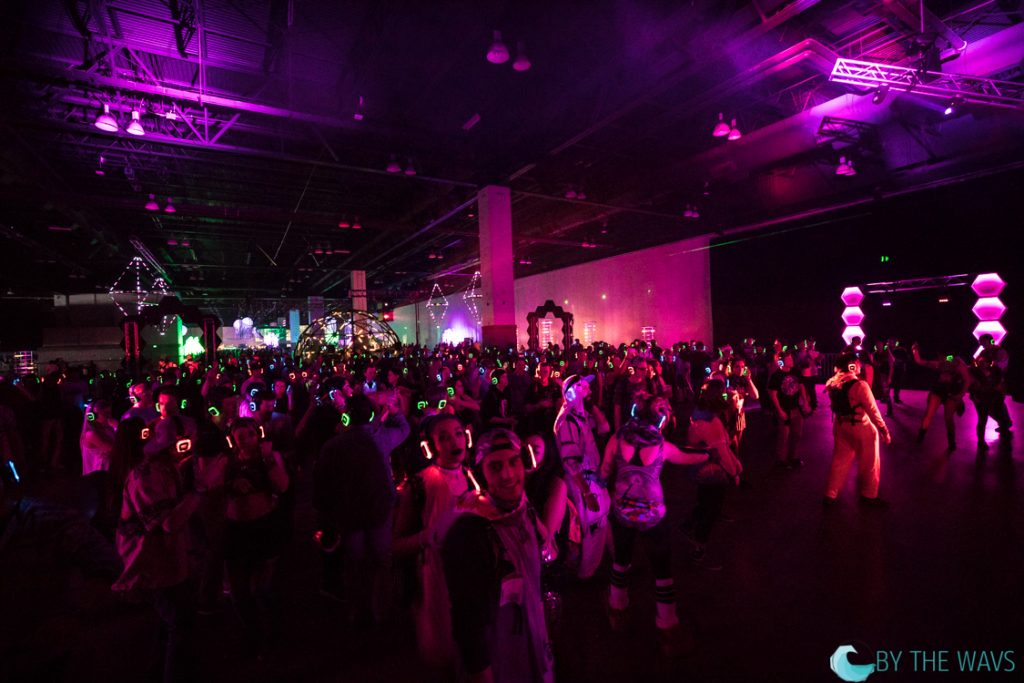 Decadence hosted a silent disco this year and it was unlike any other music experience I've ever had. A hundred or so people all wearing headphones out on the dancefloor, getting down to whatever channel of music they happened to choose for their headphones… it was surreal and absolutely fantastic. It felt so personal to be dancing to music through your headphones, but as you looked around you could tell who was listening to the same thing you were because of how they danced. If you haven't ever check out a silent disco, I HIGHLY recommend it. After this it was time for a quick break out in the lobby where we passed through Showtek playing some old-school Hardstyle, and one of the coolest squad pictures you'll ever see walking into a show.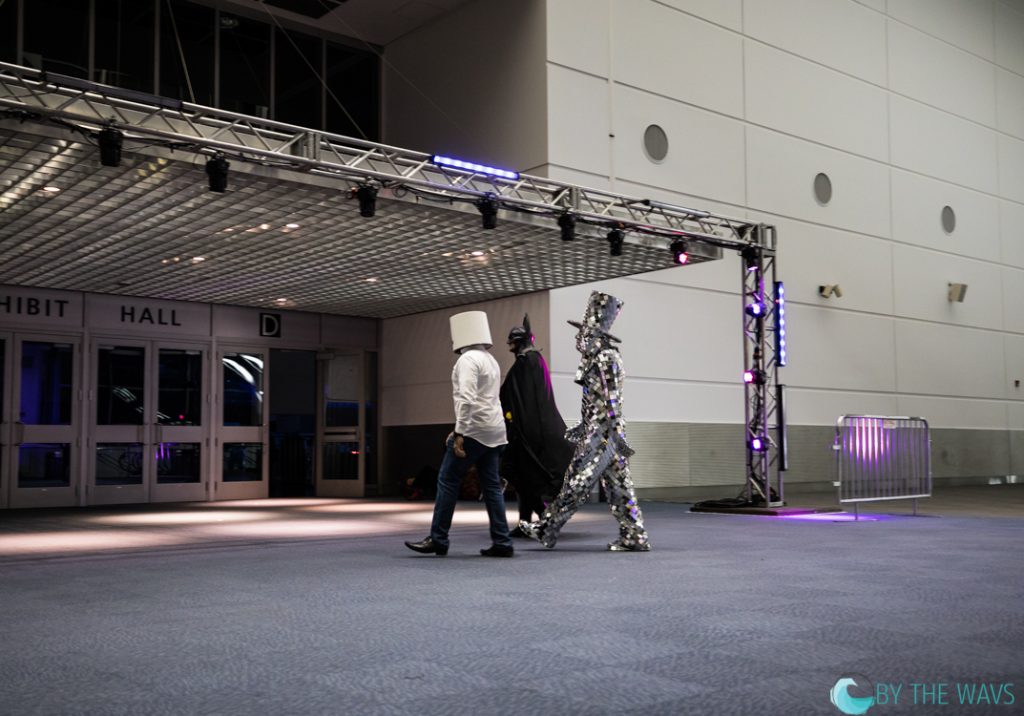 Finally, what we had been waiting all night for, Zeds Dead baby.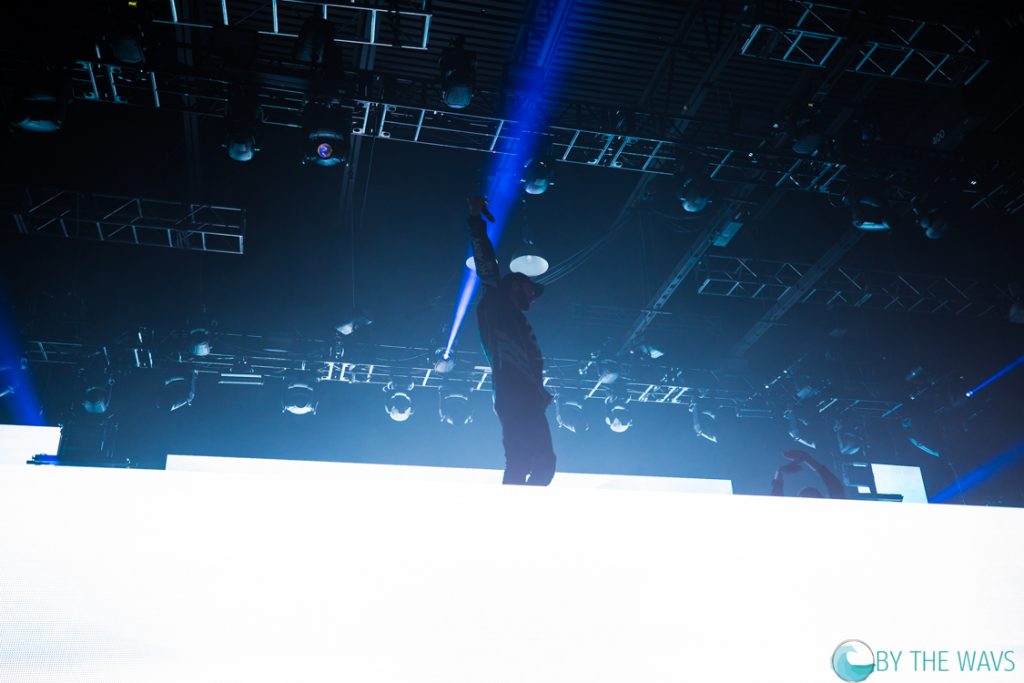 The boys had been to Colorado many times, even for Decadence, but this set was unbelievable. Having just released their latest album, "Northern Lights" I expected to hear plenty from the album with a few older tracks sprinkled in. I was partially correct. Dubstep, pure and unadulterated was on display. From throwback tracks like "Rude Boy" and signature tracks from the Somewhere Else album, Zeds Dead wove a tapestry of melodic and heavy wobbles for the crowd to feel at the deepest level. My mom turned to me at one point (yes, my mom loves dubstep) and went "their transitions are just sooooo good" and she was spot-on. Each track followed one another along a line of BPM, melody, or even a drop transition that seemed like magic. Not satisfied with just dubstep, Zeds Dead brought the characteristic flair of Hip-Hop and more than a few genres that flowed so smoothly through the set. Of all the Zeds Dead sets I've seen, this had to be the best. A perfect blend of old and new, hip-hop and classic dubstep, transitions and song selections; Zeds Dead showed that they still had a firm grasp of how to work a crowd with an incredible set. Until next time boys, throw those Z's up!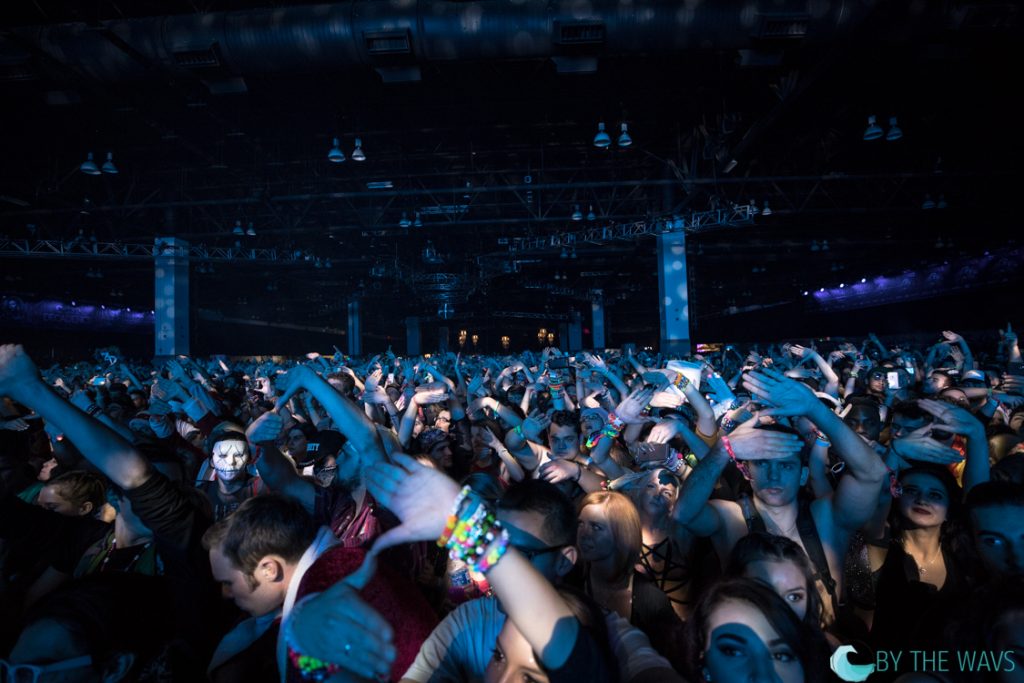 Night 2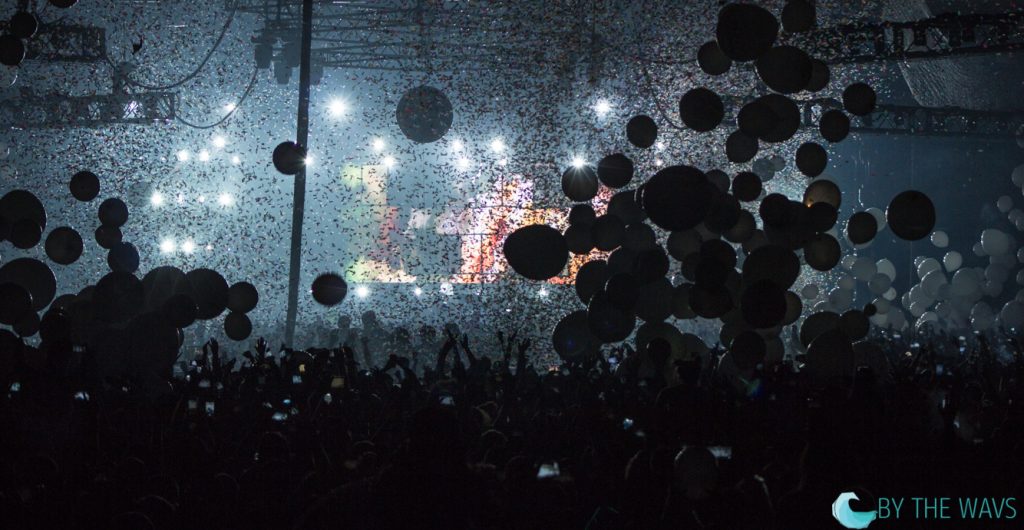 New Year's Eve was upon us in the City of Dreams and oh what a magnificent night it was shaping up to be. Flume, Eric Prydz, Tiesto, The Chainsmokers, Bob Moses, you name it, Decadence had it.
This NYE party started hearing some of Michael Brun's set, featuring a few amazing remixes of the biggest names in dance music, and some tech/big room tracks that had the entire crowd on their feet. It was definitely an energetic way to walk into Decadence for the last night of the year. With a bounce in our step thanks to Michael Brun, we wandered off to hear some more from the All Good Records family with Sunsqaubi. There was a boatload of funk that followed and I couldn't have expected anything else to help ring in the new year.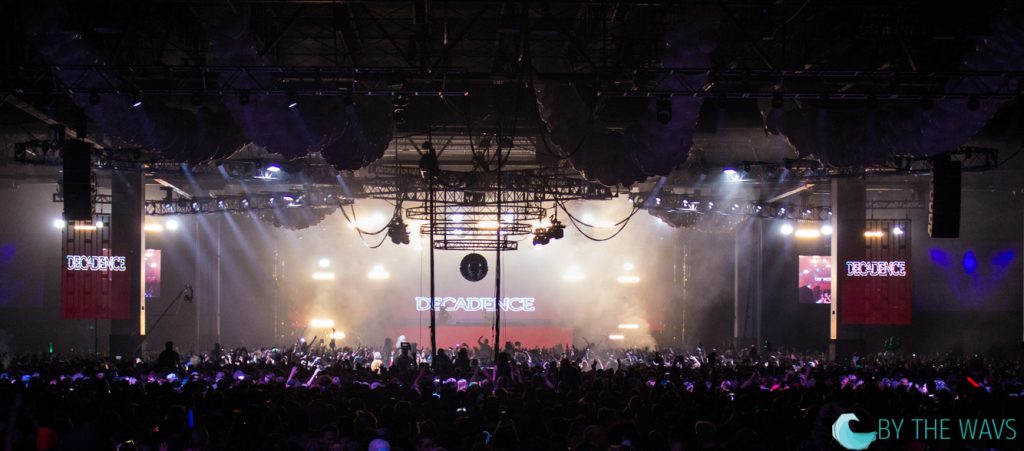 Up until Flume during the ball drop, we walked around between the stages, seeing Bob Moses mix some trance-like music and what I can only describe as electric soul. Then heading over to The Chainsmokers and their highly anticipated set. With all of the success these two have seen in 2016, their set helped to solidify everything they've made this past year. Playing their biggest hits and remixing plenty of others, the Chainsmokers proved to all of the doubters that they can do more than just make radio hits, these two legitimately have talent that is worth listening too.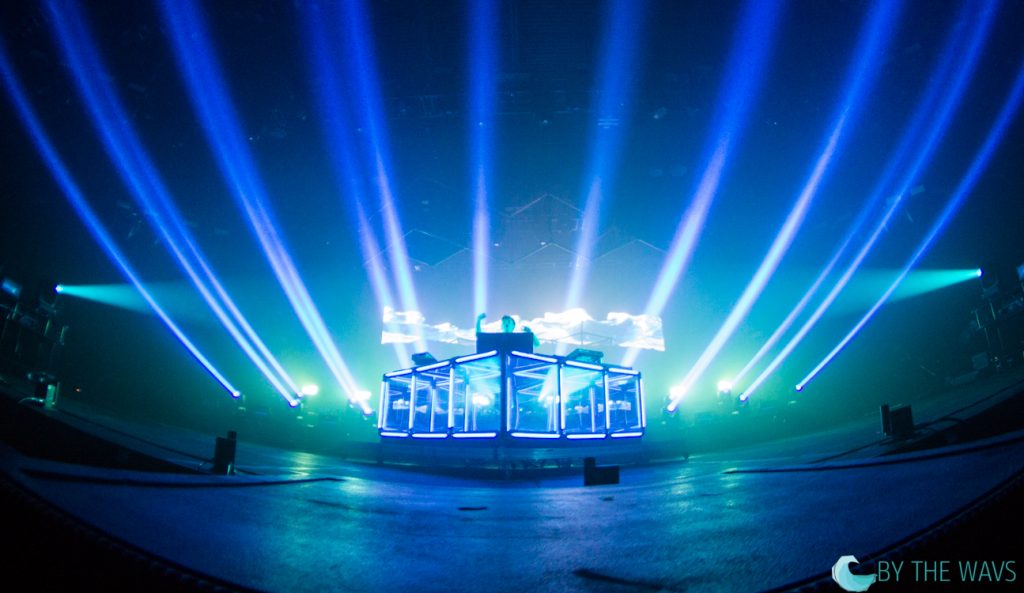 Flume.
The Australian wonder hit Denver for the second time this year in a huge way. Mixing through just about all of his music, throwing in a little hard bass flare and some of of his deluxe album tracks like "Insane" and "On Top" made this set one for everyone to remember. Through the midnight hour and transitioning from song to song, Flume kept the huge crowd engaged and excited, ringing in the New Year with some of the best music from 2016. He showcased his album "Skin" and gave this Colorado crowd a New Year's few would ever forget. If you haven't seen Flume, make it a point in 2017 to see this creative genius, whether or not you've seen him before. It would be hard to top Flume ringing in the new year, though the vomitstep to follow from Snails would surely make a perfect start to 2017.
Overall, Decadence was surely a two night extravaganza that we would all reminisce for the rest of 2017. From the wide open expanses at the back of every stage, to the vendors and the awesome Silent Disco, Decadence had something for everyone, from veterans to the newbies. If you haven't had the chance to check out Decadence yet, I HIGHLY suggest you do so later this year as Global Dance seems to top themselves every year. Check out the gallery of pictures below!
Photos/Review of Decadence Night 1 Courtesy of: Nick Pesavento/Katie Hitchcock
Photos/Review of Decadence Night 2 Courtesy of: Michael Pesavento/Cayla Walker
Leave a Reply