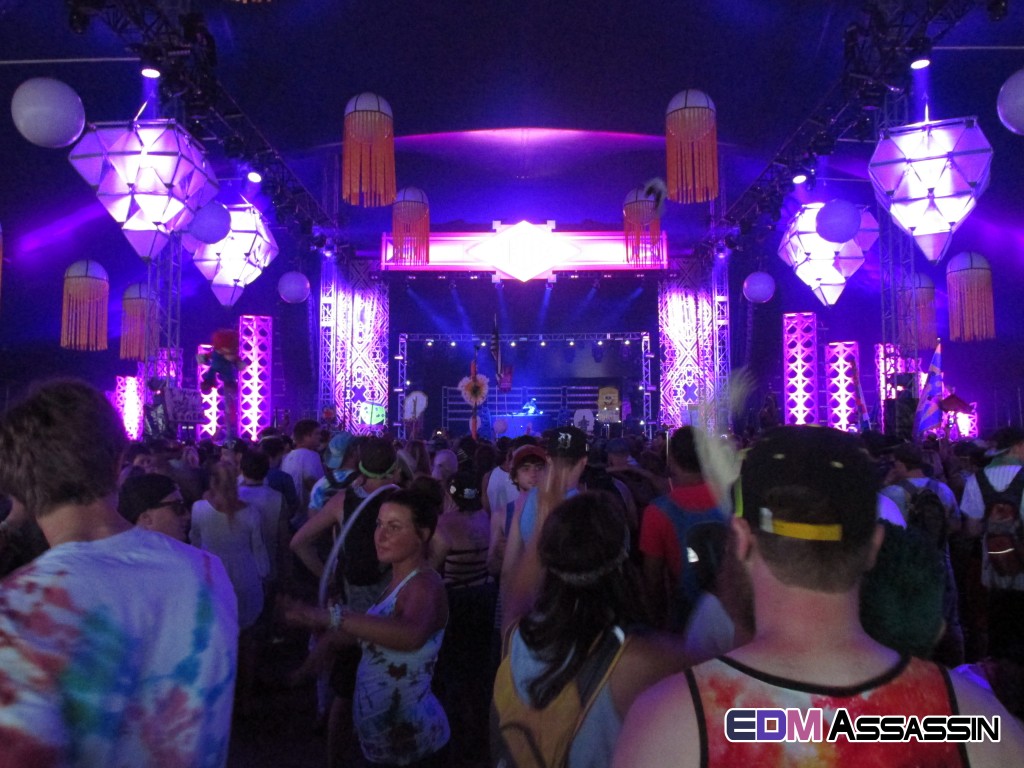 In such a magical place where the good vibes are endless and something new around every corner, or should I say tree, there is no place I'd rather be than Electric Forest. It's already been almost two weeks since we said goodbye to the forest, but the countdown for 2016 has begun.
After spending two hours cramming our belongings into the vehicles, my friends and I began our eight hour journey to Rothbury, Michigan, however it definitely felt a lot longer than that. To ensure we made is safely without any stops or interruptions we downloaded the Waze app. This app notifies you of any traffic along the way and even when cops are in the area. Avoiding all trouble, we finally arrived. Signs and volunteers guided us to Double JJ Ranch until we filed in line. Getting there a few hours prior to gates we snagged a decent spot in line where we barely had to wait to get through security. With numerous staff available, they briefly searched our cars and we made our way to the campsite.
Down the winding road, cars lined up and filed in as the tents filled the empty fields. My friends and I decided to spend the little extra money for group camping to ensure our spot. Let me tell you, it was without a doubt worth it! Electric Forest had the option to secure your campsite, with a single, refundable down payment of $200; members signed up under the group name and paid a $35 fee. After x amount of people sign up, the group leader would receive their down payment back with the exception of their own $35 camping fee. Group camping was a short distance from the shops and porter potties, and only a few rows away from the festival entrance. Making it easy to stop back at the tent throughout the day, it was a luxury some festival goers didn't have. In fact, some even had to camp off site due to the lack of camp sites.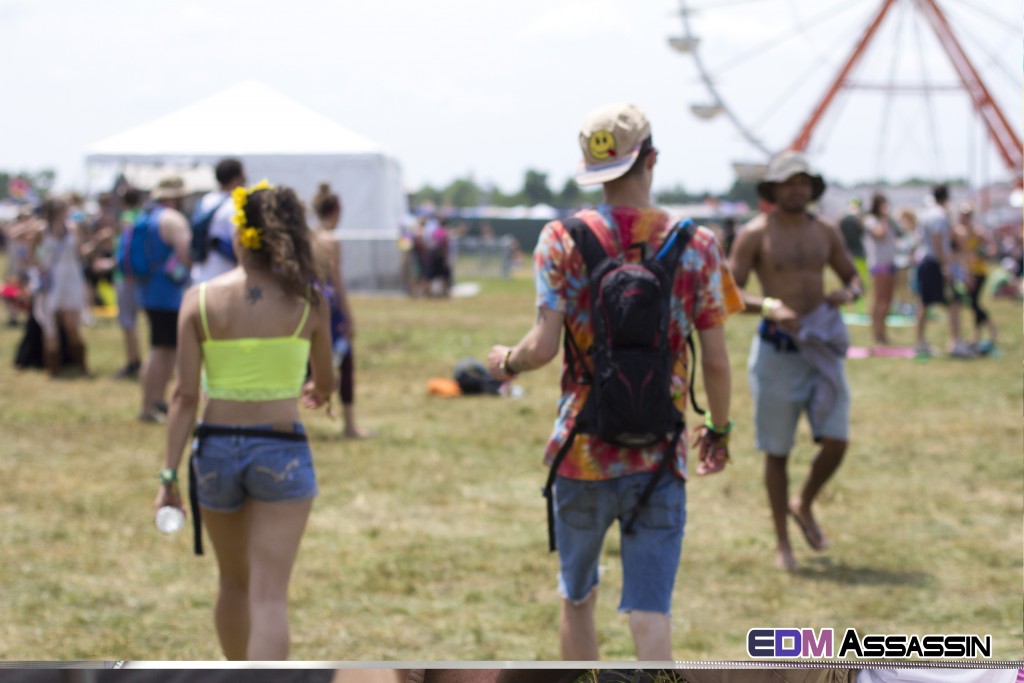 We quickly set up and settled in. After eating a quick lunch we were ready to explore. On our drive in we passed a stretch of shops and food vendors and could not wait to check them out. Clothes, blankets, pins, art, tapestries, hats, you name it you could find it at one of the vendor tents. Food choices from pizza, fries, jambalaya and more all at reasonable prices you were not going to go hungry. We headed back to our tent and got ready for the night ahead of us.
Being that the festival entrance did not open until an hour or so before the first set we decided to wait to get in line until half an hour before Galantis. That was a mistake. The line filled up quickly and become lengthy in no time. Barricades corralled fans through a zig zag pattern leading up to the security check point. With a few too many unnecessary rows, getting people to file through them wasted time. Having underestimated the amount of security and volunteers, the wait time ended up being a couple of hours. Realizing it was an issue; Electric Forest adapted and made the necessary changes, as each day became quicker and easier to get in. By day three there was little to no wait throughout the entire day.
Eventually we made it in and it was well worth the wait. To your right you had the Ferris wheel and the Tripolee stage. The Tripolee stage hosted many of our favorite sets from the weekend—Black Tiger Sex Machine, Illenium, Snails, Crizzly and more. To your left there were food vendors and water stations. As you continued towards the forest you walked passed the giving tree where you take something and leave something. Trading for items such as a brand new hula hoop from Hoops and Heady Treasures (yes, we remembered!), Bassnectar bandana, Miller Light flag and more, we are very grateful for our finds and will treasure them forever! As we continued on, there were more shops, official Electric Forest merchandise, food vendors and one of the many med tents. Down the hill you would stumble upon the Good Life area and the Ranch Arena where Skrillex, The String Cheese Incident and Bassnectar played. Within the area (of any stage) were shops, food venders, a bar, porta potties and water fill stations. Electric Forest made sure that no matter where you were, everything was convenient. From there is when you truly entered the forest.
As if the Ferris wheel, stage production of the Tripolee and Ranch Arena and shops did not already grab your attention; as soon as you went underneath the infamous Sherwood Forest sign you had stepped into a completely different world. Hanging lanterns, lights, stages, buildings, sculptures and more filled the forest. Setting aside time each day to explore the forest, especially at night, was essential. Being that this festival is so one of a kind, I wanted to see ALL of it; and I'm sure I still missed some. Within the forest you could find the Observatory, a stage surrounded by platforms where you were able to sit and watch artists from a higher angle as well as overlook the forest. Hidden in the trees was the Silent Disco. I recommend to any fest goer to check out the silent disco at any music festivals you attend this summer, you may stumble upon some new upcoming artists like Vibe Street and JACKLNDN.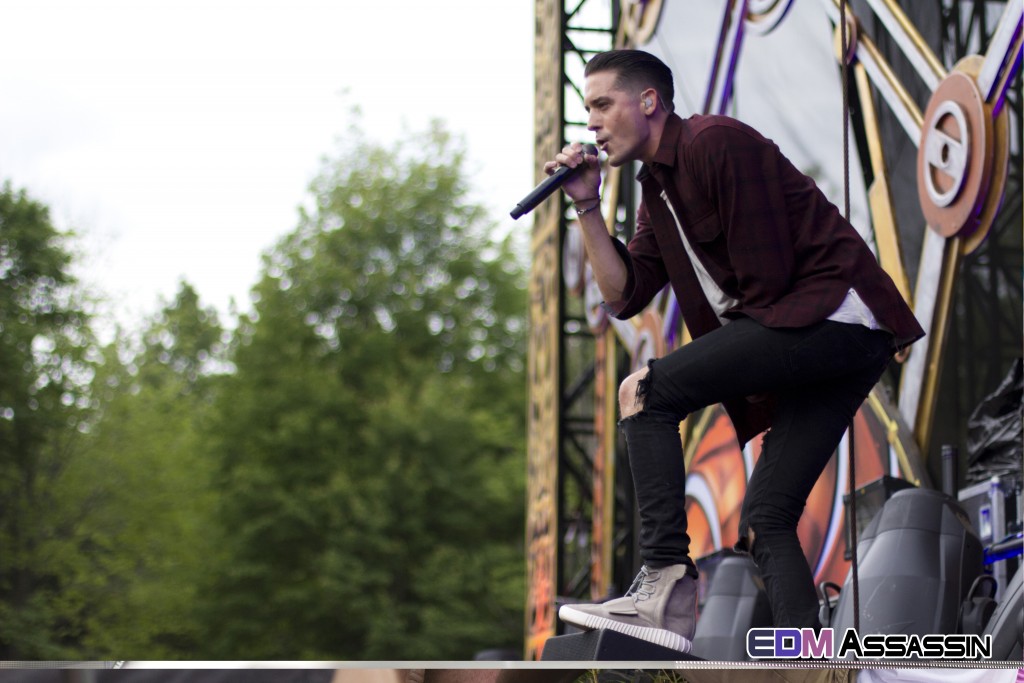 Vibe Street and JACKLNDN had played at the Forest Stage on the first night. The Forest stage, like its name, was also within the forest. With classic fairy tale vibes, this stage was magical. Also playing at this stage was Minnesota, SNBRN and Russ Liquid. It could not have been in a more perfect location, filled with shade with a slight slant; those sitting down in the back were still able to see the stage over the crowd. There had also been designated hammock area to the left where people could also post up and still enjoy the sets.
Sculptures such as a dragon made out of cd's, outlined boxes, frames, domes, motorcycle and other items made from recyclables caught everyone's eyes. It didn't stop there; tree houses, human nest, gong dome, wishing well, down sized giving tree, library, mystery doors and more filled the empty space. Actors roamed around interacting with guests as forest creatures to bring everything to life.
*This article does not do the forest justice; it is something you have to experience to understand*
Just beyond the forest you would find three more stages, the Sherwood Stage, The Hanger and Jubilee. With an old fashion feel, The Hanger had a bar, tables, swing dancers and different attractions within. Options such as a parlor, "kissing booth" (brothel), old fashion pin up picture style photo booth and tattoo shops were to choose from. Outside and to the right underneath a huge tent was the Jubilee. Dark and filled with mood lights and lanterns this stage was one of my favorites. It was here where 12th Planet played an epic set in place of Brodinski. Next to the Jubilee was the hot air balloon rides. For only $20 a ride you could see the forest from a different perspective. As stated before, at each stage you could find water stations, food vendors and stores surrounding, it was no different by the Jubilee and The Hanger.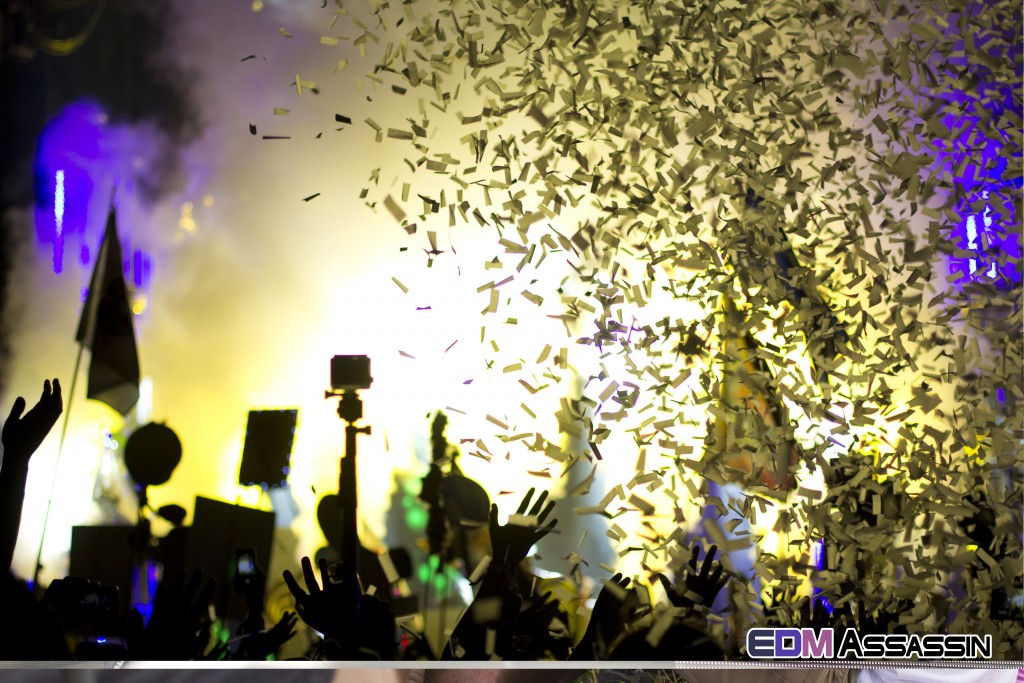 A short walk away was the Sherwood Stage where Big G, Gramatik and Flux played. Being that it was at the bottom of a little hill it was great for those who wanted to sit and still see the show. These three stages like the Tripolee and Ranch Arena were outside of the forest. With six stages this allowed Electric Forest to bring us an abundance of great artists.
Rounding off our top favorite sets of the weekend:
1. Black Tiger Sex Machine
Stepping out into the seen in 2012 this trio from Montreal, Canada took the forest by storm. Being a small name on the lineup flyer, BTSM played the kind of set that deserves to close out any festival. With their unique performance including drums and masks, they take our number one spot.
2. Illenium
Up and coming melodic dubstep artist Nick Miller, known as Illenium, played the most beautiful set I've seen this summer. Miller opened up the Tripolee stage Saturday as a minimal crowd of dedicated fans vibed as he played some of his unique tracks. As the set went on he dropped popular songs from familiar artists Dillon Francis, Seven Lions and Galantis drawing in passerbys. By the end of his set the crowd had multiplied in size, everyone has been buzzing about this set since Electric Forest.
3. Exmag
We must have a thing for trios; third on our list is Exmag. This funky trio from Brooklyn, NY brought the funk to the Jubilee. Filling the entire tent the crowd got the funk down throughout the entire set.
4. Snails
Having recently released his new EP Free the Vomit, Snails definitely brought the Murda Sound to the forest. With his unique style, vomit-step has taken the scene by storm in only a few short months. Signed under Kannibalen Records, founded by the members of Black Tiger Sex Machine, this Canadian DJ is one you don't want to miss.
5. 12th Planet
Last but not least we have 12th Planet. Filling in for the absent Brodinski, 12th threw one crazy set landing him a spot in our top five. Being that he played at the Jubilee which is on the opposite side of the forest from the Tripolee and Ranch Arena, he still managed to draw in a big crowd especially with being a last minute addition. Dropping nothing but filth, he decided to throw some vomit-step in there and brought out Snails. Transitioning from a set like this to Odesza was like day and night.
Though we only listed five, all of the performers we had seen blew us away. Unfortunately we ended up missing two of the craziest after parties. As you have all heard, those who had purchased Good Life were blessed to see the infamous Skrillex B2B Datsik, Crizzly, Snails and 12th Planet set. As well as the secret This Song Is Sick after party featuring Big Gigantic and Cherub on top of RV's for the general public. Electric Forest had provided us with everything we could have imagined and more.
You could say my first experience in the forest was amazing. From the vibes, staff, shops, location, production, lineup weather and everything else involved, could not have been more perfect. Other festivals are going to have a tough time topping this one, I'm sure the other 45,000 attendees can vow to that as well. If I learned anything from this festival, do NOT sleep on getting tickets, spend the extra money and buy group camping, explore every aspect of the forest. Electric Forest you treated us well, thank you for your hospitality, until next year.
Pro's
1. Production
From stage to forest the set up was something I've never seen before
2. Lineup
Rappers to Jam band and everything in between, Electric Forest had quite the variety.
3. Staff
Friendly and never frustrated, from bag check to medical tent the staff were always friendly and made you feel welcome.
4. Police
Instead of most festivals where they make you feel uncomfortable these police joined in on the fun. Making jokes, taking pictures and even playing hopscotch they made is feel even more welcomed as well as comfortable.
5. Food
Taking it the top spot in this category, Spicy Pie! It's safe to say we have been craving it ever since. Along with Spicy Pie, smoothies, popsicles, French fries, chicken strips, jambalaya, po'boy and more kept us full throughout the weekend all at a reasonable price.
6. Water fill stations
Electric Forest had many easily accessible water fill stations all throughout the forest. They were easy, had a sink to prevent drainage onto the grass to keep mud from forming. Lines went quickly and everyone stayed hydrated!
7. Morning yoga
After four full days of dancing, morning yoga at the Tripolee stage was necessary. Each morning the stage was filled from the front to the back, people definitely utilized this activity.
8. Reasonable prices
Ferris wheel $5, hot air balloon ride $20, merchandise ranging all over the board, Electric Forest had many affordable options.4
9. Positive vibes
Almost every time I walked past anyone I was greeted with "Happy Forest" and a huge smile. The vibes didn't stop once you entered the crowd either. With plenty of personal space and people being polite and saying excuse me it was a very nice change of pace from other festivals like Spring Awakening.
10. Everything
Con's
1. Running out of Campsites
The one and only con I can come up with was running out of campsites. Maybe they over sold slightly or maybe didn't map out the campsites real well, I did not encounter this problem first hand. Learn from this and spend the extra money on group camping so this doesn't happen to you.
Leave a Reply