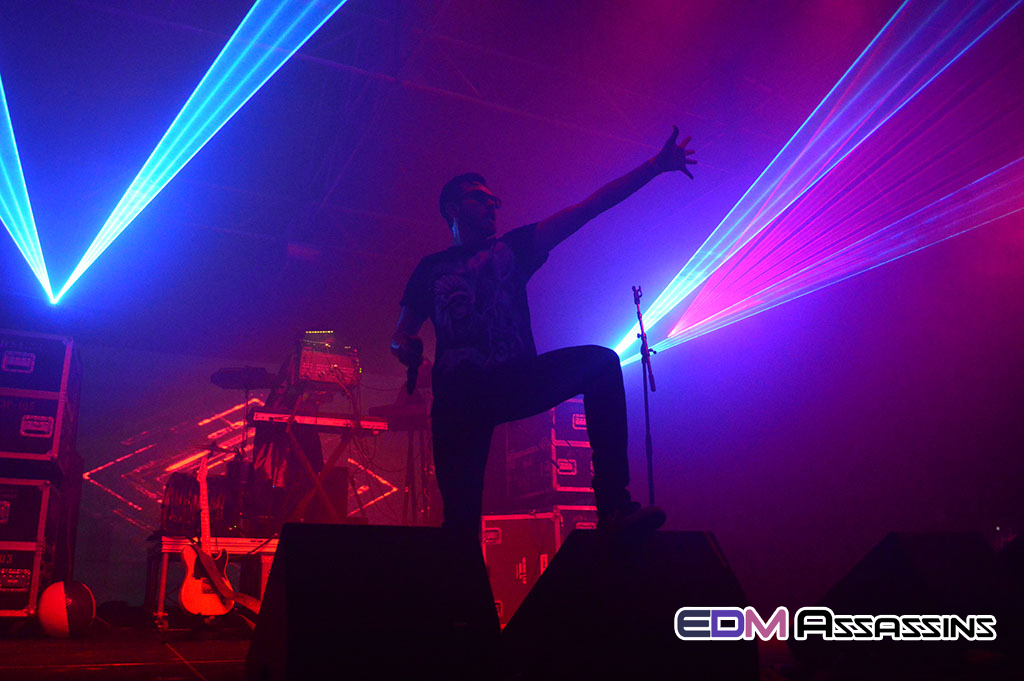 Another camping festival for me. I almost didn't convince JT we should camp. The experience would not have been the same by any stretch.
The forecast looked quite bleak in the days leading up to Euphoria. Austin decided it really needed rain that weekend. Instead of you know, any other weekend. As a precaution the festival took to laying down as much mulch as they could throughout the parking and some of the camping area. Having flown into Austin during the middle of the day, we completed our quick shopping trip and headed to Carson Creek Ranch, located conveniently next to the Austin airport. The mulch covered parking hill could have been significantly worse, but only adding to the confusion was two lines having formed heading in separate directions from the entrance. After conversations with a few confused campers and several staff looking for answers, we finally determined one line was re-entry into the campgrounds, while the other was for new arrivals. The monumental task of dragging all of our crap through 2.5 hours' worth of a line quickly became irritating as people blatantly cut in line and the festival resorted to handing out kale chips and commemorative bracelets as a "we're sorry" gift. A few scowls later, some changes to the inspection process, and the line seemed to continuously move with people gaining admittance much quicker than before.
This is where the real challenge began.
Finding a tent space to share when there is one giant tent and a canopy is hard enough. Throw in two smaller tents and you spend half an hour dragging things from one edge of the campground to the other as a staff member delightfully informs you that they are opening up overflow camping in the front. The race to a camp spot was back on. Luckily we ended up with neighbors who would ultimately all become friends. It seemed unclear as if that had been the plan all along, or whether camping had been oversold and/or the space required by each "group" severely underestimated.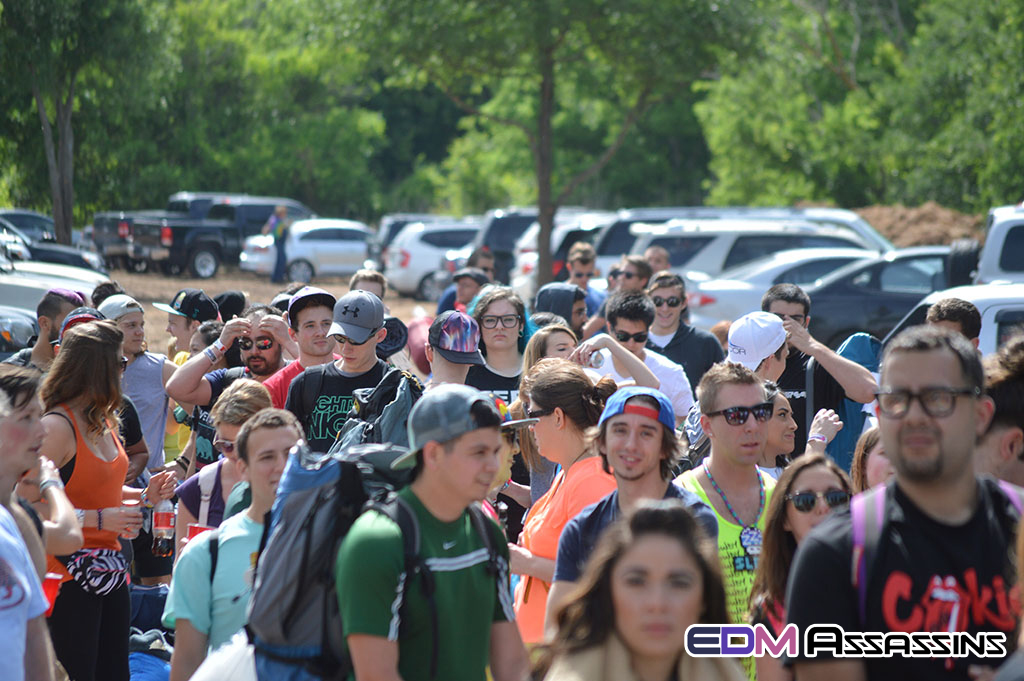 After the setup was complete, we still had a festival to go to and I was able to wander from stage to stage with a newfound freedom. The black camera strap around my neck parted the throngs of crowds as I vied for space near the front of the Dragonfly Amphitheater as Colorado natives, Bass Physics took to the decks to throw down with a scenic river backdrop. A few wicked guitar riffs later and I was heading back to the main stage and showing off my gorgeous array of wristbands to get into the pit.
Note, I am not a photographer and thus many new, unique experiences were had trying to navigate the etiquette, flow, and difficulty of shooting from the pit.
We had 15 minutes at the beginning of each set to be in the pit and shoot with great vantage points and the distances that fans could only dream of. The Werks helped make this experience wonderful as the pit was relatively empty for an earlier set in the day. I enjoyed practicing different shots and getting to see the crowd's reactions as photographers took to the step on the fence to get an audience shot. I was incredibly unskilled at the art of photography, but they didn't care, and I loved them more because of it. The security repeatedly scolded photographers for using the steps to get shots of either the artist or the crowd. Though this was addressed and resolved before the first set of day two. It was on to Black Tiger Sex Machine who was playing in the United States for the first time at Euphoria. Their signature black tiger helmets and black leather garb sold their image as rough and tough individuals that would quickly defend their music stylists. Loud synths and heavy bass combined to give fans a cardio workout with each step on the dance floor. It would seem impossible to continue dancing for the duration of one whole set. I'm sure some did.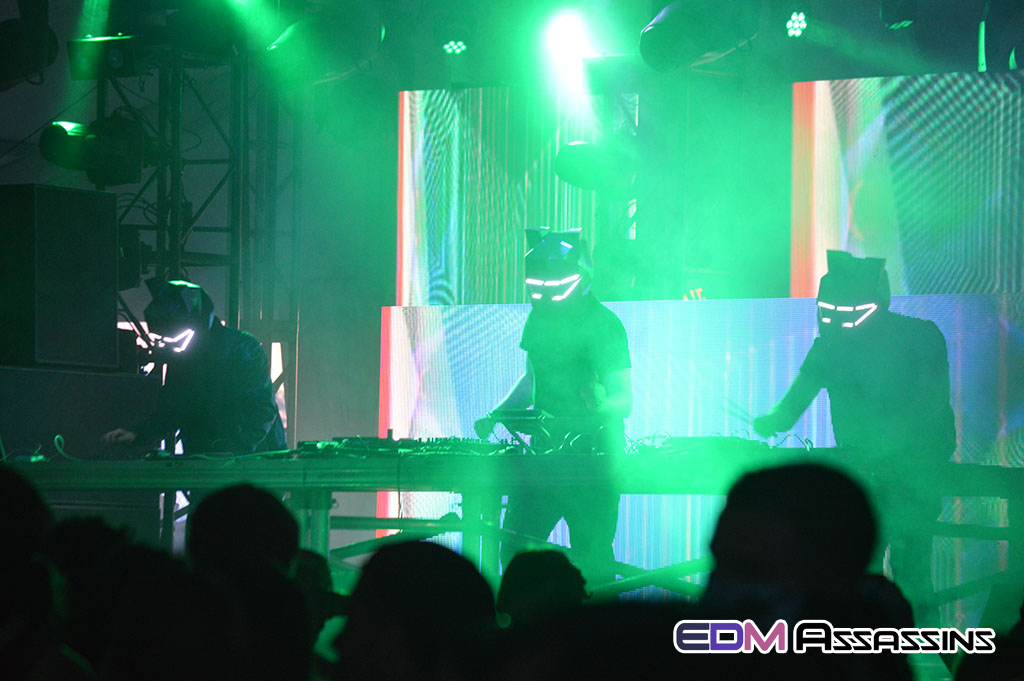 Hometown heroes, Tritonal returned to Austin after a year of touring outside of their home city. As the hometown of a band is always special, they pulled out every stop and lit up the Unearth Tent as if there was no tomorrow. The crowd spilled out onto the back lawn and both sides of the tent, giving the photographers plenty of people itching to be famous for something. The crowd-pumping set from Tritonal kicked directly into an outstanding set from Adventure Club despite what seemed like technical difficulties plaguing a few small parts of the set. We were told as media that lasers needed to stay inside the tent because of the festivals proximity to inbound flight paths. Adventure Club did not disappoint, playing many crowd favorites and remixes everyone enjoyed. Opposite Adventure Club, the live band STS9 brought life to the Euphoria Stage (main) as the 5-piece band commanded quite a crowd and displayed excellent musicianship.
I noticed a trend as the first day began to wind down music wise (the campsite remained active until sunrise). Euphoria was not your typical EDM festival that wod be compared to the likes of EDC or Ultra. Not only was it held on a ranch (a gigantic field), but with access to camping, whatever you wanted from your campsite could be brought in to Carson Creek Ranch. It offered hammock amenities throughout the grounds with a food truck row to feed hungry ravers. There were vendors selling items that could be considered more "hippie," with flowing patterns and earthly tones. Walking through the campground revealed much of the same feeling. While there were plenty of "traditional" ravers, Euphoria was as much a grassroots festival as anything. The lineup showed this best, as there were many artists that performed as a live band making music, rather than a dj behind the decks. It would be interesting to see how the dynamic changed as the weekend wore on.
Day 2 brought with it some sun but a mostly overcast weather schedule. Instead of rushing to the festival grounds at opening time, our group enjoyed the company of our neighbors, exploring the entire campground and getting to know each other as more than those people who borrowed that stuff you really need back.
I headed out early to practice shooting from the pit as Saturday night brought huge names such as Pretty Lights, Lane 8, Gjones, Grandtheft, and rumors of a possible reunion occurring, Ghostland Observatory (native to Austin). I was still taking way too many bad pictures, but it would be future me's problem and the click of the shutter finally getting enough light exposure was immensely satisfying. Even if the resulting "delete x2" montage was not. It was incredible to see that such a popular act, Ghostland Observatory, would not be playing the main stage where the largest crowd would be drawn. Our explanation included the unlikely event of a stray laser crossing a flight path and causing the festival to be shut down. Now having seen Ghostland Observatory, this is absolutely something that could happen as the visuals accompanying the live set made for a colorful evening under the tent.
After the 15 minute mark was up, I ventured through the crowd trying to get photographs from around each stage, as well as anyone in the crowd that wasn't too busy dancing. It seemed as though there were audio miscues during Pretty Light's set, though friends of mine assured me that it was purposeful, despite my recollections from other sets not confirming that. It was great to see Lane 8 at the Dragonfly Amphitheater as the crowd was smaller and the setting much more intimate. Many close up photographs were had and the atmosphere was relaxed and inviting.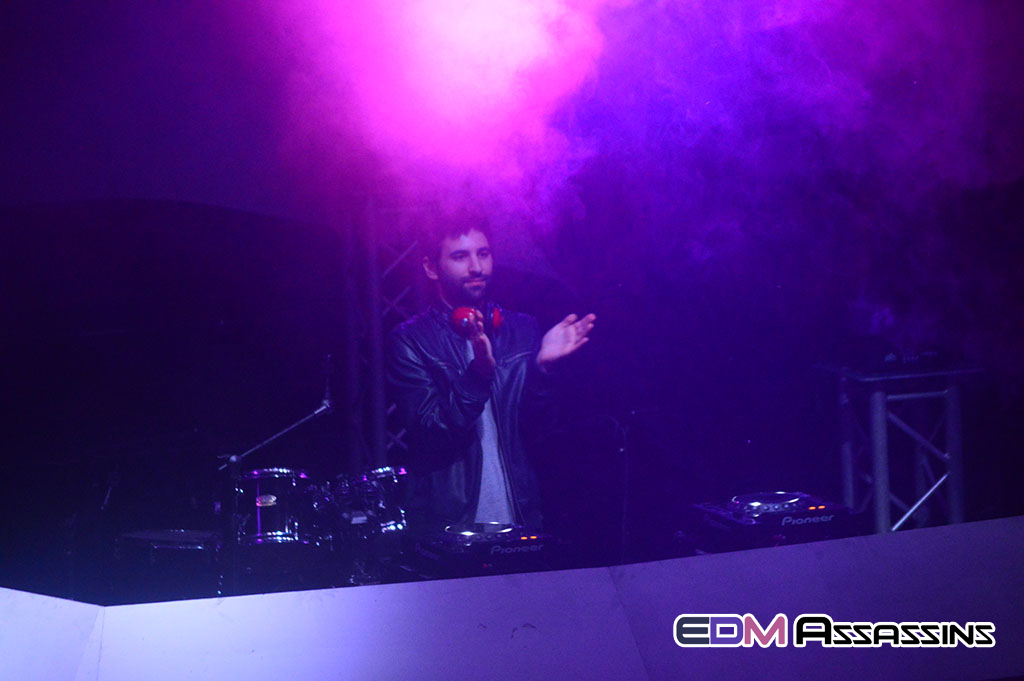 The final day of Euphoria brought clear skies and the Texas sun as we decided to clean up our campsite early to make everything easier on ourselves later that night. Before heading into the festival grounds we visited with our neighbors and enjoyed the sights and sounds of the campsite for the last few hours. I was able to interview EDX before his Unearth Tent set, and that was the beginning to a fantastic night. You can find the interview and accompanying article here! It seemed like a Colorado themed night as we set out to see Big Gigantic, Savoy, and Late Night Radio playing sets one after another in different areas of the festival. I loved seeing the passion and energy from Dominic on the sax as he was visibly giving it his all. After seeing all of my hometown Colorado artists, RL Grime lit up the Unearth Tent with a high-energy set that had everyone dancing and sweating. Not only did he cross every genre- but he played massive hits that had the crowd singing and dancing with every transition. It was as much fun seeing everyone else enjoy themselves as it was dancing yourself.
Overall Euphoria was an incredible experience. I met so many awesome people, many of whom I will stay connected with long after I have returned to Colorado. Throughout the entire weekend, I did not have any bad encounters with people in the crowd or the campsite. Everyone was smiling and friendly, something I was surprised to see. The music over the course of 3 days was as diverse as anyone could have asked for and the people who came out to see their favorite artists matched that diversity with ease. Aside from the rainy weather and long lines to get in to camping, the festival was a massive success in my book. I cannot wait to return next year!
Pros:
– Easy access to festival grounds from camping area
– Water stations were plenty and not usually crowded
– Variety of amenities aside from music stages (hammocks, art, food, vendors)
– Diverse music with something for everyone
– Intimate stages allowed personal atmosphere (even main stage)
Cons:
– Camping entrance was disorganized and slow to begin the day
– Mud plagued portions of the campsite while others were handled well
– Lack of power access frustrated many campers
Leave a Reply