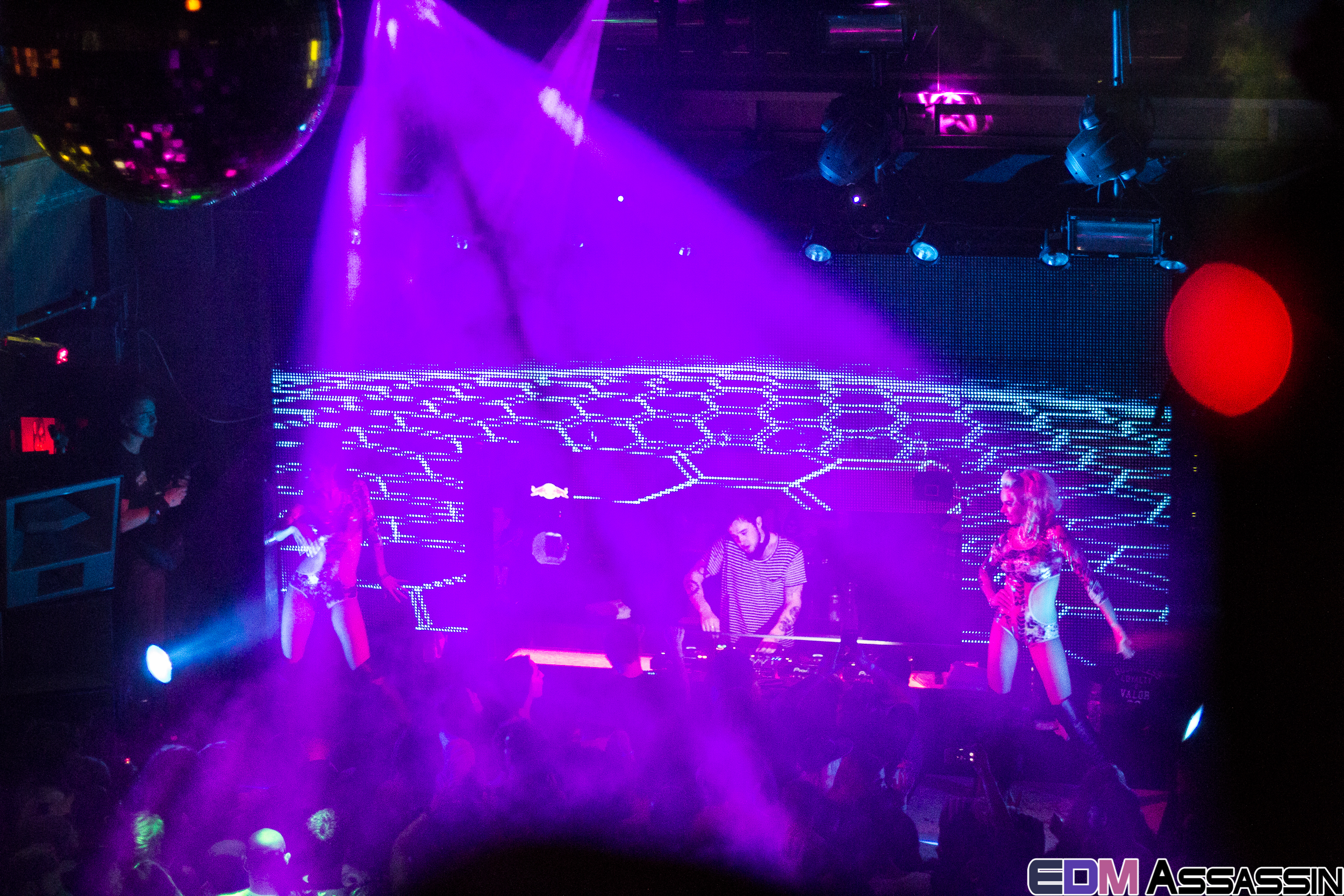 A birthday celebration was in store for attendees to Beta Nightclub for Grabbitz and Feed Me as Grabbitz was celebrating his birthday in the Mile High City! While he wasn't the one to tell us about it (modesty of course) near the end of his set we heard over the speakers that it was, and thus a rousing "Happy Birthday" came about. Though it was awesome to wish a dj the best of birthdays, it was even better that it came at the end of his amazing set, and the beginning of the legendary Feed Me's set.
Coming out of the gate with a setlist to get the crowd on its feet, Grabbitz made use of the amazing sound system that Beta employs while routinely letting the crowd know what was new in his arsenal. We were treated to a few new tracks and some throwback ones to get the crowd singing, but ultimately it was the flow of his set that kept the crowd engaged. There was never a dull moment and from the time the music started until Feed Me took over, Grabbitz had your attention and your dance moves at his command. Taking pictures and walking around became difficult as the crowd packed the venue, right up to the glass in front of the booth. Grabbitz was nice enough to reach out and give high fives and smile for those that were close enough. Overall the set was a great mix of genres with heavier dubstep and great electro tossed in. The crowd loved it, but it was on to Feed Me after a few sound problems.
Seeing Feed Me for the first time was awe inspiring. As he took to the decks, a calm settled over the booth as he worked to figure out a problem with something on stage, only to yell "fuck it, lets play some music" and dive right it. The transition from Grabbitz to Feed Me was perfect as the dub/electro mix that Grabbitz played seamlessly flowed into Feed Me's raucous electro house set that had the dance floor on fire. Dancing became second nature as I was almost too busy to take any pictures, though I managed to snap a few, especially overlooking the dance floor. Being able to see Grabbitz rock the house and lead so well into Feed Me let everyone in attendance know that he is on the rise. Nailing his set ahead of an amazing performance from Feed Me was quite the birthday gift to us!
Check out more photos in the gallery below!
Leave a Reply