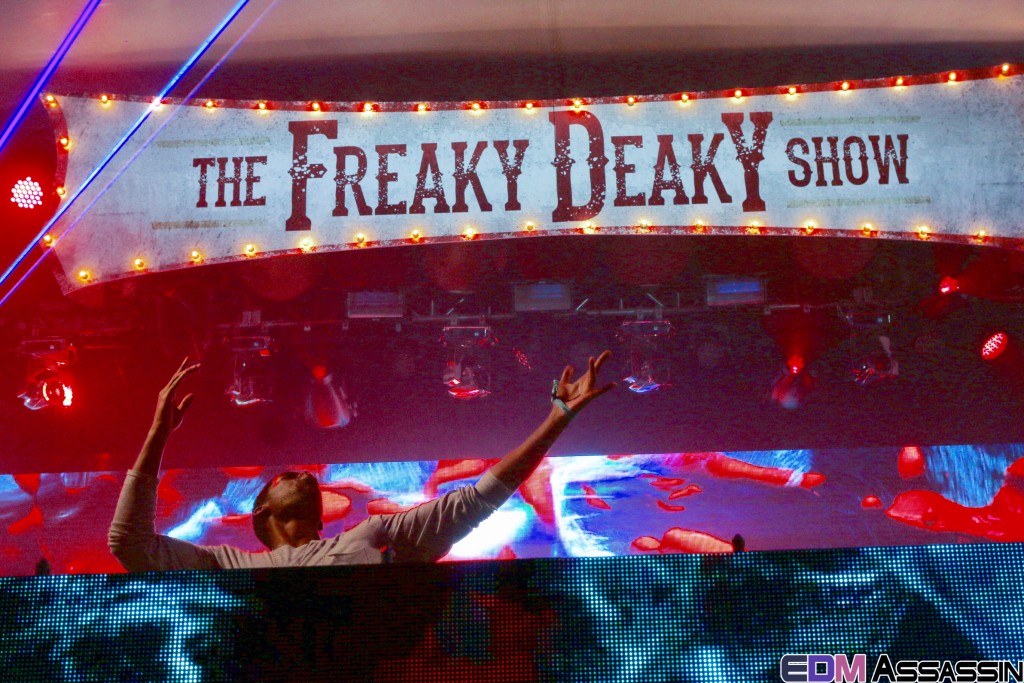 For the first time in its existence, Chicago has finally gotten its own Halloween weekend festival. Freaky Deaky has turned into a full blown 3-day festival here in Chicago, well technically Bridgeview. What was once a one night, sometimes even multiple weekend event, has turned into a Halloween experience with 3 stages and a wide array of artists to suit anyone's liking. The location of this year's event was in the parking lot of Toyota Park. Originally, I assumed that it would take place inside the stadium, or at least have a stage inside the stadium as is the case for Spring Awakening (which is held at Soldier Field). Nonetheless, all the stages were held outside and it oddly turned out to be more efficient. With all the stages in the same vicinity, it's much easier to hop from stage to stage; for Spring Awakening, having a stage inside the stadium made it harder to enter if you were coming from the outside stages since there are specific entrances you can enter and exit from. Having a stage within the stadium also means that stage access has to be limited in order to not go over the limit allowed onto the field. With the Freaky Deaky stages all being directly north and south of one another, it was easier to go to between stages, going up/down stairs was not necessary for this festival.
The weather was typical Chicago weather. On Friday, it was a little cool and cloudy, Saturday was much colder and the rain played a factor, while on Sunday we were blessed with partly cloudy skies and the sun for the most part. The rain from Friday night and during the day of Saturday caused massive puddles on the Big Top stage which caused a massive hole in the center stage, but by night most people did not care since their favorite acts were on.
DAY ONE: Traffic right off the bat. The south parking lots filled up very quick, so anyone coming from that direction was directed very nonchalantly to the north parking lots. Once directed away from the filled up parking lots, no one was there to guide you to the open parking lots (I kid you not, I pulled numerous U-turns to find a way into the vacant parking area). Once that hassle was over with, picking up my wristband was next, and it turned out to be an ease. VIP/Guest entry was super quick for me, the usual pat down and searching through my bag. GA seemed to be going along fairly smooth, a little slow but that's any event. The most packed times tended to be from 5-7, which is when many festival attendees would arrive for the bigger and more notable acts. I got in around 7, just a little after Sub Focus started his set. He was extremely good, and it was nice to hear a Drum 'n Bass set driven set -something that you don't get very often at these massive festivals anymore. Following Sub Focus was a little intermission, but the crowd was still very ready for Flying Lotus.
Going into this set, I was anxious due to all of the things I have heard from people about Flylo, ranging from "his visuals are out of this world" to "he's just one of those acts you always have to go to whenever he is around." Well, those people were right. His set was extremely vibey and very well put together; the dude has some insane producing skills. I don't know whether to give credit to him or his light crew but regardless, kudos to whoever. Those visuals were beyond what I usually see at shows. I ended up leaving halfway through Flylo to go get my dose of funk from Griz. This was my first Griz show ever so I was beyond excited. You could hear the sax coming from under that tent from anywhere on the festival grounds. From what I witnessed, I would say that his set was much more than I expected. I was expecting a lot of funk and soul (which there was) but I was very, VERY happy to hear him dropping some dub as well. Griz ended with a little sax solo, as I hoped, and it was killer. Definitely going out of my way to see Griz in the near future.
Now after Griz, one of the biggest main attractions of the weekend was ahead of us… Mr. Bassnectar. Talking to other people, I was told that the people on the rail have been waiting there since the very beginning of the festival; which is the usual. Moving past that, Nectar came out in white face paint with some black insignia on his face. During the set, you can tell how mesmerized all his fans were, no matter how many times they've seen him before. As a set, very enjoyable. It was my 3rd time seeing him and I was impressed per usual. Personally, don't think it would top his Lolla set, but it was definitely better than his Electric Forest set. Visuals were also well done, but that's a given almost every time. With that, day one has come to an end.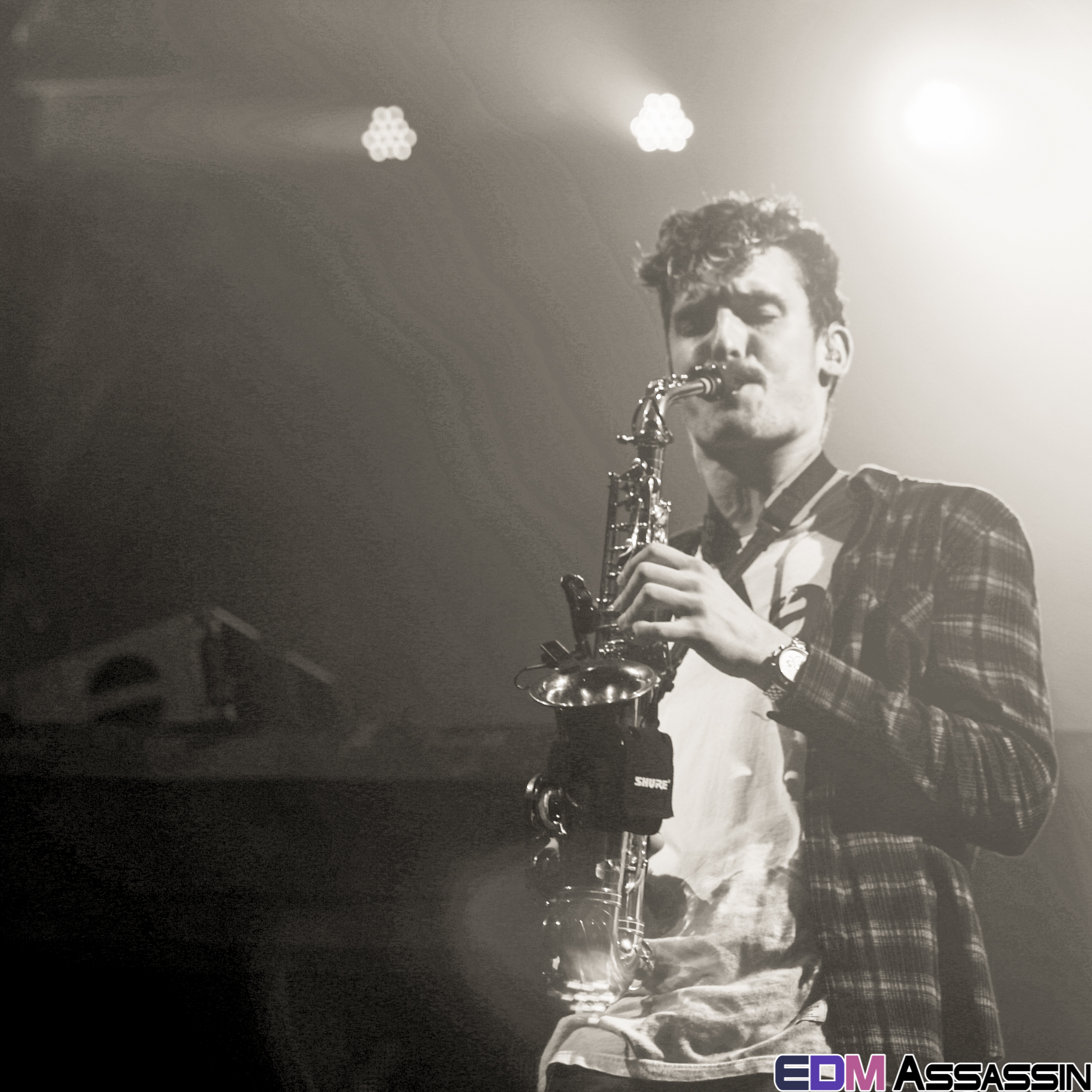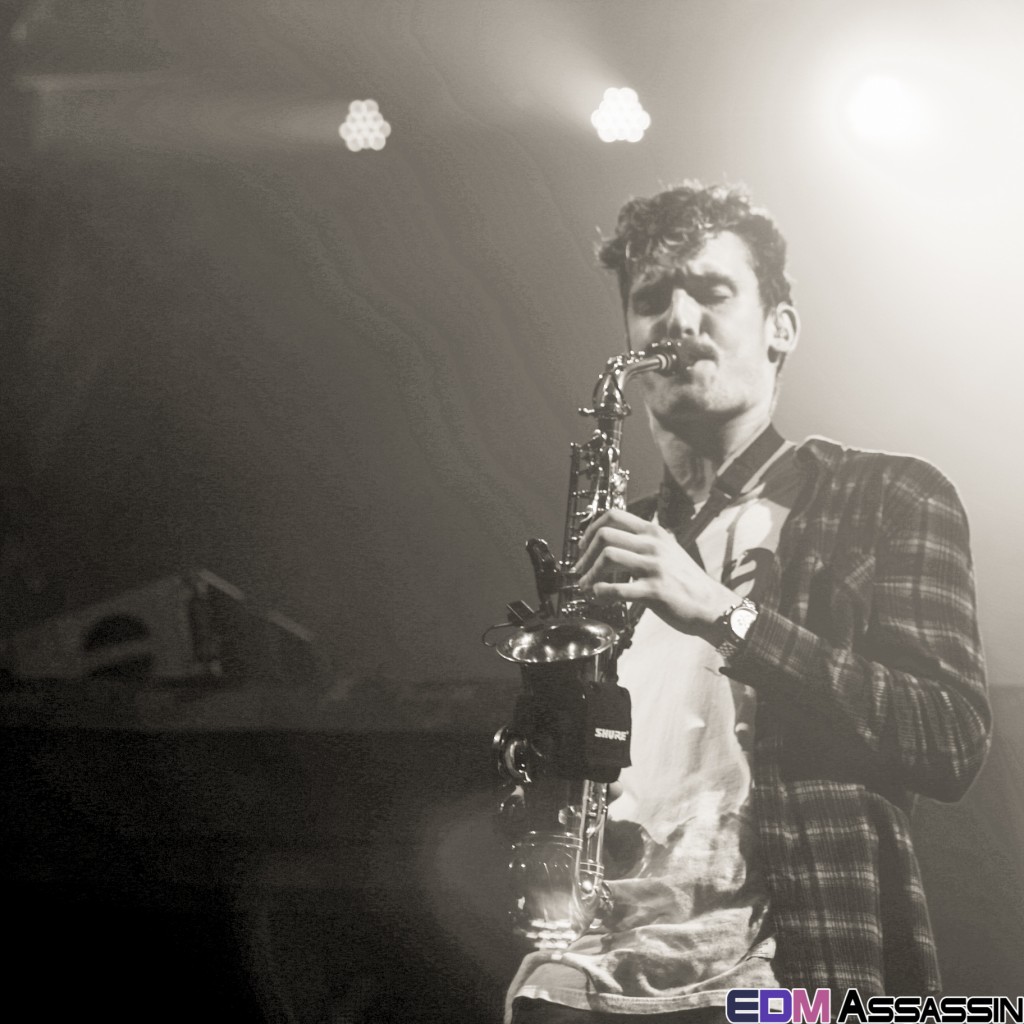 DAY TWO: The drive today went much smoother since I left around 3 when most people weren't even dressed for the festival yet. Starting off my day was Australian duo Hermitude. Their live music was very entertaining and each of them got out from behind the decks and played a solo at some point during their set. After these two, I went to catch Cash Cash b2b Tritonal. I was expecting a lot of big room house and electro house from both groups (which is exactly what I got), although I did enjoy many of the vocals from the tracks that were being played. It's nice to hear some upbeat and happy music every once in awhile. After about halfway through their set, I headed on over to Bakermat to catch my dose of tropical/deep house for the day. This was my first time seeing Bakermat and he had the look of a captain of a sea vessel (he even wore a captain looking costume). Regardless, it was a very pleasant and mellow set. His music made me want to actually board a ship and just travel the seas listening to his own music.
Next came Keys n Krates, but before I headed over there, I stopped by Will Clarke at the Crypt stage. With Will Clarke being one of my favorite artists on the Dirtybird label, I just had to see him. For the time I was there, it was nothing but that good blend of house that he releases. Now onto Keys n Krates we go. This was my 2nd time seeing Keys n Krates, but luckily this time around I was paying attention much closer. I was really able to see all of the individual performances coming together to form one universal sound and it was extraordinary. With more and more live acts being incorporated into recent festivals and shows all around, you can really see why they're so popular. The musicians have to focus intensively and be on top of their game throughout their entire set. If they were to miss a beat or be off track by just a little, anyone could hear that.
Moving along with the day, we had Pro Era OG Joey Bada$$. I actually listened to Joey for the first time back when he dropped his 1999 mixtape back during my sophomore year of high school. When I saw that he was added onto the Freaky Deaky line up, I was more than thrilled. His whole set was filled with so much energy and hype, just as most rappers are capable of doing. He really knew how to bring the crowd into it. Following Joey, I headed on over to Mr. Carmack who was throwing down a set at the smallest stage there (I really wished he was at one of the bigger stages). I made it just in time for him to drop his remix of "Chargé." Didn't stay long at Carmack since I was on my way to Riff Raff. I saw him at North Coast last year and it was a all hype and talking, just like it was this time around. It just involved him walking around rapping, yelling random stuff, promoting his upcoming album, etc. Nothing special.
With that being a total bust, I ran on over to the legendary Benny Benassi, who was performing across FD on the other stage. I managed to see a good amount of his set, and was surprised that he played Ephwurd's "Duckface" and the Skrillex remix of his own song "Cinema." I assumed those two would not make it into a set of his, but I'm glad he took that chance and played them because they were massive hits with the crowd. With me having some time to roam, I followed the house beats to the Crypt stage where I found Hannah Wants playing a magnificent set. With her also being on the Dirtybird label, I expected so much and she was up to par. After Hannah Wants, I located myself back to the Shrine stage to find myself waiting for Buygore's leader, Borgore. He came out in cat ears and a tail (very original) and, to my surprise, played a very dirty set. He unfortunately played a very big-room like set at SAMF and was hoping he wouldn't do the same here at FD. Thankfully, he proved me wrong.
With time in Logic's performance still remaining, I headed on over to see him. There has been a lot of hype around Logic for the past year, and naturally I really wanted to see what he was all about. Overall, he had a very good stage presence and really knew how to bring the crowd into it. He even called out a fan that was singing along to his all his songs word-for-word; after that, he also called out some guy in the front row that made beats for him when he first started rapping. Now before the headliners got on, Shiba San still had about a half hour in his set. Dirtybird may as well have just gotten their own stage due to all the acts that were at the Crypt stage today. Shiba San played a very impressive set, mixing his own songs and his label's songs very well. Now after this long and exhausting day came the headliners. I chose to see Gesaffelstein first since he was off the grid for a while and doesn't play shows in the US very often. I saw him at Lollapalooza in 2014 and oddly enjoyed it. He opened with "Pursuit" (I got the chills so bad).
His whole set had a dark demeanor to it, which I loved SO much. His stage presence was so calm and collected, the man just played tracks while casually smoking cigarettes like it was nobody's business. I have never seen Big Gigantic either so I ran on over to that stage about 10 minutes after Gesaffelstein. Big G definitely stole the show. With Dominic killing it on the sax and Jeremy slaying on the drums, it was definitely a sight to see. Their mix of being a jam band and an electronic duo blends so well. I really hope I get to see them two in the future.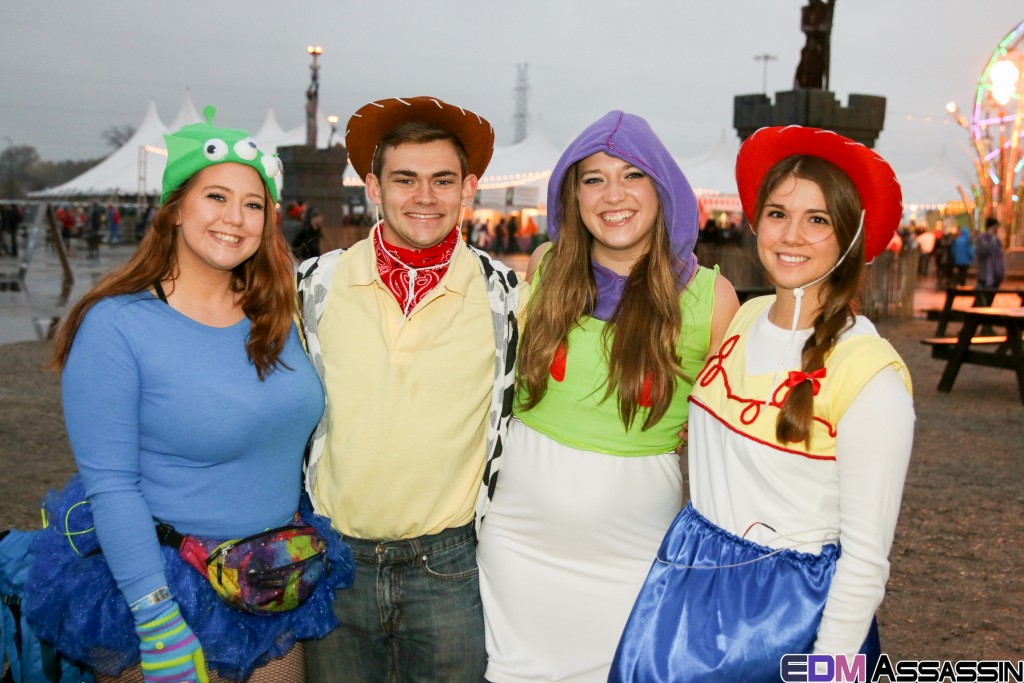 Final Day (sad face): The dreaded last day of a festival where all the fun has to come to an end. Starting off the day for me was The Magician. I happened to make it just in time for him to play "Together", which was a big summer hit at many of the festivals I went to. Following him, I headed on over to (another) Dirtybird artist, Justin Martin. Martin's set was very enjoyable, just like all of his other label mates. His mix of different subgenres of house was so pleasant to listen to; I kind of wish I stayed there all day. Alunageorge was a stage away, so I found myself anticipating her appearance. Alunageorge had an amusing set, one where she really covered a lot of the stage and her band performed superbly. It was now easy to note to see where all these good reviews about her come from. I then found myself at the Shrine stage because I didn't want to miss out on the record scratching skills of A-Trak while he was in town. Batman was the look the Fool's Gold leader chose for the day, which is something I didn't see all weekend yet. His set was filled with many of his biggest hits alongside his newer tracks.
Since I was already here for A-Trak, I figured I would stick around for Vic Mensa and then head on over for Datsik. Unfortunately, Vic was 20 minutes late and all I could think of is all the filthy stuff Datsik is dropping while this delay was going on. EVENTUALLY, Vic go on and it was actually worth it for the 10 minutes I was there (I needed more dubstep in my life that day). Along with all the other rappers that weekend, Vic was amazing in his interaction with the fans. When he started rapping the beginning of "U Mad", the crowd knew what was coming and sang with him in perfect unison. With enough rap for me this past weekend, I anxiously sped walk over to Datsik to get my dubstep dosage for the weekend. Not to sound bias, but I WAS BLOWN AWAY. Mr. Firepower himself threw together a f***ing sick set. It was my 3rd time seeing him this year and I will always come back for more.
Next came the most dope rapper by the name of Mac Miller. With an album just recently released, I had high hopes for Mac. I remember listening to him back in junior high and early high school before he kind of fell off; but, I'm so glad he came back. Being apart of his crowd was incredible. The dude had so many of his day one fans there and all of his songs are so easy and fun to sing along to. It was a really enjoyable and exciting performance to witness. Following Mac Miller was deep/future house youngster Oliver Heldens. I didn't think I would actually go to his set because of the stigma I have for him. Many of his songs sound much too similar to me and his version of deep house sounds more like big room. Nonetheless, I figured I can witness him for the first time before I made my call. Naturally, his set was definitely one for the crowd, but I still thought many parts of his set were too basic and easy to predict; but, what did throw me off was the part when he dropped "Feel the Volume" by Jauz. That song is one that is sort of out of place with the set he was playing, but it worked out in his favor because of the amount of people that like the song. Now comes the part I was least looking forward to…
The last set of the festival. This was about to be the 2nd time seeing Pretty Lights for me, and I was expecting a lot since I caught onto Derek's music a lot more recently. His visuals and light show were out of this world and definitely back up his name, Pretty Lights. The set was so vibey and had a lot of emotion behind it, as does much of his music. I ended up staying the whole time because it is not a set you can just leave after being so emotionally invested into. With that, there goes Freaky Deaky.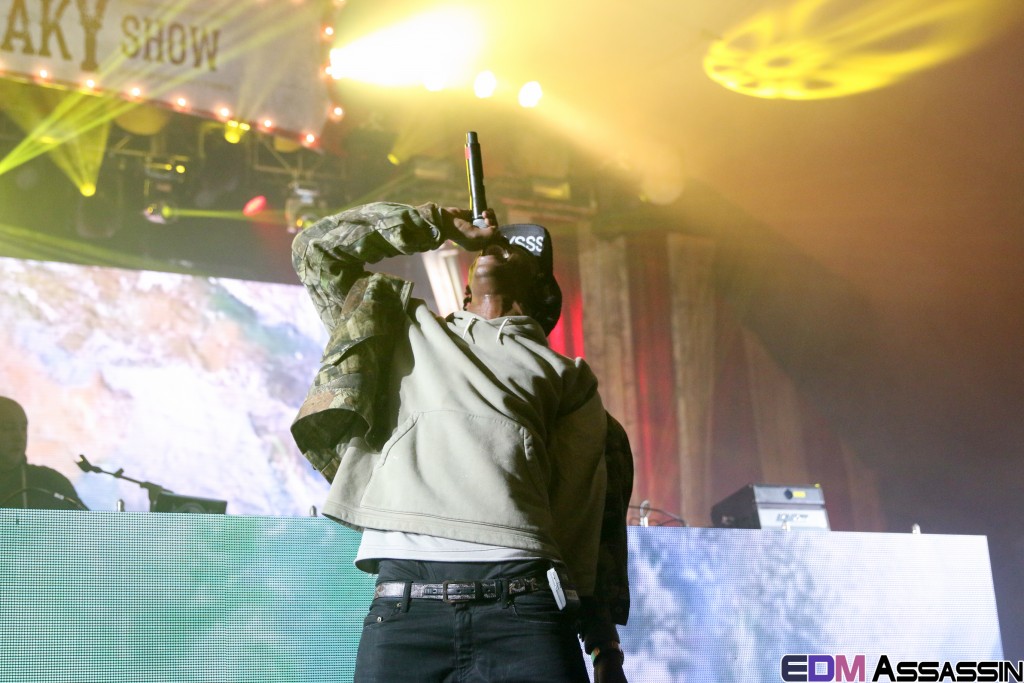 Overall, I think this is my new favorite festival to go to (besides Electric Forest). Everything from the artists that were chosen to the intimacy of the venue, I don't think it could have gotten much better. The staff was extremely nice, there were carnival games to play, a Ferris wheel could have been ridden, the food was pretty good (like most festivals), and the overall vibe was superb. The prices of a 3 day pass were similar to most of the other nearby festivals, so one can't complain. Personally, I don't know how Freaky Deaky could have done better at what they managed to put together. Freaky Deaky has found a place in Chicago as a Halloween festival, and a place in my heart.
Leave a Reply