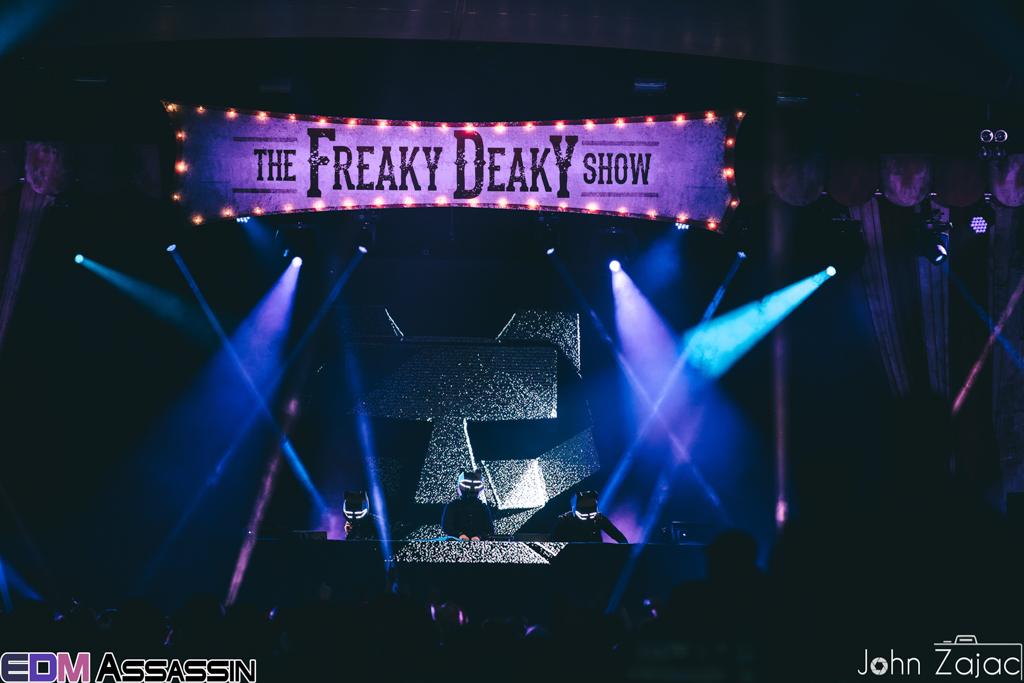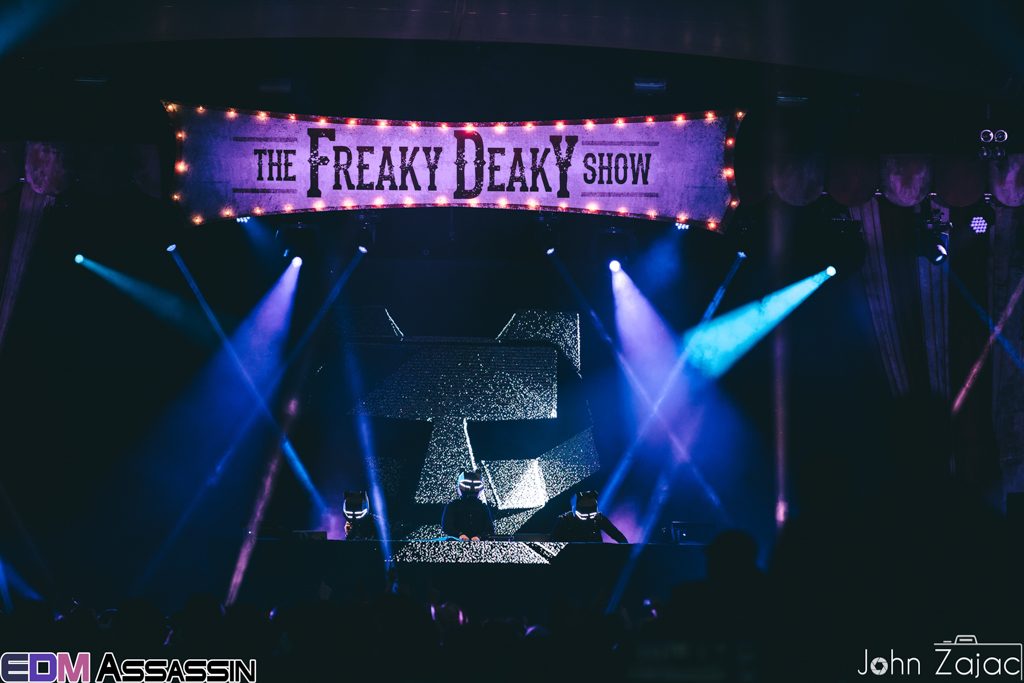 Freaky Deaky has grown from an indoor event into a full blown 3-day festival here in Chicago. Freaky Deaky has evolved and it was time for the festival to begins its second year. It was once again held at Toyota Park, right outside of the city.
The stage setup was the same as the year prior to, with the Shrine and the Big Top on the northern and southern edges and the Crypt stage in between the two. Stages were once again easy to get into and out of, and we were lucky enough to have awesome weather that did not hold us back from dancing whatsoever. Parking at the festival was a lot smoother this year. Last year there were extremely long lines and staff telling you to turn around or try a different entrance, but this year the staff were very prompt and directing cars the way an event should. The venue and Chicago's weather coincided very well over the weekend.
Picking up my wristband followed, and it turned out to be an ease. Will Call staff also seemed very punctual and up to date so that line was very minimal. GA lines seemed nonexistent, the liens were just moving by so quick. As for the acts, it was good times all around. I got in around 5 which is a common time for people to enter a festival, and on at that time was Black Tiger Sex Machine. I saw them at Electric Forest the year before and they were just as good the other night as they were the first time I've seen them. After that I saw Destructo who is undoubtedly one of the coolest and most humble people I have ever been able to interview. Flatbush Zombies were incredible – I have been a fan of their East Coast style rap for some time now and it was awesome to see them for the first time. Gareth Emery played a super sweet trance set, he even threw in Darude's "Sandstorm" which was a huge hit for the crowd to take in. Crizzly and Figure were wild per usual and the bass heads showed no signs of slowing down when those two came on. Lil Dicky had to be the artist that surprised me the most that day. I have never listened to his stuff and knew very little about him, but his performance was of the standard of a true entertainer. He truly knew how to draw in the crowd and get people hype. At certain points it felt more like a comedic act due to how funny the dude was – him singing the National Anthem was really the cherry on top. To conclude the night, I went with the DJ set courtesy of Disclosure. They stuck to the roots of our city and played lots of old school house; I love hearing Cajmere played live and Disclosure were on par with what our city created.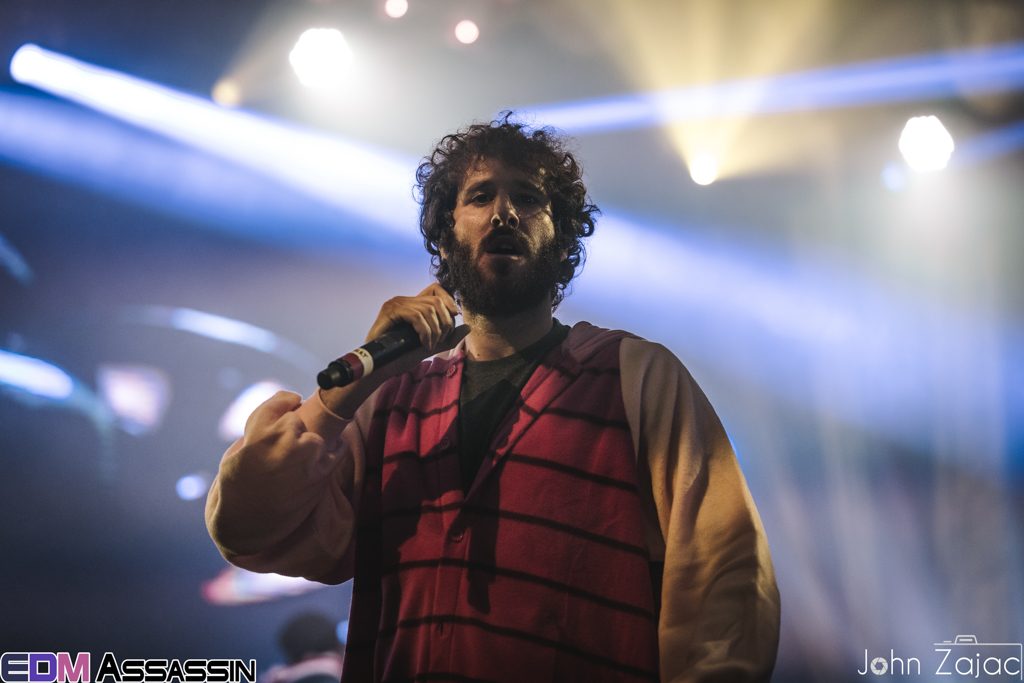 The next two days were some of my favorites due to how Freaky Deaky curated the Crypt stage, but to start off let me talk about Saturday. Entrance was business as usual with the typical pat down and security going through bags, protocol. Once inside, I found myself at Kill Frenzy and those tech house beats. Dirtybird is one of my favorite record labels and I'm glad they were represented well with Kill Frenzy. After Kill Frenzy was Brodinski, who never comes through Chicago and has been very MIA for a while now. His twist of techno of southern (more specifically Atlanta) rap is something that you don't hear very often, and seeing the crowd vibe to something so unique is always a sick sight to see. MK followed Brodinski with his more laidback and casual imprint of house music; very "feel good"-esque, the kind that makes you want to lay down at the beach all day with a cooler full of beers. Seeing him at Movement the other month was a good time, and listening to his beats at Freaky Deaky was a nothing short of a good time. After absorbing almost 3 hours of house and techno, I felt that it was right to hope on over to Snails for some vomitstep. Headbangers lined the rails and everyone was incredibly rowdy, for the right reasons of course. A$AP Ferg popped out a little after Snails and the dude was extremely hype and wild. He was able to draw the crowd in for so many songs. Today posed difficulty when it came to choosing a closer I wanted to see, so I did my best to catch all 3. I started at DJ Khaled because the man of many "keys" was simply not someone I wanted to miss out on, especially since he just had a child a few days before. At certain points, he sounded like a motivational speaker rather than a rapper, but regardless he knew how to turn up. I quickly ran over to DJ Snake in order to catch the Billboard Music award studded Parisian play his numerous hits. His set was actually fairly heavy and hit on a lot of genres, so that impressed me. Finally, probably the one act I was looking forward to all weekend… Dubfire: Live Hybrid. Dubfire by himself is an unbelievable act to watch, but when he pulls out the Live Hybrid set-up, well, you are in for a serious treat. His set was everything I could've asked for and more, he even came out from behind his set-up after he finished and did a little bow to thank us for attending, truly very gentlemen-like.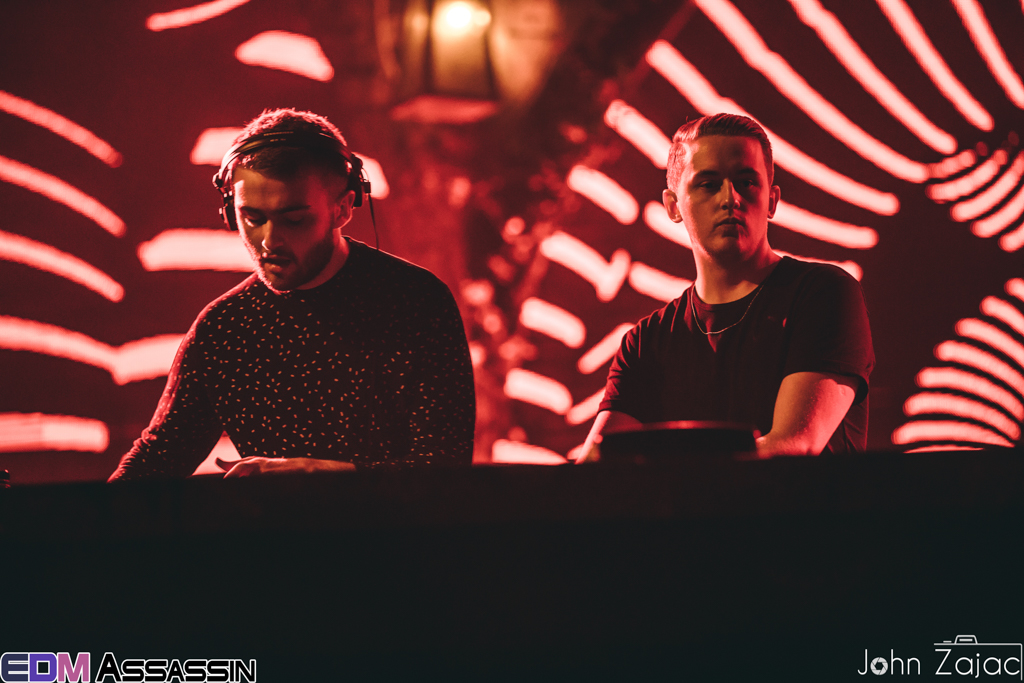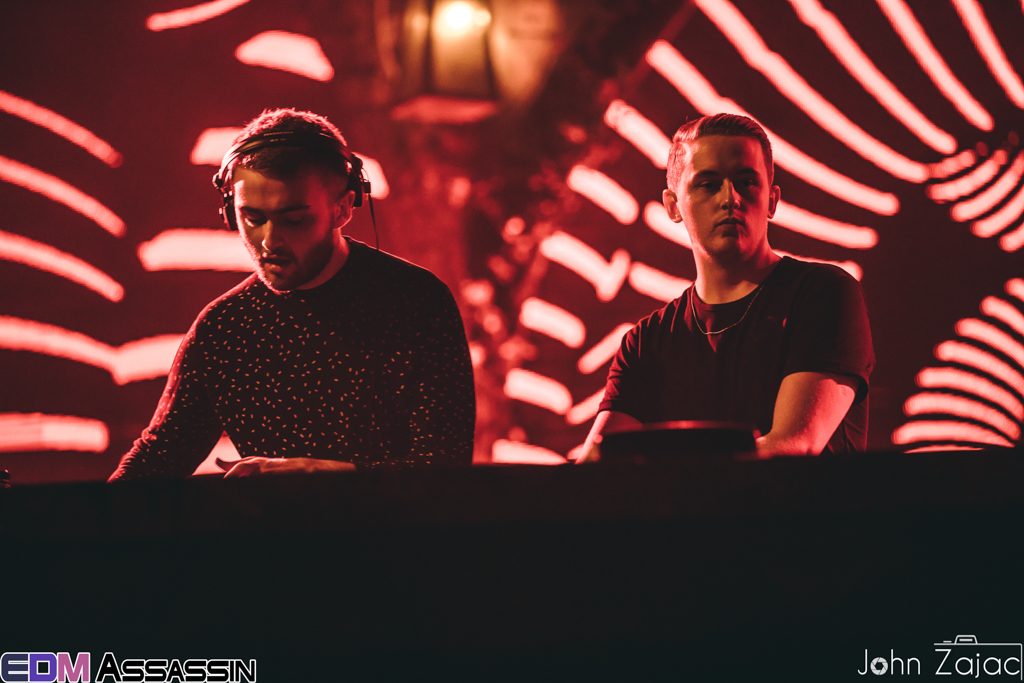 Ah, the dreaded final day of a festival. I headed on over to the Crypt Stage to listen to a bit of Lee Foss before I roam around the festival. Duke Dumont was in full swing, playing his very enjoyable house that could soothe anyone on any particular day. Boys Noize followed, and he stunned me slightly. I couldn't catch him at any other festival prior to Freaky Deaky, so seeing him here was nice. His unique Berlin style of underground music was able to captivate an entire crowd—goes to show how popular the low-key music is becoming. I couldn't help myself from seeing Desiigner, and now I'm kind of mad that I did. I never liked his style of rap, and it didn't help seeing him live. I'm pretty sure he ran up and down the rails more than he actually performed that night. He was very underwhelming in general. Shark squad general Jauz was about to come on so I ran on over to him in hopes of my night being uplifted just slightly. He didn't let me down; his signature mix of dubstep and house that can be projected onto a large audience worked very well and it was the most packed stage all weekend for sure. I had to take in some of Guy Gerber before deciding on a closer and I wish Guy Gerber never ended. His music sounded like the soundtrack I would want to listen to as I'm floating through space. He had such an atmospheric and out of this world aura that I was mesmerized by. Sadly, he concluded his set and I decided to end my night with ScHoolboy Q. ScHoolboy Q was one of the more satisfying acts of the weekend as he lived up to his true potential and was everything I wished he would be. As most people found themselves at Tiesto to end the weekend, I just had to finish off such a spectacular weekend with the legendary Jamie Jones. His imprint label Hot Creations has got to be one of my personal favorites and he didn't let me down. His fusion of deep house and tech house is insane and the man has unparalleled mixing skills.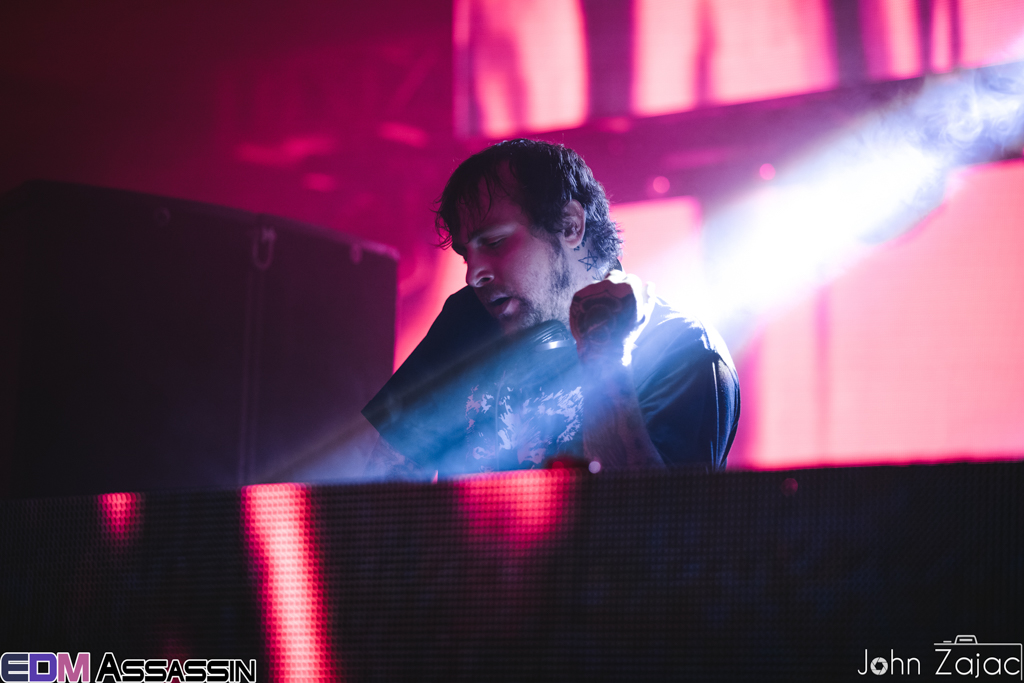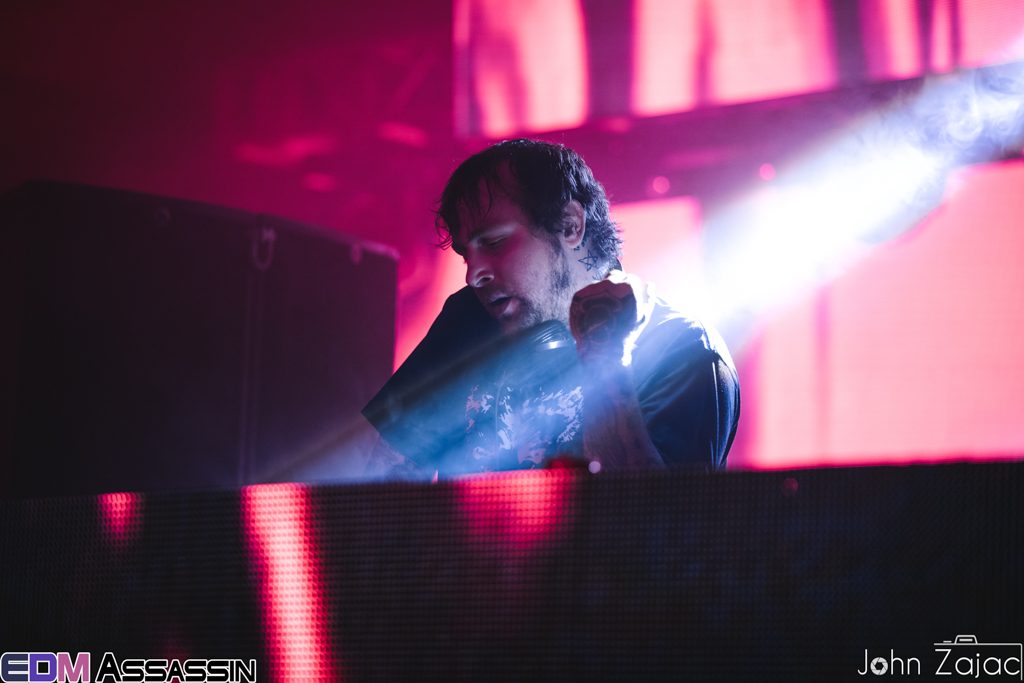 Just like that, the weekend was over in the blink of an eye. Similar to last year, I think Freaky Deaky is still my favorite Chicagoland festival. The range of artists provided for us, to the convenience of the venue and staff, and even the production of the entire event was superb and superlative. The vendors and food places were in prime spots that were easy to get to but not smack-dab in your face and causing an issue. Staff were handing out water bottles and keeping everyone safe all weekend during the performances. The prices of a 3 day pass were similar to most of the other nearby festivals happening during the same weekend, so one can't complain. The range of after parties let everyone get in on the fun, no matter what genre they may prefer. Freaky Deaky is on a steady incline to perfection and I don't see them stopping any time soon.
Leave a Reply