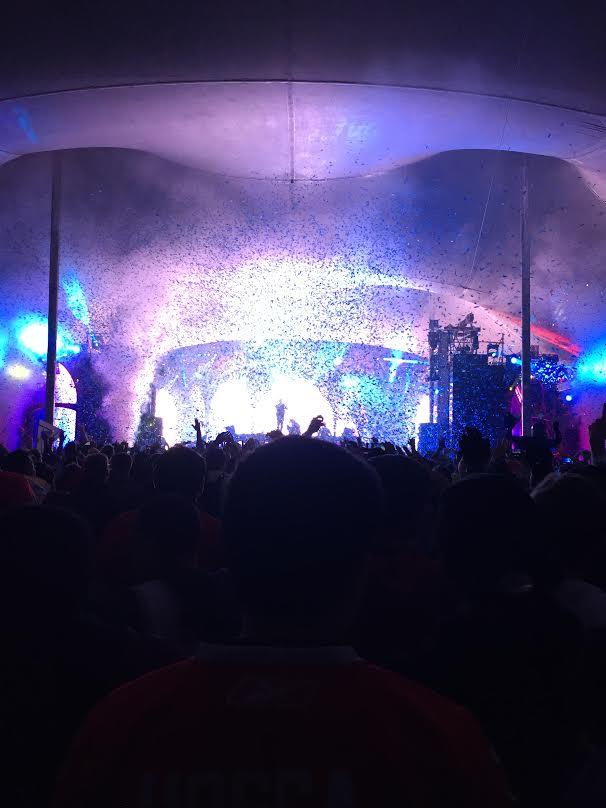 React Presents is known for its involvement in the Chicago EDM scene with popular music festivals Spring Awakening, Summer Set and North Coast. Recently adding to their impressive resume Mamby, Freaky Deaky and Reaction will also be added to the lineup this year. We were fortunate enough to be able to attend Freaky Deaky this past weekend to see big name artist Bassnectar, Pretty Lights, Armin Van Buuren and many more.
Being greeted by a huge festive Freaky Deaky sign, plenty of organized security lines with friendly staff funneled the fans in a timely matter. The layout of the venue was easy to navigate with a variety of shops, food vendors, statues to fill the space between stages. On your far left you had The Shrine; all three stages were under heated tents which made the cold nights bearable. In the middle, The Crypt, filled with bright lights and a huge festive skull on the entrance, it was a great centerpiece for the festival. To the far right was the big top, with a "freak show" vibe this stage had quite the set up.
Spending most of our time between The Shrine and The Big Top we were able to see a wide variety of artists. Taking the top spot for our "Favorite Sets of the Weekend" –Datsik. After seeing him perform a handful of times this summer this performance easily takes the cake. From his hit Swagger to remix of Brittney Spears Toxic mixed with Bricks the crowd was going crazy the entire set. Second on the list, Big Gigantic. Dressed up as a Pope and Rabi this dynamic duo never fails to impress. With the perfect mixture of funk and bass it was hard not to get down. Last but not least Bassnectar. Playing one of the heavier Nectar sets I've seen it was hard not to put him in the top three. Of course it is hard not to be biased when making a list like so, but all artists this weekend brought their A game.
From Batman, also known as A-Track, Oliver Heldens, Mr. Carmack, Griz, Hermitude, Pretty Lights, and Carnage were some of the other acts we were able to catch. Overall this is not Reacts first go at a festival but definitely brought the heat with the first ever Freaky Deaky. From the lineup to the venue and everything in-between we were thoroughly impressed with our festival experience this past weekend. We look forward to visiting Chicago again in a few short months for Reacts first go around of Reaction New Year's Eve.
Leave a Reply