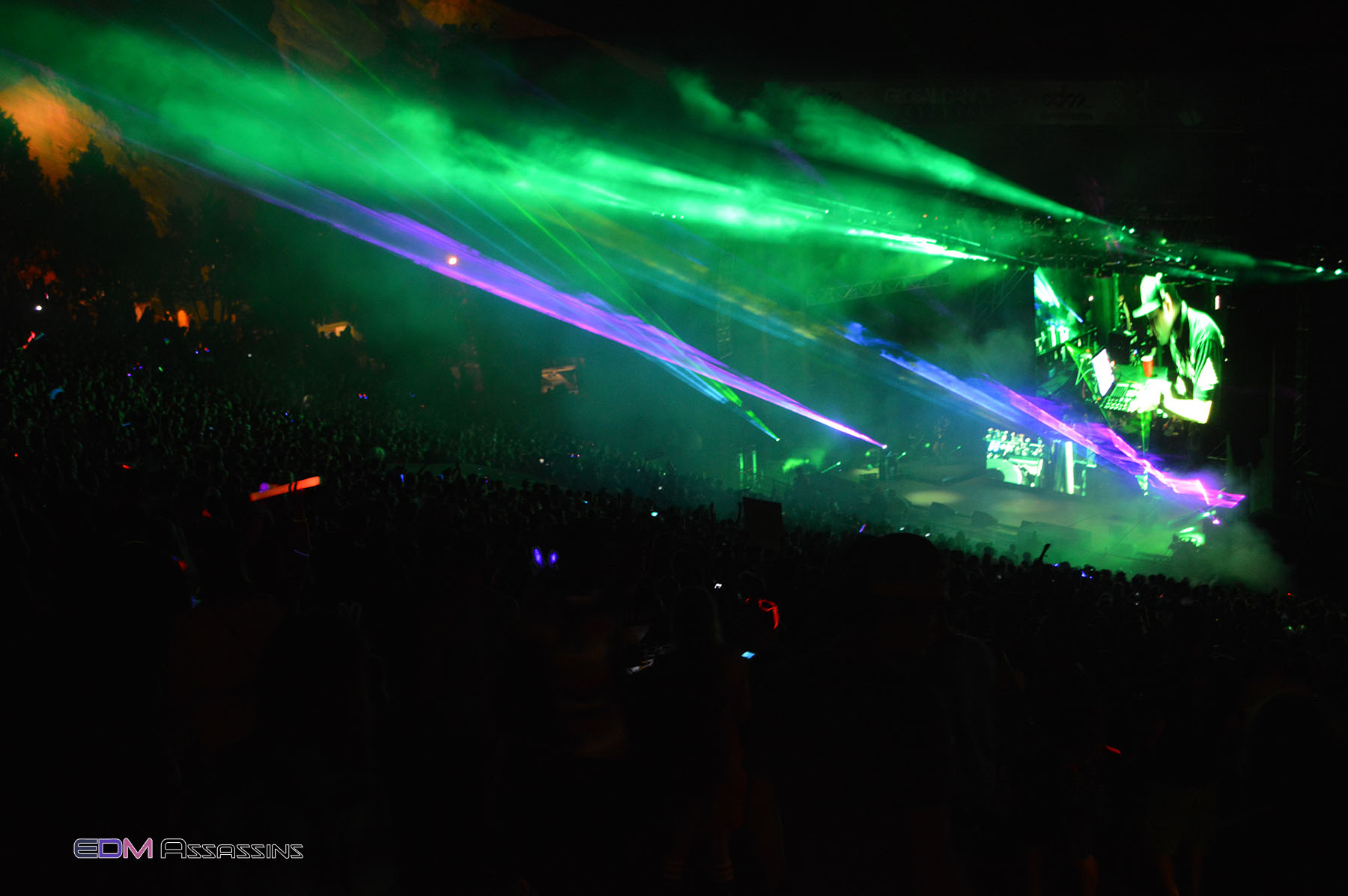 Red Rocks. Global Dance Festival 2015. I've lived in Colorado all my life and for the past 5 years I've been talking about Global Dance and wanting to attend. In the past few years, when I had the money and the ability to go, I chose not to, citing the lineup and prices as excuses for me not just doing what I wanted. This year, with the announcement of the first 4 headliners, I knew I was in. Above & Beyond, Kaskade, Flosstradamus, and Tiesto? I had to be there, and thus made my plans and made some of my friends make plans to go. Here is how my first Global experience went down.
Day 1
My mom's birthday happens to be July 19th, and this is the text conversation that we had…
"You know global is happening on my birthday this year right?"
"Yeah I realize that… Oh wait you want to go this year huh?!?!?! I almost thought you were gonna ask me not to go on Sunday so we can do something for your birthday, but you want to go…"
And thus, I included my mom in plans to attend global, along with a few out of state friends and a few from Colorado. We later determined that my mom really wanted to go see A&B, Lane 8, and Seven Lions, so my brother and I split a one day ticket for her. I was excited to bring her to Red Rocks as she was able to experience an EDM concert with me in Phoenix back in March.
Aside from all of the walking up and down Red Rocks, of which we did wayyy too much, I was lucky enough to have a photo pass for the entire weekend and had access to the pit and VIP for photos. It was easy to tell from conversations with my friends who were going, I was incredibly excited to see Seven Lions and A&B up close and personal while trying to take the perfect picture. It was also incredibly fun to walk through the crowd with a camera in your hand and see the people part ways to let you through, or to tap you on the shoulder and ask for a picture. This time around, I had business cards to hand out and hopefully if I took your picture, you find it below!
I have to say seeing Pegboard Nerds twice in recent memory was a lot of fun, as their heavy dubstep side goes, it appeals well to Colorado which seems to primarily be made up of bassheads. With a fun name and that characteristic sound, their main-stage set was packed all the way back. As the skies began to darken and Seven Lions took to the stage, we could not have prepared for the music he would play as it spanned the entire electronic spectrum. From his characteristic melodic dubstep to trance, to house, to a little techno and much to everyone's surprise, even trap. He seemed to willfully navigate any genre as he pleased and it turned out to be one of my favorite sets of the weekend. Next up was Flosstradamus and while I am not a trap fan, I do enjoy their song "Soundclash" and looked forward to hearing it live. Pictures up in the front were awesome as their stage set up was cool (though not conducive to pictures) but when I went back up to row 50 to sit with my mom, we enjoyed the set far from any mosh-pitting. They even announced it wouldn't be possible to mosh at Red Rocks. Lastly, Above & Beyond. Extra special because it was at Red Rocks, and even more special because I was able to experience the magic of A&B with my mom. There is something very particular that brings out the most emotions from the crowd with Above & Beyond. We sang our hearts out and even from row 50, the sight was beautiful and the music perfect. My mom was traded a piece of kandi from my Seattle friend. I was able to take decent pictures of the button push to "Blue Sky Action" and we watched with love as A&B paid tribute to Digger Denny, a Denver nightlife pioneer.
Day 2
Day 2 dawned and my chance to interview a UK Dubstep legend was only hours away. I was extremely excited and of course a tad nervous to talk with a producer I had listened to since the beginning and helped shape my love for dubstep and specifically the UK variety. As we arrived to the sounds of Illenium, a Colorado native, I couldn't help but dance to the beats he was throwing down to a very excited crowd knowing he was a Denver act. The love that this state has for hometown acts is unreal, especially with up and coming producers such as Illenium. He'll be a household name in no time.
3LAU is an artist that I get to see every so often and much like Steve Aoki, his shows are more for the party and the atmosphere than what he does on the decks. His set was still fun, playing many crowd favorites and even bringing out Bright Lights to do live vocals. Definitely the highlight of his set!
It was on to my interview backstage and aside from a security snafu, everything was perfect. I was able to chat with Doc P about staying true to his roots and how he actually needs to remember to do that now where as it was natural before. He has seen the changes come about and it has given perspective that everything must be perfect because fans will notice if your kick drum is too loud or out of sync. Not only that but as this was not his first appearance at Red Rocks, he mentioned he was going to play an extra heavy dubstep set because of Colorado and it being Red Rocks. Doctor P did not disappoint. He played classic tracks from years past and a few new ones that had the distinct Doctor P flair. I loved every minute of his set.
It was on to Datsik who always knows how to throw down dubstep at Red Rocks, having been here more than once as well. It was fun to hear the differences between Doctor P's set and Datsik's as they both gave us heavy wobbles and drops that shook the rocks, but nothing else was similar. The crowd loved them both but they were definitely ready for Kaskade. He opened with "Never Sleep Alone", one of his newest tracks, and then proceeded to play anything that his heart desired. Each and every time I see Kaskade, a whirlwind of emotions hit and I lose myself in the moment, dancing and singing and smiling without pause. Day 2 was no different as he played some classic Kaskade tracks and even gave us a sneak peek of what he was working on. Part way through his set he took to the mic and talked us through his journey from small nightclubs in Denver around 99′ and 00′ and how he proceeded to The Church, Beta, and finally Red Rocks. A true milestone for many artists.
[soundcloud url="https://api.soundcloud.com/tracks/215459076″ params="auto_play=false&hide_related=false&show_comments=true&show_user=true&show_reposts=false&visual=true" width="100%" height="150″ iframe="true" /]
Day 3
Day 3 had probably my overall favorite lineup. The Mainstage would feature Route 94, Green Velvet, Kill The Noise, Benny Benassi, and Tiesto. With a variety of genres represented, I couldn't wait to dance up and down the stairs taking pictures that might end up a little blurry. With the deep house set from the stoic Route 94, I was content to sit with my friends in the growing crowd and groove to my hearts content. I noticed something as we sat there though. There was a girl sitting in the row below us, she was dressed up and it must have looked like she was alone. A few rows down there were a group of people standing, talking, and looking up in our direction. A few of them tapped each other on the shoulder, pointed up towards us, and giggled like school children. I then noticed one of them come up and proceed to sit next to this girl and chat her up for a minute before getting up to leave. His friends down below were snickering and pointing at her. I almost lost it. After they had turned away I asked the girl if everything was alright, and if she knew that they were just being pricks. She knew, and didn't seem bothered by it. I couldn't believe that there were people who thought themselves so high and mighty that they would jokingly go talk to someone who looked alone and maybe upset. It was not genuine. There was no concern for her well-being or happiness. It was simply a chance to laugh at her from a few rows down. I was furious, but able to keep my cool. I had more acts to see and it wouldn't do me well to get thrown out before 7pm.
Green Velvet. That iconic hair and glasses, not to mention legendary music. I was dancing in the pit to everything he played. My favorite, "Lazer Beams" was played while I was up in the crowd with my friends and I'm glad I had a firm grip on my camera. I decided to venture up and see Manufactured Superstars as they are another hometown favorite. They play with characteristic astronaut attire and even the dancers emulated the style. It was cool to see such a big crowd as they played something everyone could dance to. I stayed up there for a while, long enough to miss my 10 minutes in the pit for Kill The Noise. As I was walking down I couldn't help but dance as he played some awesome tracks. You can see from pictures that he absolutely loves what he does and that mood is infectious. Sadly, halfway through his set the battery on my camera became too low to discharge the shutter. Cursing my bad luck and having seen full earlier in the day, I sadly put away the camera to experience Benny Benassi and Tiesto in the middle of Red Rocks. Both producers were among the first I had ever listened to. I was beyond excited to see them both on the same day.
Benny was.. Well there is a reason he is a house legend. His set was nothing but one incredible song and flawless transition after another. He played all the different subgenera of House music and even included some of his most iconic tracks like 'Satisfaction'. When he began "Cinema" I turned to my friend and mentioned that because the crowd seemed so young, they wouldn't recognize Benny as the original producer of the song as Skrillex's version has far and wide become one of his biggest hits. At the drop he went into Skrillex's version and the crowd went nuts. I was definitely among them, though I think I appreciated the irony of it more than most. Easily one of my favorite sets of the night, Tiesto, who has attained mythical standing within the world of trance and dance music as a whole, would hit the decks next. While Tiesto has changed his sound over the years from epic 6 hour trance sets to cementing his place at the forefront of house and pop music, Tiesto is still a sight to see after everything he has done and though he doesn't play much of the trance he used to, he still must be respected as a master behind the decks. I knew what to expect in terms of his latest music and sadly when Tiesto played some trap remix of a song, I sort of lost my appreciation for his set and decided I had heard enough. As much as I love his music, trap just didn't seem to fit, and while the crowd ate it up, I just couldn't. We headed out of Red Rocks hearing "Adagio For Strings" one of my favorite songs of all time. It was an incredible weekend and I am extremely happy to have been able to attend. Check the 3 galleries for each of the days and keep reading! There is more!
As we walked out of Red Rocks to close out my first Global Dance Festival, I reflected on more than just the music. The amount of work that went into this even was spectacular and everything came together well. The weather seemed to hold just for us as it did not rain any of the nights. I found myself people watching more than ever and noticed a lot about the crowds that have flocked to Red Rocks. There were your standard ravers, dressed up and enjoying themselves, keeping to themselves. There were the veterans, those with gray hair, and those who had brought their young children to the show with headphones to protect their ears for a life full of music that lay ahead. Then sadly there were plenty of those who just came for the chance to do drugs and take advantage of people. It was sad to see people walking by asking for drugs or people who's pupils were the size of grapes before the sun had even set behind the Rocks. As much as I know there isn't much to do to stop some drugs getting in, I hope that people still remember that they go for the music and for the company of friends and strangers alike. Taking pictures this weekend I met some awesome people and even without the camera around my neck, I know they would have been just as friendly. Those are the type of people I love seeing and meeting. As Above & Beyond put it on Day 1, Music Unites Us All. Let's keep it that way.
Pros
Plenty of diverse music, something for everyone
Stages didn't bleed over to where you could hear two at once
Overall production was amazing
Cons
A few too many younger people who seemed to simply be there for drugs, maybe 18+?
The walk to the upper stages was a nightmare, though there is nothing to be done
Leave a Reply