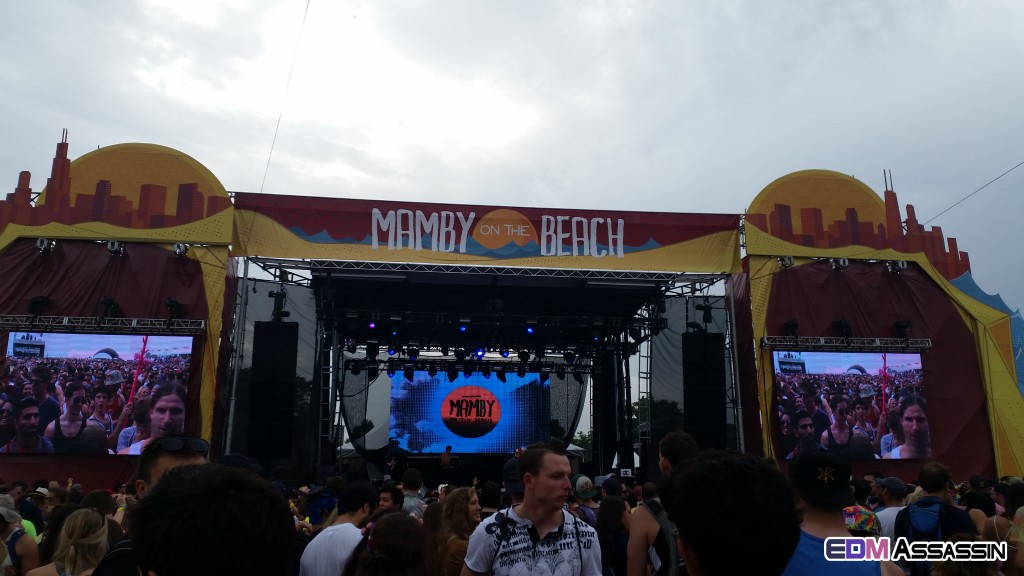 This past weekend, React Presents hosted the first ever festival, Mamby on the Beach in Chicago on Oakwood Beach. In the past, there have been a few beach-side music festivals held in Chicago but none seemed to stand the current. With it being Mamby's first year, it definitely had something to prove; however, it was everything that is to be expected of a first time festival: all right. If you're the avid EDM festival go-er, this festival might not be your cup of tea in regards to the artists and overall festival experience.
With its eclectic lineup, Mamby attracted a crowd normally not seen at your typical EDM festival. There was no kandi, hula hoops, or totems. This indie-infused EDM festival felt like an oversized beach party which seemed to appeal to the typical weekend beach-goer rather than your EDM junkie. When walking through the crowd, the occasional "Who is this playing?" and "I love this kind of music, what is it?" was heard which made it clear that a lot of the crowd was just there to have a good time. Overall, it seemed to take away from the festival experience. If you were expecting to shuffle or show off your hooping skills at Mamby, you'd probably get some interesting looks and weird stares.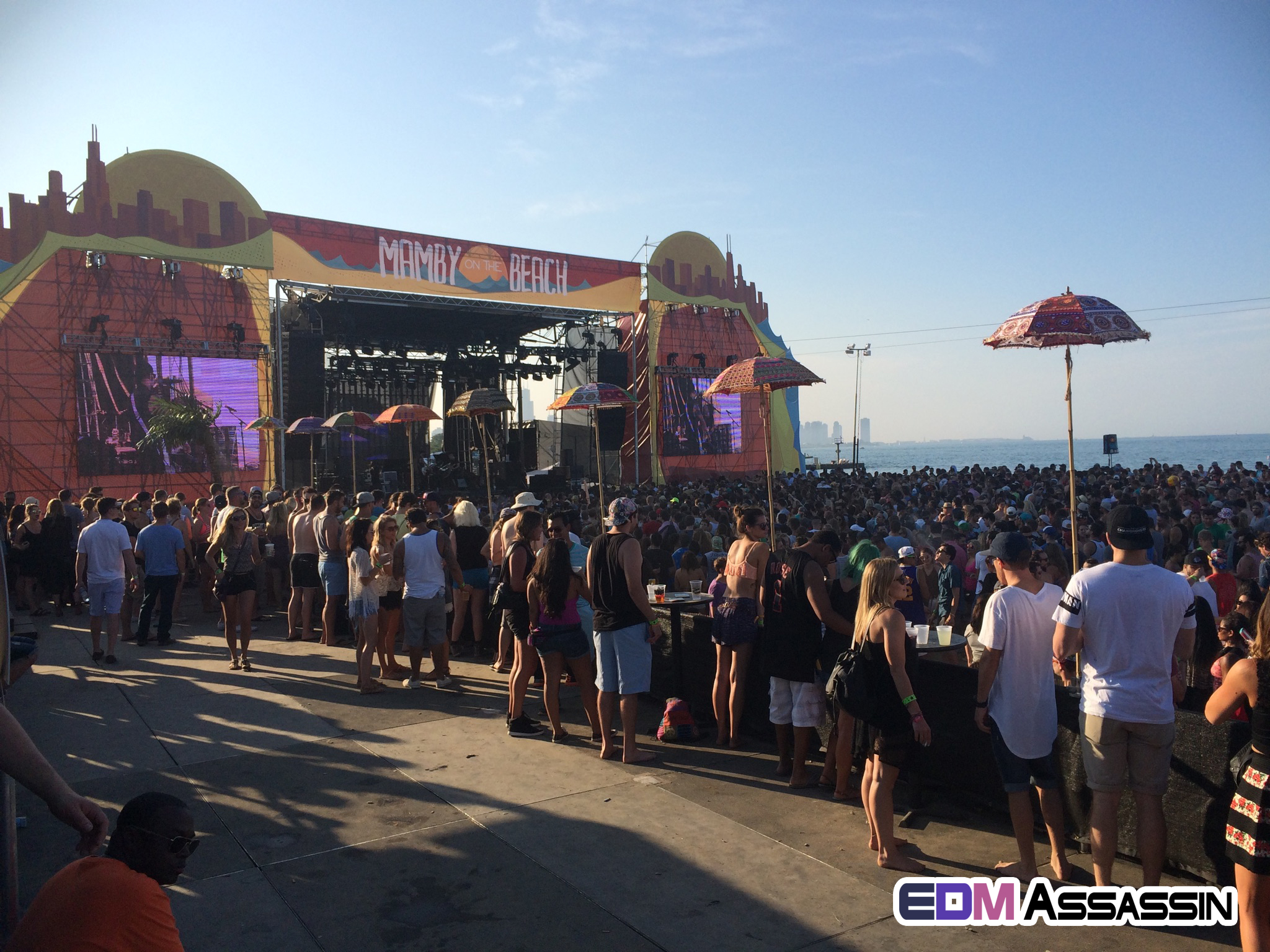 Because Mamby was on the beach, there was no sufficient parking for all the attendees but Mamby was ready for this. On the official Mamby website, there were clear directions to the official Mamby parking lot which was at McCormick Place parking lot B on Lake Shore Drive where free shuttles ran loop service. Shuttles ran from Cermak-Chinatown Red Line as well. When exiting the expressway, there were clear road markers telling drivers where to find the parking lot because, to be fair, the parking lot would be hard to find if the markers weren't there. Parking was $14 a day which, for Chicago, was a reasonably priced fair especially for a whole day. The shuttle, which was a yellow school bus, was waiting in the middle of the lot and left promptly at noon, which was when the site said shuttles would start running. The shuttle was a quick five minute trip, which ended right at the entrance to Mamby. Upon entering Mamby, there was one entrance and a few other tents next to it where there was Guest/Media Will Call, regular Will Call and Groupon Will Call. Before going into the entrance lines, there were police officers who checked identification which ensured security. Then, third-party security scanned official cloth wristbands. These wristbands were a treat considering it wasn't expected of a two day festival. The chips on the wristbands were scannable which made it fast and easy to enter the fest; however, security was very thorough in checking bags which could cost some time if you had a large bag. If you decided to leave the festival grounds for whatever reason, the chips on the wristbands were not rescannable which meant no re-entry. Entering the festival was cool; there were sculptures and large wooden archways that gave the festival a type of tribal feel. On the left there was the Guest/Media entrance which I tried to enter considering that is the will call tent where I picked up my wristband. However, I was not allowed entrance because I didn't have the right colored wristband. According to Mamby protocol, the only wristbands that were allowed into the Guest/Media area was gray, purple, and green. I was given a light blue wristband which was only a regular two day pass despite expecting a media pass from the Mamby staff. This seemed to be a common misunderstanding with many of the Mamby attendees from what I saw. Many people who had picked up their wristbands from the Guest/Media Will Call tent thought they could get into the Guest/Media area. This was very tiresome for the security.
Entering further into the festival, there was an artistic feel in the air. There was beautiful graffiti stained saran wrap that intertwined the trees. There were also two art tents: one that offered henna and flash tattoos and another that painted iridescent canvases. A little further down the line was the food and vendors and on the left, there was an archway that read "MAMBY," which marked the entrance to the Beach. There were three stages: the Beach House, the Tent, and the Main Stage. Although the size of the festival grounds was small, Mamby did a great job in its ability to make sure the music from one stage was not heard at another. The Beach House was a much smaller stage where smaller artists performed compared to the Main Stage where big name acts like Empire of the Sun and Passion Pit performed. The Tent seemed a lot bigger due to its large covering but the stage itself was small as well.
Because the festival area as smaller than many festivals, there was only one drinking station which consisted of five spouts that continuously had water flowing from them. Although one water station might seem like it's not nearly enough for a festival, there was never a wait. The size of the festival probably wasn't the only thing that contributed to no waiting lines for water…. For one water station, there were five booth serving beverages, one of them only serving non-alcoholic beverages. It was clear the crowd was taking advantage of these booths. Because of this, it was nice to see that there was medical personnel at each stage and around major areas of the festival like the water station and bathrooms. To further to ensure safety, there was security with wristbands at the beginning of each line that re-checked IDs to make sure the buyer was 21 if they were purchasing an alcoholic drink. Speaking of drinks, there were two food booths that offered food that ranged from pizza pockets to pulled pork sandwiches, where the prices ranged from $4-$7 which is a reasonable price for festival food. The booths only accepted cash, which is normal for a festival food stand; however, this was posing a problem for people who didn't have cash on hand. Although there were few ATM stations scattered around the festival grounds, attendees were having issues with them: cards were getting stuck and multiple people showed extreme anger when the machines would not dispense money. There was a number on each of the ATMs that people could call if they were having issues with the machine; but when this number was called, it went straight to a personal voicemail. This was a recurring issue over the festival weekend. Alongside that issue, most of the food ran out by 8pm despite the festival ending at 10pm which was kind of a disappointment. Next to the food booths were three vendor booths which is a significantly small amount. These booths were usually uncrowded even though they sold glasses, gloves, pins, and other assorted EDM apparel. With sufficient security and medical personnel as well as reasonably priced food and drink, Mamby did a good job. However, music was a big part of this festival as it is for any music festival.
With a couple of main stream acts like Empire of the Sun and Passion Pit, I would definitely say that Mamby prided themselves on the small time names on their lineup. If you were looking for shuffle or womp, you wouldn't be finding yourself doing that at Mamby. Many of the artists had great sets that I saw myself vibing to, but nothing that I felt myself being amazed by. On Saturday, despite the bipolar rainy weather, Autograf, Robert DeLong, Cashmere Cat and Royksopp were treats and they satisfied my music craving. Mamby had beach umbrellas spread across the Beach where attendees could lay down a blanket or towel under and just relax while having a drink. This is something that was often seen throughout the day. Although there was a music in the air that could easily be enjoyed with some smooth moves, most of the attendees used the daytime to sit and relax, preparing for the evening's festivities. When night fell upon Mamby on Saturday, Zhu closed out the night alongside Empire of the Sun. Zhu attracted a specific crowd because, although Zhu is definitely not a small name in the EDM world, it was unknown to a lot of the Mamby crowd so upon joining those at Zhu's set, I felt like I was with my people. Playing his well-known track, Faded, Zhu was able to enchant his crowd in a unified sing song which was awesome to experience alongside fellow fans. Upon moving from Zhu's visually artistic and musically diverse set to Empire of the Sun's set just a few yards away, there was a different feeling in the air. Considering the fact the Empire of the Sun is rarely seen on many music festival lineups, the crowd was making the most of the rare experience. The crowd was dancing and jumping around and overall enjoying the bright flashing lights that came from the Main Stage. Empire of the Sun ended their performance with an amazing fireworks show that dazzled the entire crowd. Upon leaving the festival grounds, there was one exit where attendees were let out of. Mamby staff directed attendees to different lines: one for Uber and taxi pickup and a few others for shuttle pick up to the McCormick parking lot. The average time spend waiting for a shuttle was around fifteen minutes which wasn't too long compared to the time it would have taken to get a taxi amongst the crowd.
Sunday was filled with performances by Louis the Child, Phantogram, and Art Department among others. Cherub performed at the Main Stage, bringing their electronic pop style to Mamby which the crowd really seemed to enjoy. Finally hearing Doses and Mimosas live a great, and even the crowd wasn't very familiar with the tune, their dancing showed a lot of enjoyment. However, nothing really seemed to change from the day before except that the weather had taken a turn for the better: no rain and bright sun. The crowd took advantage of the great weather by laying their towels out once more and soaking up the sun as well as the music. Passion Pit ended the night which was amazing, considering they have a few hits that you would have to live under a rock to not know such as Take a Walk and Sleepyhead. Passion pit closed out the night along with the festival weekend with another fireworks show, only to signify that the next morning, Chicago's Oakwood Beach would go back to a calm, city paradise.
All in all, Mamby on the Beach's first year wasn't your typical festival experience but it's to be expected from a first time festival. Mamby experienced a great turn out with it being a first time festival and it is expected to make a return next year with a more impressive lineup. Again, if you are an avid EDM festival go-er, this might not be the festival for you and that isn't expected to change. With React Presents being known for their EDM events around the Midwest, React is probably opening their events to a new audience which is why Mamby was created but because it was heard that React Presents was putting on this festival, more EDM was expected than electronic pop. However, the festival itself was ran very well with a decent amount of security and medical personnel, with very good, decently priced food and drinks as well as honing in on some interesting artistic value. The only changes I would suggest React makes is a clearer Guest/Media entrance/Will Call pick up, better ATMs and a lineup that sticks to the essence of what React does best: EDM. I look forward to seeing what Mamby has to offer next time because it can only be assumed it'll get bigger and better in its second year.
Pros:
• Sufficient security
• Lots of medical personnel
• Reasonably priced food and drink
Cons:
• Clearer will call entrances
• Better/more ATMs
• More EDM rather than indie pop artists on lineup
Leave a Reply