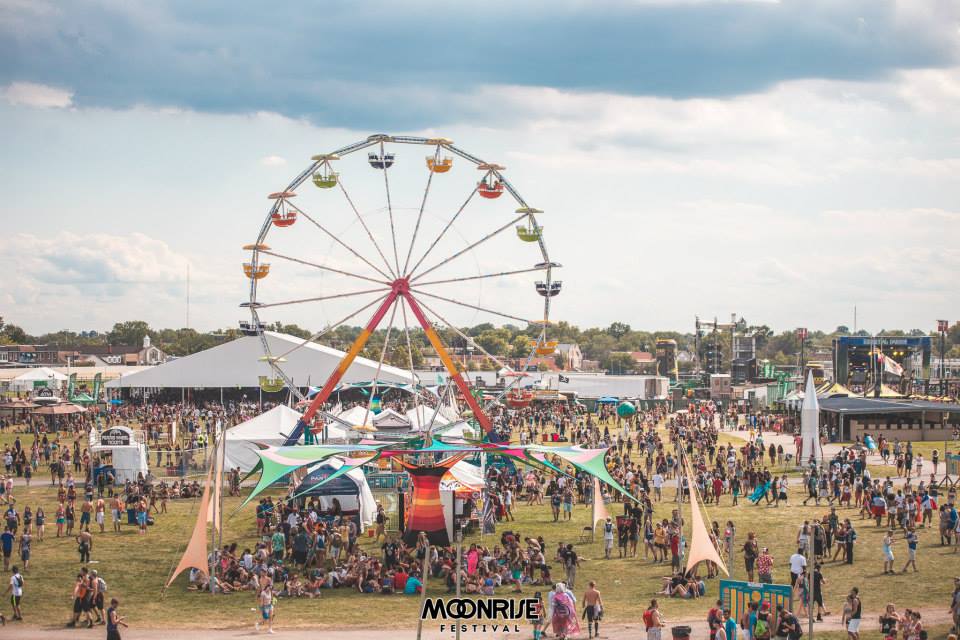 Moonrise Music Festival took over the Pimlico Racecourse in Baltimore, MD just a few short weeks ago, and boy do we wish we were still there. From the venue to the lineup, stage production to vendors we give this festival a 12/10. Very rarely do we see a festival that scores outstanding in all categories; Moonrise tops all other festivals we've attended this summer.
Releasing one of the most impressive lineups, Moonrise took the scene by storm. Being able to schedule Bassnectar for a special 8/08 performance, Above & Beyond, Big Gigantic, Dillon Francis, Die Antwoord, Glitch Mob, Porter Robinson and Zeds Dead this festival was full of big name, headliner worthy artists. Conflicts aside, Moonrise was able to provide us with many big names in the industry. With Moonrise being a two day music festival, every stage was a main stage. Moonrise graced us with four stages; The Lunar, Solar, Stella and Celestial Garden.
The Lunar stage, home to Bassnectar and Porter Robinson, displayed an LED background with lights like any typical stage. The Celestial Garden, the smallest of the four, contained pergolas for viewers to sit under to enjoy the music. The Stellar was definitely the hidden gem where both Knife Party and Dillon Francis played. With LED panels sky high, you could see this stage from a mile away. Lastly, the Solar Tent, this is where a majority of my time was spent. With the legendary Cookie Monsta VS Funtcase VS Doctor P set the Solar Tent was the place to be. Not only did the Solar Tent allow you to escape the sun with its shade, it also had lasers covering every inch of the tent and speakers throughout.
In each crowd you could find volunteers of the Star Team with their bright orange shirts. Moonrise had brought in a team to walk through the festival grounds giving out water, misting guests, handing out candy, earplugs and schedules all for free. Having seen this for the first time, every festival needs to follow Moonrise lead and implement a program like this. Along with an incredible set up and friendly staff, vendors of all sorts filled the space in-between.
Merch vendors such as Official Moonrise Merch, Bad Kids Collective, Electric Family, Eat Sleep Rave Bra, Diff Eyewear and many more were found upon entry. From clothes to accessories, moon mats to art you could find it all at Moonrise. Alongside merch vendors were food vendors. You thought of it, it was there. Mac N Cheese, bacon, wings, popsicles, snow cones and everything else was all available at a reasonable price. Rockstar, a sponsor of Moonrise, was even on hand giving out free samples of some of their popular flavors. Moonrise had it all.
After such an amazing weekend, Moonrise easily takes the cake as the best festival of the summer. With a lineup too good to be true, location, stage production, vendors and volunteers we will definitely be returning in the upcoming years. Thank you Moonrise for one of the best weekends, until we meet again.
Pros
Amazing staff – especially those constantly giving out free water and misting us.
Great lineup.
Incredible amount of diversity of food and drinks along with reasonable prices!
Easy to find everything!
Cons
First day trying to get in was hell. Although, they were able to fix this on day two.
So many awesome artists playing at the same time. Not much you could do, but that's always a bummer and a testament to their awesome lineup.
Leave a Reply