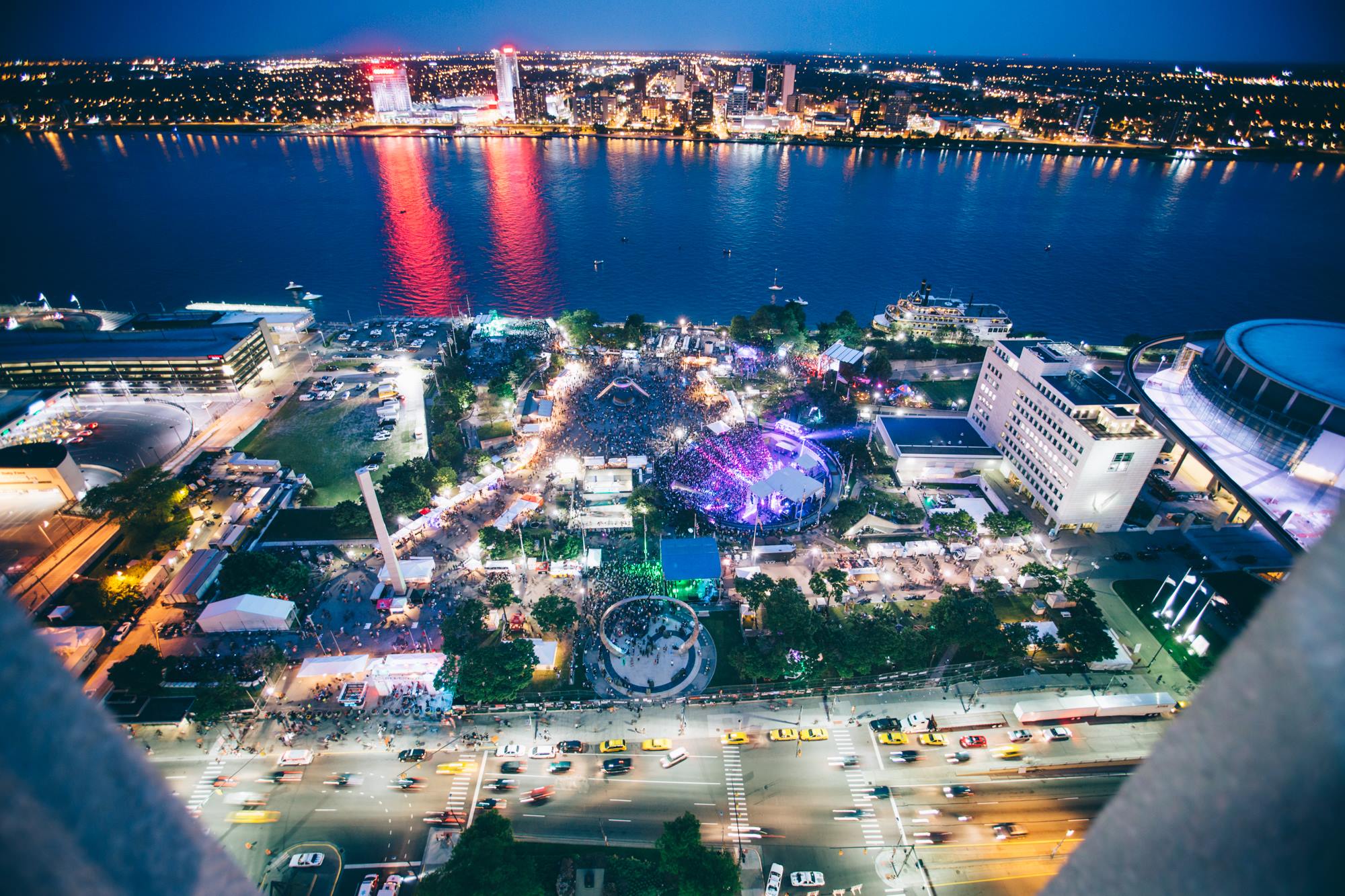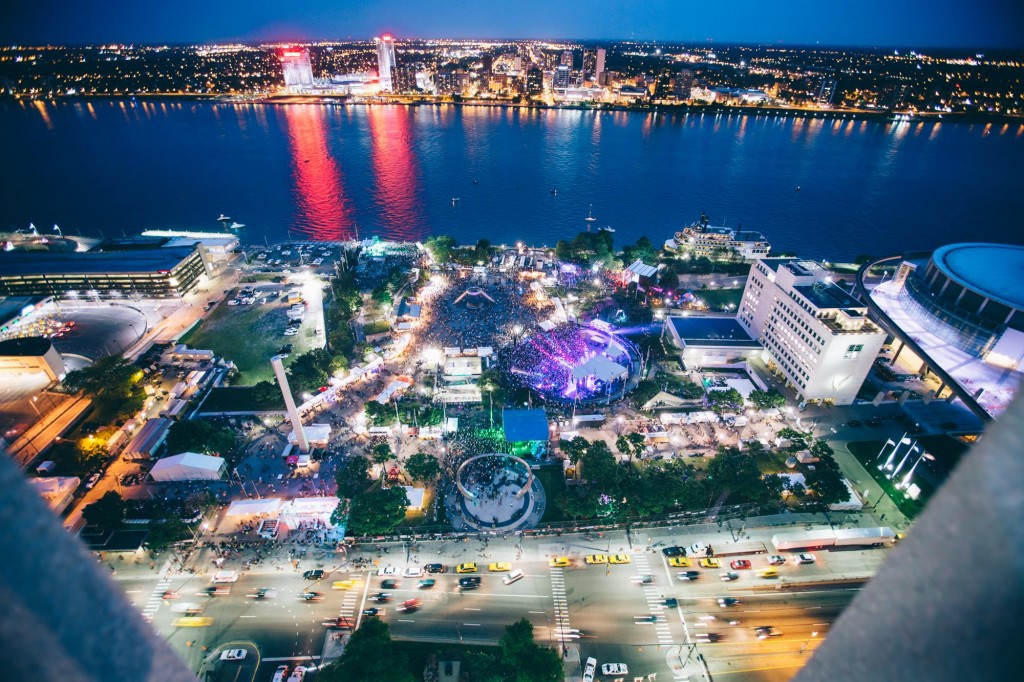 Memorial Day weekend in Detroit can only mean one thing, and that is Movement Festival time. I had the pleasure of attending the techno fest mecha, Movement, on Memorial Day weekend. This is the 15th year running of the festival and a very highly anticipated one that I myself, have been looking forward too for months.
Saturday was the first day was the first day of the festival and it would be kicked off with a bang. Legendary Richie Hawtin and Disclosure would be closing out movement that night and I was greatly anticipating their sets from the beginning. I had plans to stay in the Detroit area all weekend and just hop from friends house to friends house each night to help with travel times due to the fact that my house is 40 minutes away from downtown. I arrived at Movement on Saturday at roughly 5:00pm. As I walked up to the festival gates, I was greeted with the sight of a gargantuan line that stretched almost the entire length of the festival. I was being told the wait line to get in was nearing 3 hours to get in. Once inside, the sights and setup inside Hart Plaza immediately overwhelmed me. From the incredible fountain structure to the river front view looking over to Canada, it was truly a great setting. For the Majority of the day, I was wondering, hoping from stage to stage, and just hanging around my crew of friends. When the sun did set over the Detroit River, we all knew it was time to head over to the Red Bull Academy stage for the last two sets of the night. Eats Everything and Disclosure were there to close the night out for everyone. Eats Everything laid down the best set of the day by far. He maintained incredible consistency with keeping it very techno heavy while being able to throw lyrics, mash up multiple songs at once, and it really added another dimension to his set. Disclosure came in try to try and top that and threw down a very strong set as well. The crowd, rightfully, went nuts when Latch was dropped as expected. I left movement on Saturday feeling very satisfied and knowing that Sunday, the best day, was yet to come.
The only thing I could think about when I woke up on Sunday was seeing Dog Blood. I couldn't wait to see Skrillex & Boys Noize absolutely wreck the main stage. I was ready to go right as I got there. I had planned a big EDM Family meet up at the fountain so right when I arrived, there were 30 or so people ready to go. We all had a nice chat, took some pictures, then I took a group of them weaving through the sea of people to see Hudson Mohawke. His set was definitely in my top 3 for the weekend. It was a nice change of tempo from hearing techno all weekend, to so down tempo hip-hop and trap. His famous song Chimes had everyone shuffling and grooving unlike any techno song had done all weekend. It was definitely a nice change of pace. Once Hudson was over, it was time to grab some food from the one of the vendor tents and camp out at the main stage.  Before Dog Blood was The Art Department and Loco Dice, which were unexpectedly groovy. As 10:30 struck, I was immediately immersed into the music and turned the world off. The set had such an incredible ebb and flow to it all the way through. By far the best set of the entire weekend for me. I was left completely speechless when Dog Blood dropped Deep Down Low by Valentino Khan; it was definitely the highlight of the set. I wish that set could go on forever but obviously it had to come to an end at some point. I was completely exhausted Sunday night and ready to call it quits and head to bed and rest up for a busy Monday.
I had to be at the festival grounds by 2:00 sharp to host an interview on Monday. I had the honor of interviewing The Detroit Techno Militia. These guys lead and push the techno movement in Detroit harder than anyone out there. Many of these guys have been playing records and touring for more than a decade and it was great to hear the stories and experiences they had to share. After the interview was over, I had a lot of time to kill. I spent the next 3 or so hours sitting by the water at the beatport stage soaking it all in with my friends as we slowly nodded our heads to the constant pulse of techno. For the remainder of the day I spent time in the underground to watch the Detroit Techno Militia play some records. Later I went back to the media tent to record and host an interview with Muzzy Bearr. Muzzy Bearr is one of Griz' label mates and is from Detroit as well as Griz. We talked about his latest EP, his performance with Griz he was doing that night on stage and at the after party, and just some leisurely music talk. Once that was over I had to make a sharp dash back to main stage to get set for the all mighty Griz to perform. The Detroit native was definitely a fan favorite at the festival and was one of my favorites as well. His set was easily my second favorite of the festival. It was incredibly diverse with heavy amount of typical Griz funk but with also dubstep, and downtempo being sprinkled in as well. He finished his set off with the Flux pavilion remix of Recess and that couldn't have ended my Movement festival experience on a higher note. I was truly left on cloud nine after that set.
Movement was something very different for a bass head like myself, but I can say for a fact that it was one of the best weekends of my life. The incredible passion the people of Detroit have for techno is truly unmatched in this world and Movement is the prime example of why that is the truth. I am already looking forward to next year and hopefully making my return every year after that as well. See you next year!
Leave a Reply