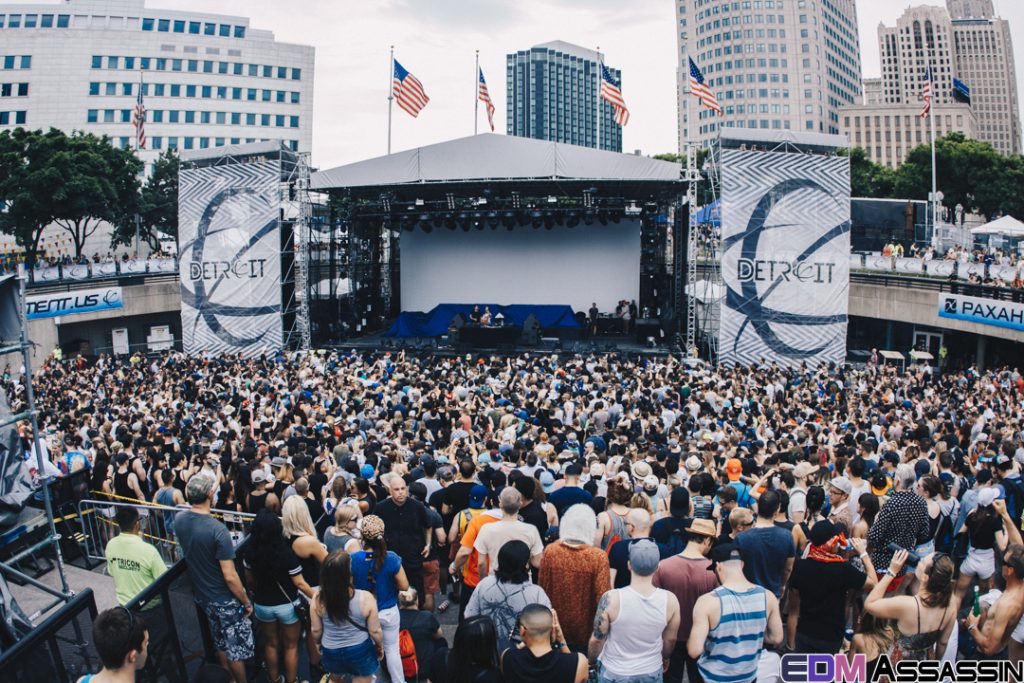 Big thanks to Paxahau for allowing us the chance to attend and review your beautiful festival.
Movement, Movement, Movement! What a festival – I've been looking forward to writing this review before Movement even ended. Good things deserve to be shared. Movement is held in downtown Detroit, more specifically Hart Plaza. With it being in the "hart" of the city, one could assume that it would be insanely difficult to maneuver around the area, especially during Memorial Day Weekend. But that is where I was wrong.  Oddly enough, traffic seemed almost nonexistent. It could have been due to the fact that many of the people walked or took some sort of cab or public transportation to the festival; nonetheless, getting to Movement was a breeze. It was smoother than any other festival I have been to.
Getting through security followed a similar fashion. There was a maze-like way to get to the entrance. It was much smoother than the typical free-for-all that ensues at most festivals when attendees hear that the gates are open. The lines were going by really fast and the security made sure to be quick but still thorough in their searches. It was the typical pat-down and opening of bags to make sure everyone attending Movement was in a safe place.
Through the gates and onto the festival we go! Going off of the map that was pictures inside the Movement pamphlet, we walked around Hart Plaza in its entirety on the first day to see how everything was set up and placed. There were 6 stages: Movement Main Stage, Red Bull Music Academy Stage, Beatport Stage, Made in Detroit – Thump Stage, Underground Stage, and the Opportunity Detroit Stage. Right from the start, I enjoyed how everything was close together enough that it was not a pain to go from stage to stage, yet it still maintained that feeling of being far apart from one another. The only thing I can really dock for being inconvenient was how easy it was for the music being played from the Movement Main Stage and the Thump Stage to interfere with one another. The Movement Main Stage was a favorite of mine due to how it had an old-school theater-like feel to it; all the steps going down and facing the artist really had a cool aura to it. The Beatport Stage and RBMA Stage were two of my other really enjoyable stages because they were so close to the river and you could see Canada on the other side. Underground Stage had a tendency to be a little hot and humid but the large fans placed down there did a really good job of keeping the thousands of us cool. Thump Stage was closer to the city and the skyline looked phenomenal from the audience. Finally, the Opportunity Detroit Stage held very well on its own and it was nice to occasionally be a part of a smaller crowd while still enjoying the music.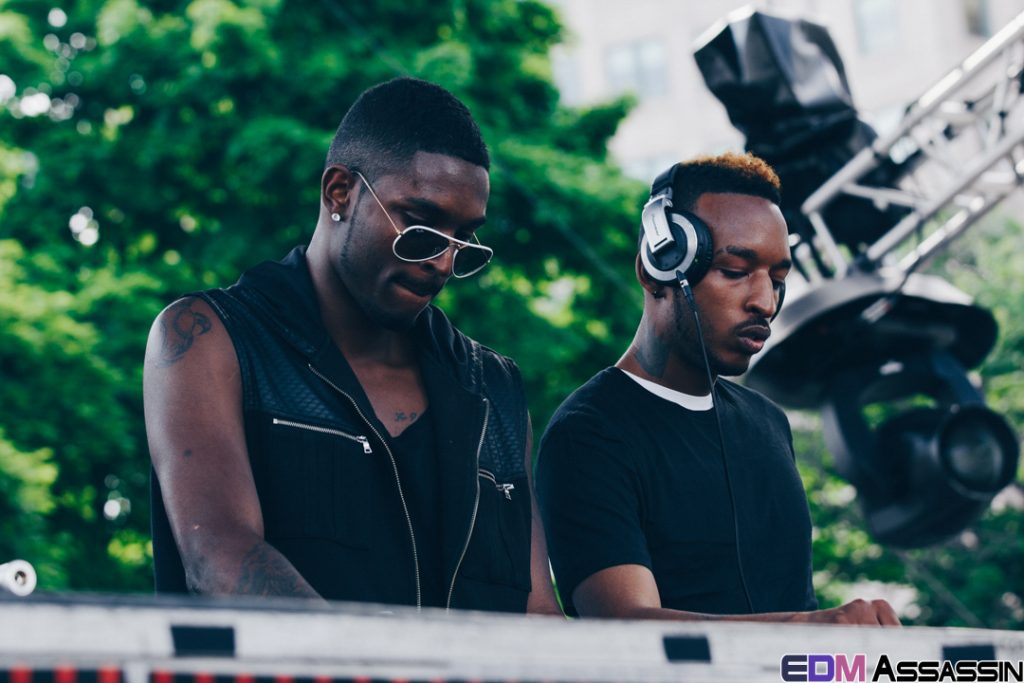 Accessibility of the festival was at an all-time high as well. The map of the festival itself alongside the staff made finding places extremely easy. Food was all centered around the fountain in the middle of Hart Plaza. I feel as if the food was fairly priced for it being a major festival. It's nearly impossible to get anything cheap at a fest so these prices were relatively average, I'd say. Meanwhile, all the clothing and other various items had their shops near the Thump and Opportunity Detroit stages. They were not scattered all around the festival like at some other events, instead they focused on one corner of the fest to keep all the vendors together. The official merch booth for Movement was packed with awesome gear as well. I bought one of the gold logo tees on the first day since I knew they were going to sell out (they did). The Media/VIP area was more than I could have imagined. They treated us to Wi-Fi, free snacks, beverages, couches, and outlets to charge our phones and laptops. Red Bull had its own canopy-type vending station that was massive and had a lot to offer. I'll admit that I was guilty of buying too many Blue Edition Red Bulls this weekend (oops).
While doing photo, the security was really accommodating for me in order to get the shots I wanted while not bothering the artists or audiences. Many of the stages had ladders and little stepping stools that could be moved around however the photographers wanted them placed. This itself was one of the best parts of the festival since not many organizers do this. Many event promoters just leave the photogs on their own and do not help them accomplish the most they can out of the festival. I had plenty of questions for the security as well and they really knew how to go about their jobs. Not to mention, every type of entrance at Movement had a board displaying all of the types of wristbands that were allowed to get in or out. With these boards, it was easy for photographers/media personnel and other various attendees aside from GA to know where we could or could not go.
Now onto the fun part… THE MUSIC. Movement exceeded every expectation I had when it came down to what artists were playing there. Each day was filled with talent from around the world, all in one place for music lovers like ourselves to enjoy. Personal favorites of mine include Rezz, Get Real, Joseph Capriati, Seth Troxler, Guti, Loco Dice, Modeselektor, Carl Craig, and the list goes on and on. Kraftwerk in 3-D was a real treat since them doing a set like that is so uncommon nowadays. Mija threw down a very amusing secret birthday set in the Red Bull area of VIP on Monday. Joseph Capriati looked like he was having the time of his life on the Beatport Stage when he was dropping tune after tune. The legendary Kevin Saunderson had his two sons play on the same stage a couple hours before him, and before his set, he had his daughter come up on stage and introduce Kevin to the crowd. Seeing so much family up there was a sight and really touched the heart. Claude Vonstroke and Green Velvet coming together as Get Real really made my weekend worthwhile as well. I also caught DJ Tennis, Kill The Noise, and The Black Madonna amongst others just walking around the fest in their free time. Everyone I met ended up being super cool as well as extremely nice and welcoming when you went up and talked to them.
Even though the artists were what made my weekend so memorable and exciting, I have to give it up to the attendees as well. It's quite obvious that the average crowd age at Movement was a little older and more mature, but that did not stop them from getting down this weekend and enjoying all the beats thrown at us. The overall attitude of the audience was so respectful and it was hard not to enjoy yourself at any stage around these people.
All in all, Movement secured a spot in my yearly festival circuit. Detroit was so welcoming, the music is beyond exceptional, and the event is ran to a pristine degree. Techno lovers, along with music lovers in general, should have Movement on their radars next year.
Leave a Reply