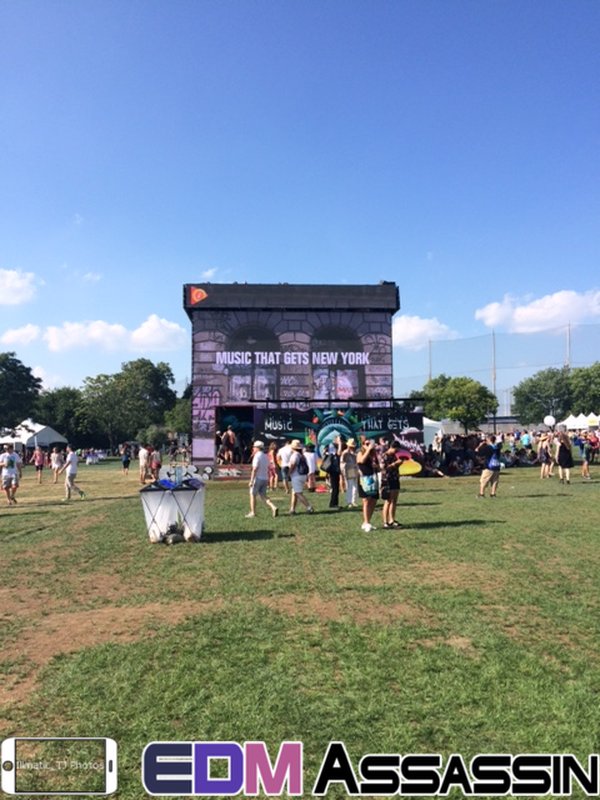 Panorama NYC was a three-day festival which took place on Randall's Island in New York from Friday July 22nd through Sunday July 24th.  I had the opportunity to attend with my girlfriend.  We listened to hip-hop, rock, alternative, pop and dance music performances during the three days, which started around noon and would go until around 11:00pm.
Broken into 3 stages. The first was Panorama Stage, which was the main stage and had the most open space.  On the opposite side of the festival grounds were the other two stages.  The Pavilion was outdoors but covered by a tent-top.  Even smaller than that was the Parlor, which was a completely enclosed area with air conditioning.


One attraction was the LAB, which was something we attended both Saturday and Sunday early in the day.  Nadhya will give her artistic opinion on this art center.  The LAB included seven pieces which merged technology and artistic creative ability as well as a dome where a 360 degree-immersive experience was given to attendees.  An indoor disco center, Despacio, was a unique experience as well.  You could see nothing but computers and the disco lights.  It was a great place to dance while enjoying cold air.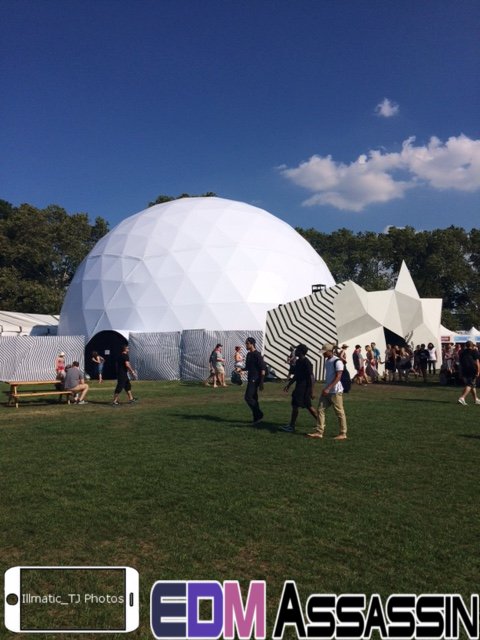 There were also food vendors, 21+ areas and areas that were for relaxing or dancing in AC sponsored by HP, Macy's, Sephora and MTV.  MTV and Macy's were giving away bandanas to keep participants cool and Sephora was doing makeovers.  We did not spend much time in Sephora, as we only entered to find a friend.  We did not go into HP's area either.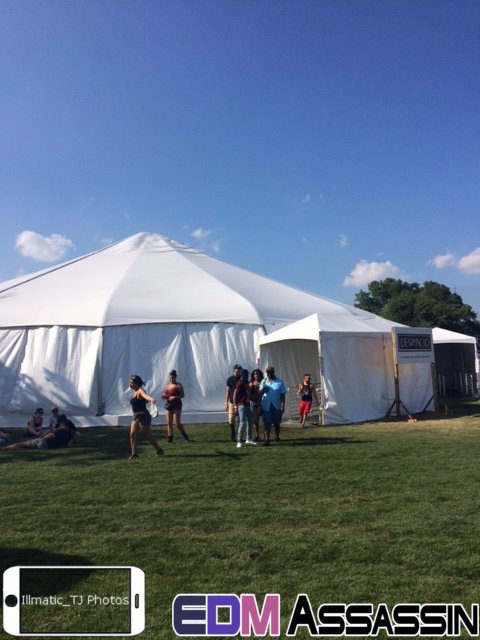 Below you can find a breakdown of what we did, and opinions on everything.
FRIDAY
Friday was a pretty hectic day.  The festival started, officially, at 12:00, noon, but I was not able to arrive on the island until about 4:30pm because of my partner being at work and commitments to other engagements.  Personally, I wasn't very upset because even when we finally arrived, there was a low number of people at the festival.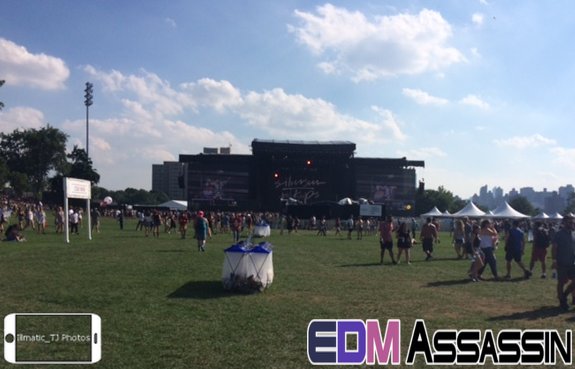 Lindsey Stirling was the artist we could hear best when we were arriving on the island.  Performing at the Pavilion meant that she was outdoors and close to where we entered.  I actually did not know who she was, but I feel in love with her music because of the combination of electronic music and orchestral instruments.  I have always been a sucker for symphonic orchestral music, and this reaffirmed it.
After getting our identification checked and credentials, finding something to eat, and getting acclimated to the setup of the area, it was time to go to the Panorama Stage and see one of my favorite electronic music groups, Major Lazer, perform. Since the full number of Friday attendees had not shown up yet, we were able to get pretty close to the stage, probably only four or five rows from the front row of the crowd.  For a while, we have been attempting to see Major Lazer perform.  whenever there is an opportunity to see the trio live, something always prevents it, but this weekend nothing stopped us from attending the full set.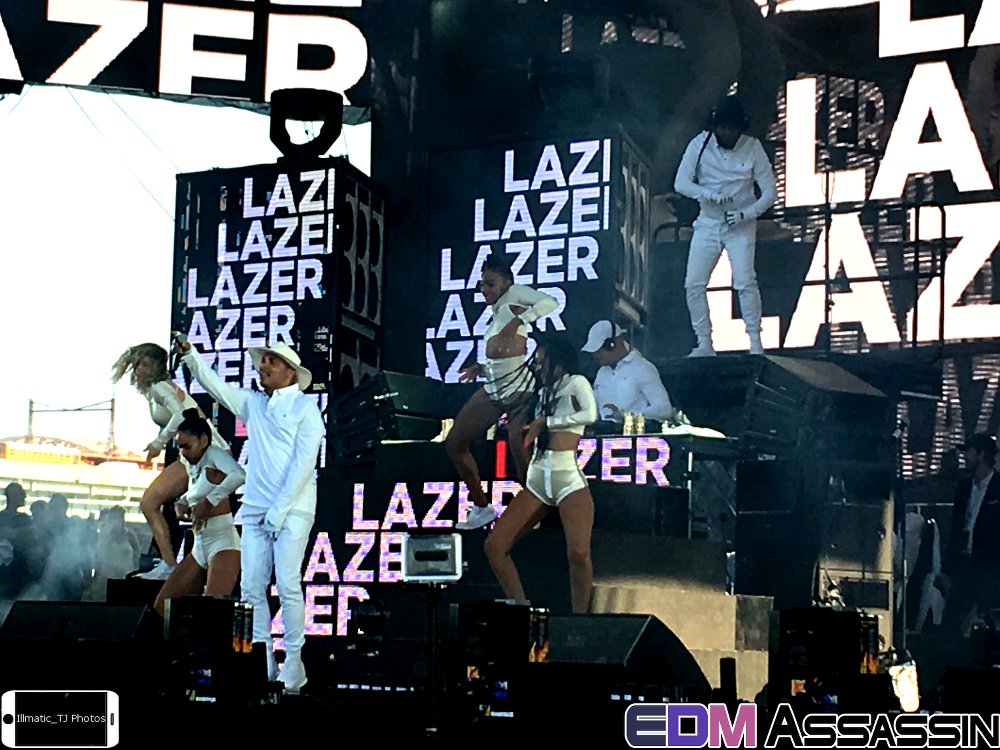 Each member joined the stage independently starting with Jillionaire mixing for the dancers to begin, followed by Diplo who took over the table, and ending with Walshy Fire, who took control of MCing the set.  Their set was amazing, one of them always hyping the crowd up, one holding down the boards, and a third interacting with either the dancers or the crowd.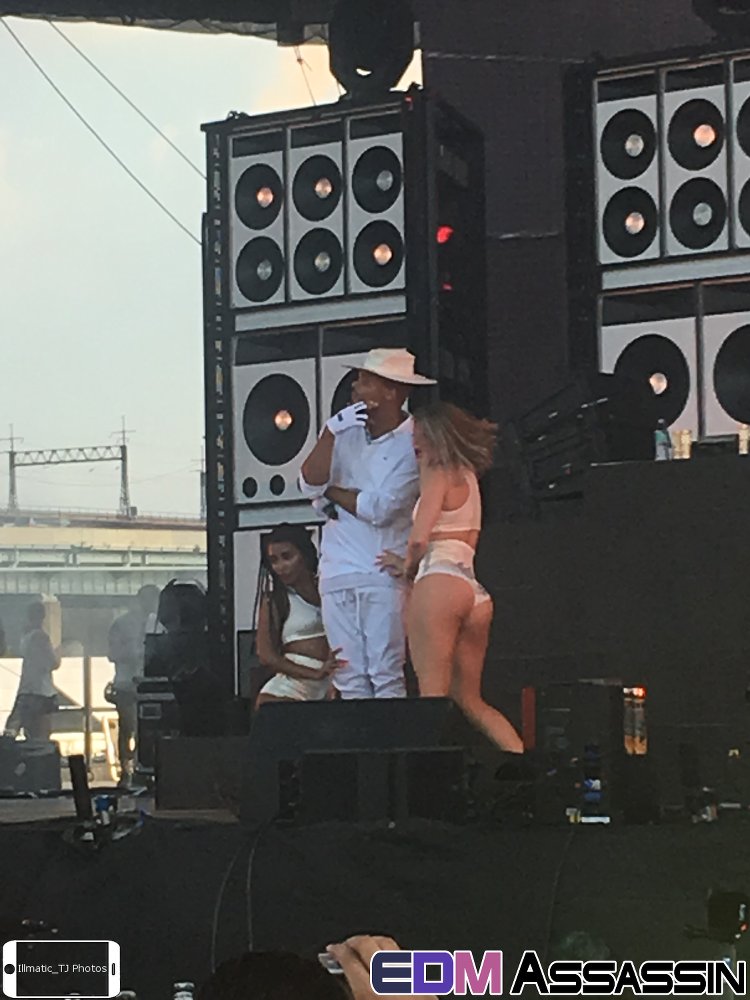 It was over 95 degrees out during their set, standing in the sun, but the trio worked with that to their advantage.  Diplo continually threw towels into the crowd and shot them out of  a T-Shirt cannon and at one point, the trio even began tossing small water bottles into the crowd for people to drink.  No doubt to keep the fans safe AND promote Cold Water, the new track with Justin Bieber. – They later on went into NYC to hand out extra water.  Video below.
WE TOOK COLD WATER TO THE STREETS

Posted by Major Lazer on Monday, July 25, 2016
Even though they did not perform Cold Water, they did perform some of their biggest hits as well as tracks that are years old.  When Diplo was DJing himself, he performed Where Are U Now, a big hit from his Jack U collaboration.  The crowd loved it and that is when Walshy Fire really began to hype them up.  After the tribute to his work with Skrillex, Diplo went back to mixing all Major Lazer tracks.  The Jack U track was one of the few times they steered away from their original tracks.
The crowd loved what they were doing and there was nothing that could stop people from getting excited.  Especially when they started to end their set and all three got onto a platform together to do the Lean On dance that they do during the music video.  Almost the whole crowd joined them in doing it.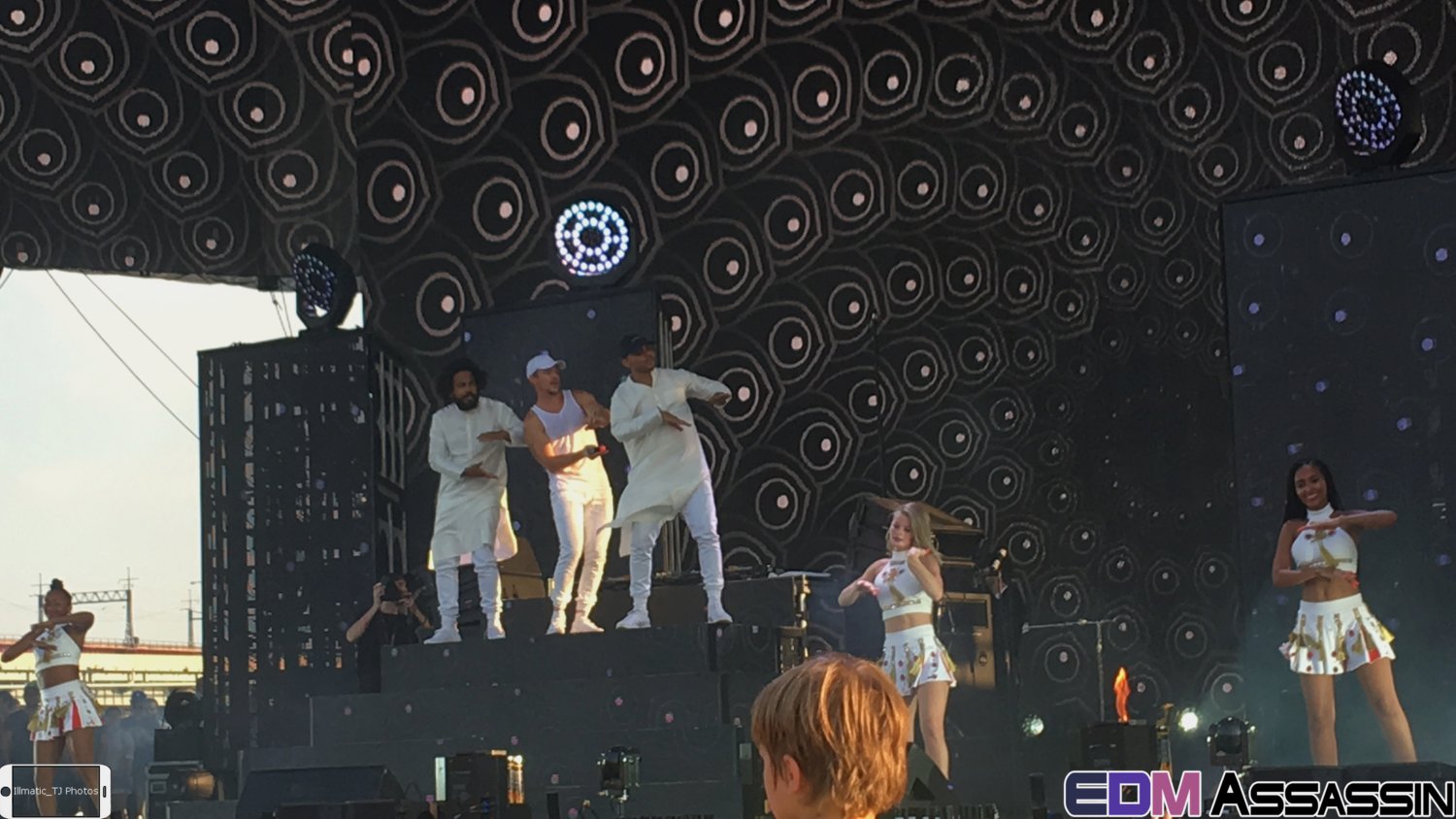 It was important to keep yourself cool and hydrated while on the island so we made sure to head over to a shaded area afterwards to cool off, drink a lot of water and attempt to dry some of the sweat off.  When we felt it was good enough, we headed over to the Parlor for part of the Netsky act.  Unfortunately, we did not stay for the whole set. The portion that we did stay for, I got the feeling that he was trying too hard to meet expectations.  I have heard Netsky before, and I like his pervious sets more than the one I heard on Friday.
However, that fact may be simply because we left early in order to get to the Pavilion to see another artist I am a big fan of; ScHoolboy Q.  like a lot of other rappers, Q is different from dance artists because he has his hype team, the DJ, and liberty in how he performs.  Q's hype man spent the first 10 minutes getting the crowd excited for him to come out, and it was totally worth it.  Performing well known tracks like Collared Greens, Hands on the Wheel, and Blessed gave the crowd a chance to get nostalgic with it. He also performed almost the whole Black Faces LP he just released, after saying he originally planned on not performing any of it.
This brought us to the point in time which DJ Khaled was supposed to perform in the Parlor.  Unfortunately, it was filled.  The Parlor is indoors and they had lines for anyone to enter.  So we hung out outside and tried to listen to Khaled perform one of the oddest sets I have ever heard.  But that is something you expect from the man at this point.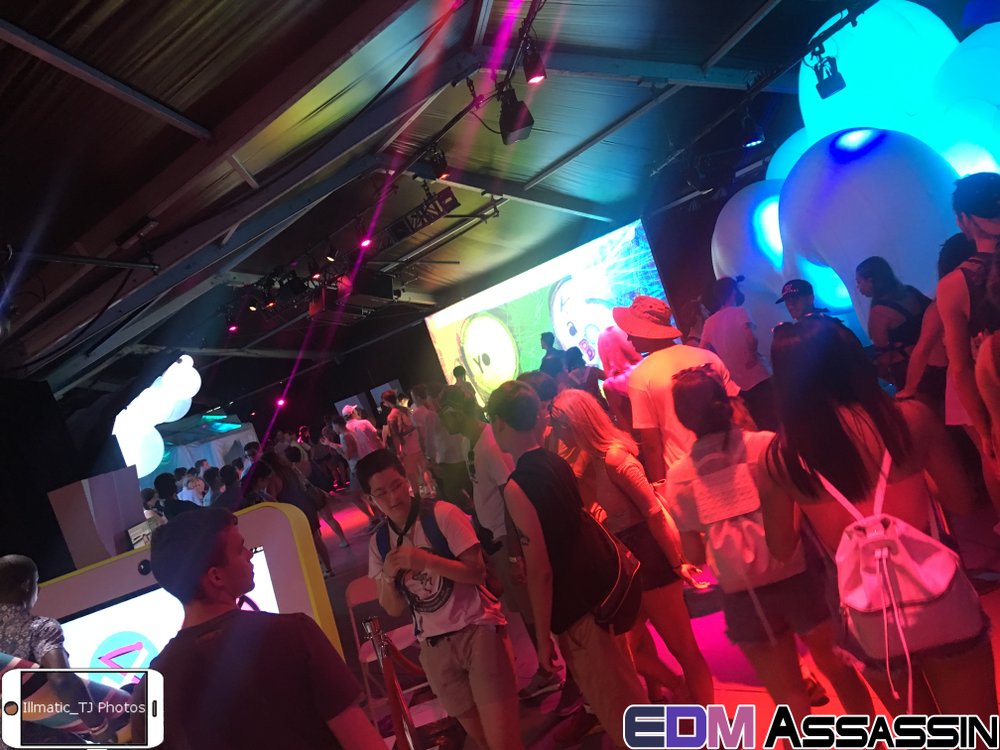 Arcade Fire closed up the night on the Panorama Stage.  We sat down on a hill and listened to the set while unwinding from the day.  Live bands have a certain appeal for the two of us and it was nice to hear a band I was listening to back in like high school bring back some nostalgic tracks.  With 10 minutes left in their set, we decided to start heading out as we had about two hours of traveling to get through.
SATURDAY
Saturday started about the same way Friday did, walking in to get some food and hear a lesser-known artist perform some tracks we enjoyed while we ate.  This artist was Melanie Martinez.  My partner enjoys her music, so we sat down outside of the Pavilion and listed to about half her set.  It was already extremely hot so at the end of the set, we decided to head of to The LAB and check out what the artists had created.  There will be more about that at the bottom.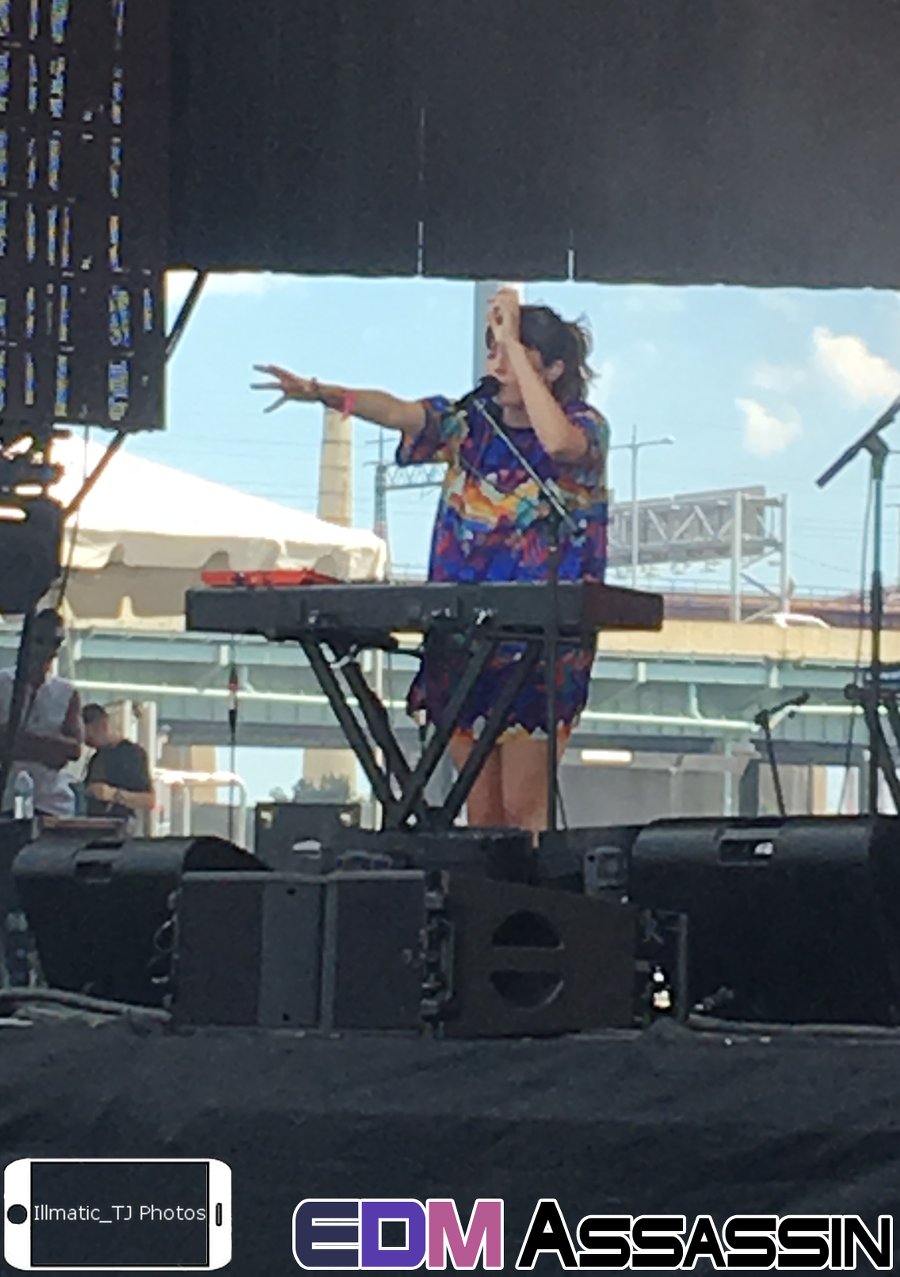 Oh Wonder was the first full set we heard.  The British band was interesting to say the least, and I enjoyed listening to them perform on the Panorama stage.  When their set was over, we headed over to the Pavilion in order to hear a little bit of Daughter perform.  Her voice was too high pitched for me, so we quickly left and heard the latter half of TOKiMONSTA perform in the Parlor.  It was air conditioned in this building and the line to get in was almost non existent, so we got right in.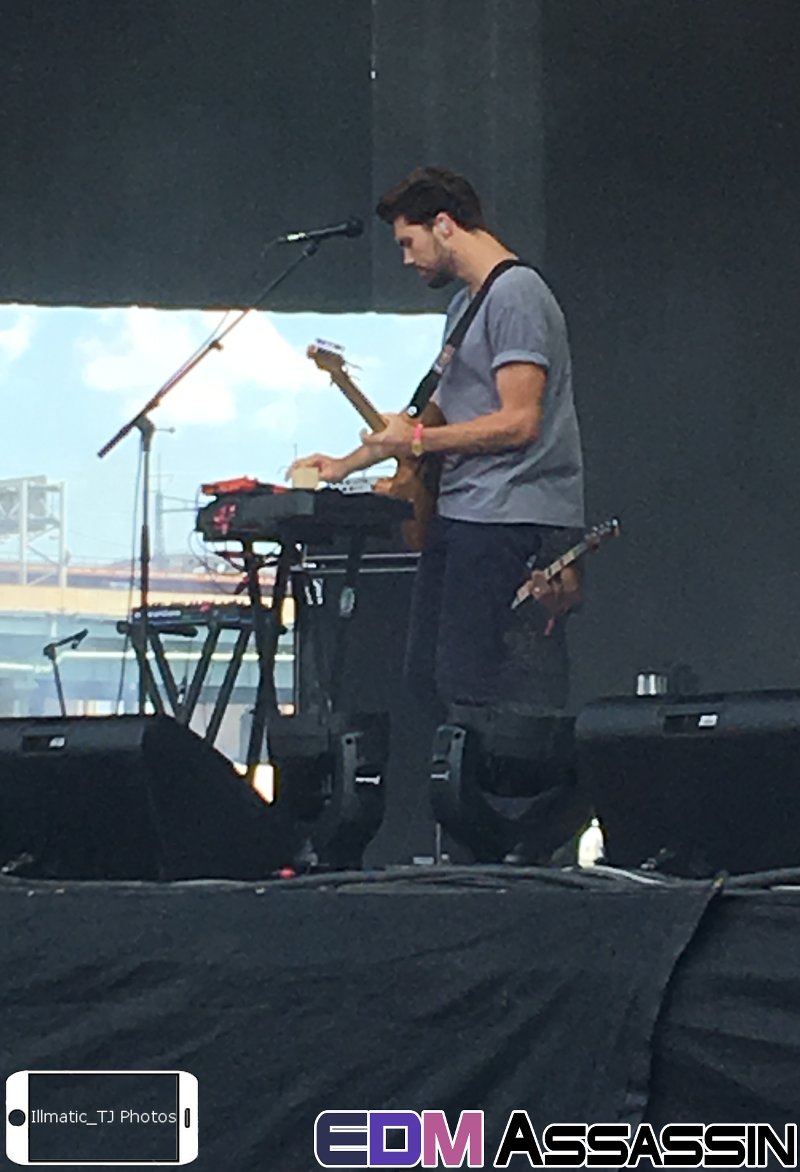 She really wanted the crowd to get involved.  She didn't just play her instrumental tracks, but also took some amazing dance tracks from all genres and created an amazing set.  the whole crowd was dancing and moving in the small indoor area.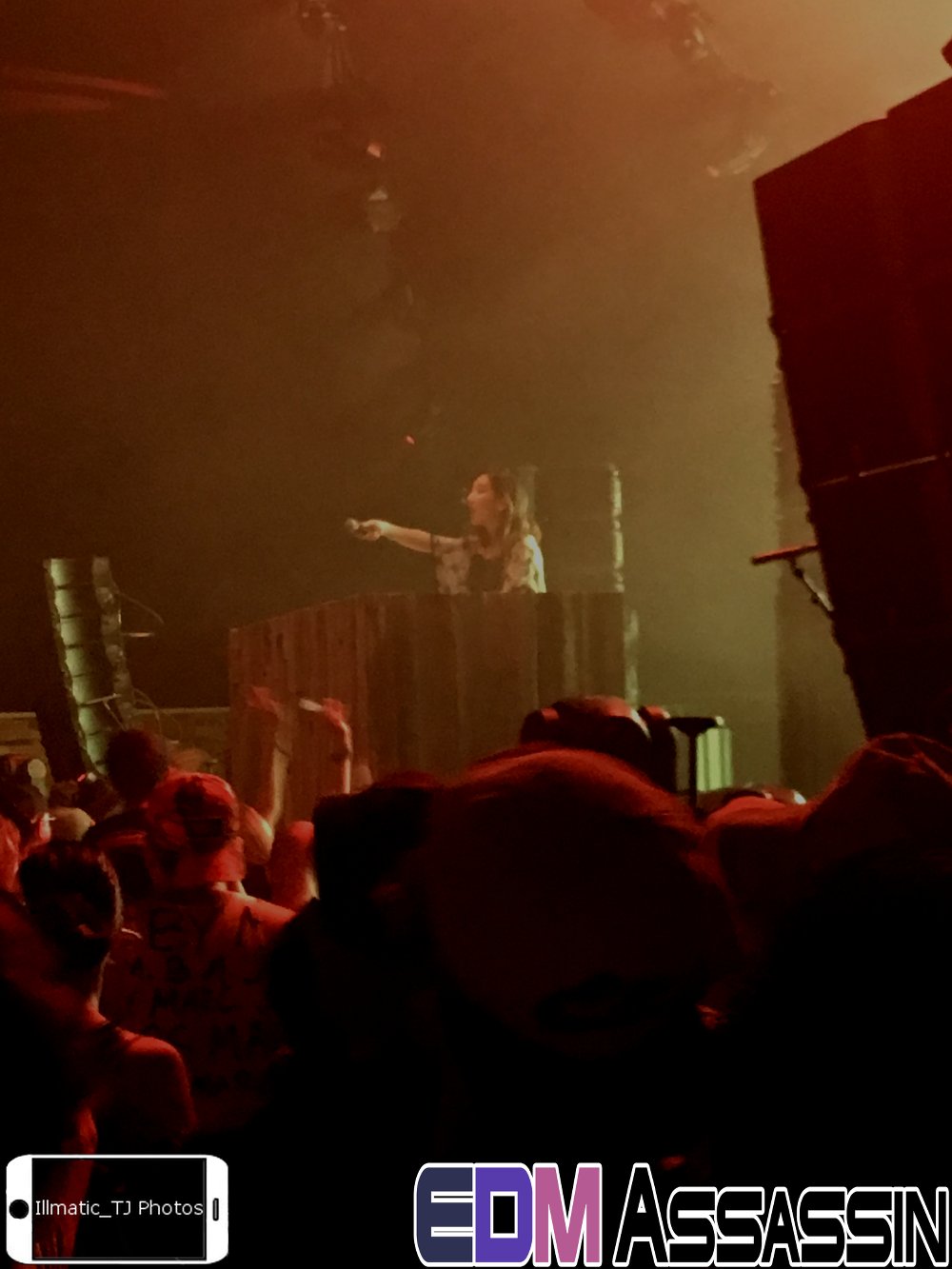 After TOKiMONSTA was done, there was about 20 minutes where we sat down inside the Parlor and waited for Jai Wolf, an artist we were both curious about.  He started off pretty slow, not really playing anything TOO well known.  But about 10 minutes in, he started remixing tracks from Drake, Justin Bieber and even other dance artists.  When One Dance came on, you could see everyone was excited, grinding and whining to the track or jumping up and down cheering.  If you haven't seen TOKiMONSTA or Jai Wolf perform, you definitely have to see them both.  The two artists are amazing live.  Jai Wolf wrapped up his set by standing on the table and taking a selfie then singing along with the crowd to the two tracks he played.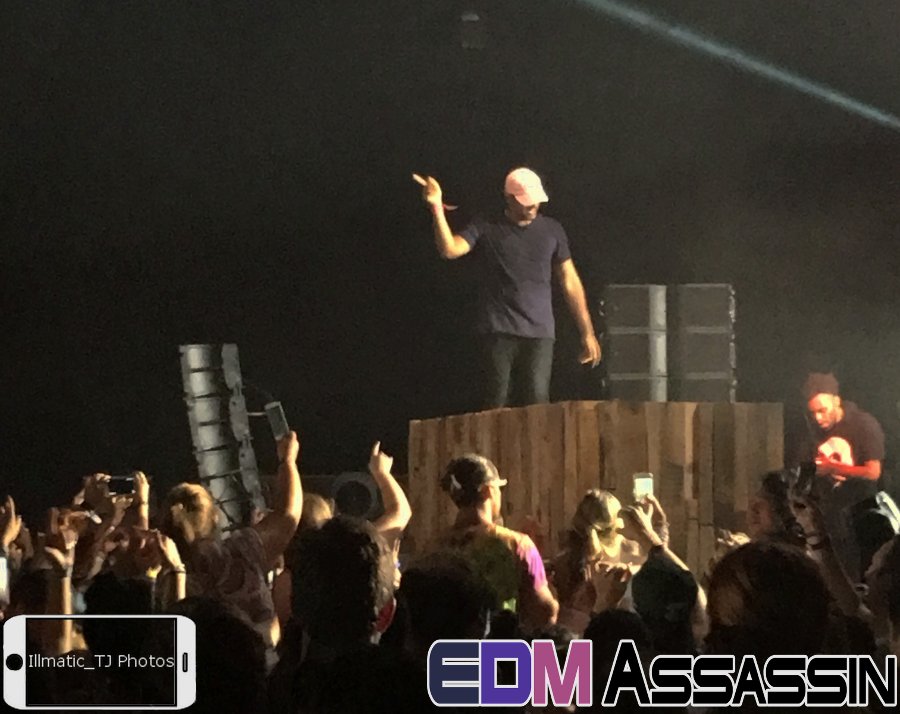 We decided instead of risking losing our spot in the Parlor, we would skip the part of Flosstradamus we were going to see and stay straight into AlunaGeorge, who I have seen live before and was excited to hear perform again.  Her whole set was cool, but her speakers could have used a little work.  Aluna has a really high voice and with the speaker system the Parlor had, it did some damage to both of our ear drums.  Something I think was completely worthwhile.  She Performed old and new tracks, talking to the crowd about loving themselves and being accepting of others.  She spoke on unity and understanding we are all people.  I think her time on stage was well used.  I also appreciate the full drum kit that was doing percussion instrumentals while the DJ performed.  During I'm In Control, Aluna was using a pad controller to re-create on of the synths herself, while singing.  You could tell that she was doing it live because she had made a mistake and she admitted to it.  I love when artists make small mistakes during their sets because that means they are trying to be authentic and actually perform for their fan.  Something that you just have to appreciate.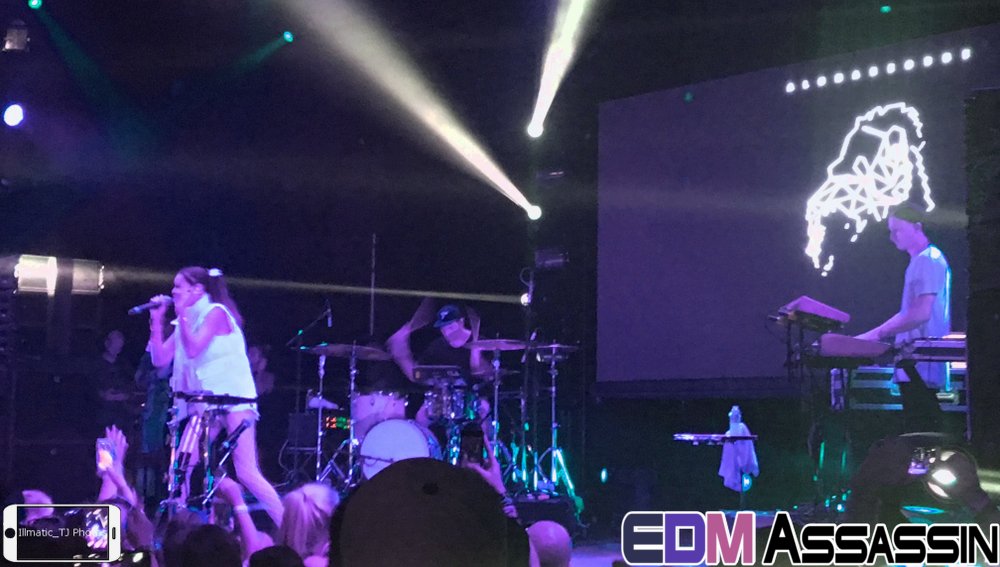 Between AlunaGeorge and Kendrick we decided to eat and relax in the shade.  Kendrick Lamar was the closing act for Saturday, and therefore was on the Panorama stage.  He was amazing.  Being an advocacy for equality and rights, Kendrick really went all in with the choices of songs he did.  Making political statements is something that his Untitled album really focused around and he translated that, bringing parts of that album, some classic singles, and tracks other political tracks into his set.
The visuals during his performance were also amazing.  Promoting the unity between black and white while showing the progress the black community has made while being, as he puts it, persecuted.  The whole set was amazing, and the fans of different kinds of music coming together not only because of his music and performance but also because of agreement in his beliefs was amazing.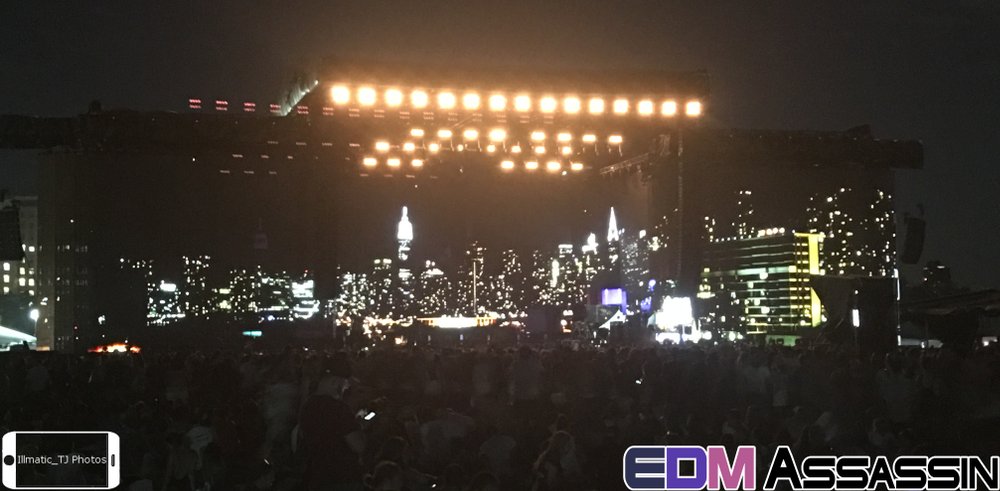 SUNDAY
Sunday we got in just in time for Flatbush Zombies at the Panorama Stage.  these guys are a trio rap group who's style is not able to be matched.  Towards the start of the set, they decided to do a tribute to Biggie Smalls.  If you were ever into oldschool hip-hop, there is no way that you cannot respect them for throwing this respect to Biggie; especially in New York.  From there they did a relatively normal set, performing their hits and when they started smoking, performing tracsk about drugs.  Towards the end of their set, they brought out a special guest to perform a song.  Joey Bada$$ came out in order to perform  Devastated and the crowd loved it.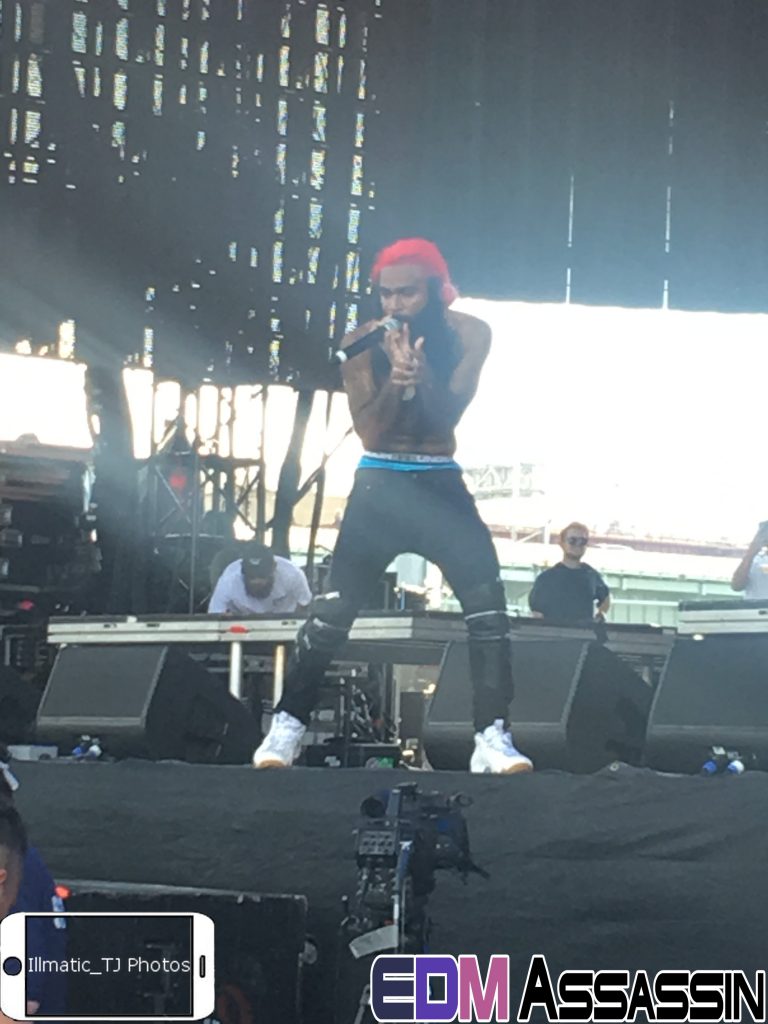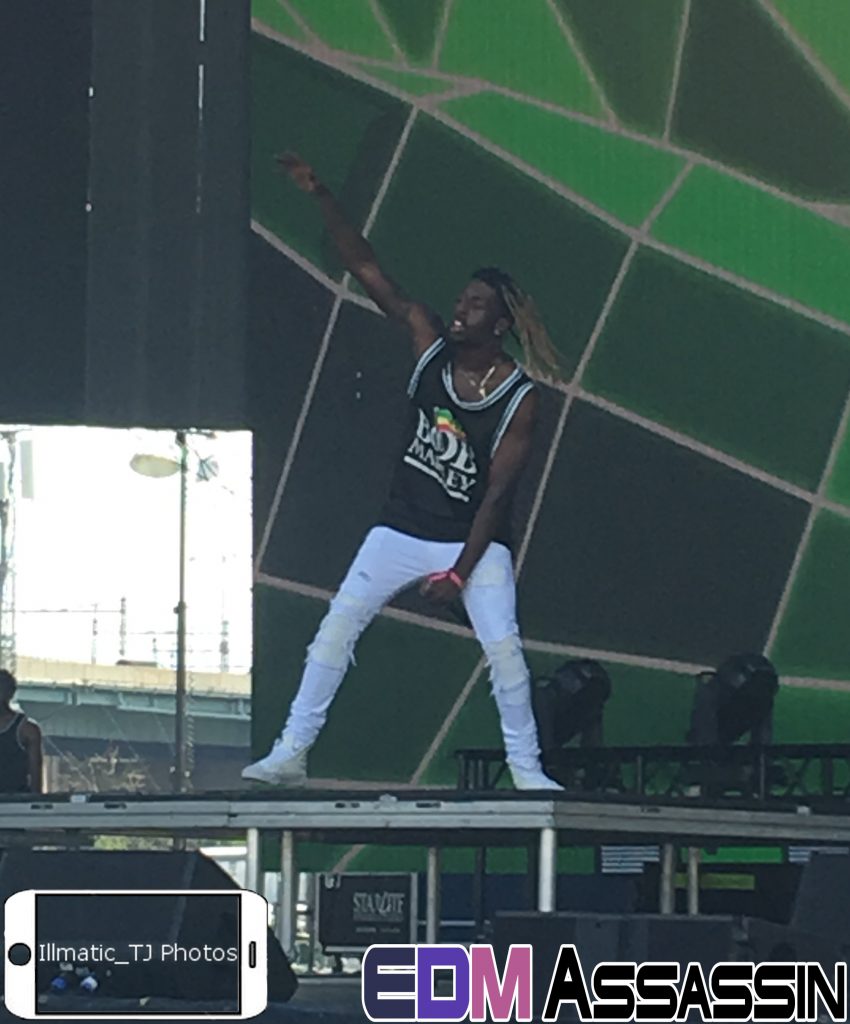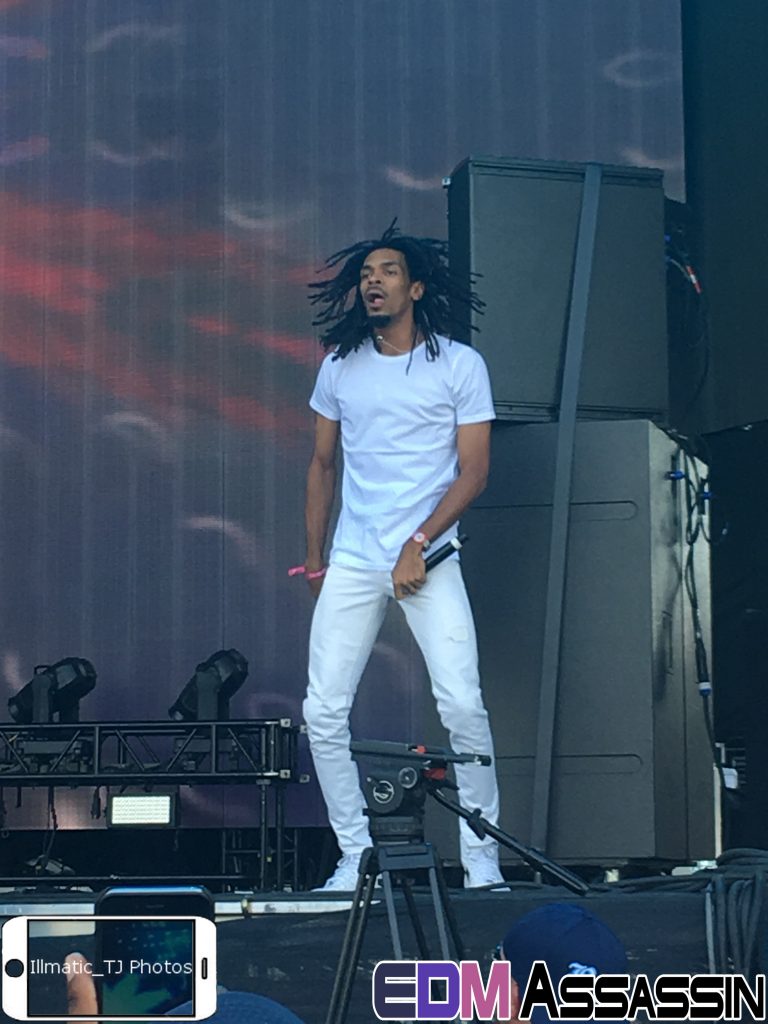 From their set, we decided to sit down for a little.  In the background you could hear The Front Bottoms taking over the stage.  I, personally, wasn't a fan of what they were performing, so I decided to take a little bit of a nap while my partner listened.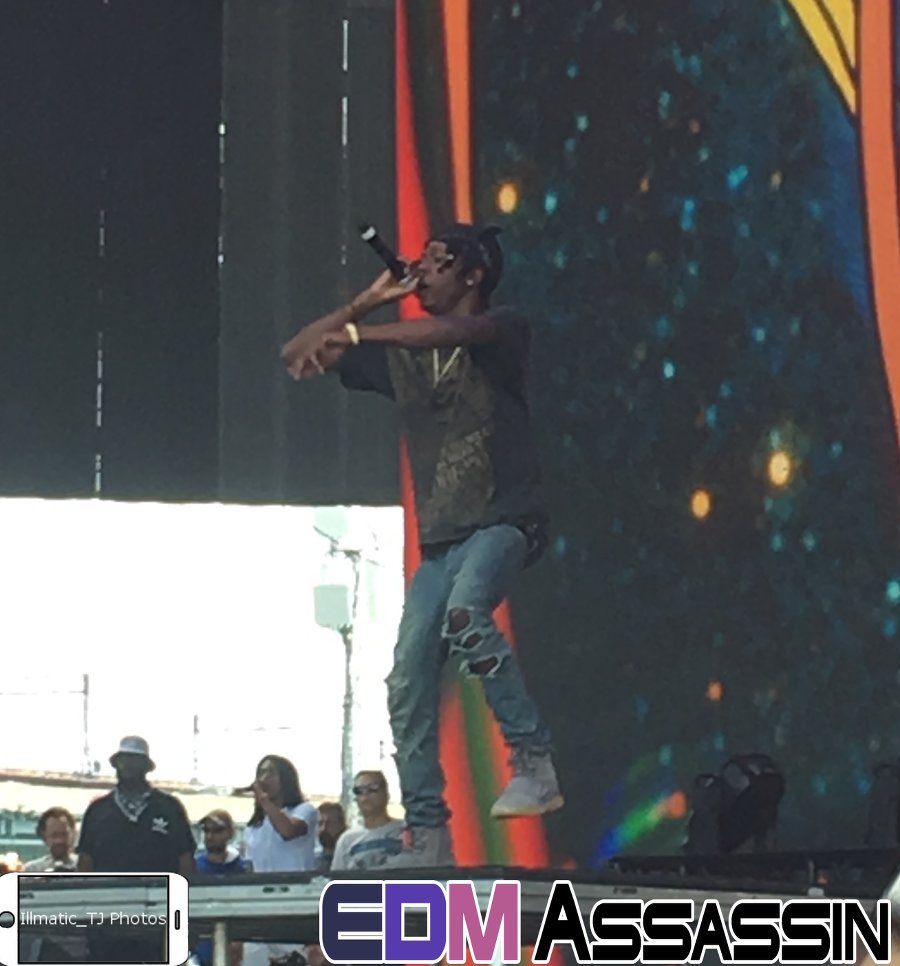 We decided the next place to go was the Pavilion so that we could see Rüfüs Du Sol perform.  I was glad we did. Dance music and a full band was not something that I could pass up.  Never really heard of their music before, but the trio did amazing.  The crowd was eating it up and we were all dancing.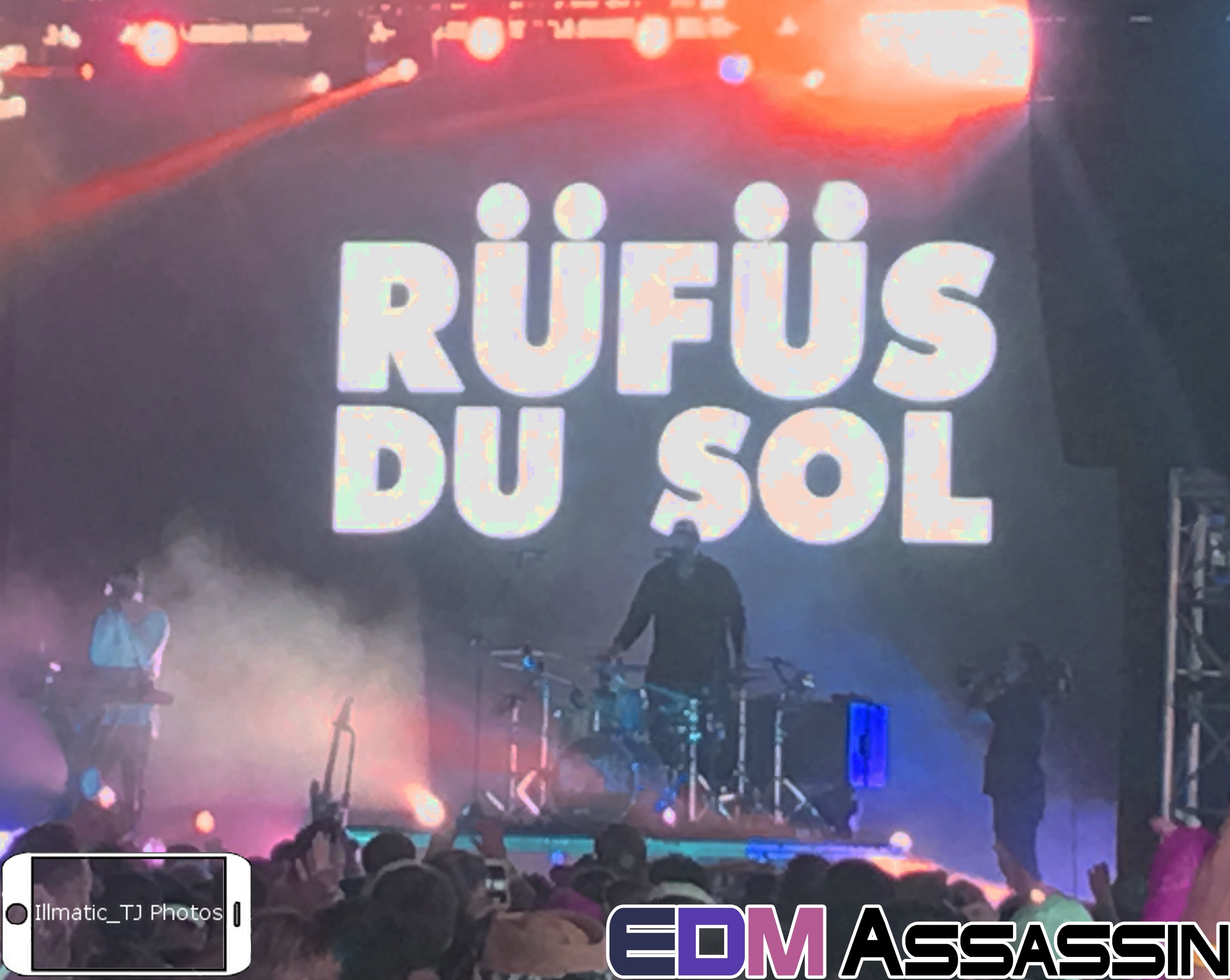 The second to last performance that we saw was on the Panorama Stage.  My partner is a big fan of Sia, so we had to go to see at least part of her set.  The experience was different.  Instead of focusing on the stage for the performance and watching the artist.  Your best best was to watch the screens. They had pre-recorded visuals for the set which consisted of actors and dancers performing to the songs.  During the performance, the stage was set up in order to mirror the video.  Sia was really performing, and the actors and dancers on the video were on stage but they were, from memory, repeating the moves and actions in the video.  It was pretty amazing to witness.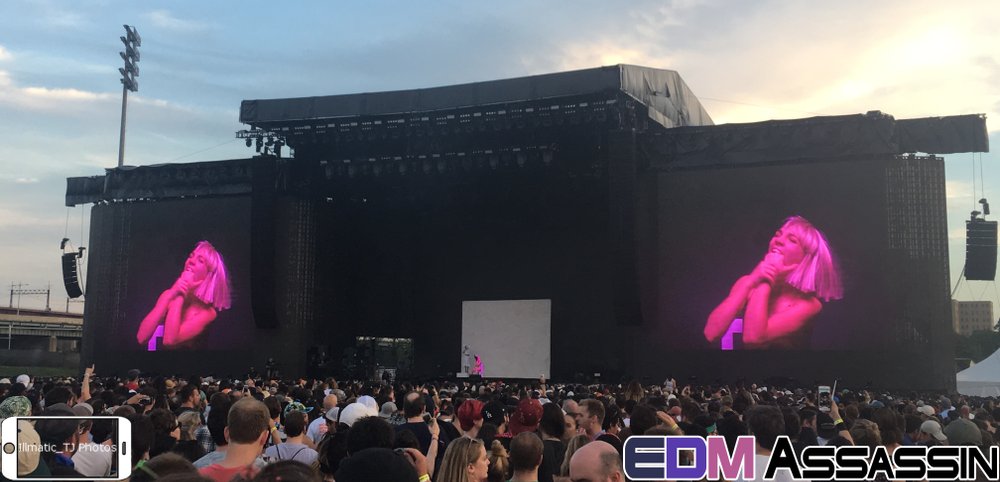 There was definitely a story being told in the visuals of Sia, but we had to leave early because I wanted to get to A$AP Rocky for a least a portion of his set. We showed up late, but we showed up at the perfect time.  Performing some of my favorite pre-party hype songs,  Rocky had the whole A$AP Mob on stage.  He performed two or three songs by A$AP Yams, one of his good friends who had died during the late winter/early spring.  Also, like Kendrick and Q, Rocky took this time to make a statement.  He cut his set for a good minute or so to ask the crowd what they thought of Trump, and after allowed the crowded to chant, "F*** Donald Trump!" While the rapper laughed into the mic.
Rocky made sure to remind the fans between songs that life is only good if they want to make it like that.  He didn't want them to be sad or angry with what was going on, but wanted his fans to enjoy their time with him and enjoy the time they had with him.  He also requested he be a closing act next year for Panorama – Something I wouldn't be opposed to.
OVERALL
It is difficult to really figure out if you are going to have a successful festival the first time you have it.  However, as far as music, food selections, and the artistic selections, Panorama did an excellent job.
There are a few aspects that need to be fixed.  The security at the festival is polite when you first enter but once inside the venue, some are rather rude to attendees.  A few times I saw security deny access to areas to people who had the correct credentials to enter these areas.
Another issue was that it was difficult to find your transportation off the island.  Some people paid for shuttles to take them to the trains they needed or to the different boroughs they needed to go to but on Friday, especially, the staff working outside the venues had no idea where busses were or where to send attendees for cabs.  Every answer was to walk in the direction of Queens, which was the opposite direction of where all the pick up locations turned out to be.
Other than those two problems, I have no issues with Panorama.  If I was given the opportunity, I would return next year and I definitely would have just as good of a time.
GUEST POST BY NADHYA
Panorama Music Festival's inaugural weekend made huge waves this past weekend in New York City. A huge mix of art, technology, music and food, the festival catered to all moods and personality types. The techies and foodies alike found satisfaction at Panorama, with local food purveyors like Dough Doughnuts and Bare Burger opening incredibly profitable stands with endless lines of customers.  Places we got foods and drinks from over the weekend included:
We loved it all.  One of our favorites was the Spicy Pie Pizza, which served giant slices of pizza, larger than any other we have ever seen.
The focus of the festival was definitely on the music, and a powerhouse lineup reinforced that it was, above all, a MUSIC festival. The genres and artists were definitely varied, and at times felt all over the place, but much like the food choices it catered to almost everyone. While the arts and technology portion came secondary to the music and performances, festival goers could play endless interactive games (as long as they were willing to stand in long lines). HP (as well as international, independent design firms) powered the interactive, socially powered games on giant screens, where patrons could control lights, sounds, and atmosphere in life-size test spaces.
My personal favorite attraction was the movie show — a large, circular hall where an intense animation was projected onto the dome-shaped ceiling — which wasn't for the easily motion sick. The sweeping animations and specially composed music created an incredible, spacial atmosphere that tricked you into believing you were immersed in the animation. Even though at least one person got sick (that was fun) it was definitely worth the watch.
A close second favorite was definitely the graffiti area, sandwiched between the Pavilion Stage and the Parlor Stage, where graffiti artists sprayed their art onto a green screen and had it superimposed onto a giant subway car, mimicking famously vandalized New York trains. You could watch the art happening live, or watch the trains whiz by on a giant screen long after the artists were gone.
Overall, the festival was a huge success — great artists, tons of fans, delicious food and a unique focus on art and technology as an accessory to the music. It never seemed like the attractions competed with each other, and the open walking space and close proximity of the stages made it super easy to choose and attraction or change your mind. I don't doubt Panorama will continue in NYC for at least another year, and I can't wait to see the changes (and improvements) they will have made in a year or two.
Leave a Reply