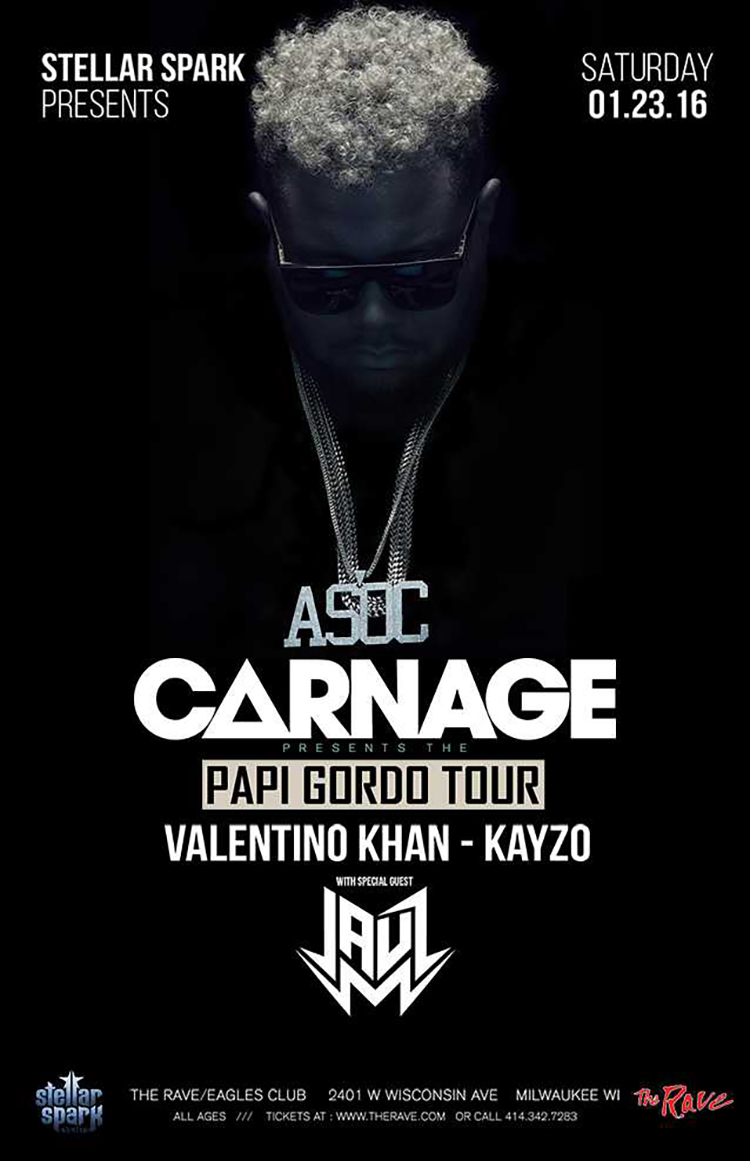 This past weekend, I made it a mission to make it to the Milwaukee stop for the Papi Gordo tour. After popping a tire in Chicago and having to end up replacing all four, I still managed to make it to the show right on time.
The Papi Gordo tour is Carnage's newest tour spanning all across the US, and is in support of his newest album, 'Papi Gordo'. The tour also features support from several huge names in EDM, such as Valentino Khan, Jauz, Kayzo, Zomboy, and many more.
When I arrived to The Rave/Eagles Ballroom, I was immediately greeted with the pleasant overall feeling of the venue. The security was nice and helpful and pointed out to me where to go. I had no problem with picking up my ticket or finding out where to go. The only complaint I had was getting my chapstick confiscated, but thats only because i carry chapstick with me 24/7.
As i walked into the dancehall itself, I noticed that local support had been playing. I eased myself into the crowd and within 15 minutes or so, Kayzo had hit the decks. Most tours will usually keep FX (ie: visuals, lighting, etc) at a minimum when the supporting acts are playing, but this tour managed to keep a solid light show even with the supporting acts.
Prior to leaving from Iowa to go up north for my weekend, I'd listened to Kayzo's SoundCloud to get a feel for what his set was like. From what I was hearing, he had multiple hardstyle/hardcore songs, and I was expecting just that going into his set. Boy was I wrong. Kayzo had one of the most versatile sets of the night, and his mixing/music selection were all flawless. I was completely blown away by his set and was happy to see everyone else in the building moving quickly to the beat.
After Kayzo had wrapped up his set, my personal favorite, Valentino Khan, had made his way onto the stage to begin his set. I had already seen him a couple years ago, but this set made me realize how much he had grown as an artist and as a DJ. Spewing out hits of his one after the other the whole crowd was raging along accordingly. Khan has made a name for himself as a very talented producer, releasing his hit single 'Deep Down Low' off of Skrillex's label, OWSLA, and his DJ sets are most definitely something you don't want to miss out on.
Following Khan's set, another one of my personal favorites came on stage: Jauz. Jauz started out his set heavy with his remix of Dolphin on Wheels, and you could feel the crowd's excitement to see such a great artist perform. He had a very heavy set, playing dubstep, bass house, and trap all night. The show he put on had properly set the mood for when Carnage himself came on.
As Jauz finished his set, the lights dimmed down and the crowd was all talking amongst themselves, excited for the big act. Suddenly, the stage lit up revealing an even bigger stage set up than previously showed. A little short clip played on the screen, and the whole crowd was beginning to grow anxious for this set. Soon enough, the man himself came on and opened up his set with a heavy hardstyle song, shooting out CO2 from the cannons and filling the air with confetti. I could tell almost instantaneously there was a solid amount of work put into the FX for this show. With solid visuals, a mindblowing stage, CO2 cannons, confetti cannons, and more, this tour is no joke. Carnage had a very diverse set, playing some of his classics such as his remix of Spaceman, and ranging all the way to dubstep songs from the likes of Bear Grillz, Getter, and more. The whole crowd was moving to the beat, and everyone was having a good time.
Overall, this show was a very solid choice. Absolutely phenomenal performances from all the artists, the FX were all pieced together very well, and the venue was a great place to have it. I would highly recommend all those that can make it to a stop on this tour to go. Tickets are selling out quickly, so make sure you you grab them as soon as possible. You don't want to miss this show!
Leave a Reply