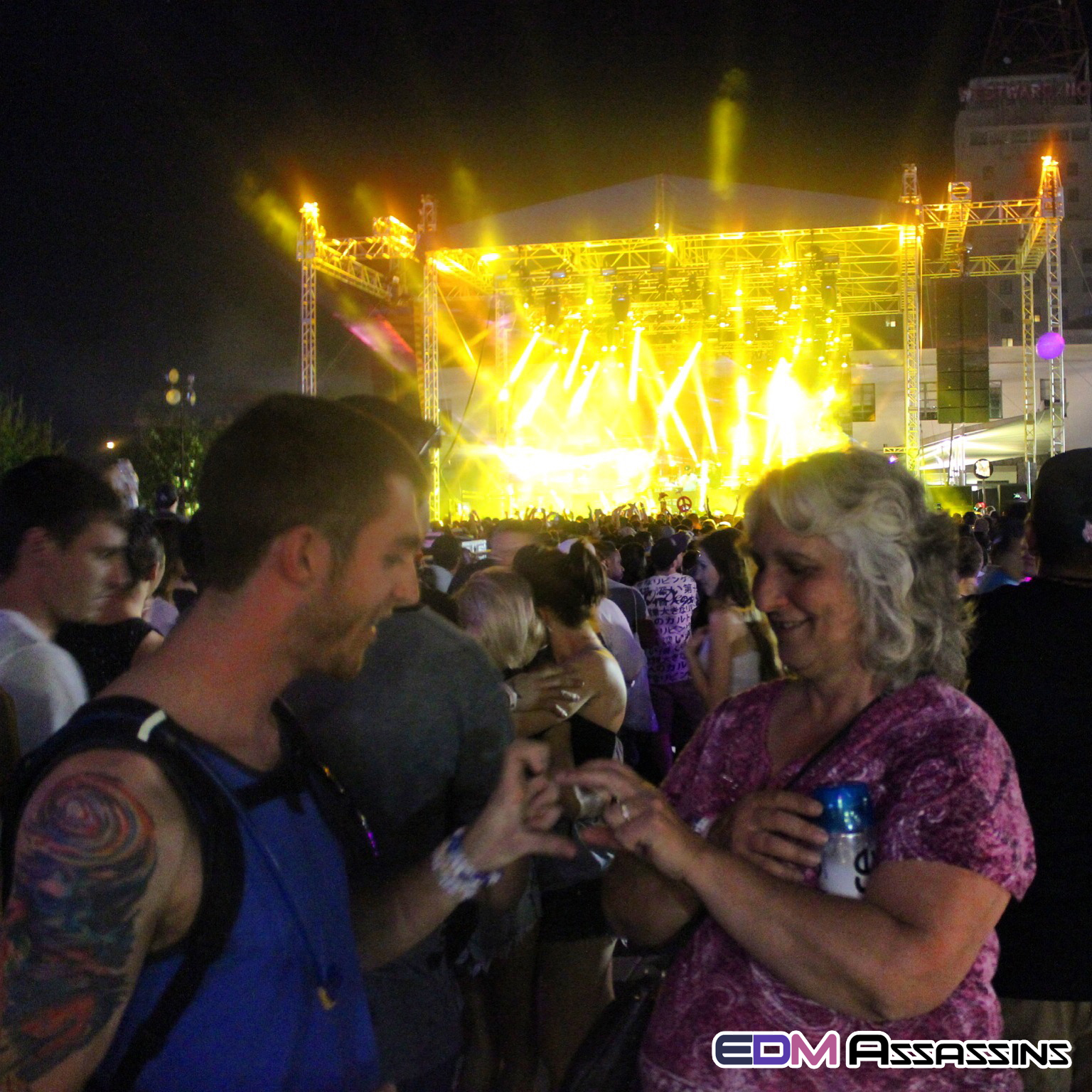 Phoenix, Arizona. The first encounter we had involving Phoenix Lights was at our hotel breakfast the morning of the festival. My brother and I were making waffles and a woman asked why we were staying here in Phoenix. My brother was the lucky individual to have to explain not only the concert, but what type of music, and the artists we would see. The woman clearly had no idea what we really meant, but she added that she had heard advertisements on the radio about Phoenix Lights and people looking to win tickets. Music seems to truly transcend all boundaries.
Having never been to Arizona to experience the stifling heat, we decided to head to the festival around 3:30 to avoid lines and catch the end of the first artists to play. We explored downtown Phoenix beforehand and caught glimpses of everything being set up and I was surprised by how small the space was, especially to be holding a concert with a few of the biggest names in dance music. Once inside, the size of the venue was extremely apparent. Standing anywhere but right in front of either stage left you with resonating sound from the opposite stage which luckily didn't turn out to be much of a problem.
My mom and I explored the grounds a little bit, walking between stages and up to the drinks area to see where everything was. I was disappointed that I didn't see where any artwork would be created, but the music quickly became my focus. Because it was much hotter out than we were used to, I decided to stay near the back of the crowd by one of the fences with my mom, taking in the crowd and the music without exerting ourselves. We had a long night ahead of us and while my mom was certainly up for it all, I knew if we went directly into the crowd, she would tire as quickly as I would. It was extremely important to me that we experience the entire festival and expose her to all portions of the experience rather than all at once and then tire her out.
I have personally never stood outside/at the back of the crowd before and so I was also able to experience this side of a festival. Near the back we were able to see the attendees walk by to VIP, the hoopers, and those spinning poi. We stood near a few police officers who seemed to be enjoying themselves as well. As Lane 8 came to the main stage, the crowd mellowed out a little and enjoyed a much more trance set than I think many were expecting. He played some of his latest crowd favorites, "Diamonds" and "Be Mine." I had to keep looking over at my mom to see if she was dancing or at least nodding her head to the music. She was. My mom was terribly worried the entire trip down to Phoenix about how she would be received by the younger generation who would be there to party. Having been to EDC and a few other major festivals, along with my brother's considerable experience at shows in Colorado and California, we tried our best to convince her that she wouldn't stick out like a sore thumb and that truthfully, many people would love that she was there enjoying the music. While we listened to Lane 8 my mom went to get a drink to help her loosen up to enjoy the music and calm her nerves, at one point she walked off and got another, I suppose it was really helping.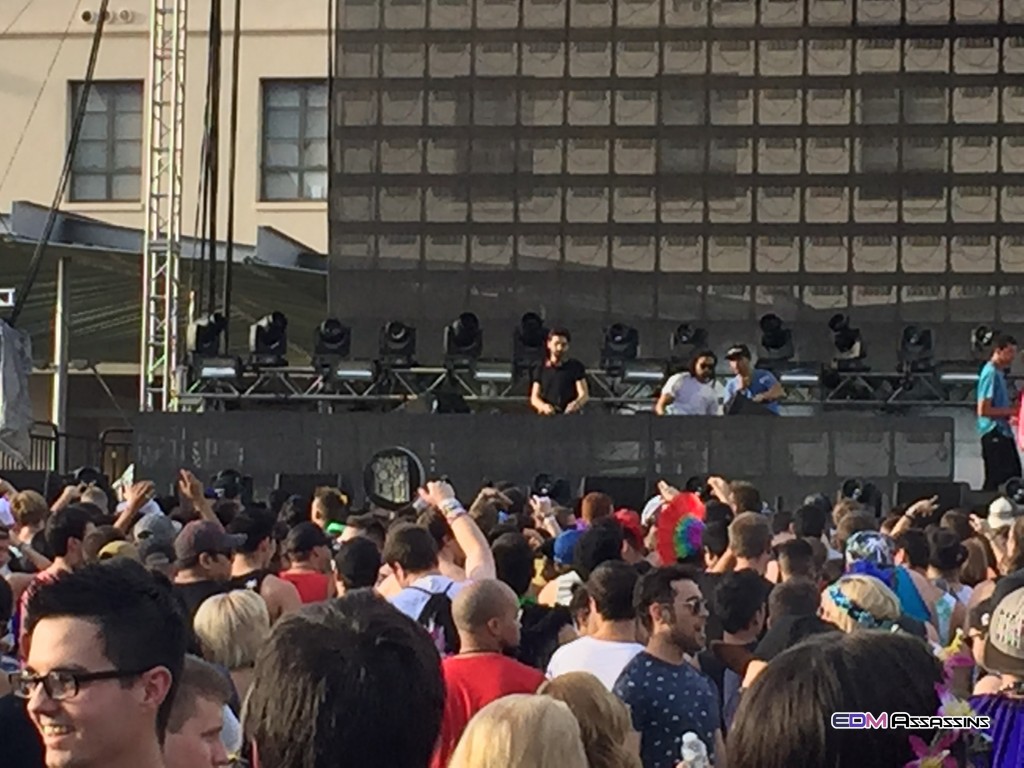 After Lane 8's set was over, my mom and I ventured to the other stage to the surprise of seeing Route 94 on the decks with Secondcity stepping in here and there to play some music. I enjoyed coming to the smaller stage because there were far fewer people and you were able to walk right up to the speakers and stand only a dozen feet from the artists spinning the decks. Though we stood a little farther back, the atmosphere remained the same; most people sat on the grass except for those near the front who wanted to dance. It was much more relaxed, and everyone seemed to really enjoy the music.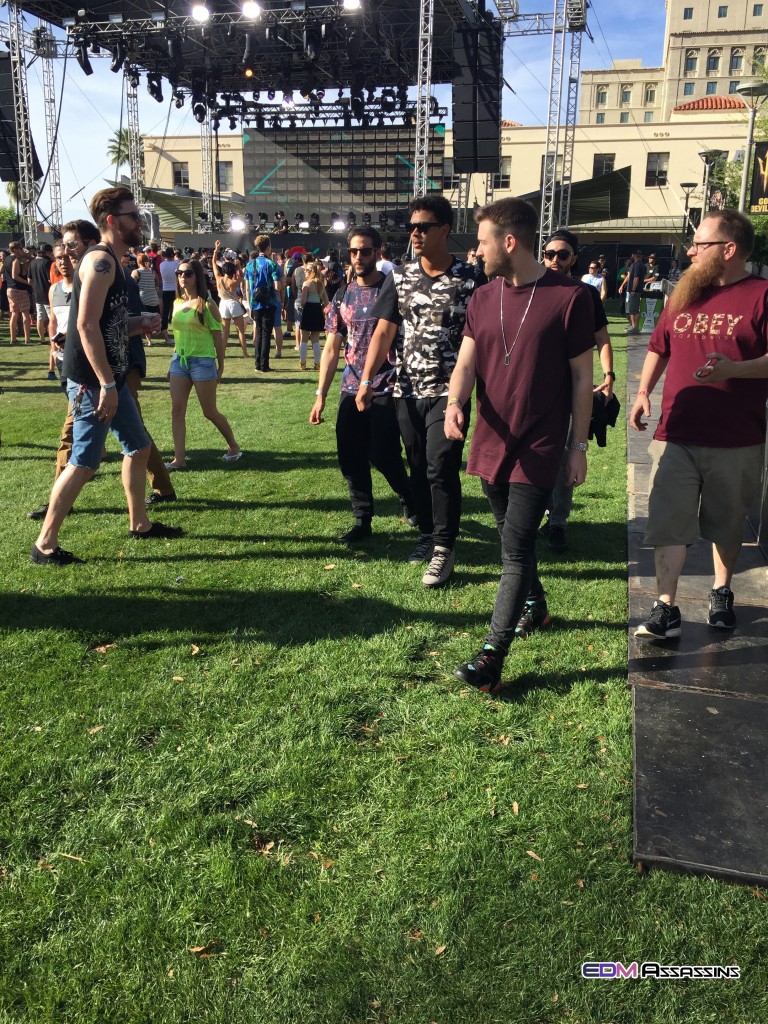 Kill the Buzz had taken over the main stage and when we went back, he was playing absolute bangers. My mom and I again stood back near the edge but both of us couldn't help but get into the music and I know that I was dancing around while she nodded her head to the beat. We discussed some of the things we saw people doing (hoops, trading kandi, outfits); my mom seemed to be keen on taking everything in without judgment. Because I am used to being in the crowd, dancing, it was harder to let loose standing in the back of the crowd. I wasn't extremely self-conscious of the fact that I was there with my mom, but it certainly played a factor, at least up to that point it had. Knowing Jauz and Zeds Dead would be on soon, I was certain my trepidation would evaporate and I would be dancing without reservation.
Throughout Jauz's set my mom and I watched the crowd, moving around slightly to see more of the crowd and to take pictures. She never seemed to complain about where we stood, though I mentioned that we would definitely be heading into the crowd for Zeds Dead and that at some point, I wanted her to be left alone to experience things by herself. I knew she was slightly scared, but with me there the entire time, she would be influenced by everything I had told her about festivals. Without me there, it would be unfiltered, real, and I felt that to be key to her writing an honest review of the festival and whether she would ever want to attend again.
After Zach and Dylan made their entrance, my mom and I ventured part way into the crowd. When we had first arrived, there were hardly any people at the main stage (avoiding the sun I presume), but by this time it was dark and it had become packed as I expected. My mom seemed to navigate the crowd with me fairly well, especially after I told her that you just make your way and apologize in advance for going between and in front of people. We didn't end up that close for Zeds Dead, but it was about the experience. The only adverse event that happened the entire night came while we were immersed in the crowd enjoying Zeds Dead throw down. There were a group of people next to us sitting on the ground, and I couldn't be sure exactly what they were doing. Out of the corner of my eye I saw one of the kids standing up, gesture with his head and then just his eyes to the person standing with him to look to their left. He was clearly indicating, "look at the old lady" and I had half a mind to say something to him, but though better of it. My mom seemed oblivious to the whole thing and eventually they all got up and left. We moved up a little closer and a woman in front of us, who was clearly older, began talking to my mom, asking if I had brought her and how she liked the music. She was thoroughly impressed that I would choose to bring my mom rather than "all the pretty girls I knew." She instantly made friends with my mom as they talked about my brother and I being there and how they enjoyed the music and the vibes of the crowd. Eventually my mom decided to head back to the fence and I stayed in the crowd for a little while longer, hoping she would enjoy her time alone at the festival. They played their new track with Oliver Heldens, "You Know," and plenty of crowd favorites like "Collapse." I couldn't help but get down to the filthy beats and trembling bass.
We had decided to head to the front of the crowd with my brother right before Hardwell's set to see what access my mom and I had for backstage. It was relatively easy to get through the crowd to the front, something that definitely surprised me. The security guard in front of the entrance backstage was incredibly kind and talkative; especially after finding out my mom had the photo pass and I only had media access. She was allowed into the pit for the beginning of Hardwell's set, I was not. There was a guy standing behind us in VIP that noticed my mom was wearing kandi and struck up a conversation with us. He was very friendly and loved the fact that not only did she have kandi, but I brought her along and got her the credentials to get up close. Neither of us had a professional camera like my brother did so we did not have any intention of going into the pit while it was available, but to our surprise, the guy behind us, Will, offered my mom his go pro to use so she could experience the world's number 1 DJ from a dozen feet away and utilize her photo pass. She took it happily and made her way into the pit after my brother to await the arrival of Hardwell. We couldn't see her, but the security guard had become our friend and he assured us that she was up in front, though he couldn't tell if she had figured out how to use a go pro. Will and I waited with excitement, as she was one of the last people out of the pit. She wasn't completely sure she had gotten any video with the go pro, but it was the experience of being that close that I thought was more valuable (she ended up with a decent amount of video). The next 40 minutes of Hardwell's set we spent enjoying her favorite music from 50 feet away with good company all around. Will loved the fact that my mom had kandi on and they even traded while my mom turned cherry red from a combination of embarrassment and delight. She left the front near the end of his set as she mentioned she felt the bass was starting to get to her; a wise decision for even the most experienced raver.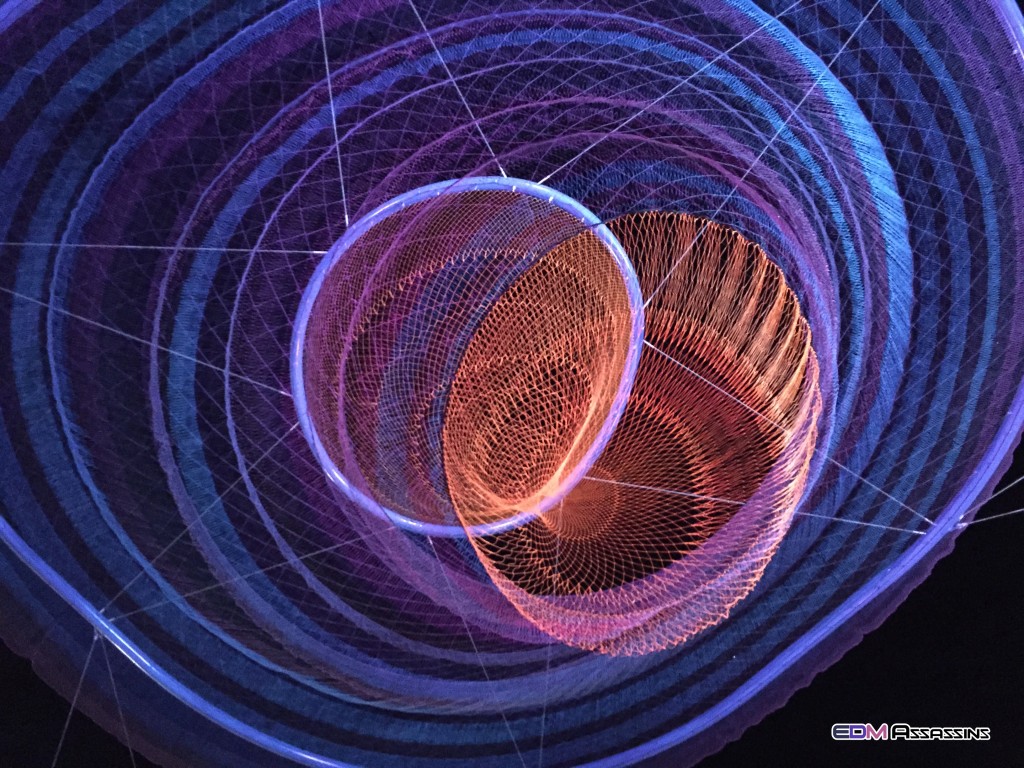 Overall I thoroughly enjoyed both the music and the experience of a festival with my mom. Apart from the one moment that the kids were gesturing about my mom being there, the reception was incredibly positive. The security guard mentioned her long after she went back as he was talking to other security guards after the show was over. There were more than a few people who commented to us both that they loved she was there, enjoying the music with me and having a wonderful time. She traded kandi and danced as much as she was comfortable with. Her favorite set was Hardwell's, though she loved the thumping bass of Zeds Dead and how animated I was, dancing around. The festival itself created an intimate atmosphere that I absolutely loved. It is not often you get to see some of the biggest DJ's from only a few dozen feet away, or even back at the fence where we were, we had an incredible view. Everyone was very friendly and the lay out was easy to find your way around, with things marked clearly. I applaud Phoenix Lights for choosing a spectacular venue in the middle of a large city and putting on a fantastic show. Each stage was easy to navigate and there was only a few spots where the sound bled from one side to another. There were plenty of places to sit and rest and even in the very back of one stage, you could see the artists on stage performing. The showcase art piece of the festival, "Her Secret is Patience", was a focal point of many of my pictures and I was able to capture one with it lit up, the moon, and Venus, all in one. I was disappointed that was the only art piece throughout the festival, but instead of focusing on the lack of art, we had the music which exceeded all expectations. Everyone we met was friendly and happy to return a smile. Even the security guards all seemed to want to laugh and joke around with attendees, especially after meeting my mom and seeing how much she loved it. My brother told me about a security guard who's birthday was the day of the festival; instead of being upset he had to come in to work, he embraced it and looked at the bright-side, free music and getting paid. The whole experience was something of a dream, enjoying the music and seeing my mom smile constantly for close to seven hours, there is nothing I wouldn't trade for those moments. I absolutely cannot wait to come back next year, and I will probably bring my mom and brother again. I would like to thank Jarid Dietrich, Route 94, Carenwest PR, True Music Xperience, and Relentless Beats for putting on such a memorable show. This is one memory I will happily tell all my friends as proof that my mom is much cooler than theirs. The Pesavento family will see you next year, count on it.
Pros:
– Small venue allowed close proximity to stage
– Simple layout
– Diverse artists to appeal to everyone
– Easily accessible (parking and light rail)
Cons:
– Free water came from a few drinking fountains around the park
– Artist cancellations (not much to be done about this)
– Only artwork featured was sculpture within park
Leave a Reply