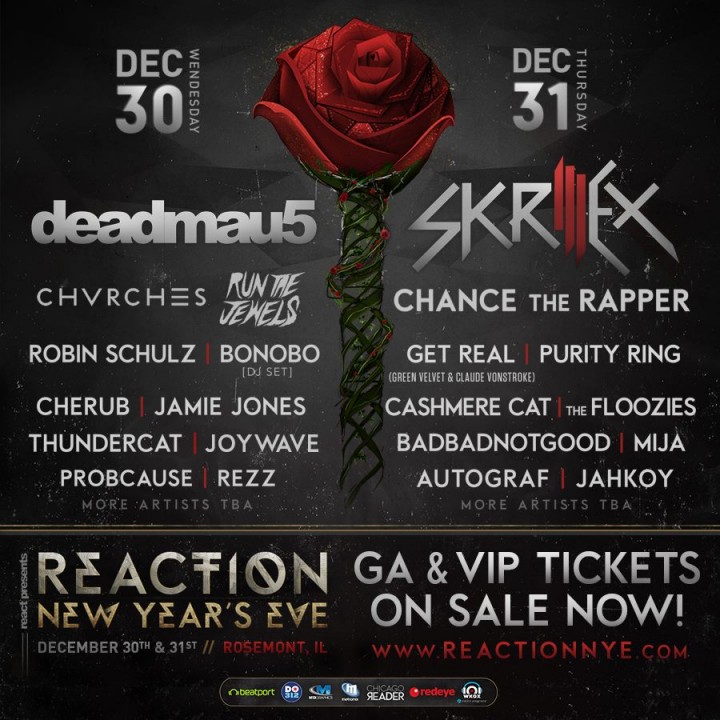 React brought their first New Year's Festival, Reaction to the Donald E Stephen's Convention Center in Rosemont, Illinois this past Thursday and Friday. With local artists, Chance the Rapper, Autograf, Porn and Chicken, OWSLA artist, Skrillex, Mija and Rezz as well as big named artists Deadmau5, Purity Ring, Robin Shultz, Get Real and more the lineup set the bar high during its first year. Selling out night two and coming close to selling out night one, Reaction New Year's Eve was definitely the place to be.
Along with the three stages, The Warehouse, The Hall and The Arcade there were also vendors, arcade games and a skate demo. After going through security you pass the shops and the big Reaction sign. To your left was The Hall where Cherub, Rezz and Purity Ring had played. Straight ahead was the skate demo where skaters performed throughout the night. Passed that was The Arcade where local talent had performed and games such as Pacman, air hockey, foosball and more were available. To your left was the snack bar and The Warehouse where headliners Deadmau5 and Skrillex closed out the night.
Highly anticipated Skrillex brought in the New Year playing old school favorites such as "Bangarang", "Cinema", "Promises" and more to remind fans about why he is the king of dubstep. Deadmau5 brought in the biggest crowd of the two day festival with fans sporting their best mau5heads, even going so far as to call the head of React's security to make sure fans could bring in their mau5heads. Deadmau5 may get a lot of crap for how he acts sometimes, but he sure does take care of his fans. Performing in front of his hometown, Chance the Rapper had the crowd off their feet his entire set.
Reaction set the bar high with its first year, three great stages, other entertainment for the folks waiting in between sets, and of course, some of the best music on the planet. We cannot wait to see what may come in the next few years as React did such a great job this year. If you weren't able to be in Chi-town for this New Year's Eve, you can always start making plans for the end of your 2016 with Reaction NYE.
Leave a Reply