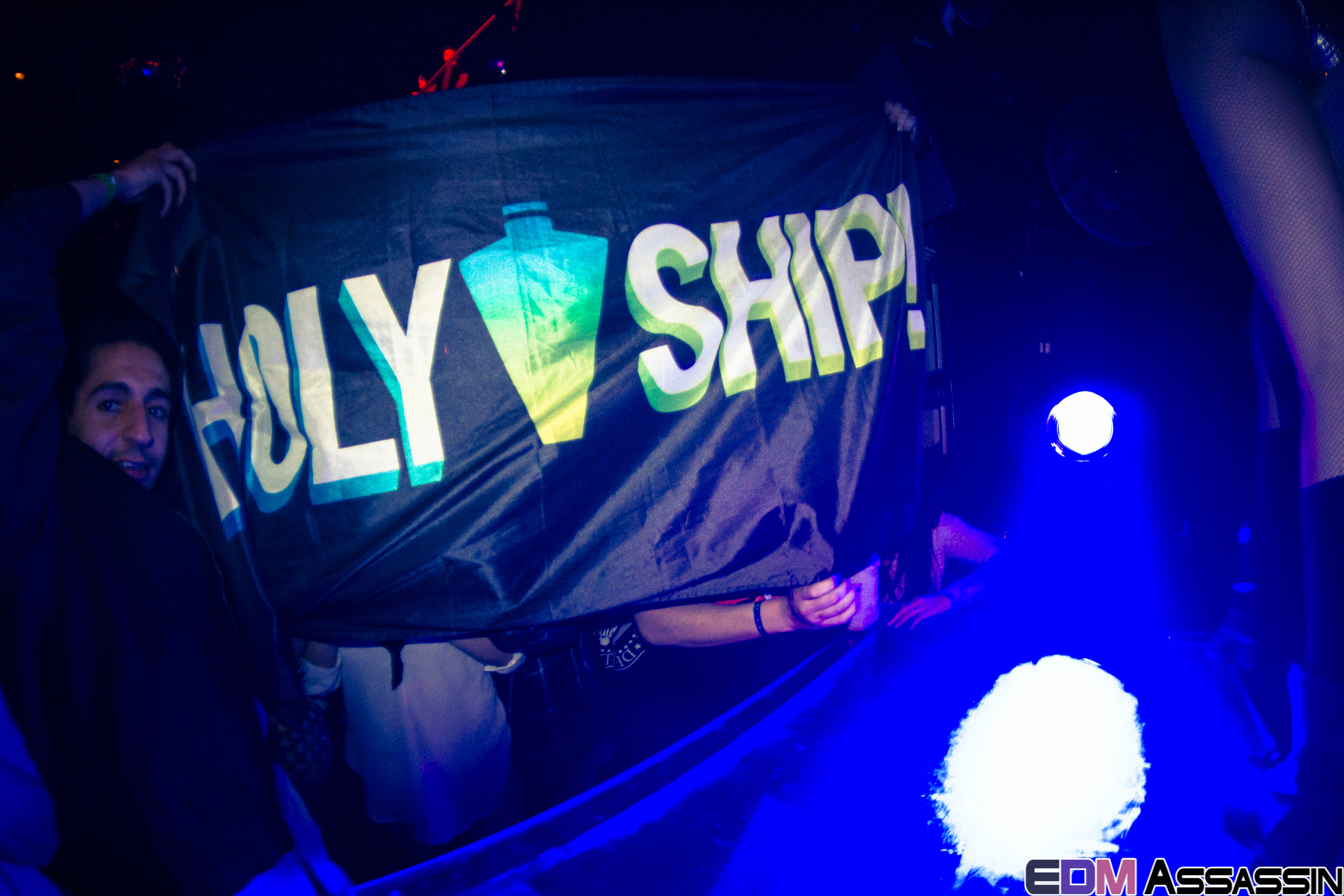 I was super excited for the Ship2Ship Tour to hit Denver and Beta nightclub. Having seen Destructo and Justin Martin before, I thought I knew what might be in store for the night, but I was equally as excited for Rezz as I had heard nothing but good things about her. The Ship2Ship tour is something that Destructo put together in between sailings of Holy Ship! throughout the month of January. Hitting all the major US markets, the Ship2Ship tour was prime for ship fam to get in on the action with 3 diverse styles and one epic night of fun.
Arriving part of the way into Rezz' set, I noticed she played a lot of deep house, techno, and plenty of other genres I probably couldn't identify. The crowd quickly grew in size as I think some people were genuinely surprised by how good her set turned out to be. The crowd was really into Rezz' set as I made my way to the front to try and take some pictures in the darkness of Beta.
On to Justin Martin and with his signature sound, he played plenty of tracks that hyped up the ship fam. Though the crowd wasn't just ship fam, you could tell that it was a huge presence from Denver as it is a place Destructo visits often. Justin Martin had the crowd on their feet the entire set and there was absolutely no part of his set where there was a lull or people were milling around. Towards the end, Destructo and Rezz joined him in the booth with Destructo's bottle of Don Julio and pineapples to give out to fans close by. The crowd went nuts as Destructo and Justin Martin seemed to do a small b2b before Destructo officially took over the decks for his g-house stylings.
Destructo, the pineapples and Holy Ship! are about as signature as you get. Dropping his latest track with 4Real, Ty Dolla $ign, and ILoveMakkonen to a thunderous crowd. Shouting out the ship fam became familiar as Justin Martin donned the characteristic blue robes and helped the crowd get wild. At one point Justin Martin climbed through the DJ booth and onto the GoGo dancer's stage, only to be handed a Dirtybird sign and a whale with signatures all over it. Getting into the crowd to hang with ship fam, Justin Martin riled up everyone around, also stopping to take snapchats and pictures for his own collection.
Overall, the night was everything I expected and more. Rezz was the ultimate surprise as I fell in love from the minute those beats hit the dance floor. Justin Martin played a raucous set that I definitely could not stand still for and Destructo helped close the night with Justin Martin in the crowd and incredible g-house in the air. Check out some of my pictures below and if you can, make sure you see a stop on this tour, if not, Holy Ship! needs to be a priority!
Leave a Reply