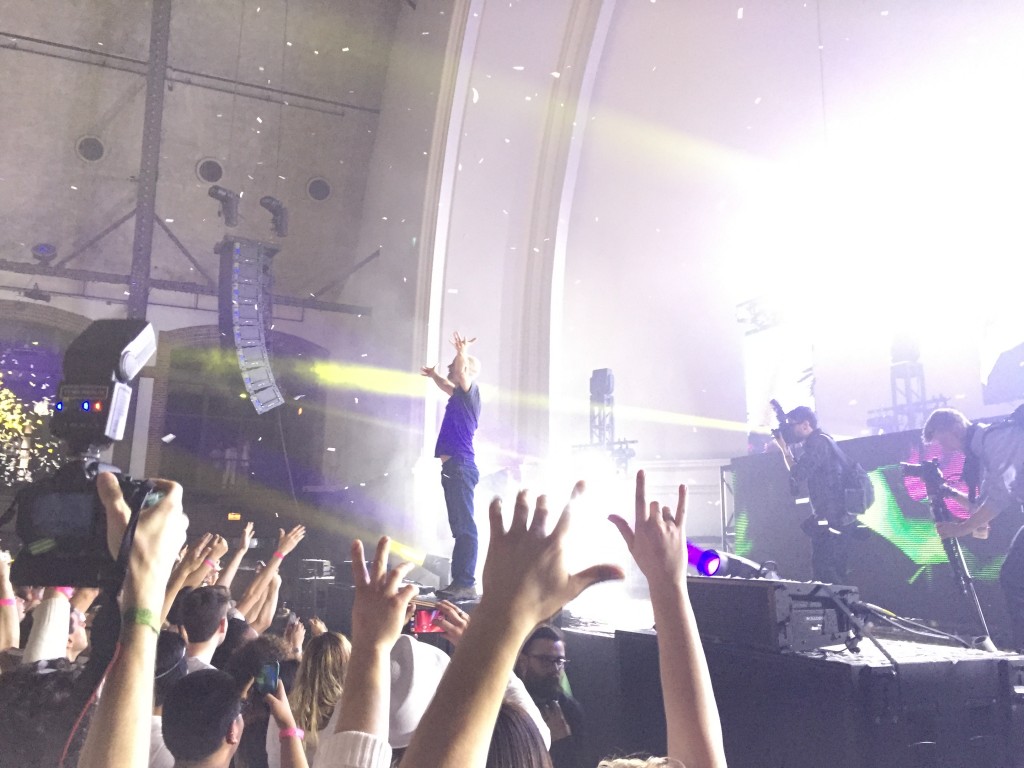 When I received word from Grant that The Gathering Group had invited EDM Assassin to cover the inaugural Snowstorm Festival, I was unsure of what to expect. New festivals seem to be a toss up between being hugely successful and simply mediocre. I had no expectations for what The Gathering Group and their partnership with Redmoon Entertainment would bring, so we went in with an open mind.
Immediately we were treated not only as guests, but as highly sought after guests. Not because we were "press," but because everyone was genuinely interested in seeing what they could do to help us out. Grant and I had both traveled quite a distance to get to Chicago (and what seemed like miles through Navy Pier) and then to the festival. I unfortunately was quite under the weather, but everyone we met signing in and getting our credentials were more than happy to help. We all exchanged phone numbers in the event that an artist was willing to do an interview after their set. Grant and I then ventured out into the upper stage to see what was in store.
We first encountered the upper stage that seemed rather intimate for a festival stage. Attendees were right up next to the stage and it was only slightly lifted and set back from the railings where people had started to gather. Grant and I had joked beforehand that we weren't sure how many people would actually dress in all white as Snowstorm had asked guests too, but we were both pleasantly surprised to see almost every single person wearing something white, if not all white. I give kudos to those wearing white pants and not spilling anything on them. As we walked through the upper stage to check out the VIP areas that Snowstorm had graciously given us VIP wristbands for, we listened to the beats spun by Kody Madro, who incidentally we would later interview.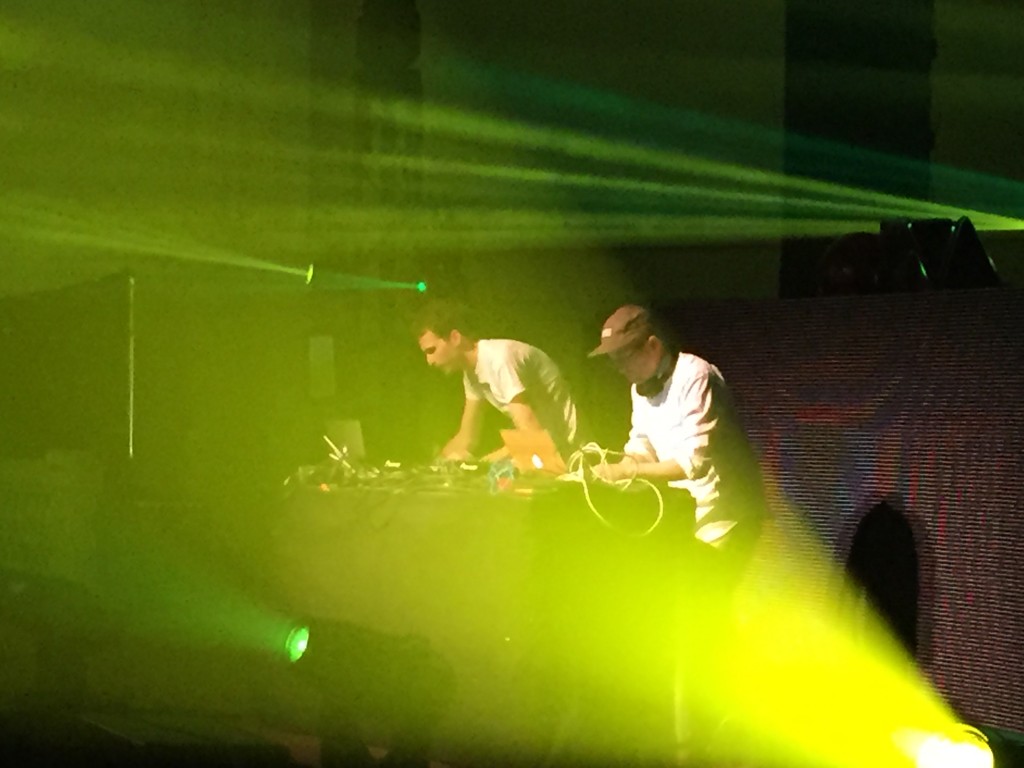 Once downstairs we noticed a slightly different atmosphere gathering around the main stage. The Hood Internet had just come on and because the duo have been around for so long, the crowd seemed to consist of fans that were slightly older than your average festival attendee. The vibes from people were great, it was just interesting to note how looking out I saw many people that could be my parents, rather than my younger brother or sister. We stayed for The Hood Internet a while as Grant and I both found their style of mashups incredible to listen to and fun to watch as both members took turns on the decks and sung the lyrics to every song as they played. Part way through the set I received a phone call about an interview and Grant and I headed back upstairs to meet with Kody Madro.
The interview with Kody was very interesting given how he had transitioned from snowboarding to being injured and then on to DJing festivals. We enjoyed talking with him and the full interview will be posted on our site in the coming week. We headed off to see Trippy Turtle and his Jersey Club music Grant was so eager to hear. We stayed for most of his set, enjoying the rap influences and his incredible energy on stage. We noted that he was probably more excited than anyone in the venue. We left most of the way through his set to catch the end of Louis the Child and the beginning of Orchard Lounge. Throughout our night the service and entertainment provided by Redmoon and the staff was phenomenal. I have attended numerous events and never have I felt so welcome by the performers giving guests another type of experience aside from the music. It was difficult not to have my face not set in a permanent smile, and ultimately, I gave up trying.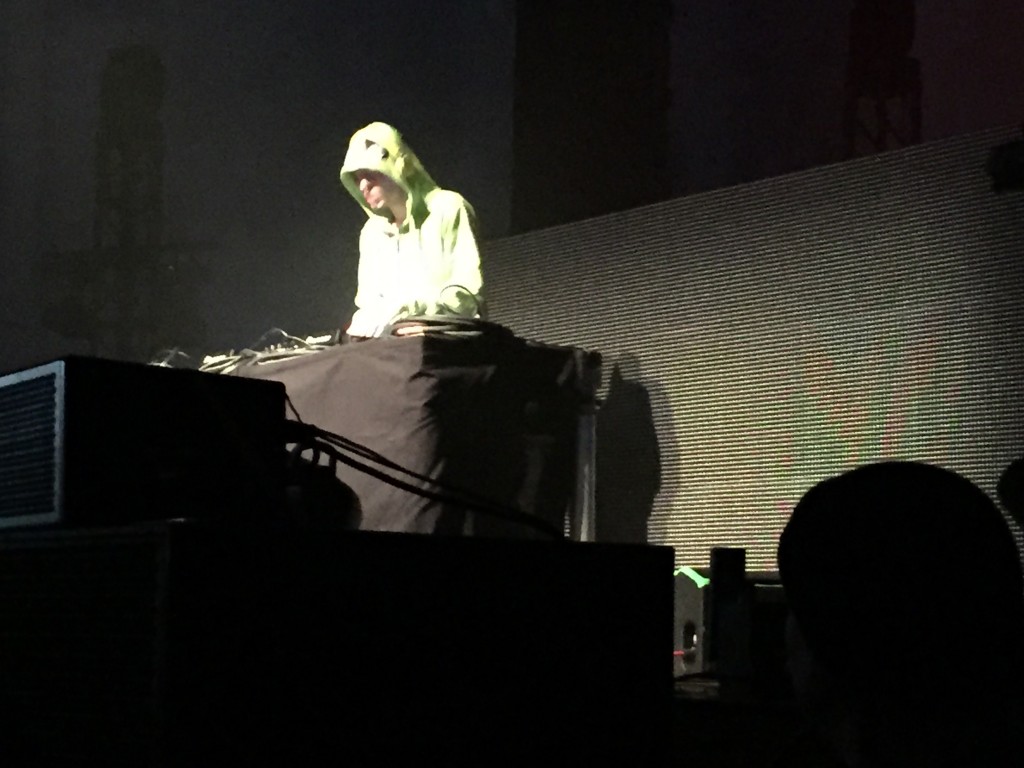 Grant and I were able to connect with the manager for Louis the Child and Win & Woo to secure interviews. When Louis the Child had officially exited the stage and talked with fans for a bit, we headed back up to the green room to talk. We enjoyed extensive conversations with everyone in the room, learning so much about how both duos formed, the type of people they are (fantastic), and about how they go about making the music and performing in front of fans they adore. They reiterated to us how well they were treated during the entire night, having felt as though they were truly part of what would make the night special and not just there to sell tickets.
At some point everyone in the room was itching to get back downstairs to hear the legendary Moby perform. I knew about Moby and his music long before he was a DJ and he was easily the person I was most excited to see. Grant and I ventured downstairs alone and got up close (as seen by pictures), ready to get our groove on. It was clear throughout Moby's set that he was a master of the decks and invoking emotion from the crowd. Most of the attendees seemed older, but from looking around, everyone was enjoying the old-school house music that Moby kept dolling out. Smiles pervaded the crowd and even Moby himself became emotional, seeing the love from the crowd and feeling our deep appreciation of him and what he has accomplished.
Grant and I left the venue that night tired and sore, just as it should have been. We had made a bunch of new friends from interviewing three artists and we talked the entire length of Navy Pier about how impressive the setup was. I was consciously planning a return trip to Chicago in the near future because of my experience at Snowstorm. We were treated as honored guests and from the looks of it, they treated every single person that way. The white-out was extremely successful and fun to see dance with all of the white confetti that rained down upon us during Moby's set. It was truly a ode to winter in Chicago.
Editor's Note: This was a fantastic write-up by Nick. Him and myself (Grant) thoroughly enjoyed this festival from start to finish.
Pros: 
The artists were a lot different from other festivals and great to hear them all.
VIP was extremely well done – free drinks, free food, and a lovely lounge.
Plenty of staff and security. You clearly felt safe.
Navy Pier, while an odd venue, made it very intimate.
The small details really showed – those who would run around and shoot confetti.
The ladies with food trays and napkins was a great touch.
Chicago artists at a Chicago festival.
Artists spoke highly of this festival. We agree.
No overlap of sound!
Price for this festival was incredible.
Cons:
Walking into the festival, we weren't sure we were at the right place. Navy Pier is huge and if you go through the front, you had no idea there was a festival. More signage would have been reassuring.
Layout was slightly confusing as the signs were all similar besides check marks. They could have been more defining.
Small inconsistencies with security permissions on where certain people can/cannot go.
Artists complained that the smaller stage vibrated so much it caused the CDJ's to freeze.
The two stages were completely two different worlds.
Overall:
This was a fantastic festival especially for an inaugural event. We learned that they would love for it to be a three day festival and that would be amazing. We really hope that this happens for years to come. I really can't say enough great things about this festival. Neither could Nick. It is funny as we joked around because we had zero clue what to expect. We truly want to thank everyone apart of this: Snowstorm Festival, The Gathering Group, Redmoon Entertainment, all the artists, the managers, and even our friends! We hope to attend future events because we were so happy with the event!
Leave a Reply