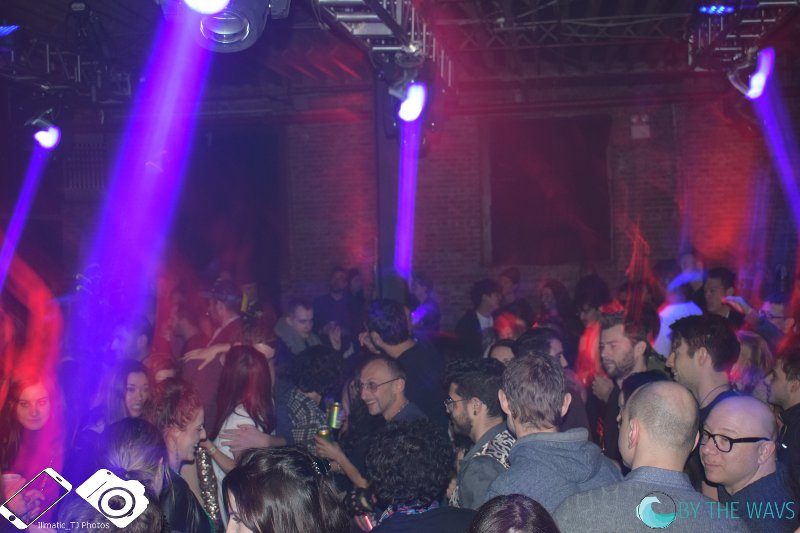 This past Saturday night brought more than just Day Light Savings.  From 11pm until 8am, the small venue in Brooklyn, NY hosted one of the best night club events that I have seen in quite some time.  Something Happening Somewhere was the record label that the promotion crew, Fiction, hosted during event.  The event was held to showcase artists signed to the record label like Love Over Entropy and Nuno Dos Santos with special guest artist Baikal, who is a cofound of the record label Maeve.
Musically, the event was brilliant.  With a line up of all artists focused on Deep House, the music was melodic and soothing throughout the night.  Each artist pulled out the perfect combination of both vocal and instrumental-only tracks as the crowd filed into the room.
It was a diverse range of fans.  There was a diverse range in age as well as dance style and musical preference. As you walked around the venue you heard the grumblings of not liking certain tracks, disliking visual preferences or disliking the beverages at the bar.
One thing everyone did agree on was that the artists were something to appreciate.  The artists were together throughout the night on the stage, supporting one another and ensuring a good show.  They were congratulating each other, commenting on the tracks and laughing as the night went on.
Seeing them be together shows how important record labels like SoHaSo are to the development of the music industry. It gives artists a ground to cooperate and provide each other the motivation to do better.
I have to say, that this was the kind of Saturday Night that I could go for again and again. May festivals and venues like to offer attractions other than the music to bring in fans, so when the club is dark and you get only music with background light visuals, you get the best experience possible.
Keep an eye out for more events and artists from SoHaSo, because they are going to be the events that you want to attend and the artists that you want to listen to.
Leave a Reply