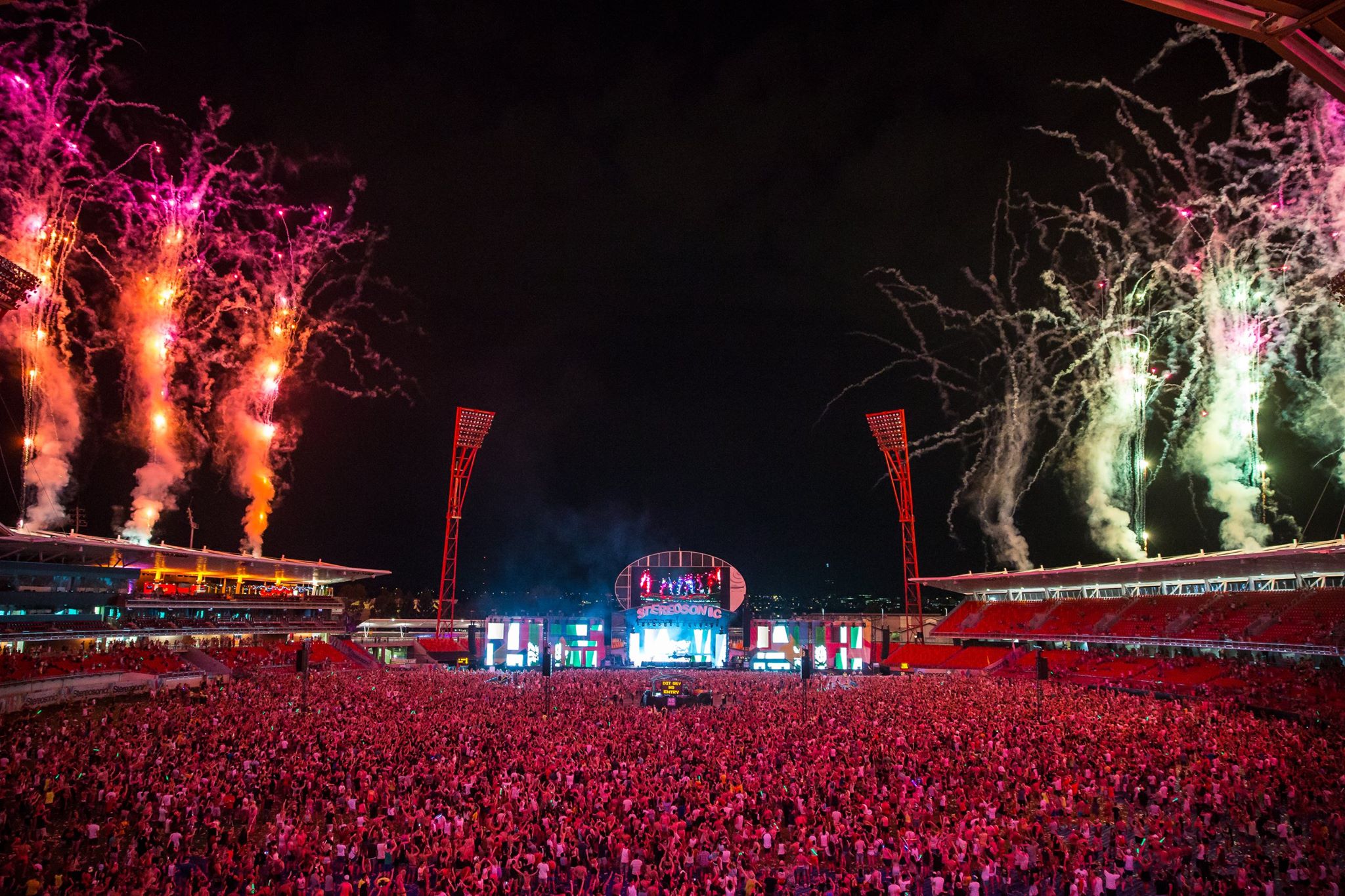 It's that time of year on the Australian festival calendar, with the biggest EDM festival tour going across the country to mark the beginning of summer. Stereosonic's reputation precedes it, with mostly the media and people who have never gone before talking about it negatively due to many of its attendees taking part in the ecstasy and steroid culture that has grown over the years. The fact that people are claiming to have smuggled at least 100 ecstasy pills into the event isn't helping either.
Unfortunately one girl died of an overdose the previous day in Sydney, however this did not dampen the mood of the party in Perth, with a massive crowd of people enjoying the day and no significant events, fights of injuries happening apart from a few people being arrested for taking drugs.
The original schedule for the Perth event had Jauz (who's never played in Australia before) at 2PM and local DnB wizard ShockOne at 8PM, however after a public backlash Stereosonic swapped their set times. After seeing them both (and having comparable crowds considering the time of say that they played), it didn't end up being a big difference between the two possible situations. From a publicity perspective it was a smart move to change the times though, as most people were appeased.
The stages, lighting and sound were all of a very high quality, with the only issue being too many people trying to get to the Sonic stage for Diplo's performance (inside a warehouse-sized room) and security having to turn people away. I was lucky enough to be right up at the front barrier for the performance and could feel the crush of people behind me. Understandably there was a backlash to this tricky situation, and it's more a matter of opinion as Stereosonic made it clear that people would be turned away from the inside areas if too many people were in there, but if Diplo had played on the main stage in the first place the situation could have been avoided altogether.
Anyway, onto the performances.
Slumberjack
Slumberjack are the new kids on the block from Perth, and they were just as good as I hoped. They played Trap with some heavy bass involved, dropping banger after banger after banger. Their originals were met with roars of delight from the crowd, especially when they dropped their trademark Slumberjack refix of What So Not's Touched. It was a very enjoyable set and ended up being the perfect way to start off a memorable day.
ShockOne
ShockOne is another hometown hero and the artist that I was looking forward to seeing the most that day, and unlike Slumberjack his set was not what I expected – it was better. He started off playing Drum and Bass, and then moved to Trap and Deep House (He even managed to get some Jvst Say Yes in there). In doing so he played an unreleased House tune that's not what you'd expect from a DnB lord, but will probably rival Nero's Doomsday. It's a certified banger, I can say that much.
He went back to Drum and Bass near the end, dropping Lazerbeam, Harmonize and Chaos Theory before playing another unreleased Dubstep tune that's also going to be absolutely massive. His MC was on fire as well, standing right next to me as he pumped up an already energetic crowd and rapped a bit too. I was hoping for him to play a few more songs that he produced himself, but I really can't complain given that his set was one of the best that I saw that day.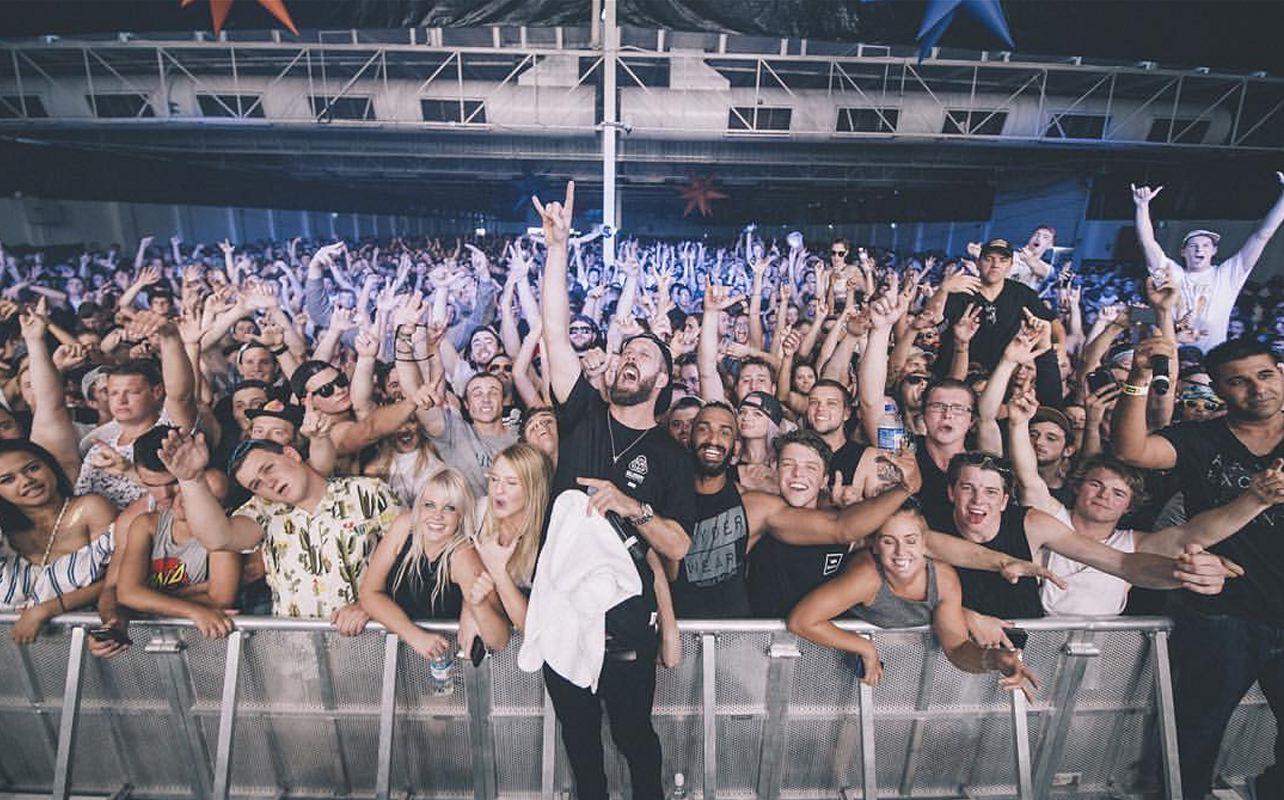 Carmada
East coast OWSLA signees Carmada were at their best as well, taking a similar tack to Slumberjack and playing Trap banger after banger, fitting in their popular originals in Maybe and On Fire as well as their recent Major Lazer remix. That drop is even better live than it is just listening at home. The rest was just a case of having a good time and dancing all your energy out, and that's really what Stereosonic is for. They finished off with the infamous 1980's song Down Under as the techies wheeled them off stage, finishing a three-set-long party that got the audience right in the zone that gives them the best experience – not being aware of time or trying to work out which song they're playing, instead just dancing for your life.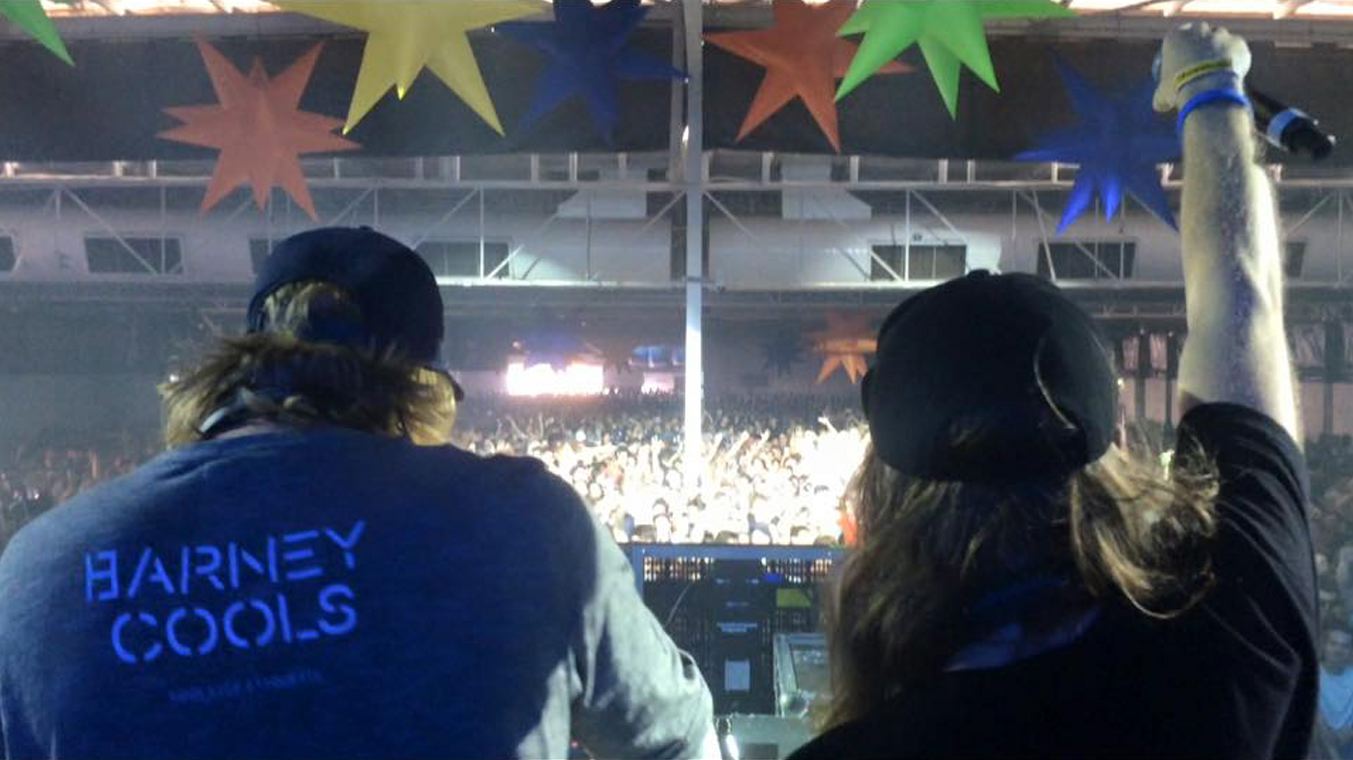 Clean Bandit
After a brief 5-minute set up (which was impressive given that they played completely live), the British orchestral hitmakers came out to play for the first time in Perth. One of their members wasn't present and was replaced by two females: one on keyboards and another singing. It was a change from banger after banger, instead playing their big songs and even a few classics – their rendition of Robin S' Show Me Love was one of the highlights of their set.
Diplo
The crowd was jam packed to see Diplo, and his set lived up to all of its expectations. He played his most famous songs, as well as a bit of Jack U and Major Lazer mixed in amongst bangers from every genre that you could expect from the man. At one stage he teased I Can't Stop (one of the insane moments from his set the year before), but then went straight into one of his own songs from there. His mixing was tight and overall it was another enjoyable set.
What So Not
I missed the first part of What So Not because I was so tired from seeing 5 artists in a row and dancing for 4.5 hours straight, but the latter half of his performance was very good – it was harder than what I expected from him, but the psychedelic theme of the visuals tied in very well with the songs that he played. Tell Me especially went off, but his set in general was very well played.
Major Lazer
Diplo, Jillionaire and Walshy Fire pulled all the stops for the Major Lazer set, with dancers, Diplo crowdsurfing in a zorb ball, merch cannons, fireworks, confetti and a beautiful Perth sunset all making the show that much better. A few times they stopped a song and restarted with a different one because the audience wasn't doing what the trio were trying to get them to do, and this stopped the flow to an extent. That being said, they recovered well and the whole performance was very fun to be a part of.
Duke Dumont
Like What So Not, I only saw the latter half of Duke Dumont's set due to a dinner break and an overlap between his and Major Lazer's set times, but his whole setup and mixing style was unique and produced a great overall effect. He played live and had two bandmates on drums and keyboards, allowing him to mix the rest of the layers to sound like he was just DJing with originals. I was lucky enough to be there for Ocean Drive and I Got U at the end, which were both enjoyed and sung along to by the crowd.
Jauz
It seemed like half of Perth was excited for Jauz's set, and he did not disappoint at all. He played a fair bit of brutal Dubstep and a bit of Bass House in between, but the major highlights were an unreleased Dubstep cruncher that could quite possibly be his best Dubstep yet, and an unreleased Drum and Bass remix of Feel The Volume. That one song was one of the highlights of the entire festival for me, as he'd never played it before to anyone (ever, apparently), and the only way to describe it is a face melter. It was seriously big, and the crowd went nuts for it. Really though, the crowd was going nuts for the entire set because it was very well played. If you're at a festival and Jauz is playing, make sure you see him.
Armin van Buuren
Armin van Buuren's set was as uplifting and enjoyable as you'd expect from one of the biggest names in House and Trance, as he played quite a few of his remixes but not as many original album songs. He even brought out Mr Probz twice to sing live for Another You and the original Waves. A highlight for me was when he edited the start of Ping Pong to become the melody to Kernkraft 400, before dropping into another Progressive House tune that the audience danced away to. He played a bit more Trance and even Psy-Trance near the end, and finally a remix to This Is What It Feels Like capped off the evening in the best possible way.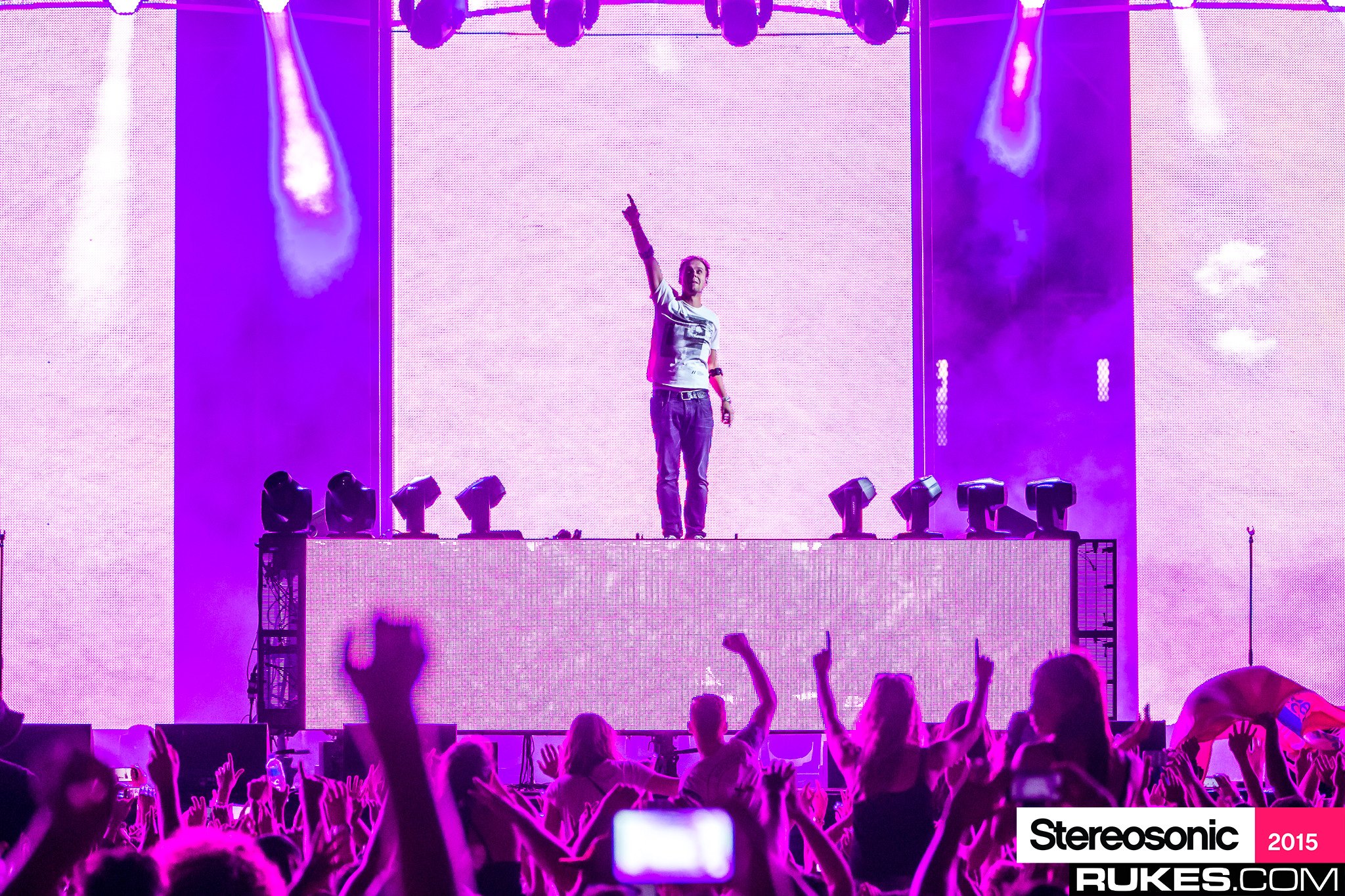 Stereosonic 2015 was the first since 2012 that went for only one day instead of two, and even though there weren't as many artists the quality of the lineup and performances was just as good as 2014, if not even better. I wasn't disappointed by a single artist that I saw, but also none of them played perfect sets that made me wish it'd never finish (like Porter Robinson and Skrillex for me last year). The first point is much more important though, as the day out was very fun and the music and performances were good enough for me to have one of the best days of the year – and I was sober for most of the time too.
It was reassuring to hear the MC tell everyone that Stereosonic would be back next year after Armin van Buuren finished, but there's still the drug issue that will probably plague the festival for as long as it exists. Having been twice now and not seen a single drug-related problem with my own eyes, my opinion is that the issue isn't with Stereosonic. It's with the people who go too far, take drugs, ruin their days in some cases and create a culture that might eventually spell the end for Stereosonic in the future.
I hope that it never eventuates to that though, and I'm sure that another 20,000 people in Perth alone would agree that it's a one of a kind experience that you'd be quite lucky to attend for the music and artists, if not to take in the whole experience. Well done to all of the artists, staff and promoters for pulling off such a great event in the midst of a few minor hiccups and a degrading opinion from the rest of the media, and hopefully Stereosonic comes back for tens of thousands of people to enjoy (drug-free) for many years into the future.
Photo Credit: ShockOne Facebook Page, Carmada Facebook Page, Stereosonic Facebook Page
Leave a Reply