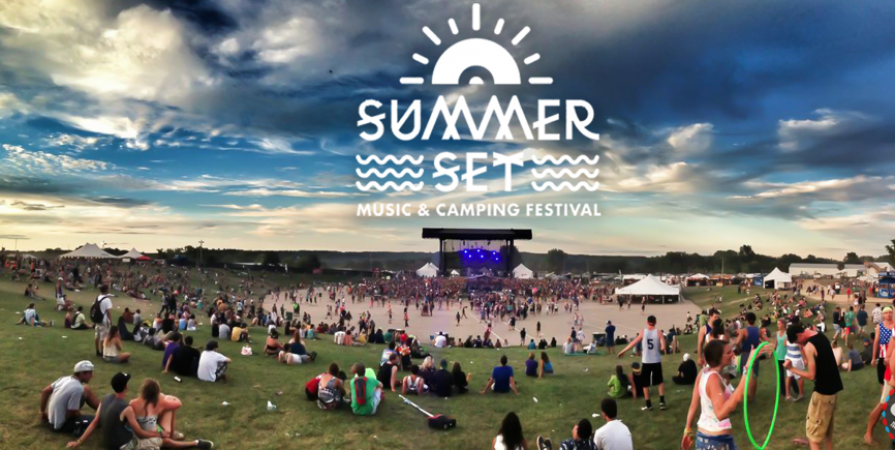 Wisconsin's biggest EDM festival kicked off just a mere two weeks ago, anxiously awaiting its 2016 return Summer Set Music festival definitely brought the heat this summer. With a variety of genres and some of this year's hottest artists, how will they ever top this lineup?
Summer Set had allowed guests to arrive early on Thursday with the option of their early entry pass. This helped avoid the long lines, security and avoid the rush of setting up before sets on Friday. With four different camping options they were fairly organized and easy to get to. However, everyone noticed the increase of car security which resulted in lines moving slower than usual. The campgrounds were filled with general stores, food vendors, porta potties and water spigots making everything easy and convenient. From campground to fest grounds it was a whole new world.
Pass the security and into the woods, the four stages were spread out within. Starting with the Grove where artists G-Eazy, Odesza and Zeds Dead performed added a few new features. During the day what you thought was just a sculpture came to life at night with its fire breathing effects. Water stations, drink tents and plenty of hill space you didn't have to go far for what you were looking for. Onto the Big Top where artists Audien, Brillz and Tchami played, this was a good place to escape the warm sun. Under a large tent the stage production was always on points. The lights and lasers could be seen from afar. Separating the Big Top from the Main Stage was the Meadow where the beautiful Purity Ring performance took place. Finally, the Main Stage where big named artists Deadmau5 and The Weeknd played. Summer Set was well organized and easy to navigate.
In addition to the stages Summer Set had some other special features throughout. Amusement rides—Ferris wheel and swings, accompanied the main stage. Also filling the massive area was the Smirnoff Red Tent. Lining the walkway out to the main entrance/exit were shops and vendors. Deeper into the woods you could find creative sculptures, crazy creatures, fun shade canopies and the fun light up "SSMF" letters thanks to Antics Studios this was a fun place to take pictures. One of our favorite new features would have to be the misting fans at each stage, definitely came in hand for the hot weekend we had. Though they had some awesome new features the only one suggestion we can only hope they take in consideration for next year is lighting the paths from stage to stage.
Being a young festival, Summer Set continues to adapt and make changes to keep fans coming back. Outdoing themselves year after year, we can only imagine how good the years to come may be.
Pro's
How separated the stages were to avoid sound interference

Water fill stations

Convenience throughout the fest grounds

Large misting fans at the stages
Cons
Paths weren't lit up at night between stages

More shaded areas at Main Stage
Editor's Note: Sorry this was so late. Schedules have been hectic along with personal health. That said, we want to give you the best and if that requires us to not rush things out, we won't.
Leave a Reply