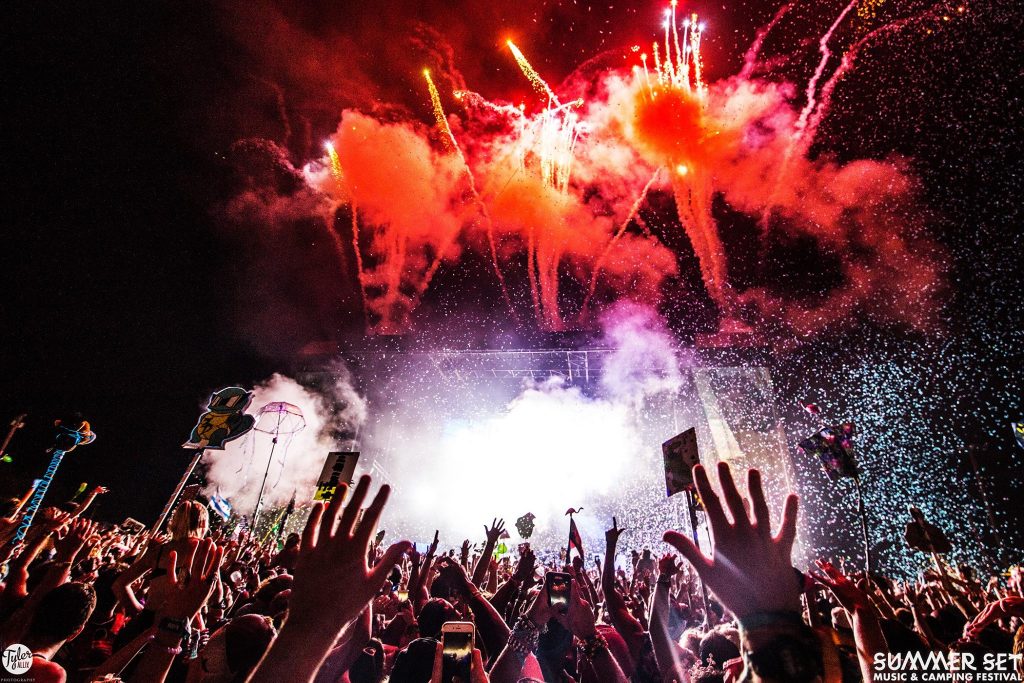 This past weekend Summer Set Music & Camping Festival took over Somerset Amphitheater for its fifth year. Bringing an impressive lineup, fans from all over gathered for three days of music and fun. Summer Set Music & Camping Festival is known for the variety of acts they bring such genres as electro-rock to funk, rap to trap and everything in-between. They definitely cater to a wide array of fans. Making many changes this year, Summer Set Music & Camping Festival continues to amaze us all.
Though the lineup has decreased in quantity, it increased in quality. Headliners, Skrillex, Flux Pavillion, Chance The Rapper, STS9, Infected Mushroom and more played outstanding sets. Kicking off at the top of our list of favorite sets this weekend is NGHTMRE. NGHTMRE took to Twitter Monday stating he "Legit pulled a muscle in my neck head banging during my set at Summer Set Music & Camping Festival yesterday." If that is no indication of how hard he went, I don't know what is. Since Jack U, many complain that Skrillex has changed or become "too soft;" well the "old" Skrillex definitely made an appearance at Summer Set Music & Camping Festival. Pulling in the biggest crowd of the weekend, Skrillex brought the fire, literally and figuratively coming in second on our top three. Lastly, switching it up a bit, was Flatbush Zombies. After several festivals with routinely the same lineup, switching it up a bit was a nice change of pace. Flatbush Zombies definitely brought the highest energy and had the crowd going wild. Illenium, Jauz, Marshmello, STS9 and Black Tiger Sex Machine also are right up there with our favorite sets of the weekend.
As Summer Set Music & Camping Festival grows they continue to bring more to the table in regards to lineup, festival setting, vendors and logistics. A big change they made this year was the all in ticketing. Camping options ranged from North – non-car camping, South – car camping, preferred/RV, VIP and hotel/GA. Last year, each person would purchase a ticket and one person per group of six would buy a site and split the cost on their own. All in ticketing allowed for easier payment method, however there was some confusion/difficulty with upgrading wristbands if need be. Those who wanted to upgrade could have done so at the gate or through Flavorus over the phone. With it being their first year with the new ticketing system, we figured there would be some hiccups, but we hope Summer Set Music & Camping Festival keeps it this way.
This year Summer Set Music & Camping Festival featured four stages, The Grove, The Big Top, The Main Stage and The Saloon. Instead of The Big Top being behind The Grove this year, it moved to replace The Meadow stage from last year in-between The Grove and The Main stage. Each stage was decked out with more production than ever as well as The Grove and The Main stage having more confetti and pyro than previous years. Great production wasn't the only thing that caught our eye. Art installations filled the festival grounds, from the beautiful archway leading into the mainstage to the explosive sculpture at the back of The Grove. Summer Set Music & Camping Festival is really becoming more than just a few stages. Filling in the empty space was store vendors, food vendors, alcohol tents, restrooms and water fill stations. Everything was very convenient no matter where your location. There were plenty of restrooms and water stations that there was hardly a line that lasted more than five minutes.
All in all, Summer Set Music & Camping Festival continues to grow as a festival. From production, logistics, lineup, fans they continue on the upswing becoming one of the best festivals to hit the Midwest. If you are in the area there is no excuse for you to miss out on this amazing festival and for those willing to travel, you will not regret your decision. We look forward to what Summer Set Music & Camping Festival will bring in the upcoming years and continue to watch them grow. See you all in 2017!
Leave a Reply