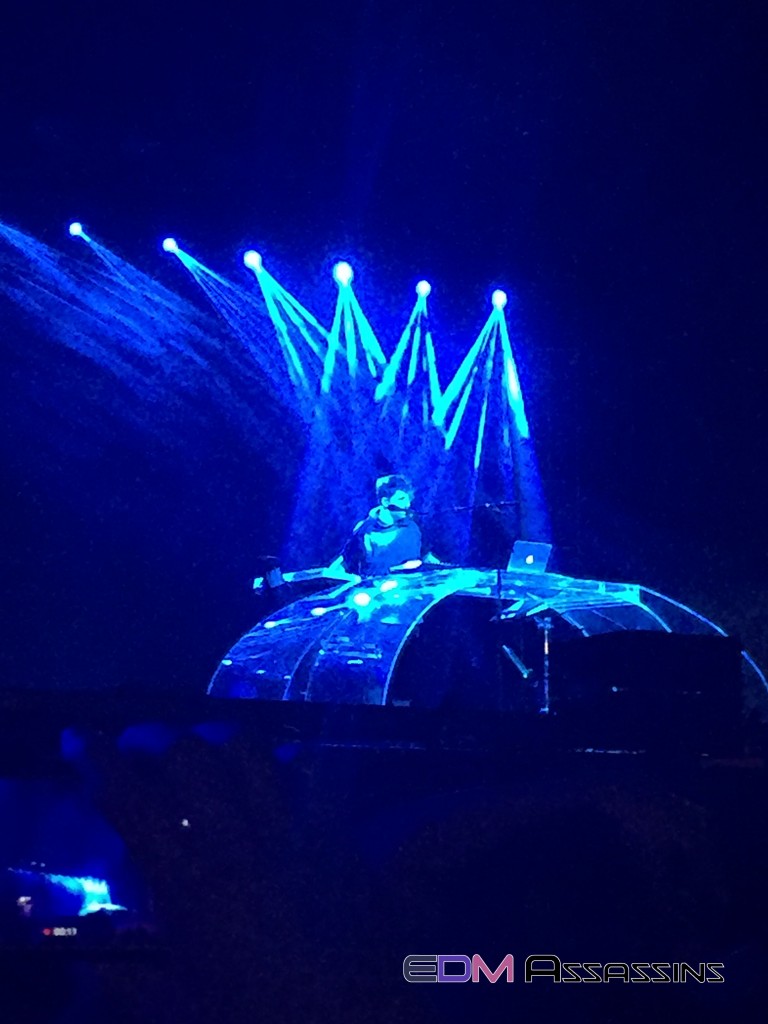 Florida at the beginning of the summer. I wasn't sure what to expect in terms of the heat/humidity or the people from Florida. See, I've never been to an East Coast Festival. Sure Florida is in the South, but in terms of festivals I've attended, everything would be brand new.
I was incredibly excited for the variety in the lineup at SMF, going in to day 1 I was ready to walk between the stages and see a wide variety of genres and artists. I noticed immediately that all three stages were located in such a way that when we walked through the food vendors and were nearer to the back, you could hear music from both of the other stages. Avoiding this would really have only been possible by separating stages more or putting booths as a barrier, going closer to the stages eliminated the problem as the speaker volume drowned out any other ambient noise.
The first artist my friends and I went to see was Mija. I had never seen her or really heard any of her music before but I quickly fell in love with the deep and future house tracks she was playing. Near the middle of her set she began to play trap, and because I am not a huge fan of trap music, we left to explore the festival grounds. While wandering around the steam room that Florida seems to be, we decided to explore the cool down tent set at the back of the mainstage. Inside were huge AC fans blowing icy air across the tent as we zig-zagged back and forth through the tent. It was a wonderful reprieve from the hot air outside, despite the fact that dark clouds began rolling in.
Right around 5pm we heard from the two side stages a PA announcement notifying attendees that there was a severe thunderstorm warning in the area and we needed to proceed to the nearest emergency exit. People seemed to be skeptical of the announcement, hanging around the side stages until the darker clouds were almost overhead. The sky opened up and all of the rain ever poured out. Once the rain began falling heavily, people began rushing towards the one emergency exit so that we could get into Raymond James Stadium and seek shelter. It seemed to take forever to get through the narrow opening and once we did, we hardly moved, only getting more and more soaked. It became immediately clear that attendees on the bottom floor of the shelter we were heading to, were not moving up in order to let more of us under the concrete and out of the rain. As we got closer it was apparent that they wanted to be the first ones back into the festival, and thus would not move backwards for more people to seek shelter.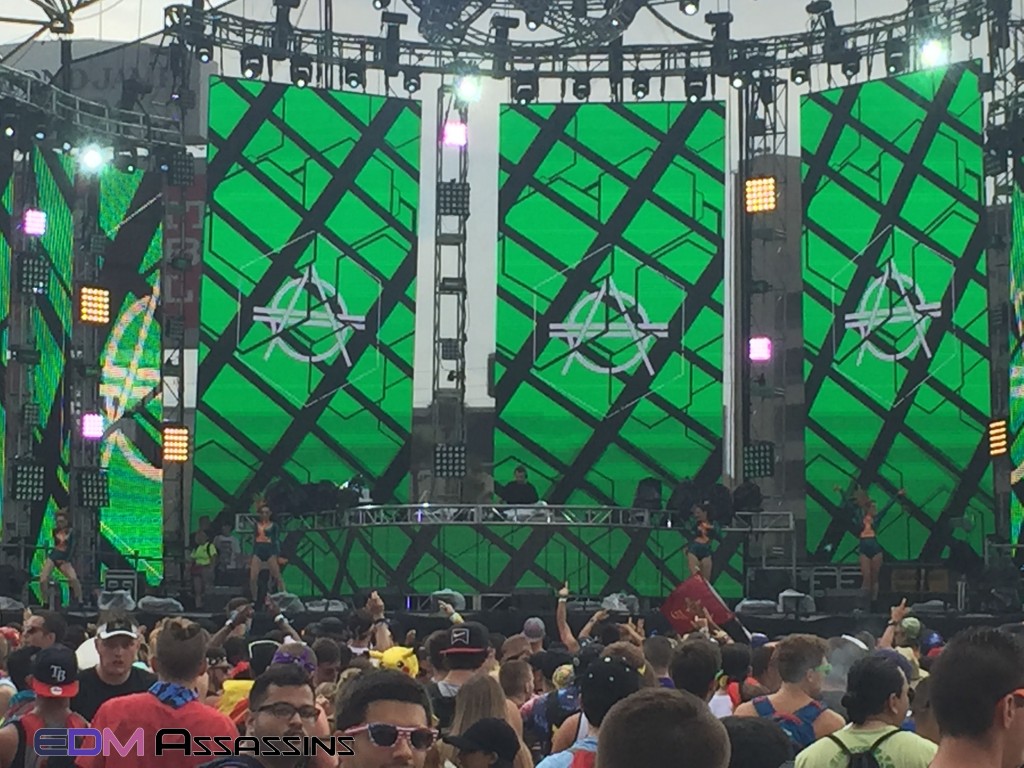 As the rain let up and we were allowed to go back into the festival, we saw some people who were perfectly dry that were standing near the bottom. I couldn't believe they wouldn't move, all so they could get back into the festival first. The people quickly began to be the most noticeable difference between West-coast festivals and this one in the East.
After the rain subsided and we headed back to the festival grounds, we wandered around each stage, stopping to see friends or to see someone in particular. I was very excited to see Arctic Moon and psytrance followed by Bixel Boys and the always fun, Oliver Heldens. From here it was a difficult choice to see Destructo or head to Skrillex, though we ended up seeing both. I wasn't a huge fan of the music Skrillex was playing (a lot of Jack U and trap remixes), so we headed back for the rest of the night to the Horizon stage for Tchami and Duke Dumont. The horizon stage quickly became my favorite place to hang out as Tchami and Duke Dumont threw down incredible sets that had me dancing non-stop until the end of the festival.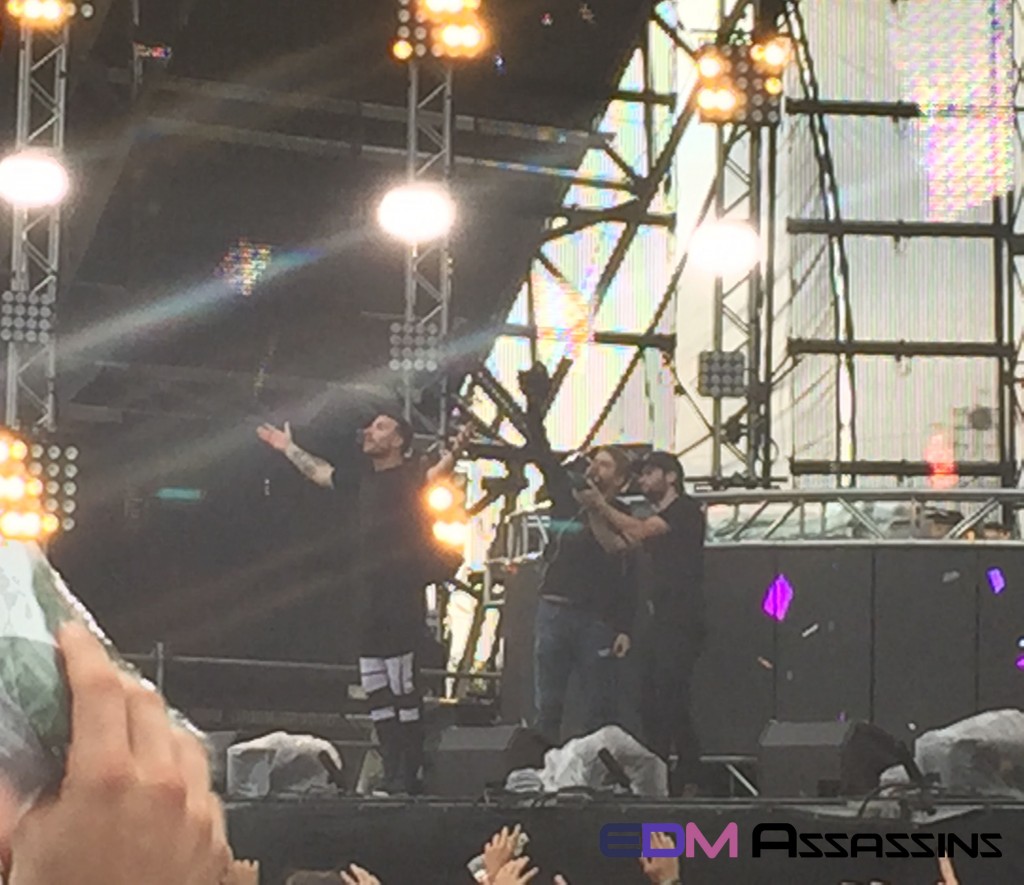 Day 2 came and though the rain came down hard, it was early in the day and we were able to avoid it by waiting in the car. The first set of the day was Don Diablo on the main stage and I couldn't have been more impressed. Having never heard much of his music, I was intrigued and definitely got into the groove when he played "Anytime." Near the end of his set he decided to step down from the decks and get real with the crowd. He took a moment to thank his dad for everything and that he knew his father was up there watching. It was a heartfelt moment that the crowd really got into with him, sharing that special moment. He played a track, though I do not remember exactly what it was, and everyone in the crowd was immediately emotional. I love seeing DJ's connect with the crowd to something personal for them, it really showed how much he cared for his fans and what he's been able to accomplish.
After Don Diablo we wandered around, getting food before the lines would be too long. Next up was Audien, Noisecontrollers, and Route 94. Because I hadn't heard much hardstyle at any festival, we listened to a bit of Route 94 and headed over to the eclipse stage. We ended up meeting a bunch of twitter people and raged together. It was awesome to see 20 or so people that I had met on twitter, in real life, I couldn't help but smile at how social media had brought us together.
To get the full experience, after Noisecontrollers we stayed for part of Keys N Krates set. Though I am not a trap fan, my friend really wanted to see them and I was up for anything. The crowd was thick and I sadly just couldn't get into their set, though I did appreciate the skill to coordinate three people with live production. We decided to head over to Claptone and I was surprised to see the bird mask. I fell in love immediately and we grooved to his set from the side while waiting for Sub Focus to come on at the eclipse stage.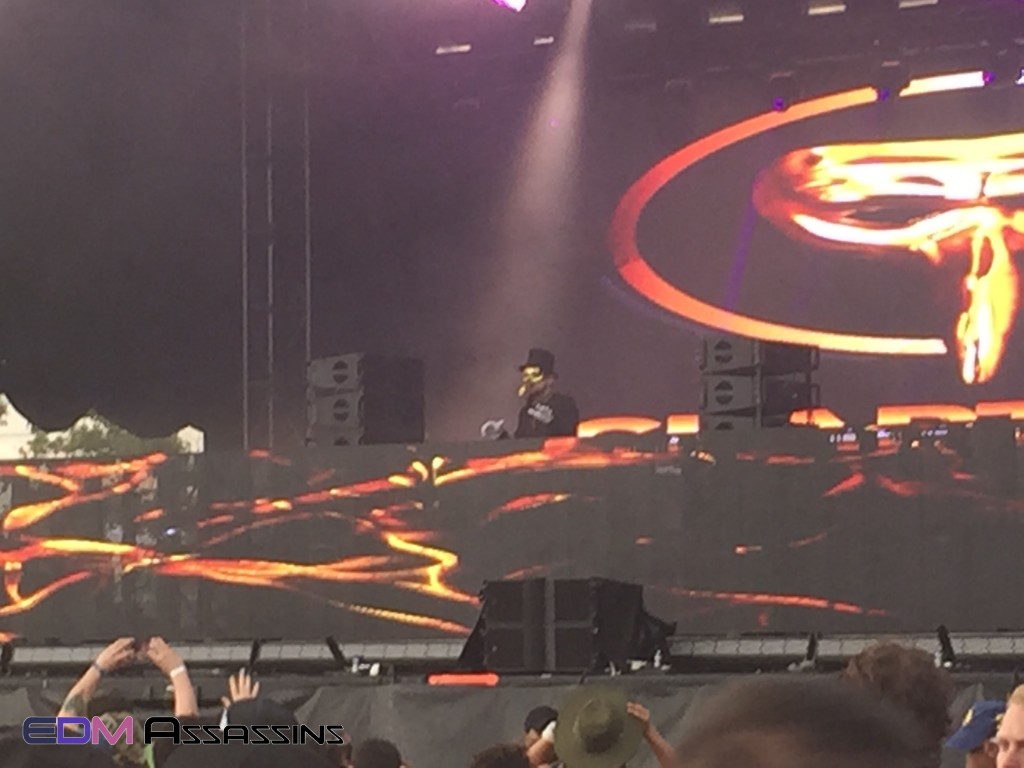 At this point I had seen many artists that I really had never heard of. I love listening to new music and as a writer, one of the best parts is being exposed to so much diversity each day. I was excited to see Sub Focus and later, Robin Schulz while we danced, preparing myself for the emotional party that would be Porter Robinson.
The last set of the weekend. Porter. Robinson. One of my favorite DJ's for quite some time, and only the second time I have seen him, I was absolutely ready for him to play World's. Seeing Porter is unlike any other set I've experienced. The emotion that is woven through the music and the crowd unifies people, strangers becoming friends as they sing without hesitation. The moment is beautiful and it seems to last a lifetime. All too soon Porter is playing "Goodbye To A World" and we are left wondering how we can go another day without seeing our friends or the music we love at a festival like SMF…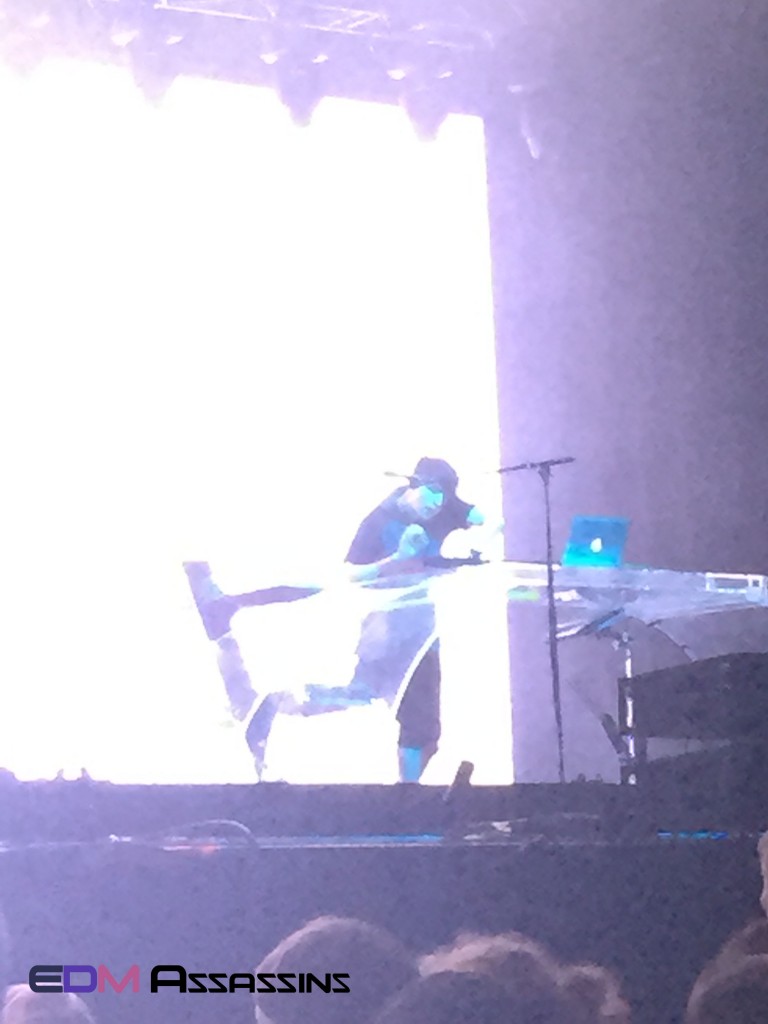 The weekend was a whirlwind of rain, excitement, incredible new music, and friends I'd thought I'd never meet, mostly rain though. The emergency evacuation plan seemed alright, though a few more ways out of the grounds would have alleviated the people refusing to be anything but first back into the festival. It would have also been nice to see another free water station or two to eliminate the long lines that soon formed. Other then both of those, the wristbands worked very well and I had absolutely no problem getting my wristband or using it as cash around the festival. I look forward to more festivals jumping on this idea and putting it to good use. The only complaint I have is that the people seemed to care more about themselves than taking care of those around them and enjoying the companionship that is inherent of festivals. It was nothing that could have been prevented, and not everyone I met acted in such a way, but it was noticeable.
I met a friend of mine who lives in Tampa and has attended SMF in the past. I asked her to experience the festival with me and we would compare our experiences at the end, specifically the people. She knows the scene, she knows SMF and I had never been to a festival on the East coast. Here is her side of it, unedited.
"This year was my third year attending SMF and though it has gotten bigger, it hasn't gotten much better. I always go to SMF because it's familiar and comfortable to me while also being close to home and affordable. Other than that I can say the people that attend are not the kind of people I typically want to be around. They're the kind of people that are there to "rage" and not there because they love the music and the scene. It's also not much of a welcoming environment with genuine smiles like some other festivals. Living in Tampa and knowing how the scene is run here, I'm pretty used to these people so I deal with it but I can see the confusion from people who came from out of town. Even by just going up to EDC Orlando you can see a difference, the crowd is united and inviting. That's the idea they put out about EDC though. But even when I went out of town last year for Electric Forest I was blown away by the experience and the people. I felt like I was with family with every stranger I met. The whole atmosphere was filled with love for the music and one another like it should be. It's almost a culture shock to me to see the way people treat each other at other festivals compared to at SMF. Even though SMF is basically at my house, I've felt way more at home at out of town festivals before."
It seems we had some of the same experiences with the people, although I think for both Bryana and I, we didn't let it dampen our experience with our friends or the music. After all, it is quite easy to move away from people disrupting your enjoyment. I would love to come back to SMF next year, even with all of the rain, easily one of my favorite festivals I've attended. Thank you!!
Leave a Reply