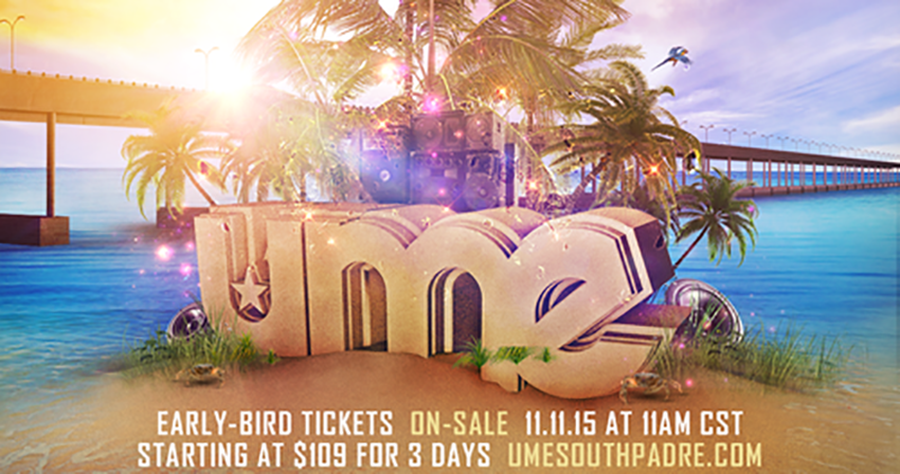 This Spring Break, we found ourselves in for a nice surprise when we decided to camp at what we had previously been informed was not going to be a camping festival. UME South Padre had one stage, and that stage was an empty wave pool at Schlitterbahn Waterpark. Located all around the dance floor were drink stands that you'd be sure wouldn't be available during normal park hours. To our only dismay, the Dippin' Dots stands that were right behind them, were not being used to sell tiny delicious ice cream pellets during the festival. Aside from that bummer, the festival itself looked to be quite the time.
Zaxx was the first headliner of the night, and put on quite the energetic show as per usual. Jauz came out and dropped some familiar beats of his own with a little bit more of a house feel to this set. He did however drop some Herobust, which is always very nice. Jazz has been all over the country and making a stop at South Padre was awesome. The bass house we are familiar with came out along with plenty of tracks we cannot wait to be released. Galantis came on and got us all feeling good. It was hard not to be excited with tracks like "You And I" and a personal favorite, "Peanut Butter Jelly". MMMMmmmmmmm, making me hungry for one. We were then treated to Kaskade coming out and getting us all in our feels. A legend of the house music scene, Kaskade is comfortable playing everything from redux, to "Atmosphere", to Fire & Ice, to some of the best trap music you'll ever hear. It is all about the flow and good vibes with him.
Personally, I hadn't heard much of Sigala and Sam Feldt, but I was glad to make it out there. Sigala had a tropical house groove that was perfect for being near the beach. Sam Feldt had some chill deep house and kept the mood light. We got down and got closer to the front for 3LAU. He blew up some oldies and had the whole place bouncing, twerking, then jumping and back again. It was even better being close to the stage as the crowd was rowdy and excited for the mix that 3LAU always brings. To close day 2, Porter Robinson came out and did his live set, with bombs bursting in air behind him. Stars filled the skies as they filled our eyes. The choir of people singing along to Language afterwards brought a crazy chilling feeling.
They had to switch up the schedule and began the night an hour early to try to beat the nasty weather that was headed our way. When we awoke the next morning, we found that the number of tents had dwindled from the storm the night before. We were lucky enough to have one of the few tents left standing and without flooding. (Remember when camping to always prepare for the worst conditions, and tie everything down tight!!) The last day of the festival we were hit with some sad news, that Tigerlily was not going to be able to make her performance due to a flight cancellation. Luckily, Zaxx went on in her place and kept the party going.
The masked Marshmello came out and did his thing for about an hour and left us all in his mysterious wake. Borgeous brought back the deep house and during this we saw quite a bit of shuffling; something I will always admire for their pure energy and lack of falling on their faces whilst doing so. We were all disappointed when we were informed that Dimitri Vegas & Like Mike were also going to not be able to make their set either. Until….Marshmello came in super clutch to finish out the night. This was definitely one for the books. Some people had already left as soon as they found out about the no-shows and missed out on this greatness, but not us. The festival may have been a bit rainy in the beginning, but when we were deep in the crowd, it was majestic.The rain, the crowd, the lights, the sound, and the beach right around the corner, UME was the perfect place for Spring Break.
As the night came to an end, we all wandered back over to our sleeping quarters and bid farewell to our new friends when the morning came. Overall, I'd definitely say that UME was a great choice for a Spring Break music festival. It was a quality festival overall. There isn't much you can do about last minute cancellations, but all of the artists that stepped in to make the weekend great will forever be remembered. A huge thanks to the festival itself for working hard to make sure the nasty weather at South Padre didn't ruin anyone's weekend. With Spring Break 2017 on our mind already, UME is hard to beat. Until next year, thanks UME!
Leave a Reply