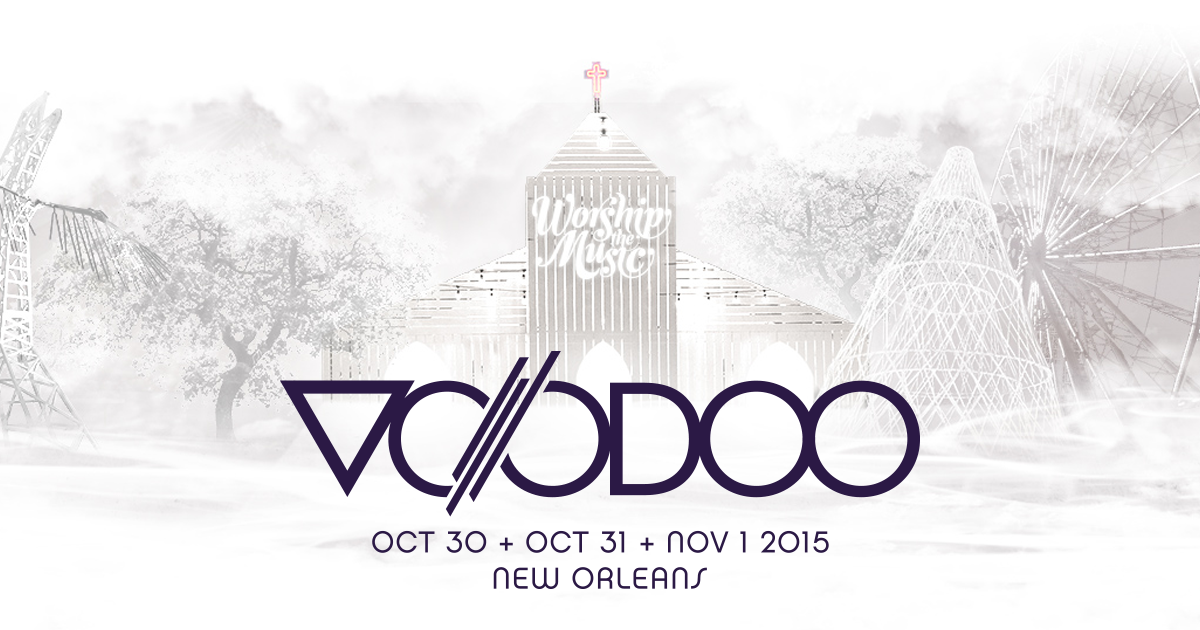 I've just returned home from my first Voodoo Festival experience. It was very different and unlike any festival I've attended to date, and despite a few difficulties with the weather I think I managed to make the best of it.
I started my adventure on Friday afternoon, after checking in at the media tent I made my way straight to the Le Plur stage to catch the beginning of Jauz's set. I could hear the wubs as I was approaching and it only got better. This was my first time seeing Jauz(he was one of the three acts I was most excited about) and he did not disappoint. He jumped around from dubstep to deep house and even threw in a little heavy metal, keeping everyone on their toes and bouncing to the multitude of rhythms. Around the end of the set my friends finally found me and we decided to scope out the venue, find food and restrooms and then meet back up for the second half of Destructo's set.
We located the restrooms fairly easy, although they were cramped area and had a massive wait time. Lines for food moved much faster. There were a few dozen vendors serving just about a anything you could think of from burgers to pizza to authentic Cajun food. We settled on tacos and cheese fries, both were very good. At this time, the sun was starting to set so we decided to make our way back to Le Plur.
We were about midway through Destructo's set when we got back to the stage. It was pretty dark so the first thing we noticed was the stages visual productions. Three massive screens took up the whole stage, surrounded by lights and lasers. We were basically in awe at how nice it all came together in the dark. We bounced around to Destructo's house tunes for a while and snapped a few videos of the light shows while waiting for Alesso to take the stage.
Alesso started, in the complete darkness, with incredible light productions and cranked out progressive house and electro tunes that put us right in our feels. Plenty of sing-along songs and pretty melodies filled the festival grounds. About halfway through this set we noticed the crowd growing larger and we decided to move closer in anticipation of Jack Ü. We chose the left side of the sound booth for camp and watched the crowd roll in, awaiting Skrillex and Diplo.
Soon Alesso announced his last song and the crowd was getting antsy. We started to notice a lot of small children rocking Jack Ü gear bouncing on their parents shoulders. And finally they took the stage. The duo played some of their well known radio hits, and mixed in a few trap songs, even played a special tribute "bounce" song noting "Y'all know we have to play some New Orleans Bounce music when we're here!" It was a very entertaining set, at one point Diplo even came out rocking a giant Febreeze bottle during their hit "Febreeze."
Jack Ü ended at 10, and we walked over to catch the end of the legendary Florence and the Machine on the main stage. We left a little early to miss the crowd and had no trouble leaving the festival grounds or finding an uber home. The staff was very helpful in directing us towards the closest exits and making sure we were good to go for re-entry the following day.
Saturday we arrived a little earlier at the festival, only to get poured on for about two hours. We took shelter in merch tents and took advantage of getting some shopping done until the rain ended. It stopped at around 5:50 and we ventured out to catch Nina Las Vegas on Le Plur stage. But just walking around for a few minutes had mud up to our knees and water sloshing in our shoes. We decided to leave early and go buy supplies(ponchos and rubber boots) to we'd be prepared for Sunday's acts. But we woke up to a sad message Sunday morning stating that Voodoo Fest had been cancelled due to dangerous weather conditions and flooding. It was a good call on the festivals event staff, and the rain-or-shine festival even offered a refund for the cancelled day.
All-in-all, Voodoo Festival was great, despite the weather issues. Friendly staff, easily accessible food, restrooms, and emergency tent, amazing production, and an incredibly diverse lineup. I will definitely be back and hope to recruit some of my friends for next year!
Leave a Reply