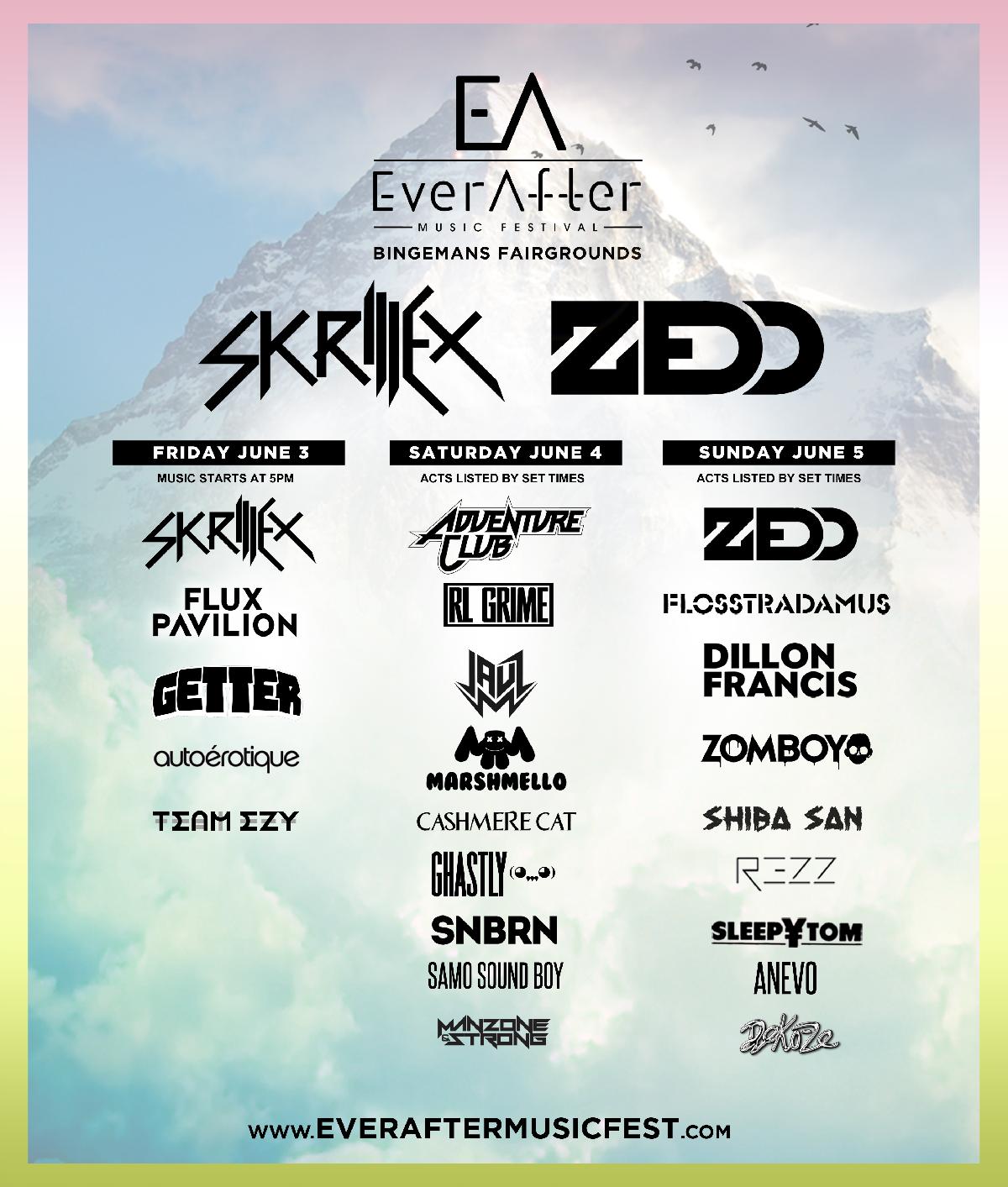 In our most recent interview with Gabriel Mattacchione of Ever After we had asked:
EDM Assassin: "Would you consider expanding Ever After to a three-day festival?"
Ever After: As visionaries, we are always looking to add to the entertainment experience. The evolution of the Ever After experience to a three-day event is something we are looking at very seriously. With the support of our ever expanding fan base and the continued utilization of additional Bingeman's features we anticipate adopting a three-day platform sooner rather than later.
Who would have guessed that "sooner rather than later" would mean this upcoming festival season? Monday May 2nd Ever After took the internet by storm with their newest additions to the upcoming festival, including its three-day expansion. With its new kick off date of June 3rd Ever After is raising the bar even higher for other festivals.
Skrillex, Flux Pavilion, Getter, Autoerotique and Team-EZY have been added to the already stacked lineup. We are most excited to see Skrillex out of the newest additions. Having seen him at Electric Forest and Reaction NYE this past year, we know he is going to start this festival out with a bang. Having released his newest album Tesla only 7 months ago, Flux Pavilion is another addition we are happy to see. From the notorious "I Can't Stop" and "Bass Cannon" to newest song "Emotional" Flux and Skrillex complement each other in all of the right ways to bring you an unbelievable day one of Ever After.
With even more big named artist and its additional day, Ever After has not increased its ticket prices. A three-day camping festival, with a lineup you could only dream about, a water park, carnival and games galore. For $160, you can get into the festival of the summer! Camping options are also available for an additional charge. Pack your bags and get your passport, Canada we are coming for you!
Leave a Reply