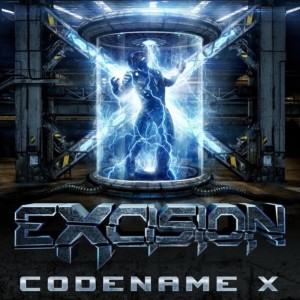 Once again, New Music Tuesdays (#NMT) does not fail us. Codename X, the new Excision album, hit the internet in a leak a few days ago and was officially released today.  Excision kept to his expected heavy Drum and Bass with some vocal add-ons to make this a great album for any heavy dubstep fan.  I've been listening to Codename X while I have been in the gym, and believe me, it is an incredible motivator.
Check out HERE for a review of Excision & Pegboard Nerds – Bring The Madness (feat. Mayor Apeshit).
Tracklist and preview are available below.
Make sure to support Excision with a purchase on ITUNES or BEATPORT.
Excision – Codename X
Excision – Live Wire
Excision – Float Away
Excision & Dion Timmer – Out of Time (Feat. Splitbreed)
Excision – Shadowflame
Excision & The Frim – X Up (Feat. Messinian)
Excision & Downlink – Robo Kitty
Excision & Space Laces – Push it Up
Excision & Pegboard Nerds – Bring the Madness (Feat. Mayor Apeshit)
Excision & The Frim – Night Shine (Feat. Luciana)
Excision & Dion Timmer – Interstellar (Feat. Rise At Night)
[soundcloud url="https://api.soundcloud.com/playlists/77819472″ params="color=ff5500&auto_play=false&hide_related=false&show_comments=true&show_user=true&show_reposts=false" width="100%" height="450″ iframe="true" /]
Leave a Reply