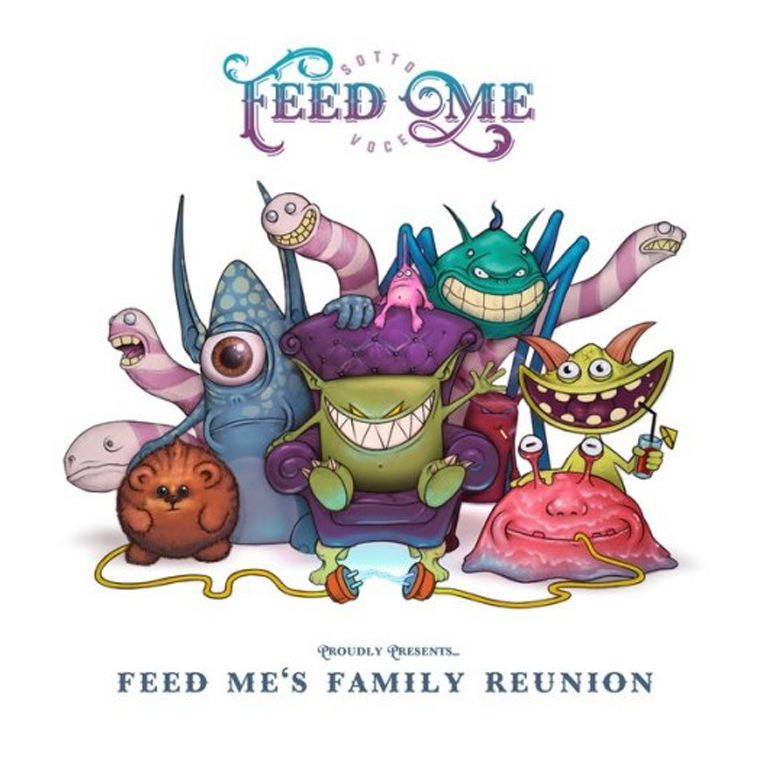 After more than a year off to resurrect his Drum and Bass alias Spor, Feed Me is back in flying colours with a brand new EP, brimming full with eight tracks. His previous two EPs under the Feed Me name focused on pushing his sound past the level that he set with his debut album Calamari Tuesday, and Feed Me's Family Reunion is the result of the (extraordinary) place to which he's taken his style.
The opening song of the EP, High Speed Weekend Survivor, is one of the longest that he's produced. At 7 minutes in length there's more than enough room for experimentation with new sounds, and also allows for an intro that reminds you of Pink Floyd, with the first few seconds sounding like that of Echoes and vocals talking about amnesia. The rest of the song is Electro House with a slight hint of Techno, somewhat similar to that heard in his past two EPs.
The next song, Stay Focused, is an absolute banger. It's House again with a very similar glitchy, bass-laden style to Feed Me's Big Adventure, released back in 2010. You could call it Electro or Deep House and you'd be correct either way, which couldn't be said about too many other songs.
Red Clouds (Serious Ting) is the first Dubstep that we've heard from Feed Me since Calamari Tuesday, and in fact samples Tasha Baxter's vocals from Cloudburn off Feed Me's Big Adventure. Well, when it comes to Dubstep Feed Me hasn't lost it at all, with huge bass designs and a lead synth that's sure to melt the faces off crowds wherever it's played.
The next song is a collaboration with vocalist Nina Nesbitt, and is the radio friendly song off the EP. It's a slightly slowed down Electro House tune, with positive lyrics that are actually quite relevant to the world at the moment. The drop is enough to get a crowd going and induce bopping in the car when the song (hopefully) hits the radio.
Schizoid is next, and is Feed Me's first foray into Trap (took him a while right?). The vocal samples and editing are incredible too, earning the song its title very easily. Even though most Trap is made just to dance to mindlessly, Feed Me manages to give Schizoid meaning on top of some incredible percussion work, 808s and its catchy sound design.
Feed Me released the next song, Trouble a few months ago now, with jazzy vocals courtesy of Kaneholler leading up to a drop that's exactly what the eight songs of his last two EPs were trying to achieve. It's Electro House with a bass design that is typically native to Spor, but with a bounce that makes it a Feed Me song through and through. The progression of the song is something else though, with a mind blowing second drop being half time Dubstep that slowly fizzles out to the end of the song.
American Cemetery teases Bass House from the get go, but Feed Me chooses not to jump on the bandwagon and instead goes straight into something that is really not categorisable. It's dark and dirty and mean, combining American Dubstep-style wubs with a Breakbeat of sorts and letting the rest of the filler sounds do the work. The second drop could be Dubstep or Trap. I don't know, you choose. What is obvious though, is that the bass in this song is absolutely phenomenal.
The final song, Life Raft, is perhaps the most surprising out of the eight on the EP. Moombahton with a tropical twist, Feed Me has managed to take the Tropical House boom of a year or so ago and make it his own. It manages to be easy to listen to even though it's got a serious Moombahton beat underneath it, which is a credit to Feed Me's production skills.
Feed Me's Family Reunion is an album's worth of work in eight songs, with more than enough content to cement a progression in style that his past two EPs made happen, as well as a radio-friendly song and successful attempts at Trap and Moombahton. There's diversity all round that doesn't sacrifice the production style that we all know and love, which is what Feed Me's Family Reunion does best. Where the eight-song Feed Me's Big Adventure thrust him into the spotlight, this eight-song EP reminds us that he's still here and better than ever. This also marks a point in his career and artistic style from which he can move forward from into uncharted territory, but also marks the point where he finished the progression in style that he set out to achieve after Calamari Tuesday. All in all, Feed Me's Family Reunion is a fantastic EP and the thirst for an extensive new Feed Me release has well and truly been quenched.
You can listen to What It Feels Like and Trouble below, and buy the rest of the EP here.
[soundcloud url="https://api.soundcloud.com/tracks/272559863″ params="auto_play=false&hide_related=false&show_comments=true&show_user=true&show_reposts=false&visual=true" width="100%" height="450″ iframe="true" /]
[soundcloud url="https://api.soundcloud.com/tracks/246810404″ params="auto_play=false&hide_related=false&show_comments=true&show_user=true&show_reposts=false&visual=true" width="100%" height="450″ iframe="true" /]
Leave a Reply