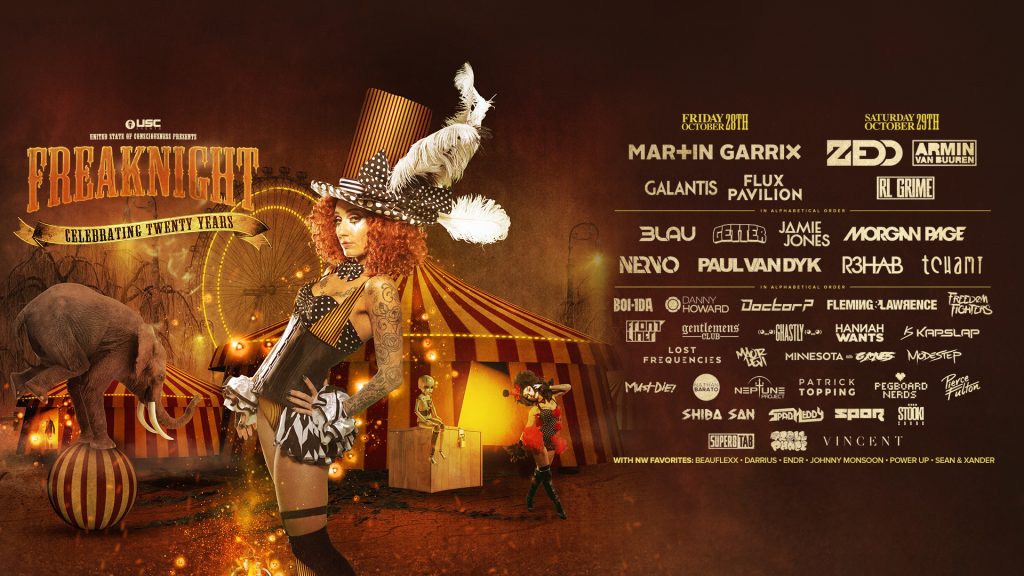 Every year, I heard it over and over again. You need to go to Freaknight. You need to go to Freaknight. I know. I am slacking majorly. Although, today they released their full lineup and I REALLY NEED TO GO TO FREAKNIGHT! The only issue (for me) is I live across the country.
This year, they are celebrating 20 years of this festival and are going bigger and better than ever in the Tacoma Dome! This year's eerie extravaganza will unleash the curious creatures of the night and reveal the reality-bending rituals of the unruly undead. It will take place in Tacoma, Washington as that is where the Tacoma Dome is located. 18 to enter. 21 to drink. It will take place from 6pm to 2am Friday, October, 28th and Saturday, October 29th.
If you're near the Pacific Northwest, you need to spend Halloween Weekend at Freaknight! USC Events throws down some of the best lineups and this does not disappoint. With artists such as Martin Garrix, RL Grime, Galantis, 3LAU, Tchami, and many more, you have one hell of a weekend. There is something there in every genre for everyone. You want bass? You got Spag Heddy, Doctor P, and others. You want that trance? Armin Van Buuren, Paul Van Dyk, and others got you.
I have never been so pumped for a festival that I can't go to. Purchase your tickets here. Check out the announcement below!
Leave a Reply